Europe is very popular among every type of tourist. City person, history geek, architecture lover, outdoor enthusiast, foodie - everyone would find amazing places in this interesting continent.
In this case, which are the best places to visit in Europe? 
Let's forget about cities and focus on the mountains in Europe. There are many reasons to visit them:
amazing landscape
well-developed infrastructure
variety of trails
lots of mountains shelters
clean air
friendly and open-minded people
safety
 Let's have a look at top nine European mountain resorts which you just have to put on your bucket list. They are the most beautiful places in Europe. Chosen by well-travelled fellow bloggers who have been there and loved those amazing getaways.💙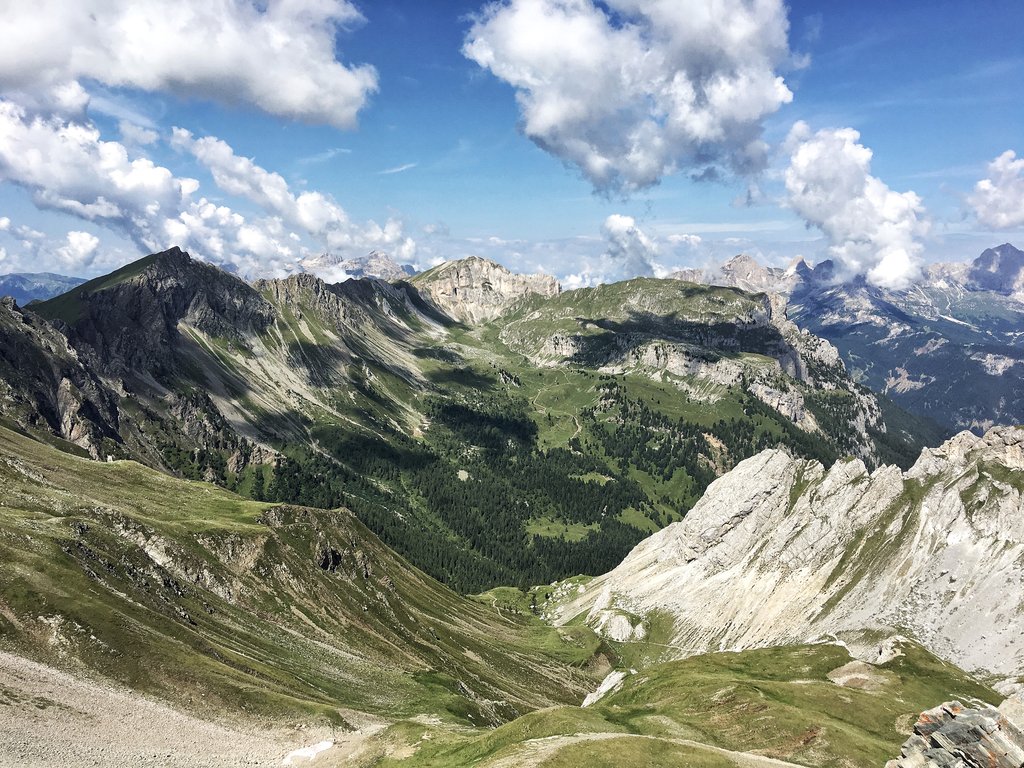 Italy has to be on the top of this list - it's one of the most beautiful countries in Europe!
Moena is one of the nicest mountain resorts in Europe. Located in Trentino, at the heart of the Dolomites, it is a lovely place to visit in any season.
During the winter months, it provides access to some excellent ski slopes in the region. During the spring and summer time, it is a fantastic starting point to enjoy all the most beautiful hikes in the Dolomites, and to access the best view points in the region, such as that of Sass Pordoi, where an easy cable car ride goes all the way up the mountain to allow visitors to appreciate the breathtaking views of the Dolomites.
The village itself is a pleasant place to visit and walk around. It is very small, with no more than 2500 people regularly living there, but it can get busy with tourists. The historic center is a maze of narrow, beautiful alleys - the nicest area is the Turkish Quaters, named after a legend according to which a lost Ottoman soldier ended up in the area and decided to live there.
There are plenty of small local shops, delicious restaurants and many bakeries where to try all the local specialties, especially the famous regional apple strudel. The overall atmosphere is quaint and relaxed. It is a perfect place to spend a few days!
You can check available hotels here:

2. Grandvalira, Andorra
This mountain resort is especially liked by Eniko from Travel Hacker Girl.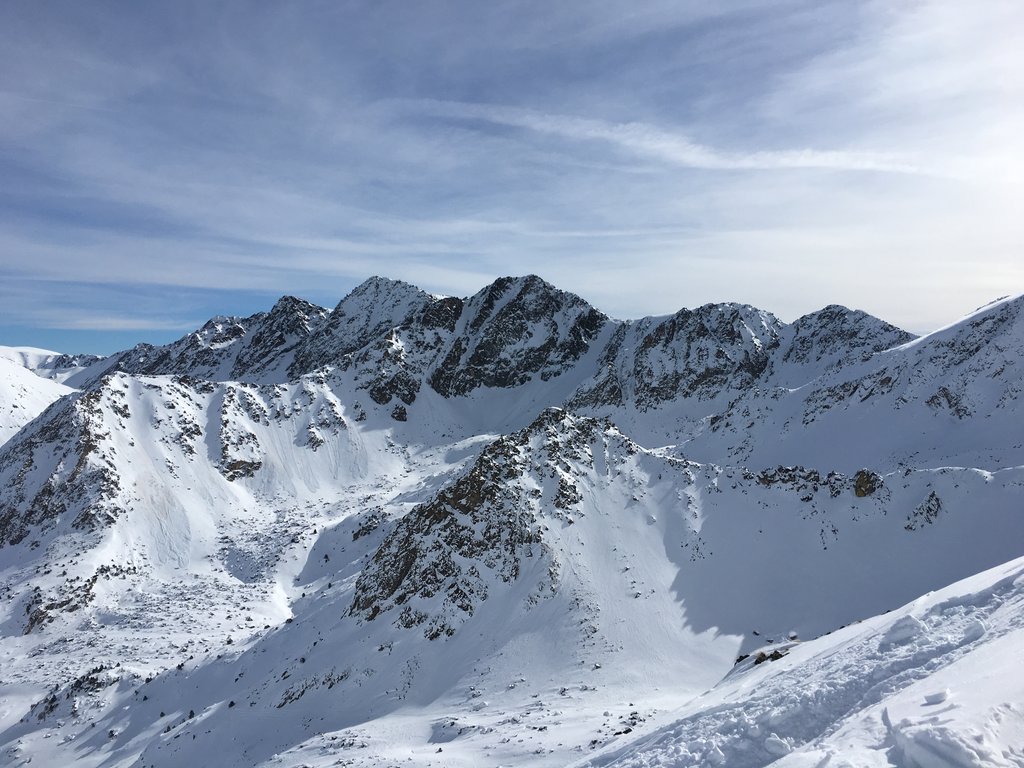 Andorra is the perfect place to visit for any outdoor lover. In the summer there are several hiking trails you can explore and in the winter you can head to the slopes of Grandvalira ski resort which many travelers consider one of the best ski resorts in Europe.
Andorra doesn't have an airport. The easiest way to get there is by flying into Barcelona and then you can take a transfer bus to Andorra in about 3,5 hours.
There are a lot of accommodation you can choose from in Pas de la Casa, Grau Roig, Soldeu, El Tarter, Canillo and Encamp. The towns are well connected by a ski bus as well.
Granvalira has 210 km of slopes, which can keep visitors busy for weeks. Everyone will find suitable slopes for their ability. There is a possibility to buy lunch vouchers with your ski passes, which can save you a lot of money.
We spent 5 days skiing in the resort and we had a lot of fun! We had great luck with the weather as we were greeted with sunshine every morning.
The ski resort also has a mobile application, that has a map, and it can also show you how many km you skied each day and what was your top speed. Equipment hire was also very easy and most lifts didn't have a queue during our stay.
So choose Andorra for your next skiing holiday before it gets too popular!
You can check available hotels here:

3. Zermatt, Switzerland
This mountain town is favourite place of Clare from Epic Road Rides.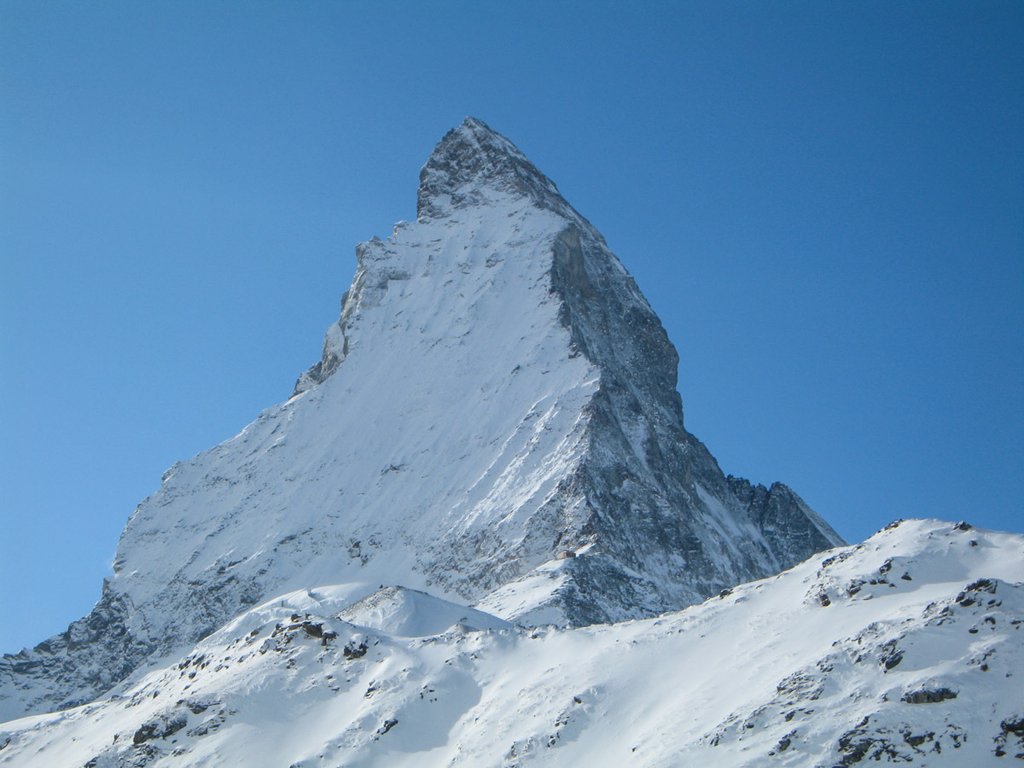 Zermatt is one of Europe's best-known mountain resorts. It's located in Switzerland and occupies an iconic location at the foot of the mighty Matterhorn, an ever-present snowy pyramid on the skyline.
The town is chocolate-box-beautiful, full of wooden chalets, boutique shops and eye-catching window displays. Compared to the more brutal concrete architecture of some French resorts I've been to, Zermatt is heaven. The centre of the town is also, mercifully, car-free.
I love to ski in Zermatt - I think it's one of the best ski resorts in Europe! 💙
There is 360 km of pistes including the Matterhorn glacier, which is Europe's largest and highest summer ski region; it attracts many national ski teams during those summer months. One of my favourite runs in winter, is over the glacier and into Italy. There you can enjoy wide sweeping pistes and a delicious lunch, before heading back into Switzerland.
In summer, the town fills with walkers, cyclists and climbers looking to conquer the 4,000m summits nearby. If heights are your thing, this is the town for you. You can take a cog railway from Zermatt up the 3,089m Gornergrat mountain. There there are spectacular views of the Matterhorn and the Monte-Rosa massif. Alternatively, why not visit Europe's highest cable car viewpoint which will take you to 3,883m and treat you to some stunning vistas.
If you love the mountains, you'll love Zermatt!
You can look for available accommodation here: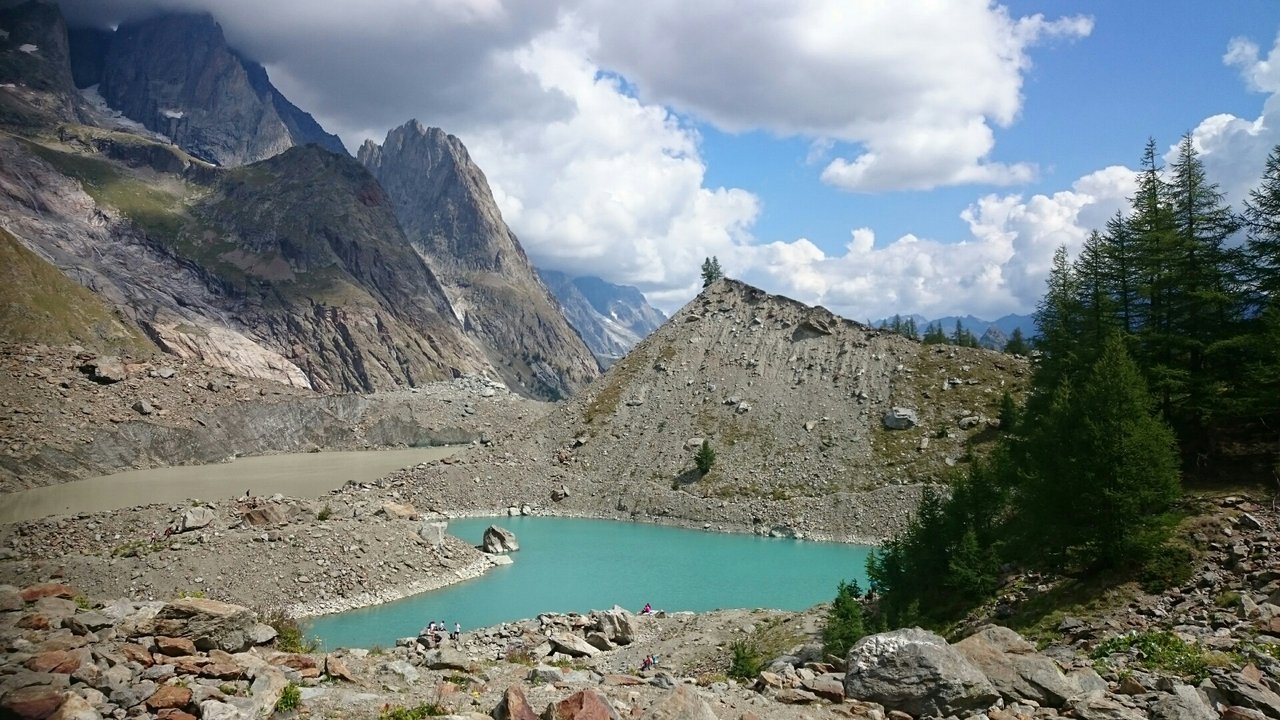 I think Italian Alps are the most beautiful mountains in Europe and Courmayeur is my favourite mountain location.
A very popular ski resort in the winter and a stop off point along the Tour De Mont Blanc hiking trail in the Summer months.
Scratch beneath the surface though and it is so much more than this. You won't find any high rises or concrete apartment blocks here. It is full of Alpine charm with old slate roof houses, dramatic mountain scenery on all sides and a relaxed and friendly village vibe.
In the Summer months, along with spectacular hiking, why not take the cable car up to Plan Checrouit to enjoy the open air, heated swimming pool - complete with views on Mont Blanc.
For a family-friendly hike with amazing views, why not try the walk through Val Veny and up to Lago Miage. This glacial lake is pretty spectacular with the ice cliffs surrounding it and usually with two colours in the water.
In the winter, it is not just the skiing that makes this a great place to visit. There are lots of traditional Christmas Markets around the Aosta Valley, or why not try a bit of snowshoeing.
If you enjoy a bit of Apres-Ski, Courmayeur is full of high-quality eateries to try. My personal favourite is Ristorante Chalet Plan Gorret, a ten-minute walk out of the village centre. With a cosy alpine atmosphere, traditional food with a modern twist and super friendly staff, this family-run restaurant is well worth a visit.
You can find available hotels here:

5. Bansko, Bulgaria
This one is preferred by Sarah from A Social Nomad.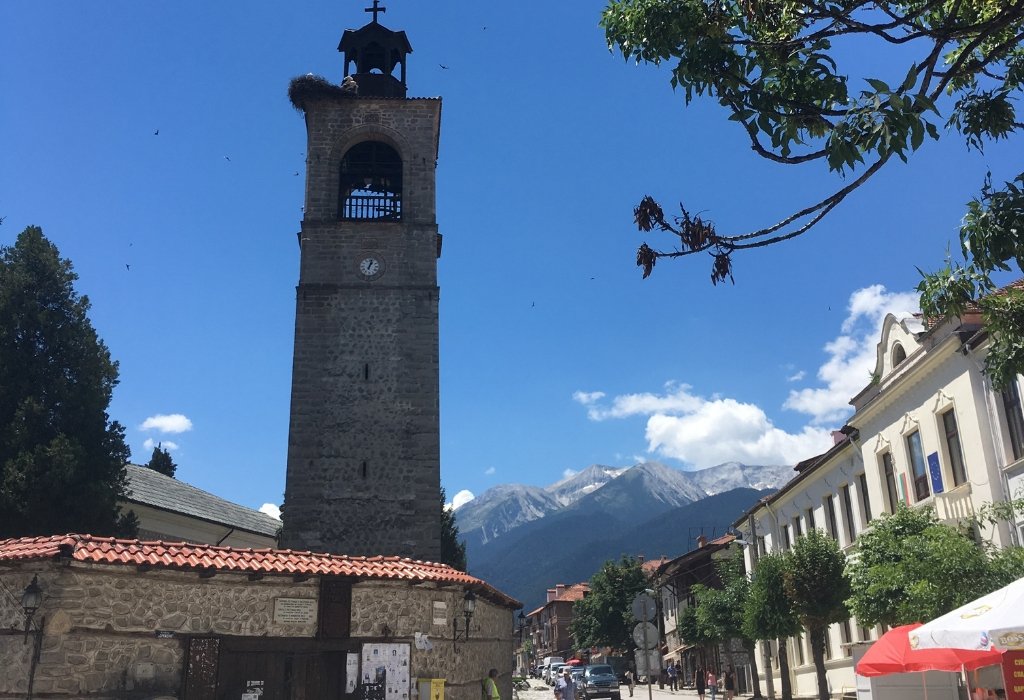 Bansko, Bulgaria is not just the biggest ski resort in the country (and the cheapest in Europe), but a fabulous spot for hiking and summer festivals in the old town.
Just 2 hours from Bulgaria's capital, the mountain town of Bansko is a great place to get away to. There's great downhill and cross-country skiing as well as superb snowshoeing trails in winter.
From Spring onwards the Pirin National Park, which Bansko is located on the edge of, provides for gorgeous day and longer hikes with a series of camping huts available for overnight stays.
The area is surrounded by natural hot springs, so you can pay a few euros to head to the official pools, or walk to the natural pools in the National Park. There's also horse riding, a huge mountain biking community and off road touring available too. Summer in Bansko provides a range of free music and cultural festivals – from opera to jazz, rock and ballet.
Great local food is plentiful and cheap as is the local wine. It's a Mediterranean lifestyle without the price tag!
You can look for available hotels here:

6. St. Moritz, Switzerland
This alpine resort is recommended by Priya Vin.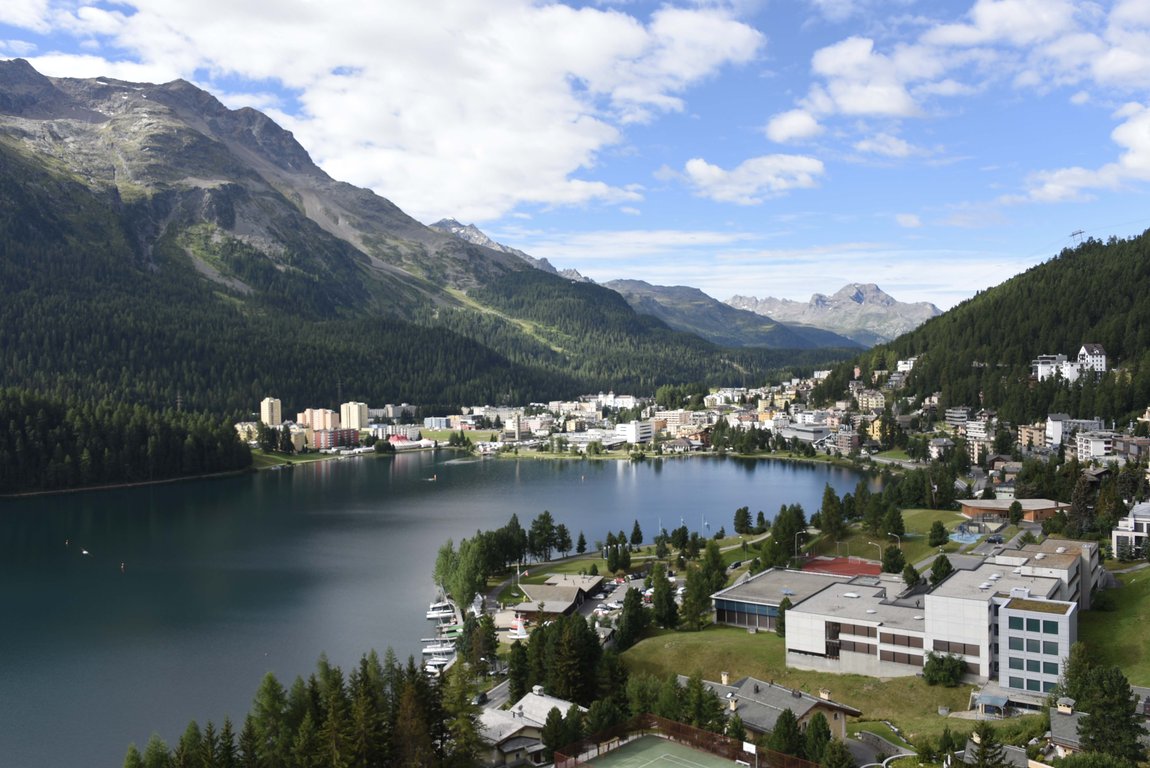 St. Moritz located in Switzerland is a beautiful mountain resort that has a bounty of summer and winter activities. Swiss Alps are considered by many hikers as one of the best places to visit in Europe.
St. Moritz, the birthplace of Alpine winter tourism. It has hosted the Winter Olympics twice and guests from all over the world appreciate the modern Alpine lifestyle and winter sporting opportunities the area provides.
It is a glamorous and elegant mountain resort synonymous with privilege and old money. If you want to vacation like royalty Badrutt's Palace Hotel St Moritz is the place to stay. After all, they have a few Rolls Royce as house cars and don't skimp on any extravagance!
It was the hotelier Johannes Badrutt who launched winter tourism here, with a daring bet.
Stroll the around the lake, get lost in the views of the snow-specked mountains that surround the town, listen to the cowbells as they graze on the meadows filled with wildflowers, enjoy lunch at the alpine huts in the mountains after lovely hikes in summer.
For winter sports enthusiasts there are 350 kilometers of pistes with a state-of-the-art infrastructure in the surrounding area.
St. Moritz's 'house mountain', the Corviglia, boasts the steepest start slope in Switzerland with the Piz Nair Wall's 100 per cent vertiginous drop. This chic Swiss town offers lots of fun things to do in St Mortiz.
If this mountain resort looks interesting to you, check available hotels here:

7. Jasná Nízke Tatry, Slovakia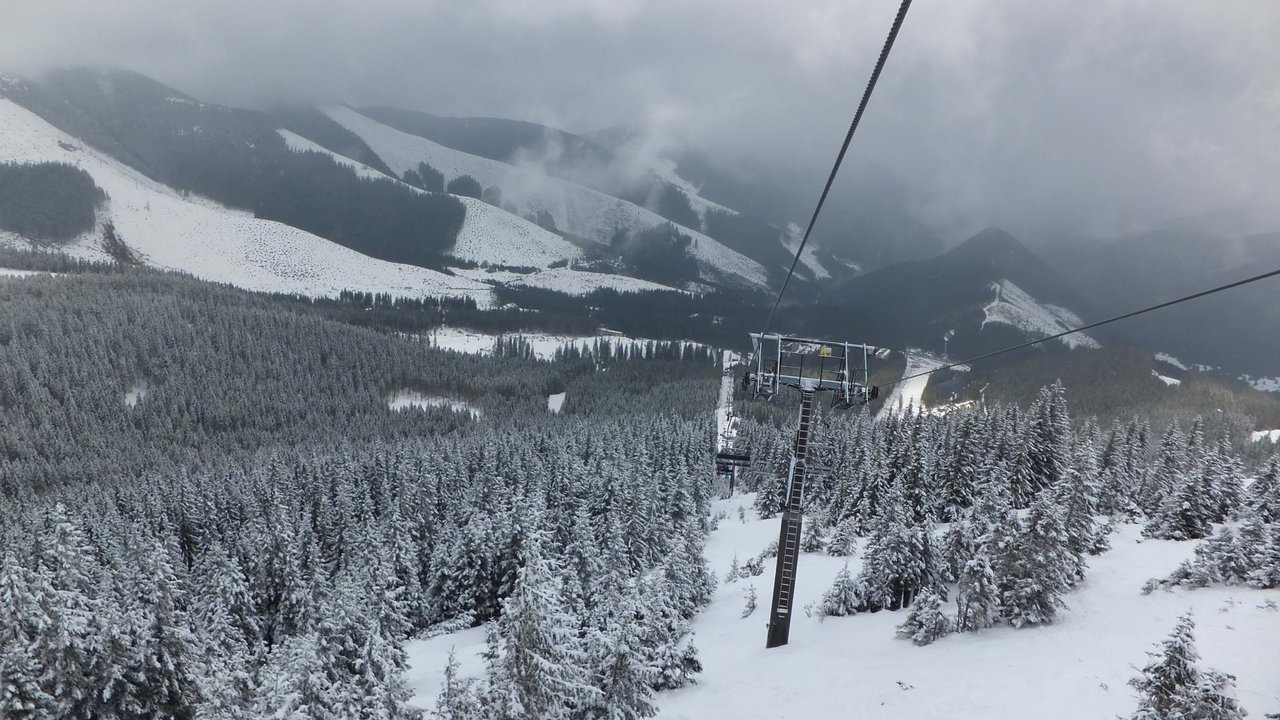 Have you ever thought about skiing in Slovakia? If so, you need to head to Jasná Nízke Tatry resort!
This beautiful mountain village is located in Low Tatras National Park - the biggest National Park in Slovakia.

This mountain resort is nestled at the foot of Chopok mountain - impressive summit which reaches 2024m. It is a true paradise for nature lovers and adventure seekers.
In summer there are many hiking trails suitable for all kinds of hikers - experience backpackers as well as families with children.
In winter Jasná Nízke Tatry becomes a popular ski resort. There are 46 kilometres (28 miles) of piste, back bowl, a 6 kilometre (4 miles) home-run, terrain park, many off-piste slopes and tree runs.
Some slopes are very steep, some are beginners-friendly and some can even get you in the middle of a forest - there are several freeride zones.
There's also a snow park and fun zone prepared for advanced skiers to keep them entertained.

Besides hiking trails and ski piste, there are other attractions in the area. For adventure lovers, there is Demanovska Cave of Liberty - a beautiful cave with outstanding rock formations.
I consider Jasná Nízke Tatry one of the best ski resorts in Europe for families. If your little ones get tired, you can relax in a nearby waterpark - Tatralandia in Liptovský Mikuláš being the biggest one in the area. There are lots of water slides, jacuzzis, and pools with hot mineral water rich in nutrients.
If you would like to try skiing in Slovakia and stay close to Chopok mountain, you can check available hotels here: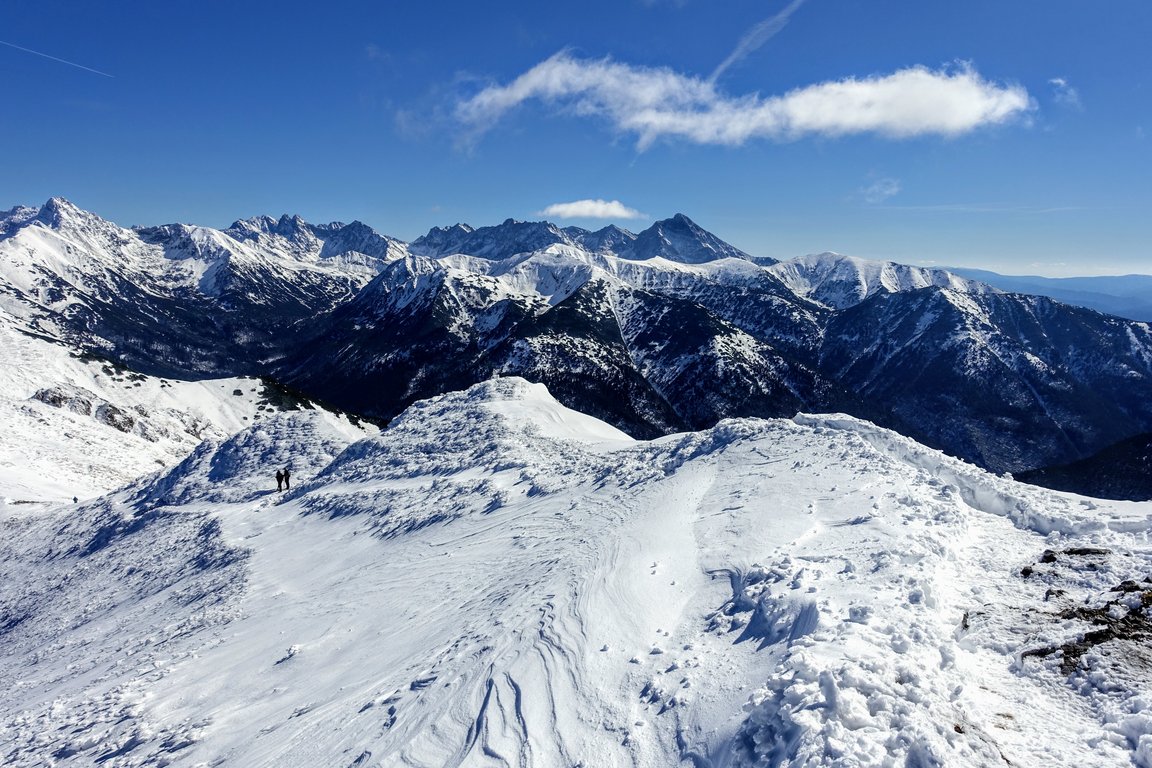 Zakopane is currently one of the best-known places in Poland.
It's not surprising - located at the foot of scenic Tatra mountains, it offers lots of tourist attractions. Museums, restaurants, SPAs, pubs and discos make Zakopane great place for city people.
But it is also perfect for outdoor enthusiasts. In summer Zakopane is the starting point of the best trails in Poland - Tatra mountains are the highest range in the country and the only mountains of Alpine characteristics in this part of Europe.
Let's just remember Tatra mountains are a National Park and this region deserves our respect.
Tatra National Park trails vary in difficulty and length - if you prefer easier hikes there are Koscieliska and Chocholowska valleys waiting for you. If you are looking for a bit of adrenaline, climb Rysy peak in High Tatras.
In winter Zakopane becomes ski resort - there are several resorts, each with a few pistes:
Kasprowy Wierch
Nosal
Polana Gubałówka
Harenda
Polana Szymoszkowa
After tiring day on the slope, you can relax in nearby water parks. There are a few modern water parks close to Zakopane: 
Chochołowskie Termy in Chochołów village
Termy BUKOVINA in Bukowina Tatrzanska village
Terma Bania in Białka Tatrzanska village
You may find available accommodation in Zakopane here:

9. Saalbach-Hinterglemm, Austria
This Alpine resort is recommended by Josie from Josie Wanders blog.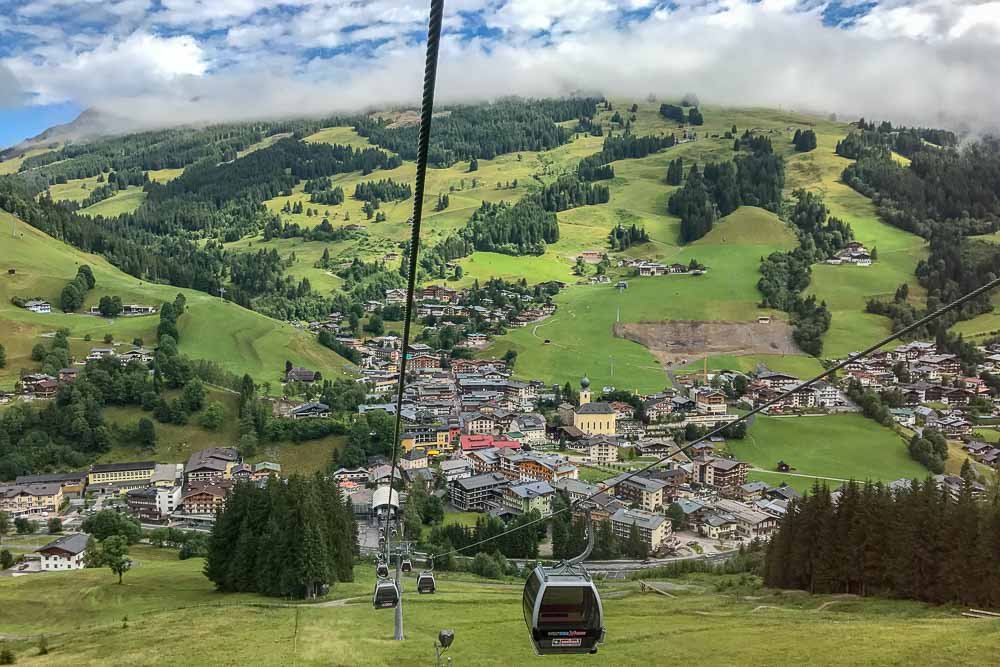 Many travelers consider Austria to be one of the most beautiful countries in Europe. So, which are the best places to visit in Austria? It's definitely Austrian Alps! 🧡
Saalbach-Hinterglemm is a small region about 90 minutes from Salzburg in central Austria.
It is best known as a winter ski location, claiming over 270km of piste runs, 70 lifts and 60 mountain huts. The villages of both Saalbach and Hinterglemm have every facility to create the perfect winter holiday. You will find cute little cafes and pubs with roaring fires to warm you up after a day on the slopes. The towns are also small enough to offer plenty of ski in/ski out style accommodation too.
Only recently the area has also started to be "open for business" over summer. Some of the lifts are now running for a summer season, where hiking in the Alps is just magical.
Make sure to grab a snack or drink at one of the many traditional mountain alms as you hike to any of the peaks for stunning views. There are also plenty of other summer activities for both adults and children, from mountain biking to a water park. Hire an e-bike and cycle through the area enjoying the many trails.
During both seasons there are many events occurring in the region to offer even more entertainment and value, from concerts, dance parties and sports carnival, to charity events and Christmas markets.
Saalbach-Hinterglemm may be one of Austria's top ski resorts, but it's also laid back and relaxing. You will not find huge crowds here, just plenty of space to enjoy the best of the Austrian Alps.
You can find available hotels in the area here:
Before going into the mountains, we need to prepare well. During our hiking trips number one we should remember about is safety. Here are a few articles with hiking tips: