Packing my backpack is the least pleasant part of the trip. No matter how long will I think about the stuff, typically in the end:
my backpack will be heavier than I expected.
I'll have this burning thought at the back of my head that I forgot about something.
I'll put in or take something out of my backpack in the very last moment.
Yes, the above tend to happen often, so very often...
Of course, the content and size of our hiking rucksack depend on the type and length of a hiking trip.
But still, there are some hiking essentials which we need to take, no matter how long the hiking trip will last. There's also the stuff which isn't obligatory in the mountains but worth to think over.
I think balance is everything - I want to prepare well but taking all the possible things which come to my mind or which "may probably come in handy at some point" doesn't work for me. A heavy backpack doesn't really add much joy to my hikes.
In the summer in low mountains, I tend to skip a lot of things but winter hiking is a different story - winter in the mountains is much less forgiving than the summer. If you want to start winter outdoor adventures, you may want to read this beginner's winter hiking guide.
Here's a hiking gear list with absolute must-haves in the mountains:
What to wear hiking?
I always take something warm and something waterproof. No matter if it's a nice sunny day - the weather in the mountains tends to change rapidly. Besides, high up in the mountains it's usually cold and windy.
Hiking boots – the most important element of hiking outfit. Ballet flats and tennis shoes aren't suitable for hiking, even easy day hikes. We need to wear hiking boots - solid shoes with properly think sole which has a deep sole tread. Such shoes significantly increase hiking safety - they reduce the risk of slip and injury. In the summer hiking boots can be low (around the ankle) but in other seasons we need to wear high shoes above the ankle - only such boots will protect well from cold, rain, mud and snow.
Socks - normal cotton socks will do the trick on short day hikes but they keep the dampness which can lead to scrapes and blisters. In the summer we can wear socks with Coolmax, in colder months we need something thicker - a mix of synthetics and wool. I often take an additional pair of socks - it's nice to have dry feet.
Trousers - what pants to wear hiking? In the summer I wear leggings or quick-drying hiking stretch trousers - they're light and elastic. In the winter or on rainy days it's necessary to have Softshell trousers or Goretex membrane trousers.
Hiking t shirt - short-sleeve for a warm day, long sleeve when it's cold. I absolutely hate cotton wear in the mountains - when I get sweaty it sticks to the body like a wet lousy rug (nothing worse than a wet t shirt on your back on a cold windy day). Hiking t shirt needs to be breathable and quick-drying - it's one of the best hiking essentials you can have.
Fleece jumper - essential hiking wear. Take it with you even when it's warm. Mornings and evening in the mountains tend to get cold. The higher the altitude, the colder it gets. Besides, we never know what happens - maybe the weather changes rapidly, maybe you will injure your knee and will have to wait for help for many hours (always an optimist).
Waterproof jacket - jacket with Goretex membrane is expensive, quite heavy and takes up a lot of space in the backpack. On most cases, I just use a waterproof long cape but I admit it's not suitable for steep rocky terrain. When I hike in high mountains I take with me a light simple waterproof jacket (one of the best hiking essentials for beginners). It's cheap, takes up little space and protects from the rain just fine.
Softshell jacket - not necessary if you have a jacket with a Goretex membrane. You can also replace it with a windbreaker which takes up less space. For me, the Softshell jacket is my favourite piece of hiking outfit and been using it for several years now.
Cap / beanie / buff / balaclava - there are many options to protect your head. Headwear is necessary not only on cold days - in the summer you need to protect yourself from sunstroke. The best options are balaclava and buff. Balaclava might be too much in the summer but the buff is always good - it's a brilliant multifunction headwear, light and easy to pack.
Gloves - they come in handy even in the summer when you venture into high mountains. Cold, wind and even snow can happen even in July when you hike above 2500 metres. Also, mornings and evenings are chilly.
In the summer in high mountains, thin fleece gloves will do the trick. On cold days it's good to have two pairs of gloves: thin fleece ones and warm power stretch gloves. Two pairs of gloves will also be useful on a rainy day. Summer day hikes in low mountains are the only exception when I don't bother taking gloves.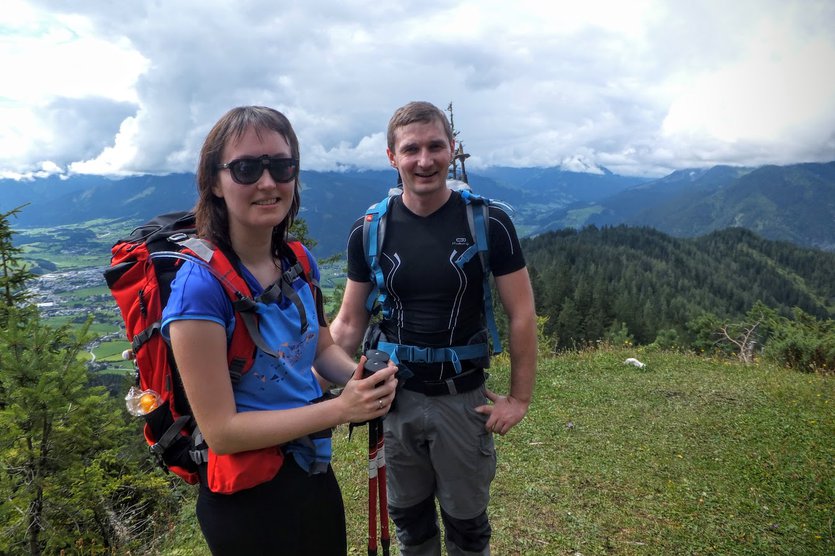 It's not only important to pack well for a mountain trip - it also matters what we pack our hiking stuff into.
I think that trekking backpack it's the second most important piece of mountain gear (hiking boots are number one). Uncomfortable and too small will make your mountain trip terrible.
If you can, don't try to save money on hiking backpack. The solid rucksack is a return on investment and will serve you for many years.
Here are some basic characteristics of a good hiking rucksack:
comfortable
lightweight
functional
solid - the material should be strong. The best hiking backpacks are made of Cordura - a durable fabric. The more thick, the stronger the material becomes
reinforced bottom
many grips, handles, clips and belts - the more the better
pockets - check if a hiking backpack has at least one pocket at the top or in front of the rucksack. Such a pocket is very useful and will make your life easier when you want to take out something small quickly
regulated belts
two compartments
Here's a more in-depth guide on how to choose a backpack for mountain trips.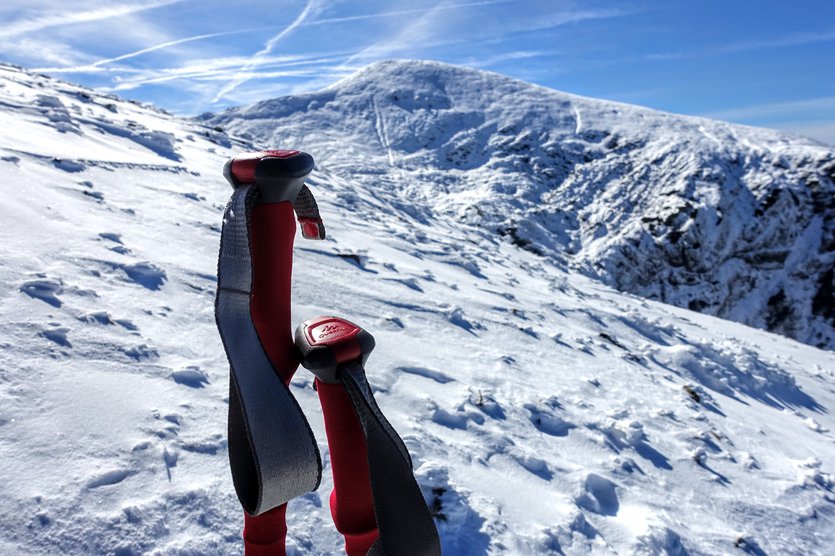 Trekking poles - for me it's essential hiking gear. I take them even on short day hikes in low mountains. They help to keep the balance and relieve the legs - trekking poles make hiking even a better workout. Some say it's hiking gear for beginners but I respectfully disagree.
Waterproof backpack case - my valuable belongings need protection too. 🙂
Charged phone - hardly a piece of hiking gear but it's always good to remember to charge the smartphone before your trip. Remember to add to your contact list emergency numbers and ICE - phone number to your close friend or family relative who would give rescuers information about your medicines, illnesses, etc.

Sunglasses - only with UV protection. Sunglasses without US screen make the pupils wide and eyes receive even more solar radiation. If your sunglasses don't have UV filter it's better to go hiking without them.

Gaiters – unnecessary hiking gear in the summer but one of the best hiking essentials in cold months - they protect shoes and legs from rain, mud and snow.
Water bag - this one saves the day. It's sooo convenient to use! And it cleverly prevents you from dehydration - in the past, when I used to carry my water in a bottle, I sometimes couldn't be bothered with all the fuss - stop, take it out, put it back, etc. I preferred to be thirsty rather than rummage in my backpack (sensible, wasn't it?). Now I don't have such issues and drink out of the pipe whenever I fancy.
Headlamp - another piece of essential hiking gear. When I'm packing my rucksack and see it's already full and heavy, I often try to skip things. So, I'm sometimes tempted not to take headlamp.
Fortunately, I always say to myself: "Joanna, you never know how long your hike will last. OK, you plan to get to the mountain hut 2 hours before nightfall. But what if you sprain your leg and will crawl slowly? Or admire views for too long? Or you'll simply be tired, have long breaks and night will come unexpectedly? Remember that pitch-dark evening when you were climbing down in Beskidy mountains and could barely see the tip of your nose even with the headlamp on? Come on, take it! It's light and small!".
Water - enough just isn't enough - dehydration may have fatal consequences. We do need loads of liquids while mountain hiking - much more than on average "city day". I can't afford to drink from the streams (unless I'm very high up in the mountains) so I obediently carry my water. I like sparkling water but choose still for hiking - sparkling drinks may increase our thirst. 
Isotonic drinks - not a big fan but often drink them while hiking. They hydrate better than pure water which seems to run out of my body in the blink of an eye.

Hot tea - I skip thermos flask on day hikes in the summer but I don't leave home without it in other seasons. I even take a thermos flask with hot tea for a few-hour car drive. I think I can't imagine life without a nice tea with honey.
Food - dry and caloric food is a must in the mountains. We all need energetic boosts while hiking. Sandwiches, dark chocolate, grain bars, dates, halvah, nuts - they will keep you going for long hours. If you've got the option to eat in a mountain hut, do it. Food served in a mountain hostel is expensive but will make your backpack definitely lighter.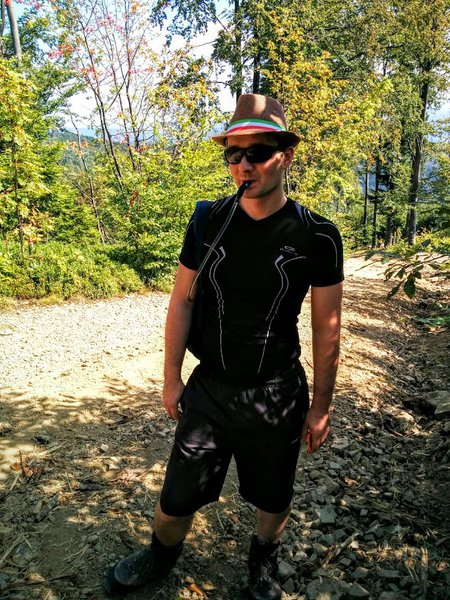 Paper tissues - day hike essentials. They're also my toilet paper.
Antibacterial wet wipes - very useful before having a snack.

Sunscreen - I sometimes skip it on a day hike and then regret my decision.
Lip balm - not leaving home without it.
ID card
Insurance
ICE card (In Case of Emergency card) - small card with contact details to a person who should be informed in case of an accident. This person should be able to provide health information about you - your medicines, blood type, etc.

Lens - if you use a DSLR camera.
Camera lens filters
Memory card - just in case, you never know how many photos you will take.
Two batteries – how often did my camera's battery went flat and there were still so many great photos to take...
Camera case - it's OK to take for the mirrorless camera - it's light and takes very little space. Cases for DSLR cameras are big and not great to have in your backpack. If you carry your DSRL in the backpack it might be sufficient just to cover it in a material bag.
Tripod - hiking stuff for photography lovers. Very useful during golden hour and night shooting.

Tissue for the lens - can be a special camera tissue or just a wipe for glasses.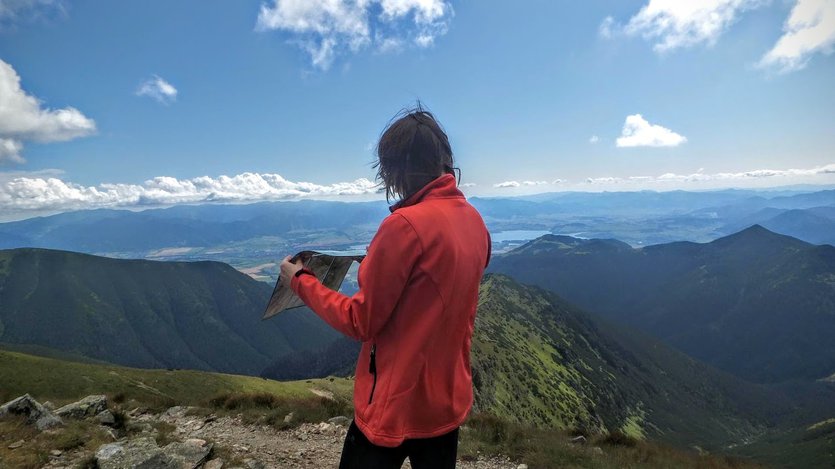 A map is light and doesn't take much space - it's a crucial element of hiking equipment. I like laminated maps the best - they cope well with wind and humidity.
Offline maps are awesome but you can't be sure your smartphone suddenly goes flat. Or it starts to rain and you would rather not soak your electronic stuff. The good old paper map significantly improves hiking safety.


9. Additional hiking stuff for multiday hikes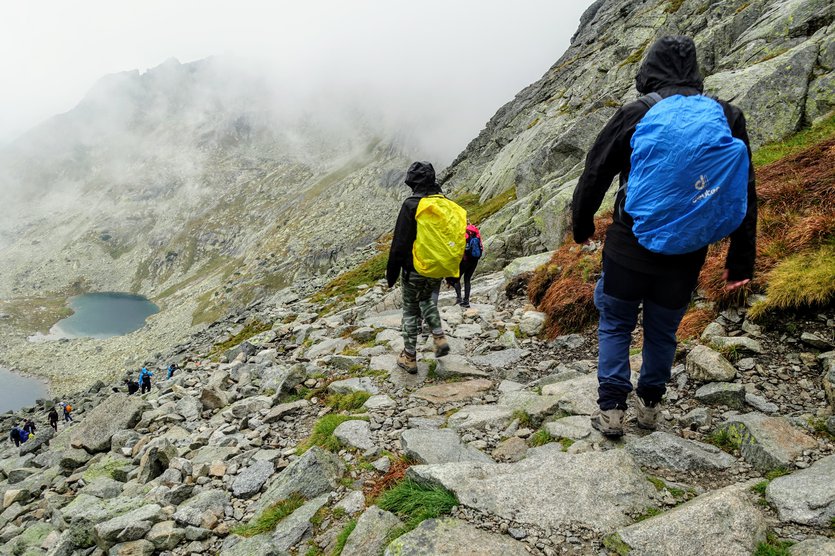 OK, now a hiking gear list for multiday trips.
I very often skip the below items on short day hikes but they are must-haves for hut-to-hut hikes or camping trips.
Thermos flask - my favourite element of hiking equipment. Nothing lifts the morale better than hot tea. 
Tea bags
Camping stove - remember about the lighter.
Water filter - I take it only when there's no mountain hut and the hike is long and strenuous.
Soluble supplements - good for sugar craving and top up our vitamins and minerals.
Energy gels - I have mixed feelings. They're not very environmentally-friendly but they are excellent for quick replenishment of lost calories.
First aid kit - diarrhoea pills, adhesive bandages, elastic bandage, gauze, NRC foil (space blanket), medicines which you need to take on a regular basis. I never use peroxide - it damages the tissue and leaves scars.
Cosmetic bag - take only essentials. Shampoo and shower gel can be 2 in 1, in a small bottle. Deodorant, toothbrush, toothpaste, mosquito repellent.
Quick-drying towel
Shower shoes
Earplugs - sleeping gets much easier if you share a room with other people.
Plastic bags - great for separating litter and used clothes from our precious stuff.
Power bank - smartphone battery lasts shorter than the memory of yesterday's sneeze.
Helmet - useful in high mountains and also the essential hiking gear for via ferrata trails.
Hiking tent - a subject for a whole new post but to keep a long story short - it needs to be lightweight. It was our priority when we were looking for a tent. The best hiking tent for two we managed to find can be found here. It's light, has a waterproof floor and good ventilation.
Foam camping mat - again, we needed lightweight gear which would be easy to inflate, deflate and pack. We chose this one and so far so good.