Tatra mountains are the most beautiful Polish mountain range. They are protected as Tatra National Park.
No wonder they getting insanely popular, not only among Poles. More and more often we can hear many different languages on the trails – Slovak, Hungarian, English, Spanish, you name it!
The rest of the world has finally discovered our beautiful Tatra mountains and that's fantastic. I always thought that Poland is a bit underrated among foreign travelers and now the situation's changing - we have so much to offer.
Hiking in Poland is a great adventure and definitely worth trying if you're travelling in southern Poland.
Tatra National Park is located in the south of Poland but we also share it with our Slovak neighbors. In fact, Slovaks have bigger part of these mountains, but that's OK - fortunately we don't need visa to go to Slovakia. 😉
Tatras are the only mountains of alpine characteristics in this part of Europe. The highest mountain in Poland is Rysy - it is a mountain massif consisting of three peaks. In Poland Rysy mountain reaches 2499 metres (2503 metres in Slovakia).
There are many Tatra National Park trails. Tatra mountains are great option for all kind of outdoorsy people: experienced hikers and beginners, thrill-seeking climbers and families with children.
I won't be writing about how beautiful these mountains are and why they're so worth to visit when you're in Poland. One simply needs to go and see with his own eyes this amazing natural treasure.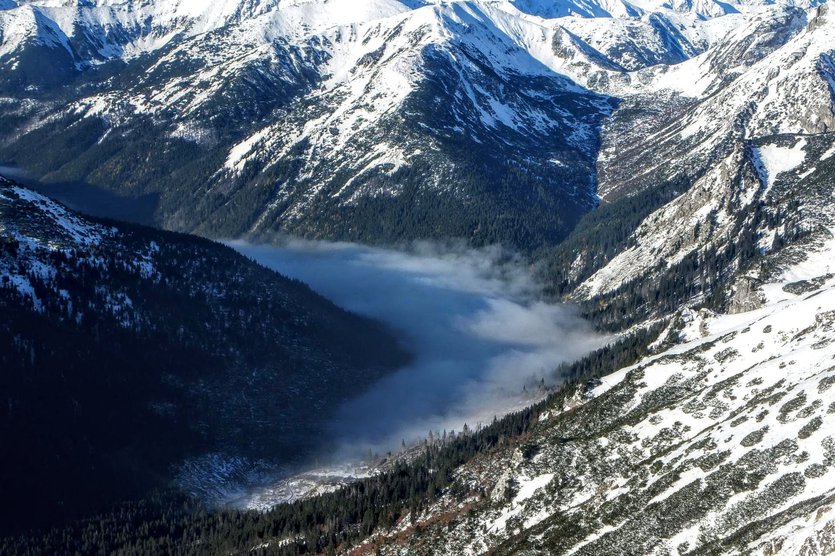 What I want to write about here is the weather. It's commonly considered an uninteresting subject which we choose to talk about when social context requires us to converse with other people but absolutely nothing else comes to our minds (typically office small talk).
Well, not for me. I think that weather is interesting thing to talk about.
Moreover, when it comes to the mountains, it's actually a crucial factor which we have to take into consideration when planning our trip.
So, one of the most important things which we need to keep in mind when we visit Tatra mountains is their unpredictable weather – it can change in the blink of an eye.
Especially High Tatras weather can be very capricious and winter may start there in September.
Tatra highlanders say that they have 10 months of winter, the rest of the year is summer.
This is of course an exaggeration and there are many days when the sun is shining like crazy and the views take your breath away. But still it's crucial to come prepared, as the weather in the mountains tends to be capricious.
Here are some of the most usual weather caprices which you can expect when hiking in Tatra National Park:
⇒ Rain - probably the most sudden of them all. Makes trails slippery and lowers air temperature very quickly.
⇒ Fog – also very common, limits the visibility. When fog is dense, it can make you lose orientation and overlook trail signs.
⇒ Hailstorm and thunderstorm – happen most often in the afternoon and are very dangerous in mountains. Here's a thoughtful youtube film showing how to behave during storm. Generally, the best idea is to start off your hike as early as possible in the morning.
⇒ Snow – you can see it on the trail even in June or at the beginning of July (especially in higher parts on the north side of the slopes). Fresh snow may fall in September. Beware – because of quite big temperature differences, such snow might create thin layer of ice on the trail. Then, it's too slippery for regular hiking shoes, but also too thin for crampons. In such conditions it's better to give up hiking (especially in higher parts).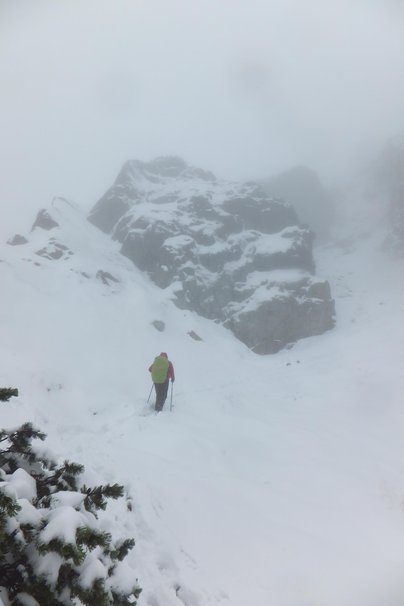 When I was hiking in Tatra National Park, I had a chance to experience several weather "attractions" on one day – fog in the morning, then sun, in the afternoon strong wind which blew rainy clouds. Temperature dropped a lot and in higher parts it was snowing. Such unstable weather happen especially in the spring and autumn.
For that reason it's essential to have a jacket or raincoat, fleece jumper and good hiking boots.
Early spring and autumn require additional stuff – beanie, gloves, windproof trousers, thermoactive underwear. In the summer we will need sunscreen and a hat. The sun strength isn't always so obvious in the mountains, but it's very easy to get sunburn.
You may find useful information about weather conditions on the below pages:
⇒ TOPR – Tatra mountains official website which streams live video from several mountain huts thanks to CCTV system. Unfortunately, only Polish version of the website is available, but Google will happily translate it for you. 😉
⇒ HZS – life rescue service in Slovakia. There's lots of useful information on their website, but again, English version isn't available.
Emergency numbers :
⇒ TOPR in Poland: 601 100 300
⇒ HZS in Slovakia, High Tatra: 0903-624-869
⇒ HZS in Slovakia, Western Tatra: 0903-624-066
Here's a handful of weather websites where you can check actual conditions in Tatra mountains:
OK, now another link, not connected with weather, but really good to know if you plan to hike in Polish mountains - mapa-turystyczna . It's the most user-friendly online map I know. It will not only help you to choose the route - this website also shows time of walking, altitude difference and informs about trail closures. It's very very helpful, this one.
When it comes to accommodation we have a few options in each country:
Poland:
⇒ Toporowa Cyrhla Apartments
The best place we've found so far in Zakopane (main tourist resort) is Toporowa Cyrhla Apartments . It's situated in quiet area close to hiking trails. Nice and clean accommodation with fully equipped kitchen.
You can book your stay here:
⇒ Hotel Aquarion
High-end hotel with wellness area. It's expensive, but worth the price. Staff is very friendly, rooms are spaciuos and clean, food at the hotel's restaurant is delicious. We've been there only once, because it's too costly for us to stay there every year. 😉
You can book you stary here:
Slovakia:
⇒ Panoramic Mountain Residence
Located in Horný Smokovec , part of Vysoké Tatry town. This option is great if you want some comfortable luxury. It's a beautiful place offering spacious apartments with mountain view. Close to hiking trails. There's no restaurant in this place.
If it seems like a good option for you, you can book your stay here:
⇒ Hotel Gul'a
Located in Batizovce village . This place is a budget option, but we liked it.
Room was nice and clean. Toilets and bathrooms are shared, but they were also clean. Actually, it looked like the rooms and bathrooms were newly refurbished. Big advantage of this place is restaurant on the ground floor - breakfast costs only 5 EUR, but it's ample and tasty.
You can book you stay here: