If you love traveling, you need to visit Poland!
Why would I visit Poland? - may you ask.
The location of Poland in Eastern Europe was a source of troubles in the past - our poor country was oppressed for many years by its neighbors. We had a tough time and gained freedom only in 1989 (communism also finished that year).
Fortunately, now Poland is developing quickly and offers great opportunities both for its residents and tourists looking for great spots:
Poland is one of the most interesting Central Europe countries. You'll find here great food, vast cultural heritage, many interesting tourist attractions, amazing cities and breathtaking landscapes. We have it all – mountains, sea, lakes, vibrant cities and picturesque villages.
What gives us an advantage over Western European countries is our low prices. Poland is full of cheap places to travel to. Also, Poland currency is ridiculously cheap to buy.
For example, basic lunchtime meal with a drink in Berlin or Paris will cost about €16. In Polish cities, you'll get such meal for half the price (or even less, depending on the city's size).
What I also need to mention here is that Poland is also safe – there are no terrorist attacks at all.
Many hikers consider Poland one of the best hiking destinations in Europe!
You'll find many fantastic hiking trails in Poland, both in the mountains and lowlands - we have 23 National Parks situated all over Polish land.
Shortly speaking, there are many factors which make Poland an excellent travel destination, but I'll focus here mainly on our natural wonders - stunning mountain ranges in the south of the country.
So, let's have a look at the most beautiful Polish mountain ranges. There are some of the best places to hike in Europe!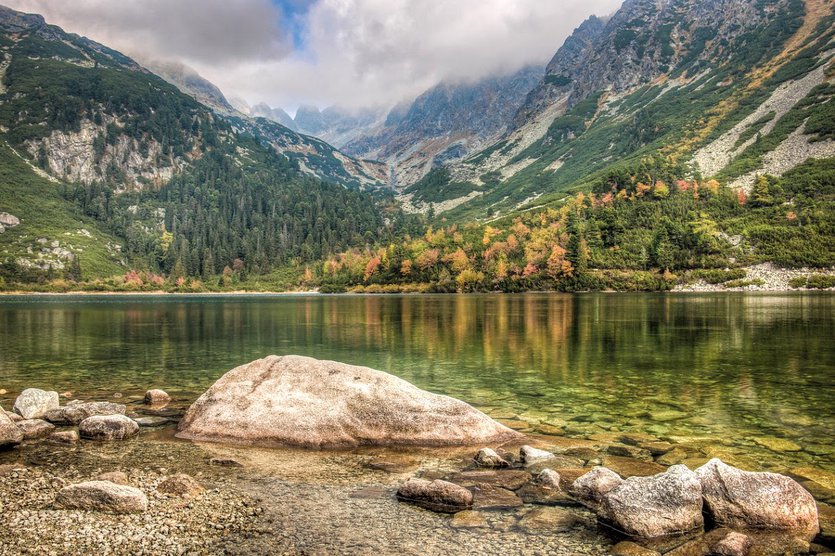 Tatra mountains are the highest Polish mountain range and one of the most beautiful mountains in Europe.
They're located in the very south of the country, right on the border with Slovakia. Polish part is definitely smaller than Slovak, but we have have a fair amount of great hiking trails too. 😉
The highest mountain in Poland is Rysy - it reaches 2499 metres.
Tatra mountains resemble Alps - their flora and fauna and climate are of Alpine characteristics. This makes Tatra mountains unique in this part of the continent. Because of their awesomeness, those mountains are protected as Tatra National Park.
Tourists like to walk in the valleys, the most popular of which are Koscieliska, Chocholowska or Five Lakes Valley. More experienced hikers also have many interesting trails to choose from - lower peaks in Western Tatras and much higher ones in High Tatra mountains.
The most popular mountains in Tatras are:
Mountain shelters in Tatras are immensely popular and tend to be crowded in high season. It is necessary to book a room several months in advance.
The main tourist resort is Zakopane, but tourists also like to visit nearby villages: Murzasichle, Bialka Tatrzanska and Bukowina Tatrzanska.
The best accommodation in Zakopane we have found so far is Toporowa Cyrhla Apartments. Nice and clean apartments with fully equipped kitchen, located in quiet area close to hiking trails.
You can book your stay here:
If you prefer to stay close to Zakopane center and also looking for budget-friendly accommodation, then the best choice is Top Hostel. Situated on famous Krupowki street, it is ideal option to explore Zakopane attractions. Breakfast is included.
You can check the prices here: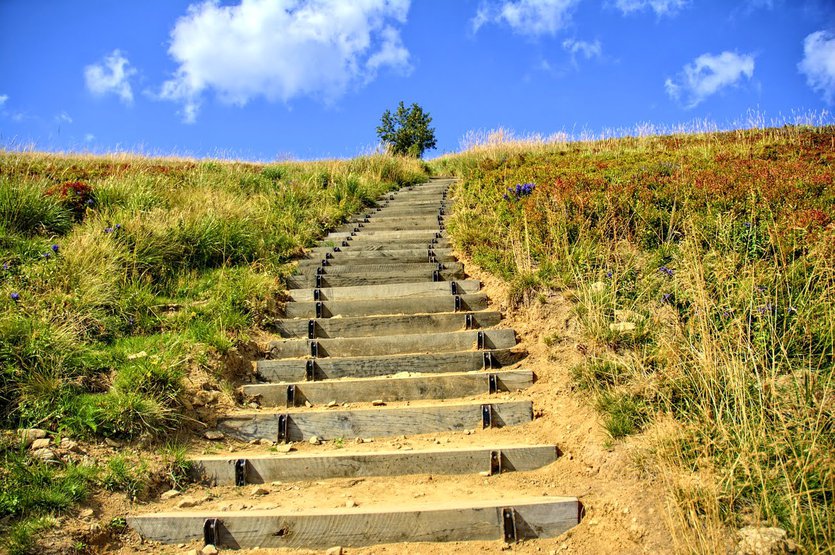 Bieszczady are picturesque mountains situated on the borderline of Poland, Slovakia and Ukraine. They're part of Eastern Carpathian mountains which stretch out to Romania. In Poland we have Western part of Bieszczady with the highest peak Tarnica - 1346 metres.
The most recognizable landmark of Bieszczady are Poloniny - Carpathian mountain pastures, the biggest of which are Polonina Wetlinska and Polonina Carynska.
Before World Wars, Bieszczady region was inhabited by many different ethnic groups. Poles, Jews and Lemkos lived together peacefully. Unfortunately, during postwar purges the majority of villages were depopulated.
Bieszczady mountains are considered to be one of the most secluded ranges in Poland with little of tourists on the trails and untouched nature.
However, these days is more of a myth - there's loads of hikers exploring Bieszczady trails. Truth - tourist infrastructure is less developed than in other mountain regions in Poland, but nevertheless Bieszczady are very popular among tourists. Besides hiking trails, there are also some other interesting attractions, which make this region even more appealing to adventure seekers.
The most popular paths lead to Tarnica peak and Winnie the Pooh hut.
You can check available hotels in Bieszczady here: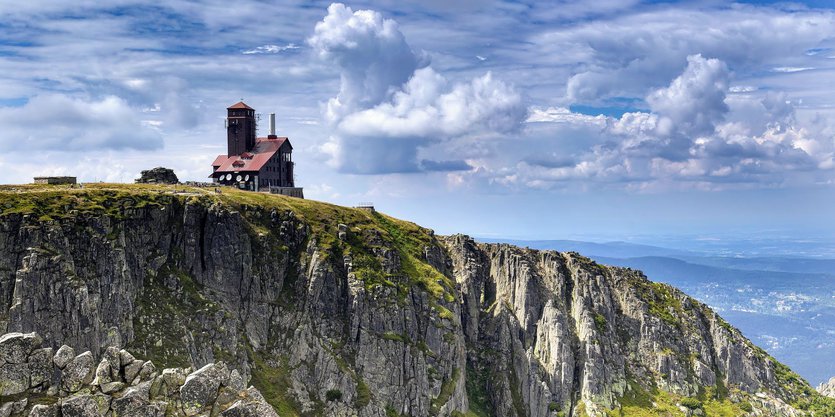 Karkonosze are the highest range in Sudetes mountains. They're located in the southwest Poland and are natural borderline with Czechia.
The highest peak is Sniezka - 1603 metres. Easily accessible, with famous meteorological observatory at the top, this mount is number one in Karkonosze.
The main tourist resorts in this area is Karpacz and Szklarska Poreba.
Karpacz is a small but lively tourist resort which offers many attractions besides hiking. You can find available hotels in Karpacz here:
Szklarska Poręba is known for its great alpine-like climate and many SPA hotels. You can check accommodation options here:
Besides Sniezka, outdoors lovers very often hike to Szrenica (1362 metres) - nice wide trail attracts all kind of hikers, including families with children.
Karkonosze might not be very high Polish mountain range, but are geologically very interesting - waterfalls, amphitheatres and other peculiar rock formations make this region valuable landscape park.
In 1933 part of Karkonosze started to be protected as biosphere reserve and then, in 1959 Polish government created Karkonoski National Park. Because people haven't interfered in Karkonosze ecosystem for a long time, the nature of those mountains is almost intact which makes it an unique ground for scientific institutions.
Lots of easy hiking trails, great landscapes and well-developed tourist infrastructure make Karkonosze the second most popular mountain range in Poland (Tatras are definitely Polish number one).
When in the area, it's also worth to visit Chojnik castle. This medieval monument is located on the hill, hiking there takes about 20 minutes. Panoramic view from the upper tower is amazing!

Pieniny mountains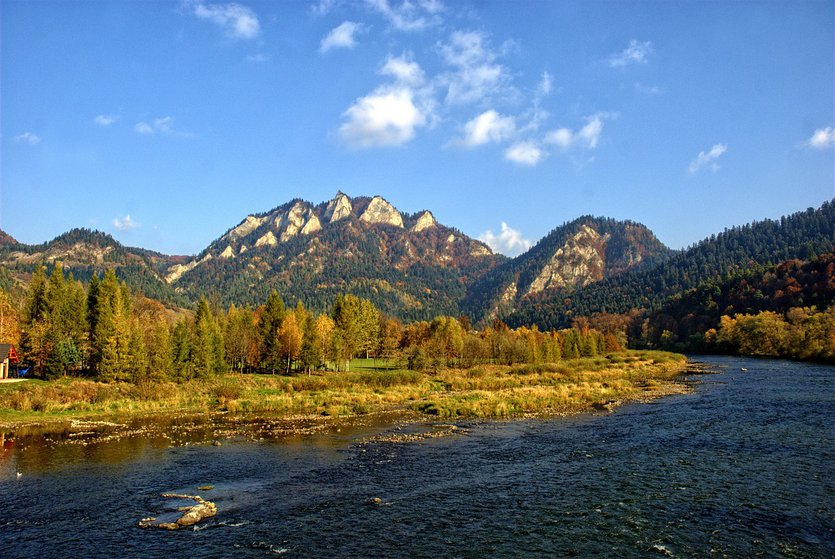 Pieniny are the smallest mountain range in Poland. But don't let the size mislead you - Pieniny are considered to be one of the most beautiful mountains in Poland. Some hikers think they're even more amazing than Tatra mountains!
Pieniny are located close to Tatra mountains, right on the Slovak border. Actually, Slovaks have bigger area of those mountains, but nevermind, Poles have nice trails and great castles there too! 😉
The highest peak of Pieniny is Wysoka (1050 metres). However, it's Trzy Korony peak which is the most popular (shown on the above photo). It reaches only 982 metres, but the landscape from the view platform on this peak is breathtaking.
In 1921, to protect the precious nature in Pieniny mountains, Polish government created Pieninski National Park. It was a very good decision taking into consideration the number of tourists who visit those mountains every year. Well-marked and easy trails, lots of bike paths, good tourist infrastructure, acid mineral waters used in nearby health resorts - it all attracts all kinds of people with different needs.
Besides hiking in Pieniny National Park, the main attractions of the region are:
→ Rafting on Dunajec river - fear not, it's very peaceful river and the majority of people on the rafts are children and pensioners. The trip lasts about 2 hours, but the views are unforgettable! If you like some more thrill, go for kayaks or pontoons.
→ Exploring Homole gorge - located in Jaworki village, this scenic trail is about 1 kilometre long, perfect for families with youngsters.
→ Dunajec castle in Niedzica and Czorsztyn castle - the beginnings of those castles reach 14 th century! Great treat for history lovers, but also amazing spot for taking photos - the surrounding of those castles will make your shoots look like a dream.
→ Cerveny Klastor museum - the most popular sacral building in Pieniny area. They say this monastery was built by a guy from Hungary as an atonement for his murders. He must have killed a lot of people!
→ Pump room in Szczawnica village - you get to try many different kinds of healing mineral water there.
→ "ABlandia" ropes course in Kroscienko - fun place both for children and adults seeking a bit of thrill.
→ "PKL Palenica" chairlift and gravity slide - if you don't like hiking, but appreciate a good landscape, take a ride on "PKL Palenica" chairlift. Like speed? Go for a nearby slide.
The best accommodation near Pienin National Park we've found so far is Willa Przekop. The rooms were nice and clean and the hosts were very friendly. Added bonus was possibility of buying breakfast there, which I highly recommend - the food was delicious!
You can book your stay in Willa Przekop here:
If you're planning on staying in Krakow and prefer affordable accommodation in the Old Town, you might be interested in Pink Panther's Hostel. Relatively inexpensive, located in the center of Krakow Old Town. Breakfast is included.
You may check its prices here:
Here you may look for other affordable places to stay in Krakow: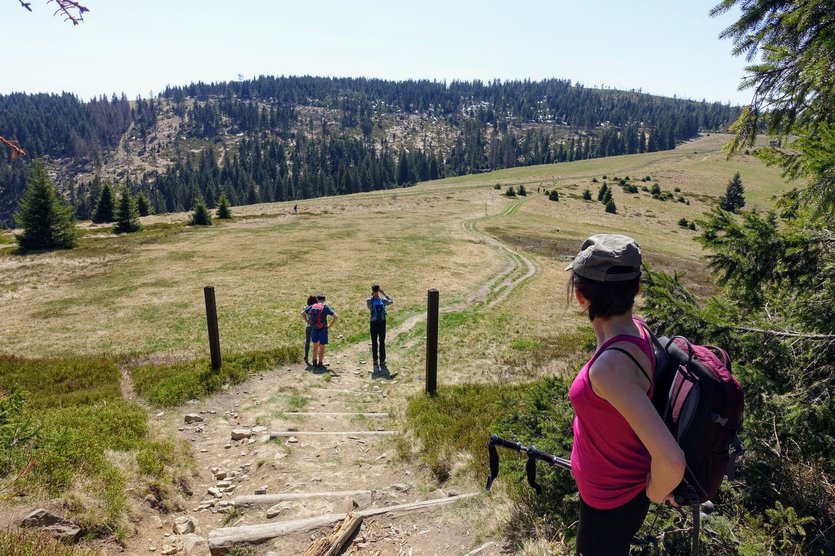 Another picturesque Polish National Park. Located close to Krakow and Pieniny mountains, so it's perfect option for a Krakow day trip.
Symbol of Gorce National Park is fire salamander, however there aren't a lot of those peculiar creatures left - they're endangered species under strict protection. I've heard some people believe that fire salamanders bring bad luck and they kill those poor little animals (one would think we have 21st century, but no. It doesn't seem so when I hear such stories).
The highest and most popular peak is Turbacz - it reaches 1310 metres. Nice and easy trail leading to this mount attracts the majority of hikers who visit Gorce mountains.
However, there are less tourists than in Pieniny or Karkonosze, so Gorce are great mountains for quiet seekers.
There are 14 hiking trails which total length is 63 kilometres. I know it's not a lot, but there's also many bike trails, horse riding paths, ski pistes and educational trails. Actually, you'll get to see lots of mountain bikers in Gorce - nice and wide trails are a treat for two-wheels fans.
There's also one more thing which makes me like Gorce National Park so much - when the weather's sunny, you get to see majestic panorama of Tatra mountains. And one doesn't need to hike a lot - 1200 metres is enough to admire amazing mountain landscapes.
If you'd like to stay close to Gorce mountains, you might want to consider Rabka Zdrój village - lovely health resort located close to hiking trails. By the way, in 1996 Rabka Zdrój was given the official status of "The Town of Children of the World" by the United Nations. 🙂
You can check available hotels here: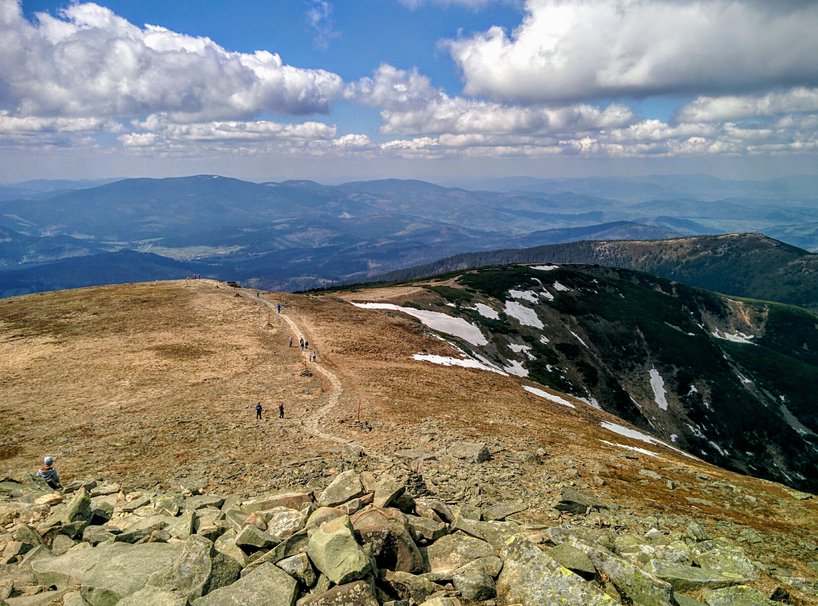 Beskidy mountains may not be the first thing which comes to your mind when you think about hiking in Poland, but they are definitely worth it.
There are many Beskid ranges in southern Poland - Little, Island, Silesian, Small Beskids - you name it!
But Beskid Zywiecki is the highest and most picturesque of them all. It's the second highest mountain range in Poland, with Babia mountain reaching 1725 metres. Obviously, there's National Park to protect those beautiful but vulnerable lands.
Zywiec Beskid is widely available for tourists - lots of hiking, biking and horse trails make this region a true paradise for outdoor addicts.
Interestingly, in Sopotnia village there's the biggest waterfall in Beskidy mountains. In winter, the most popular ski resort is Pilsko mountain (1557 metres). The specific location of the pistes provides good skiing conditions even if in other mountains snow is already melting.
One of my favourite hikes in Zywiec Beskid is Rysianka Clearing. My sister even organized hiking bachelorette party there 😄. I simply love this place. The trail is easy to hike, yet so beautiful, and there is also a welcoming mountain hut which serves delicious food.
In general, Zywiec Beskid is very welcoming for all kinds of tourists - in nearby villages there's lots of hotels and restaurants, and also there's many mountain huts along hiking trails.
The best place to stay if you want to hike in Beskid Zywiecki is Zawoja village. Nice and quiet, with great views. You can find nice accommodation options here:
Another great place to stay if you'd like to explore Beskid Zywiecki is Zywiec town. Famous for its brewery and scenic lake, it is also perfect place for hikers, as there are many trail heads in the area.
You may check hotels in Zywiec here:

Silesian Beskidy mountains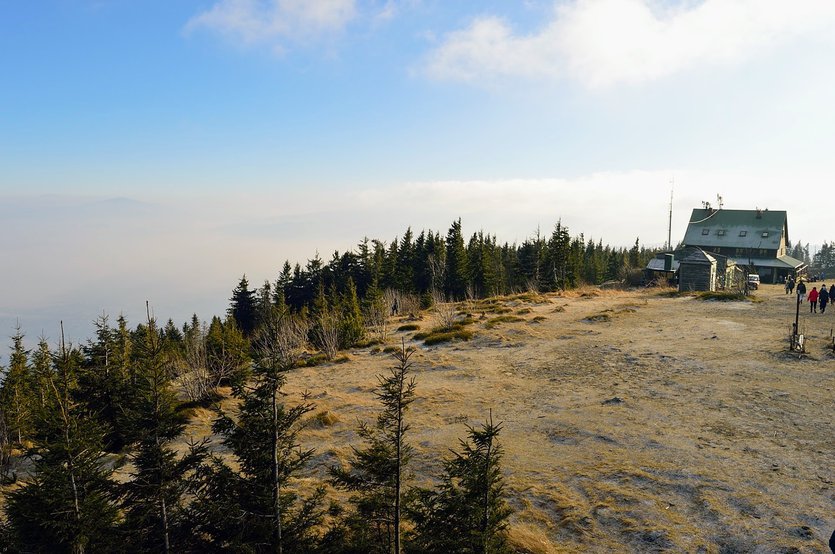 Beskid Slaski (Silesian Beskidy mountains) isn't the highest or the most breathtaking mountain range in Poland. But I love it!
The tallest peak is Skrzyczne - 1257 metres (I have a feeling the name of that mountain is unpronounceable for foreigners 😉).
However, one of the most interesting trails leads to Barania mountain (1220 metres). This region was oppressed by people in the past and now is being recultivated. Nature is slowly regenerating (it always does, if people don't disturb it), but one can still see damages caused by people who made bad decisions.
In Silesian Beskid starts Main Beskid Trail - the longest path in Poland which has 496 kilometres.
Main attractions:
→ chair lifts are basically everywhere.
→ in Wisla village there's a ski jump where famous Polish ski jumper Adam Malysz used to practice.
→ Beskid museum in Wisla village.
→ Zoo in Ustron village.
To stay close to hiking trails and breath some fresh air you might want to consider Wisła village. Find available hotels here:
If you're planning on staying in Katowice city, you may look for available hotels and their prices here:

Stay safe while hiking in Poland
Before you start exploring Polish mountains, it is important to prepare well and remember about safety.
True, most hikes in Poland are technically easy, but the weather is unpredictable (even in low mountains) and it is necessary to have proper mountain gear.
There is avalanche risk in High Tatras in wintertime and some trails there require experience in high mountains.
Here are a few articles on how to stay safe in the mountains:
Polish mountains are beautiful and, most importantly, rather safe to hike. Trails are well-marked, there are tons of guideposts and many mountain huts so that you don't need to worry you'll end up sleeping under a tree, or die of thirst and hunger. 😉
Also, none of Polish mountain range is secluded - you can be sure there will always be someone to give you a hand. There aren't many dangerous wild animals - they prefer to stay away from people.
The best website to plan your hiking trip is mapa.turystyczna.pl. There are not only all Polish mountains - you can plan your routes in Slovakia and Czechia as well. This online map gives you the time of walking, height difference and shows photos of the locations you choose.
---
Hiking in Polish mountains - practical info
10 most beautiful natural wonders in Poland
The best places in southern Poland