Poland is getting more and more popular among fellow travelers. They often wonder which are the best cities in Poland, and I breathlessly answer: Krakow, Wroclaw, Warsaw and Gdansk.
Why visit Gdansk?
Gdansk is one of the major cities in Poland
it is also one of the oldest (over 1000 years of tradition)
it is home to many historical treasures which are of great value to Poles
Gdansk was a witness of events which shaped not only the history of Poland but also the whole world. This city is considered to be a symbolic place of Second World War outbreak
in Gdansk Polish workers created Solidarity - first independent anti-Soviet labor union
Gdansk is one of the most beautiful cities in Poland. I would say it is also high on the list of the most beautiful cities in Europe
numerous monuments, interesting history and convenient location on the Baltic seaside all make this city one of the best places to visit in Poland
I only wish the mountains were a bit closer. 😉
What's worth to remember is that weekend is too short to get to know the city - there are loads of amazing Gdansk places to visit.
Also, together with Gdynia and Sopot, Gdansk belongs to so-called Tricity metropolitan area (Trojmiasto). That makes it even more interesting!
It is best to reserve at least several days to visit this beautiful Polish city.
So, let's have a look at the best things to do in Gdansk:


1. Museum of the Second World War

This is number one among all Gdansk main attractions.
Even the outside of the museum's building makes a big impression.
Architects who built it wanted this futuristic, inclined prism to symbolise the future. Quite an interesting idea. When we stand on the museum's square we are in the present. Where is the past then?
Well, it is 14 metres below the ground.
It is the underground where they placed the main exhibition. It is 5000 square metres big which makes it one of the biggest historical exhibition in the world.
Museum of the Second World War presents in detail the history of World War II. We get to know not only years 1939-1945 but also the genesis of the war outbreak and the division which was created after the war had ended.
I can honestly say that it is one of the most interesting museums I have visited so far.
Over 2000 of exhibits and about 240 interactive displays allow getting to know the war not only from the Polish perspective but also international. Archival documents, films and objects give a chance to get to know the everyday life of ordinary people during those extremely disturbing times.
To fully understand what we see it is recommended to rent an audio guide. It also comes in handy when we do not know where to go next - the museum resembles a labyrinth.
An audio guide is available for children above 12 years old. I think the main exhibition is not suitable for children. There is actually a separate exhibition for children called "Podroz w czasie".
Practical information:
The museum is big, so if we want to see everything we need to reserve at least 3 hours for the sightseeing. However, it is not possible to get to know well every display, there is just too many of them.
Which means that visit in Museum of the Second World War is one of the most worthwhile things to do in Gdansk.

If you would like to stay close to this museum, you can check nearby available Gdansk hotels here:

Although many historians think that World War II began with a bomb attack in Wielun, Westerplatte is considered to be a symbolic place of the beginning of this calamity.
Westerplatte is a park located right next to the seashore. There are many war relics and monuments commemorating Westerplatte defenders.
What I like about this place is that it is not overcrowded. Westerplatte peninsula is a quiet area where we can contemplate the sad past of our grandfathers, who gave their lives to a cruel war.
It is a nice getaway where we can take a relaxing walk and not worry about traffic. For me, Westerplatte is one of the best Gdansk tourist attractions.
Boat trip Gdansk - Westerplatte
The best way to get to Westerplatte peninsula is to take a cruise from the Old Town. Ships wait for tourists in the dock on Motlawa river - you can check the location here.
Boat tours start at 10AM and the ships depart every hour. The last cruise from Gdansk to Westerplatte is at 7PM.
Tickets are sold right next to the ships. Return boat tour to Westerplatte costs 45 PLN for an adult, children's return ticket costs 30 PLN.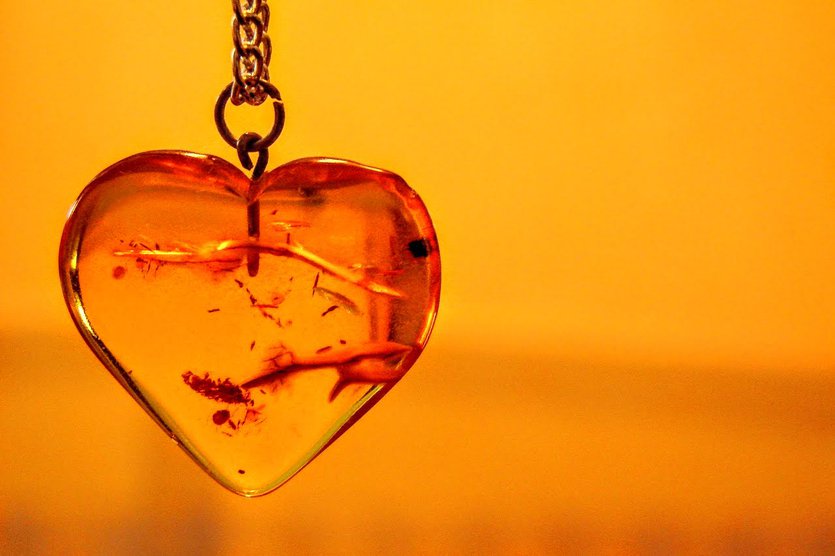 Another must-see on our list of Gdansk places to visit.
Gdansk is called the world capital of amber. The biggest amber trade fairs Amberif held in Gdansk attract merchants from all over the world.
No wonder this city is home to a famous amber museum, which is a must-see not only for jewellery lovers. Amber museum is one of the most important Gdansk old town attractions.
The museum presents the history of this fossilized resin, methods of its processing and all its uses throughout history. We also get to see prehistoric flora and fauna locked in amber, various tools and utensils made of amber.
Actually, the location of the museum is also interesting. It is an antique, unique in Europe, a gothic-renaissance building called Przedbramie of Dluga street. It consists of three parts: Prison Tower, Main Prison and Torture Chamber. In the Middle Ages, this building was a key element of Gdansk's fortification.
An adult ticket costs 12 PLN, but Tuesdays are free of charge. Amber museum is closed on Mondays.

If you wish to stay close to Amber Museum, you may check close-by hotels here:

4. European Solidarity Centre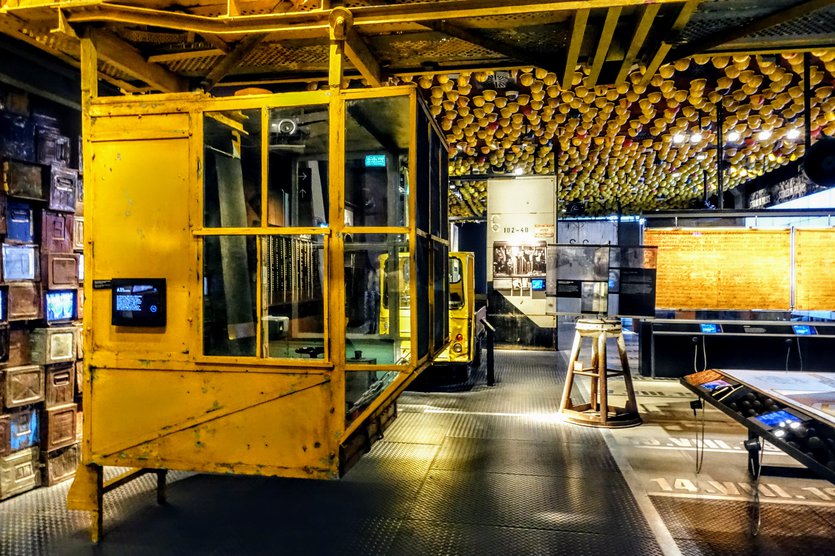 One of the best things to do in Gdansk for history aficionados. Gdansk shipyard was the background for one of the most significant events in Polish and European modern history.
It all started here: anti-Soviet Solidarnosc (Solidarity Movement), Round Table Talks, Soviet communism collapse.
Many years have passed since then, but, thanks to European Solidarity Centre, the memories about those events are still alive in the world.
The museum presents a history of Solidarity and opposition movements, which brought about many important changes in Poland and also in other European countries.
The eye-catching building resembles a steel ship and fits well into the shipyard landscape. The interior of the museum is also impressive - the combination of rusty steel, glass and plants creates a unique atmosphere.
I think it is the most modern museum I have ever visited.
The exhibition is a well-planned and detailed story about the Polish fight for democracy. Besides many interesting exhibits (some are of significant size, e.x. Gantry and Police truck), there are lots of interactive displays.
The best idea is to take an audio guide (included in the ticket price) and take our time to get to know the exhibition.
The most important exhibit in the museum are boards with 21 strike postulates. They were announced on August 17, 1980, and are part of UNESCO list of the most valuable documents in the history called World Heritage List - Memory of the World (MoW) Programme.
I think European Solidarity Centre is one of the best places to visit in Poland.
In high season the museum is open 7 days a week, but from October until April it is closed on Tuesdays. Opening hours are available here. An adult ticket costs 20 PLN (tickets can be purchased online here) and audioguide is free of charge.
PRO TIP: book in advance to get skip-the-line-tickets and don't waste time standing in line. Use the time saved to enjoy some good Gdansk food.

If you would like to stay close to European Solidarity Centre, you may find available nearby Gdansk accommodation here:

Did you know that photographers consider Gdansk to be one of the best European cities to visit?
There are lots of places to take a fantastic photo but one is especially popular.
If we checked all the cameras and smartphones of tourists who visit Gdansk, it would turn out that there is Neptune fountain on each of them.
This 650-kilogram statue is the most popular monument in Gdansk Old Town. It has been a landmark of this beautiful city since 1633.
Neptune fountain is located in the most representative part of Gdansk Old Town - Long Market. Long Market is especially beautiful at night - it is a must-see if we are interested in Gdansk nightlife.
There are many legends connected with this monument, but the most interesting one tells about famous Gdansk alcohol infusion - Goldwasser. According to the legend, Neptune god was indignant with people who were throwing coins to the well. He hit the water with his trident and broke the coins into golden petals which are now in Goldwasser herbal liquor.

If you prefer to stay close to Neptune statue, you can find available hotels in Gdansk Old Town here:

Together with Neptune fountain, Zuraw is one of the most popular symbols of Gdansk.
Built in 1442-1444, Crane in Gdansk is the biggest and the oldest port lift in Europe. It used to have three functions - putting up masts, handling the cargo and, at the same time, being a city gate.
Visit in Gdansk Zuraw gives a chance to feel the atmosphere of the old port.
Interesting interior, reconstructed and still working powertrain, lots of information about the Crane, Gdansk and city's commerce, plus a panoramic view on Motlawa river. Zuraw is another must-see place in Gdansk.
An adult ticket costs 8 PLN. Tickets can be bought in Osrodek Kultury Morskiej museum (maritime museum). Wednesdays are free of charge. Zuraw is closed on Mondays in low season.

If you would like to stay close to the Crane, you can look for available hotels here: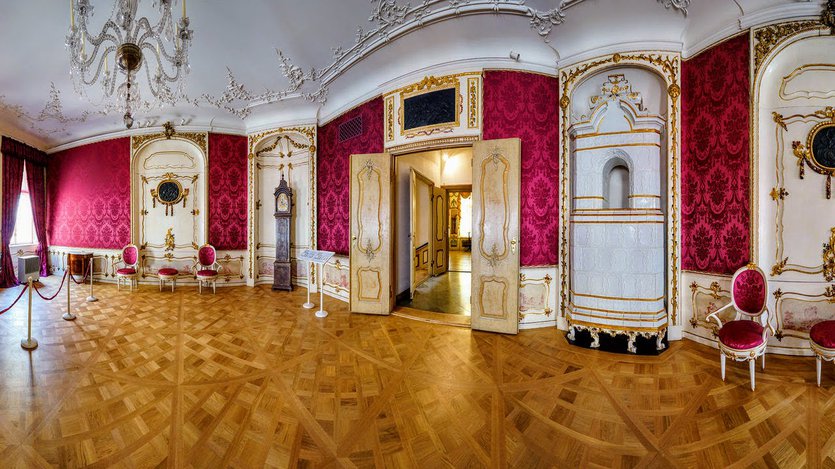 This scenic museum used to be the main office of Gdansk councillor Johann Uphagen. It presents the lifestyle of wealthy Gdansk people in the 18th century.
The merchant house is so well-preserved because of the owner who insisted that after his death everything remained the same. Before he died, he highlighted his demands in his will.
Uphagen House museum not only shows us the sense of style of the owner but also his interests. Meticulously recreated interiors comprise of spacious red living room, dining room, cosy "insect", "flower" and "bird" rooms. Those names come from beautiful paintings on wainscotting, which are actually the most valuable elements which remained from the former decor.
An adult ticket to Uphagen House costs 10 PLN, but in low season Tuesdays are free of charge.
Similarly to other public museums in Gdansk, Uphagen House is closed on Mondays in low season. From May until the end of October the admission is free of charge on Mondays.

If you prefer to stay close to Uphagen House, you can find nearby Gdansk hotels here: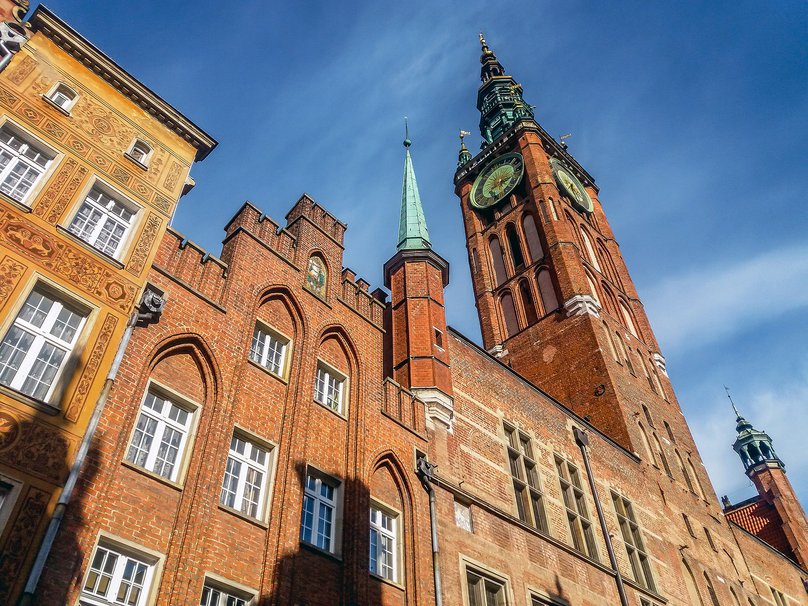 One of the most characteristic buildings in Gdansk and another must-see in Long Market.
The oldest parts of Gdansk City Hall were built in the 14th century, but the building was reconstructed and developed which resulted in the beautiful gothic-renaissance edifice.
Most people just take a photo of the building outside and not many visit its amazing interiors - it is one of the most underrated Gdansk attractions.
In the Main Town Hall there is Gdansk museum and viewpoint in the tower. The most impressive room is Wielka Sala Rady also called The Red Chamber. The decor resembles The Doge's Palace in Venice and is considered to be one of the most abundant today's town hall interiors. The ceiling of The Red Chamber is covered with 25 symbolic paintings.
Another room worth visiting is The White Chamber - it is the most representative room in the town hall. It is ornamented with portraits of Polish kings and big marble fireplace. It was The White Chamber where Polish kings had their audiences, courts and international agreements.
An adult ticket costs 12 PLN. Opening hours and free admissions are similar to Uphagen House.

Formally: the Basilica of the Assumption of the Blessed Virgin Mary.
The most popular of all churches in Gdansk.
This sacral building is also the biggest church in Europe built with bricks and one of Gdansk main attractions. It is also one of the most famous examples of gothic art in Poland.
They started building St Mary's Church in 1343, but it was ready only after 159 years!
The basilica is truly impressive and there are many medieval pieces of arts, e.x. Pieta or The Beautiful Madonna of Gdansk. We also get to admire the copy of The Last Judgment Triptych by Hans Memling (the original is kept in Gdansk National Museum).
The most remarkable historical treasure in St Mary's Cathedral is three-storey astronomical clock created in 1470 by German clockmaker Hans Düringer. The astronomical clock reaches whopping 14 metres! In 2018 the clock was reconstructed and there's a moving display. If we can, we should visit the cathedral around noon. At 11:55 AM there's an 8-minute long show - figures theatre displaying religious events with music.
When we are in St Mary's Church, we should head to the tower from which we get to admire the spectacular panorama of Gdansk city. Beware - there are over 400 steps leading to the top of the tower.
St. Mary's Basilica is open for tourists all year round, but it's not allowed to do sightseeing during the mass.
Adult admission ticket to the tower costs 6 PLN. The tower opening hours vary according to the season:
1st April - 30th April: 9AM - 6PM
1st May - 30th June: 9AM - 7PM
1st July - 31st August: 9AM - 9PM
1st September - 30th November: 9AM - 6PM
1st December - 31st March on Friday, Saturday and Sunday: 10AM - 4PM


10. Dlugie Pobrzeze (Long Riverside)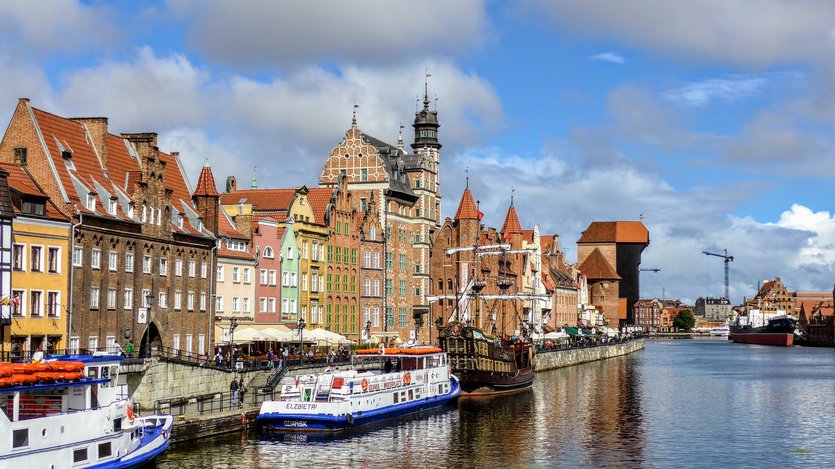 Dlugie Pobrzeze is a waterside promenade which runs along western Motlawa river embankment.
Long Riverside is the center of Gdansk nightlife - it is full of cafes, pubs, restaurants and shops. There are also characteristic water gates and bridges. It is Dlugie Pobrzeze where the ships cruising to Gdynia and Westerplatte start their journey.
If we are interested in marine history, we might want to visit Osrodek Kultury Morskiej - the biggest maritime museum in Gdansk (location here).
We can see the displays in the museum or buy a ticket booklet for 4 objects in Gdansk: Spichlerze (Granaries), Sołdek - steam-powered bulk carrier, Zuraw, and marine displays in Osrodek Kultury Morskiej. The pass includes also ferry crossing on Motlawa river.


11. Jetty in Gdansk Brzezno

Here is one of the best Gdansk tourist attractions for beachgoers.
Each one of the three famous Polish seaside cities has its own jetty: Gdansk, Gdynia and Sopot.
History of Brzezno pier Gdansk starts in the year 1900!
Before the war, Gdansk jetty was 250-metre long, but it was destroyed during the Nazi occupation. The pier was rebuilt in the '90s. and is currently about 130-metre long.
The admission to the jetty is free of charge. In the nearby lifeguarded beaches, there are attractions for adults and children, several restaurants and pubs.
Well-developed infrastructure, clean coast and safety made the beaches near Gdansk Brzezno jetty awarded with Blue Flag.

If you would like to stay close to Brzezno beach Gdansk, you can find available hotels here: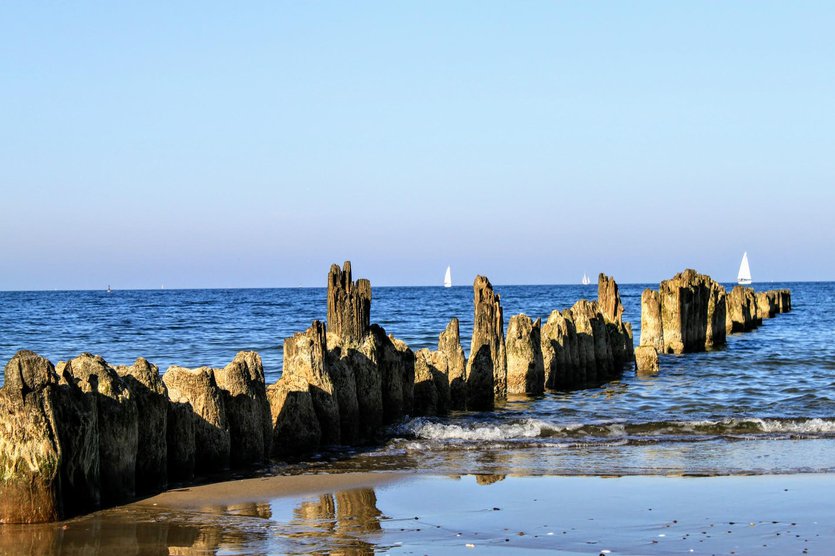 Although many travellers visiting Gdansk focus on museums and sightseeing, it is worth to remember that there are beautiful beaches in Gdansk.
The most popular Gdansk beach is seaside in Jelitkowo. It is considered not only to be the best beach in Gdansk but also one of the most beautiful beaches in Poland.
Jelitkowo beach is wide and golden sandy, there is a bike path and promenade. Perfect place for beach-goers, families with children and all the people looking for a natural city getaway.
There's one more beach worth mentioning - it is Stogi beach. Located near Westerplatte peninsula, it has also been awarded Blue Flag as a clean and safe place for beach aficionados.

If you would like to stay close to Gdansk beaches, you can look for available hotels here: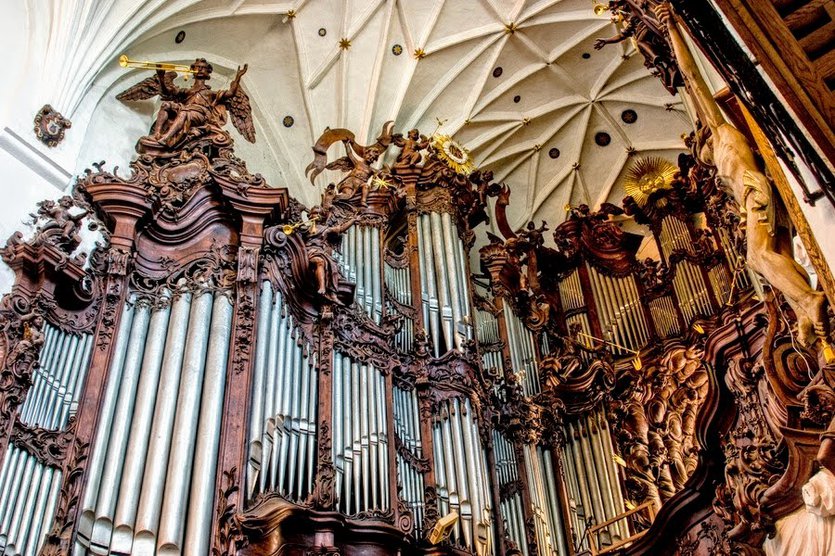 Gdansk Oliwa - green city district. Getting to know Gdansk wouldn't be complete without a visit in Oliwa.
This area used to be a Cistercian's conventual village and was incorporated into Gdansk in 1926. Gdansk Oliwa is one if the most unique places in Poland.
The biggest attraction in Gdansk Oliwa is an impressive three-nave basilica. The beginnings of Oliwa cathedral are dated back to the 12th century.
Interestingly, the famous basilica is 107-metre long which makes it the longest medieval church in Poland. The interior is richly ornamented - there are 23 baroque and rococo altars, 17th-century paintings, chapels, tombstones, antique canopies.
The biggest attraction in Oliwa cathedral is the rococo organ. They consist of 7876 reed pipes and are ornamented with 25 angels' figurines. Sublime music together with moving figurines creates a memorable spectacle. Many people consider Oliwa cathedral the most beautiful church in Poland.
Admission to Oliwa church is free of charge. Oliwa cathedral opening hours:
Monday - Friday: 9AM - 5PM
Saturday: 9AM - 3:30PM
Sunday: 2PM - 5:30PM
If you wish to stay close to Oliwa cathedral, you may find available close-by Gdansk accommodation here:

It is the biggest zoological park in Poland and one of the best Gdansk attractions for every family with children.
There are over 190 species, some of them are endangered and would be extinct if it was not for the zoo. Some of those endangered species include dwarf hippos, maned wolves and Andean condors.
Gdansk zoo is home to many different mammals, birds, reptiles and amphibians. There are European species like bisons, lynxes and wolves, but the majority of animals come from Africa and Asia.
Visit in Gdansk zoo will probably be much better than the majority of biology classes we have ever had!
In the zoo, there is also a ropes course with several routes and a small-gauge train. Horse rides are available too. Another great attraction for kids is a mini zoo where our little ones can feed the animals.
There are three restaurants in Gdansk zoo, open from May 1st until September 30th.
Gdansk zoo is open all year round, Monday - Sunday. Gdansk zoo opening hours vary according to the season, so it is best to check the zoo website.
An adult ticket costs 15 PLN, children ticket: 10 PLN.

Available hotels nearby Oliwa zoo are here: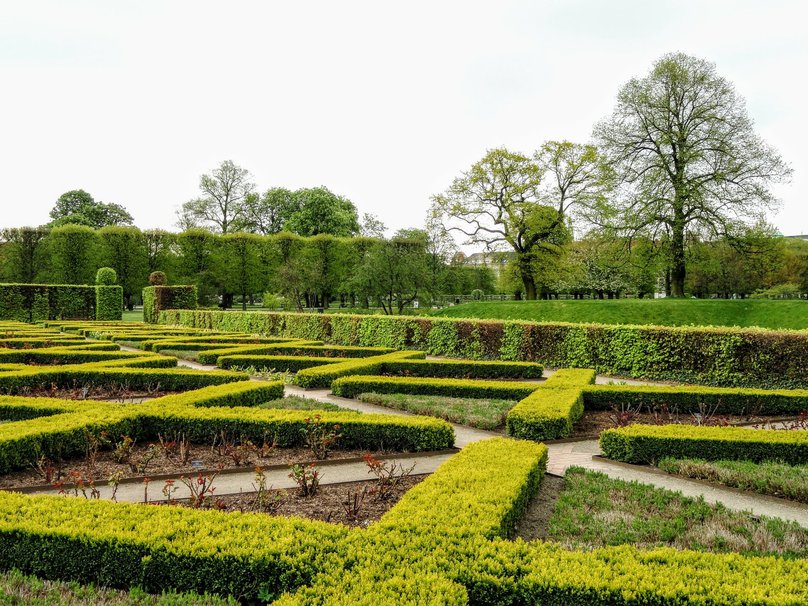 One of the best Gdansk tourist attractions to let your hair down. Relaxing stroll on alleys in this lovely city park is a great idea after a day full of sightseeing.
Fancifully pruned trees, colourful bushes, ponds with ducks and swans - Oliwa park is the best place in Gdansk for nature lovers.
There are many interesting spots near the park. Several hundred metres from Oliwa park there is Pacholek hill on which there is viewing platform where we get to admire Gdansk and Sopot panorama.
There is also so-called Dom Zarazy (Plague House) - a medieval building which used to be the main gate of Oliwa Cistercians convent. The specific name of the building was created in 1709 when there was a bubonic plague in Gdansk and the part of the convent was used as a quarantine for the infected.

Here you can look for hotels close to Oliwa park:
Located right next to the main train station, Gradowa Gora hill is the most popular viewing point in Gdansk downtown. It is just 46-metre high, so the walk to the hill is not very demanding.
On Gradowa Gora hill there is a 19th-century fortress with a big millenary cross. It is the best place to admire the panorama of Gdansk Old Town.
17. Stutthof concentration camp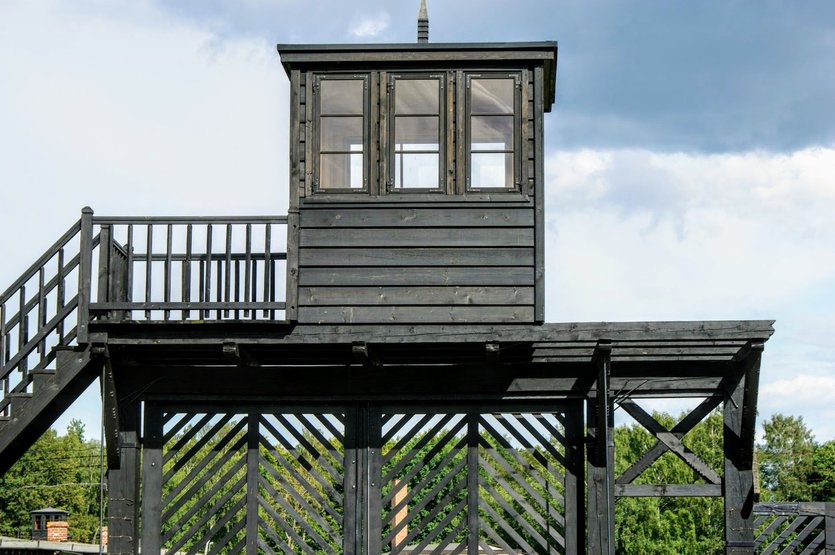 Stutthof concentration camp is located in Sztutowo village about 50km from Gdansk.
It was one of the longest active concentration camps in Poland. It was opened as early as September 2 in 1939, although it got its official status a bit later. Its first prisoners were people who could slow down the takeover of Pomerania region by the German army - they were mainly Poles, Jews and mentally ill people.
It is estimated that during six years in Stutthof camp died about 65 thousand prisoners from 28 countries. Those poor people died mainly because of diseases, back-breaking work, maltreatment and hunger.
In Stutthof concentration camp we see barracks of the old and new camp, Jewish camp, villa of the main commandant, gas chambers, crematorium and a memorial statue by Wiktor Tołkin.
Visit in Stutthof camp lasts about 2 hours. The admission is free of charge.
Stutthof museum is open every day.
Opening hours:
May 1st - September 30th: 8AM - 6PM
October 1st - April 30th: 8AM - 3PM
If you would like to see a historical film, the symbolic fee is 5 PLN. There are several short documentary movies played in the Stutthof concentration camp:
"Konzentrationslager Stutthof bei Danzig"  - 30 min
"Albert Forster" - 25 min
"Ambulance" - 16 min
"Stutthof some days later" - 19 min
The cinema room is situated in the ex-headquarters building near the northern entrance. In the summer shows are held every half an hour from 8AM until 5PM.


How to get from Gdansk to Stutthof concentration camp?

bus - there are direct shuttles going from Gdansk bus station to Stutthof camp. Transit takes about 1 hour. You can check the timetable here
car - fast and convenient. The ride takes about 40 minutes. There is paid parking near the Stutthof camp
private transport - hotel pick-up and return transfer
Gdansk hotels tend to be a bit expensive, but there are many budget-friendly options.
Hostels in Gdansk are a great option if you are looking for cheap hotels in Gdansk city centre. They tend to get booked fast, so we need to book well in advance.
On our recent trip, we stayed in High 5 Hostel Gdansk. It is located very close to the Old Town and just several minutes walk from the Museum of the Second World War.
The location is its biggest advantage - we did not need a taxi to visit all the main attractions in Gdansk city centre.
It is cheap and breakfast is included, although I would definitely advise against staying in this hostel if you need a good night's sleep.
Here you can check if High 5 Hostel Gdansk has any available rooms:

One of the best hostels in Gdansk is Hostel 22. It is also located close to Old Town. Breakfast is included.
I stayed there a few years ago when I visited Gdansk with my sister and we liked this place a lot! Nice and cosy, the staff is friendly and we walked everywhere because it is so close to Gdansk Old Town.
I wanted to book a room there for our recent trip, but, unfortunately, there were no rooms available.
You may check Hostel 22 Gdansk here:

If you prefer to stay in a more luxurious hotel with sauna, then you might want to choose Hotel Admiral Gdansk. It is one of the best hotels in Gdansk Old Town. Located in a quiet area right next to the Motlawa river. It offers comfortable air-conditioned rooms and has SPA facilities. Breakfast is included.
You may check this hotel here:

If you are looking for Gdansk airport hotel, the best option might be Sleepinn Gdansk Airport. Located just 1.5 kilometres from Gdansk airport, it offers nice accommodation for a reasonable price. Quiet and peaceful area. Breakfast is available. Nice and clean rooms. Tea, coffee and electric kettle in the room.
You can check this hotel's availability here:
Gdansk restaurants
There are countless pubs and restaurants, but unfortunately, there are not many Gdansk vegan restaurants.
We managed to find only 2 vegan/vegetarian places to eat in the city centre, but for us, they are one of the best restaurants in Gdansk 😀
Manna 68 - located in the Old Town, on Świętego Ducha 68 street. It offers vegan and vegetarian cuisine. I have to admit that the food we had there was the best vegan food we have ever tried! Plus nice and friendly staff - I think Manna 68 is one of the best places to eat in Gdansk, ideal also for non-vegetarians.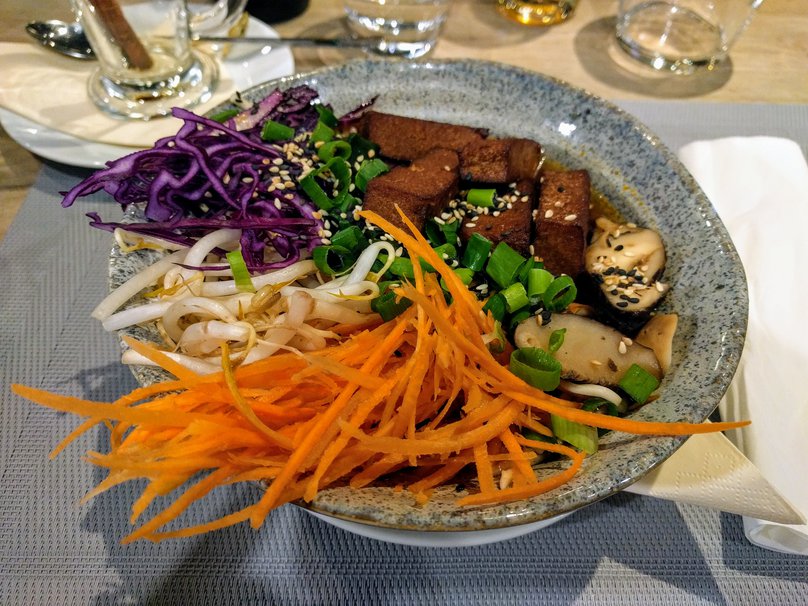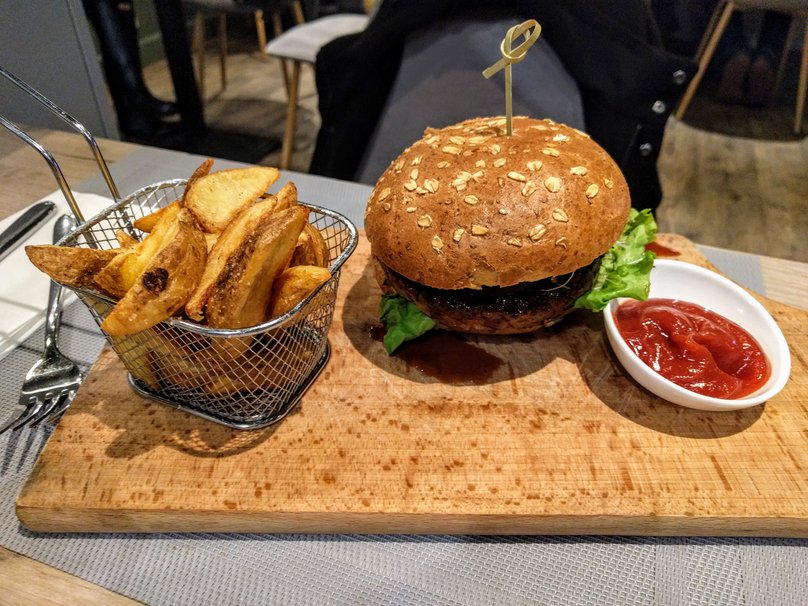 Guga Sweet & Spicy - situated on Motlawa riverbanks, close to Museum of the Second World War. It is another example of best places to eat in Gdansk. Address: Stara Stocznia 2/9 street. The restaurant is divided into a cafe and restaurant. As the name of the place suggests, the food is spicy, but we love it like that 😃. Very aromatic food and an excellent selection of teas.
Zafishowani - if you prefer to try a really good local fish, then you should definitely head to this place. It is one of the best restaurants in Gdansk Old Town for non-vegetarians. Very professional staff, nice decor and amazing food. Address: Tokarska 6 street (Motlawa river embankment).

GDANSK MILK BAR
If you look for cheap Gdansk restaurants, you might want to go to bar mleczny - milk bar.
Milk bars in Poland are a specific kind of restaurants. They serve traditional Polish food, but the prices are significantly lower than in other restaurants. This is because milk bars are partially funded by the Polish government (weird, I guess it is a relic of Polish socialism).
There are several milk bars close to Gdansk city centre:
Public transportation
Public transportation in Gdansk (SKM) is well-developed and it is relatively easy to commute in the city. Tricity Poland (Gdansk, Gdynia and Sopot) are well-connected and commuters can use trams and buses.

To find out how to travel in Tricity Poland, check this website.
Airport
Gdansk Lech Wałęsa Airport is an international airport located 12 kilometres northwest of Gdansk.
There are several options for Gdansk airport transfer to the city centre:
➡ car rental Gdansk airport - the fastest and most convenient option, especially if you're planning to do some day trips from Gdansk
➡ private hotel transfer - a door-to-door transfer to your hotel from Gdansk airport

➡ taxi - there are several taxi companies. Taxis wait just outside the arrivals hall
➡ buses - tickets can be purchased in newsstands and ZTM ticket machines:
line number 110
fast line number 210
night line number N3
➡ trains - there are SKM trains available (Szybka Kolej Miejska). You can check the timetable here. The train station is near T-2 terminal (they are connected with a tunnel). Tickets can be bought in tickets vending machines or on a train.
Commuting from Gdansk airport to city centre by SKM train is a very convenient option - shuttles are every 20 minutes and the transfer lasts only about 25 minutes.
Car rental
If you are planning on staying in Gdansk for a longer period of time and also visit Sopot and Gdynia, then car rental might be the most suitable option for you.
You can check good offers on car rentals here:

Is Gdansk expensive?
In my opinion, it is. Gdansk is one of the major cities in Poland and prices are comparable to the Polish capital Warsaw.
Prices for two-course dinner with a drink in a restaurant in Gdansk Old Town start at 50 PLN per person.
But I think this city is worth it.
There are so many amazing places to visit in Gdansk that it is a must-see if we want to get to know Poland. Besides, many people (myself included) consider Gdansk to be the most beautiful city in Poland.
Besides, Gdansk is one of the best European cities to visit and, compared with Western Europe, it is still inexpensive.
There are a few methods to save some money when we visit Gdansk:
Gdansk City Card - offers a package of discounts and/or free admissions to various museums in Gdansk. It also grants a 20% discount to some of the restaurants. We can top it up with Metropolitan Transportation Ticket and travel for free all over Tricity using public transportation.
There are three options available: family package, sightseeing package and active package. Each type of Gdansk City Card has three duration options: 24h, 72h and 120h.
There are several places where we can purchase Gdansk Travel Card.
Visit museums for free - admission is free of charge one day per week in the majority of museums (the info is included in this article above)
Eat out in Gdansk milk bar
Stay in Gdansk hostel

Best time to visit Gdansk
Gdansk is one of the best all year round tourist destinations in Europe. However, in the summertime, it tends to get rather crowded. In winter there are fewer tourists, but it is windy and the cold wind blowing from Baltic sea makes the perceived temperature even lower.
For me, Gdansk is one of the best places for spring break in Europe. Trees blossom, air is fresh and warm, and there are not so many tourists yet.