Warsaw is undoubtedly an interesting city, full of contrasts and contradictions. It's one of the major cities in Poland (Krakow, Gdansk and Wroclaw are important too).
Capital of Poland may not be one of the most beautiful cities in Europe but we like it - there are so many fantastic things to do in Warsaw that it's impossible to get bored there.
Warsaw developed later than other cities in Poland. In the 10th century, it was still a small unknown village. It became the capital of Poland in the 16th century which made it develop quickly.
But, unfortunately, throughout the history of Warsaw, there were many wars and uprisings which affected the capital of Poland greatly - it changed hands several times until it finally became Polish again.
At the end of World War II, Warsaw was completely devastated and most of the buildings were destroyed.
We can only guess how Warsaw would look like today if it hadn't been damaged so many times in the past.
However, Poles managed to rebuild it quickly and today we have modern and vibrant capital with many museums documenting its short but rich history. Warsaw is definitely one of the top places to visit in Poland.
Some even say that Warsaw is one of the best cities to visit in Europe! 💙
Anyway, no matter if you travel solo or with family and kids, or maybe you look for an exciting place to organize hen party - Warsaw attractions will suit every traveller needs.

So, let's have a look at top things to do in Warsaw: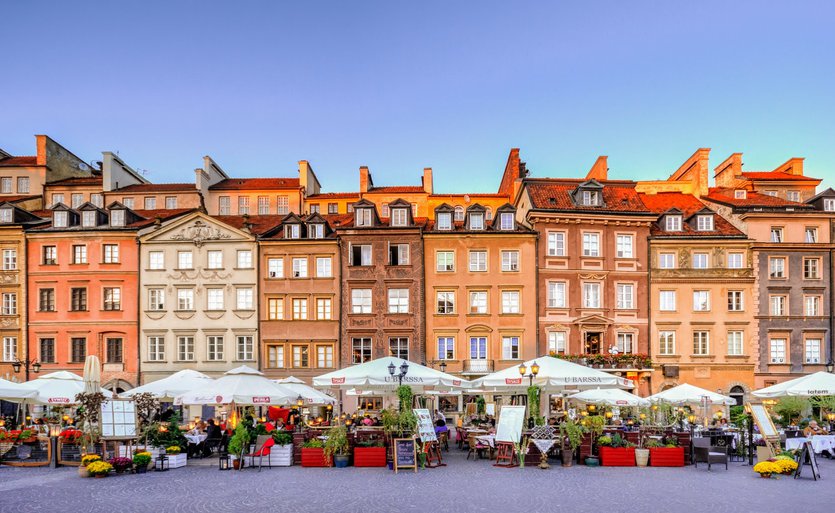 Taking a walk in Old Town is one of the best things to do in Warsaw. Charming places with a great atmosphere full of monuments, churches and antique townhouses.
There are lots of cosy cafes and restaurants perfect to enjoy lunch observing this vibrant colourful place.
In the Old Town there are all the main Warsaw attractions:
Nowy Świat street
Krakowskie Przedmieście
Plac Zamkowy (Castle Square)
Old Town Market Place
Royal Castle
Barbican
Holy Cross Church - there is a heart of Frédéric Chopin and Władysław Reymont
Copernicus statue

It's part of Warsaw Old Town but it deserves a separate comment - it's one of a must see places in Warsaw.
In the past, it used to be a kings headquarters. Now there's an interesting museum. A rich collection of paintings, sculptures and craft artworks make Roayl Castle Museum a real treat for art and history aficionados.
There are several permanent exhibitions and sightseeing routes:
Castle Route
Kubicki Arcades
Upper Garden - entry free of charge
Lanckorońscy Gallery – art gallery including Rembrandt paintings
Mortars exhibition
Numismatic Cabinet
It's also worth to visit the nearby Copper-Roof Palace. It's an 18th-century beautiful palace which complements perfect visit in Royal Castle. In Copper-Roof Palac there's a historical apartment of Prince Józef Poniatowski. In the basement, we can watch a film about the destruction and rebuilding of the Royal Castle in Warsaw.
Opening hours:
Monday: closed
Tuesday, Wednesday, Thursday, Saturday: 10 AM - 6 PM
Friday: 10 AM - 8 PM
Sunday: 11 AM - 6 PM
Ticket prices to Royal Castle:
adult: 30 PLN
reduced: 20 PLN
kids: 1 PLN
group: adult 25 PLN per person, reduced 15 PLN per person
audio guide: adult 17 PLN, reduced 12 PLN, group 11 PLN per person
Ticket prices to Copper-Roof Palace:
adult: 15 PLN
reduced: 10 PLN
kids: 1 PLN
On Wednesdays the admission to both places is free of charge.


3. Palace of Culture and Science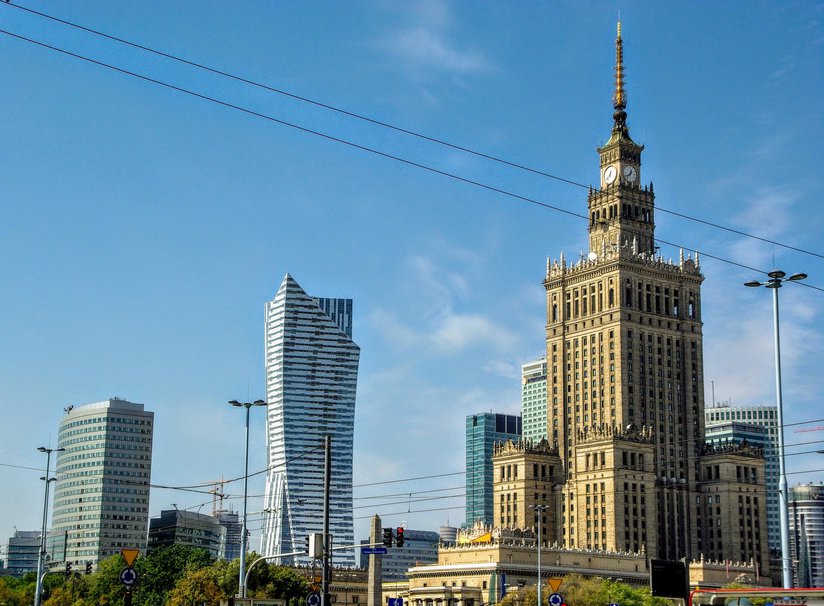 The highest building in Poland and one of the most famous landmarks in Warsaw.
It was built in 1955 as a gift from the Soviet Union to Poland - it was Josef Stalin's idea to build the Palace of Culture and Science.
This building is a controversial place in the capital of Poland. Many people still consider it a symbol of Soviet dominance over Poles. It's not the most charming building in Warsaw but it became one of the major Warsaw sightseeing places. It's also an excellent orientation point for Warsaw visitors.
In the Palace of Culture and Science, there are about three thousand rooms! Theatres, museums, cinema, fancy restaurants and the main Warsaw Tourist Office.
The most interesting museums are:
Evolution Museum
Technology Museum
The Dollhouse Museum
There's also a spider exhibition open every day located in Reception Room (main entrance on Marszałkowska street).
The biggest attraction in the building is the terrace located on the 30th floor (114m above the ground). Visitors get to admire the astounding panorama of Warsaw city.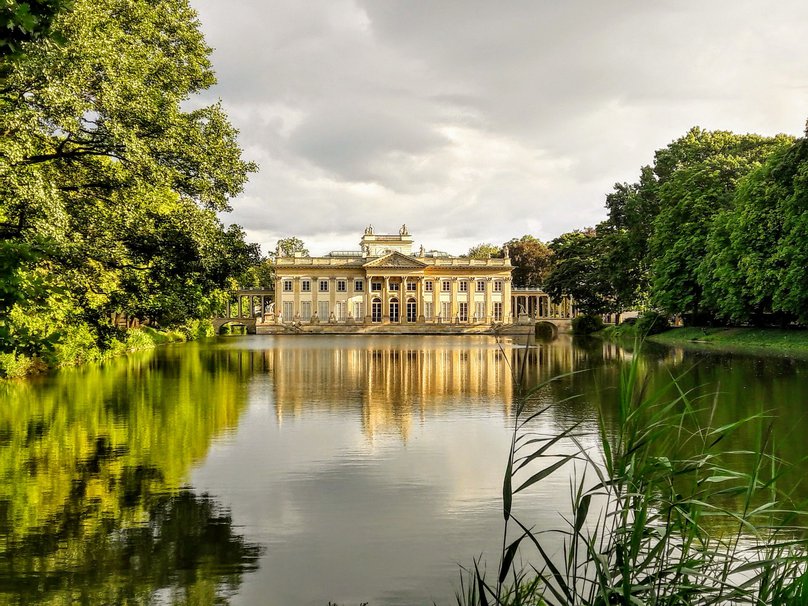 Lazienki Park is the largest park in Warsaw. Quiet and peaceful place it's perfect for a relaxing stroll. In the park, there is The Lazienki Palace also known as Palace on the Isle. This classicist building used to be the summer residence of King Stanisław II Augustus.
Lazienki Palace is considered one of the most beautiful places in Warsaw, a gem of European architecture. Situated in a green area of Royal Gardens where we can walk for hours! Royal Gardens are also well-known for the peacocks proudly walking among the visitors.
It's also worth to visit other parts of the Lazienki Palace Museum:
Old Orangery with Royal Theatre
Museum of Hunting and Horse-riding
Myslewicki Palace
Combined ticket for an adult costs 45 PLN, kids: 3 PLN.
Opening hours:

Monday: closed
Tuesday - Sunday: 10 AM - 6 PM

Chopin concert Warsaw Lazienki Park

From 19 May until 29 September on every Sunday in Lazienki Park, there are Chopin concerts. The concerts are held nearby Chopin Monument at 12 PM and 4 PM. The audience enjoys recitals by 42 finest pianists from all over the world.
The participation in the concerts is free of charge.

If you would like to stay close to Lazienki Park, you may check nearby hotels here: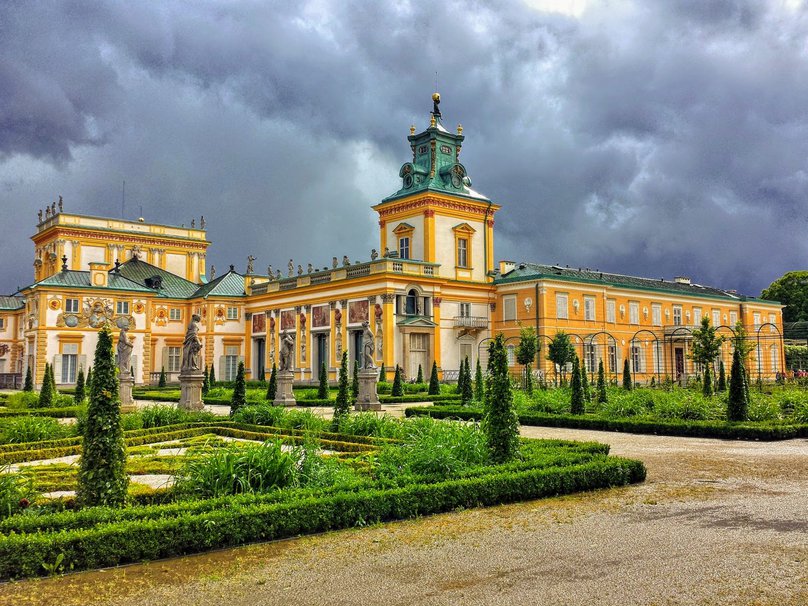 Another royal residence and a gem of Warsaw architecture. Built for John III Sobieski in the 17th century it's an exquisite Baroque palace. It miraculously survived two World Wars so it's one of the very few remnants of original Polish architecture.
The visit to Wilanow Palace is a unique experience, especially for art and history lovers. Impressively ornamented chambers, Garden Galleries, John III Sobieski apartments and offices - they are all eye candy. There are also several exhibitions available for tourists: ceramic, European glass and silver exhibition.
Wilanow Park is also worth a visit - a vast green area divided into several different gardens and natural reserves it's one of the most beautiful places in Warsaw.
The most charming place in Wilanow Park is Baroque Garden with the view on Wilanow Lake. There's also a wide promenade leading along Wilanow Lake. Definitely one of must see places in Warsaw.
The Palace and the surrounding park are open every day in high season. Opening hours vary according to season so it's best to check it here.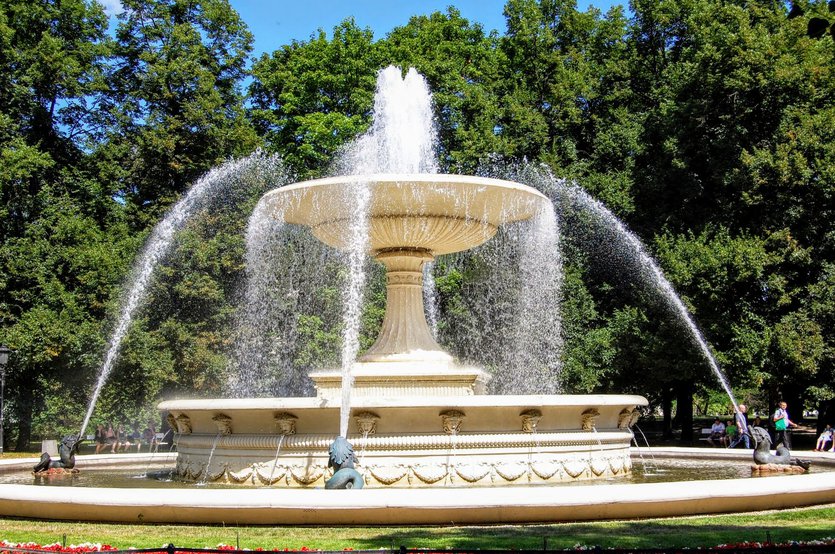 Public garden in the city centre, just a 15-minute walk from Warsaw Old Town. A picturesque baroque garden founded by Augustus II the Strong.
Main attractions in Saxon Garden:
Marconi Fountain
Baroque sculptures and statues
sundial
water rotunda
playground
numerous nature monuments
If you're planning on visiting Warsaw with kids, you might want to head to Saxon Garden - the playground there is awesome!


7. National Stadium Warsaw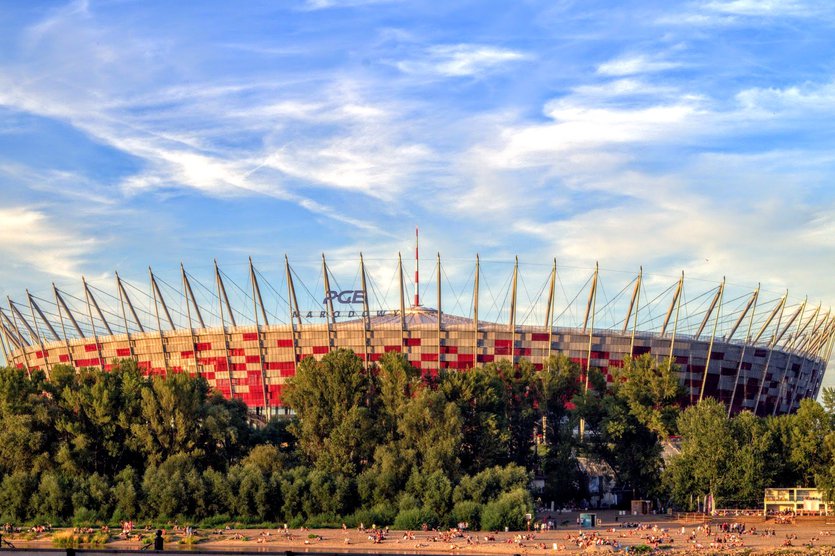 It was open in 2012 right before Eurepean Football Championships. It can seat 58 500 people. National Stadium in Warsaw has also VIP lounges, vast parking lot and commercial section.
Visitors have several sightseeing routes to choose from:

Football emotions
Feel like a VIP
Get to know the history
In Warsaw National Stadium there's also a viewing platform and in the winter there's ice rink open every day.
Warsaw National Stadium is situated on the east bank of the Vistula river, quite close to Warsaw Old Town (about 40 minutes on foot).

If we wish to get there with public transportation, we have several options:
metro - line M2 (red). Stadion Narodowy metro station is a short walk away from the stadium. Line M2 runs through Warsaw city centre
tram - lines 7, 9, 22, 24 and 25. The majority of trams and buses that run from Warsaw central station and nearby Centrum metro stop pass the stadium
bus - lines 158, 507 and 517. Get off at Rondo Waszyngtona bus stop.
To get to the stadium from Warsaw Old Town we need to take bus 226 and get off at Kijowska or Zieleniecka stop. It takes about 10 minutes to get to the stadium on foot.
To get there from Warsaw airport first take bus 175 to the city centre and then take either the metro or one of the trams or buses listed above
The National Stadium Warsaw is open every day from 9 AM until 8 PM.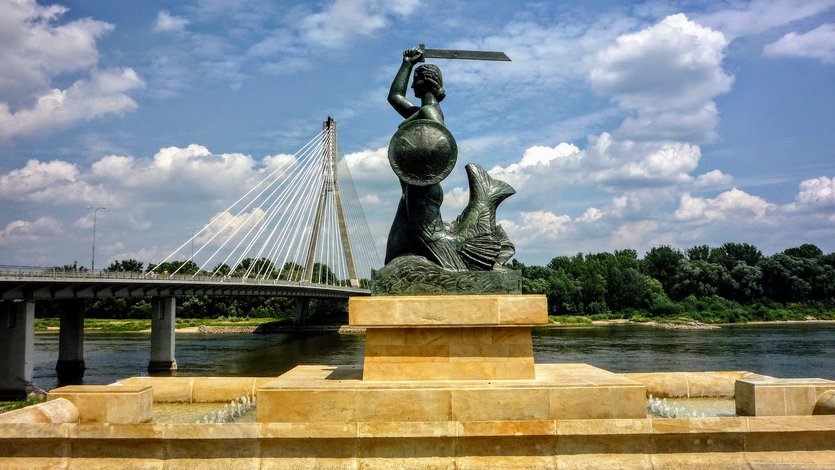 Are you planning to visit Warsaw and not going to see Mermaid statue? Think twice because Mermaid is one of the most famous landmarks in Warsaw. 🙂
There are two Mermaid statues: one in the Old Market Square and one near Copernicus Science Centre metro station, right next to Swietokrzyski Bridge.
By the way, there are ten bridges in Warsaw which many travellers consider as Warsaw attraction. For me, Gdansk Bridge is the best night viewpoint in Warsaw. It's also very often chosen by newlyweds as background for their wedding photoshoot.
But let's get back to Warsaw Mermaid.
Legend has it that nearby Warsaw Old Town a beautiful mermaid came out of the Vistula river to rest on its banks. She liked it so much that she decided to stay there forever. Unfortunately, the fishermen living nearby decided to lock her up because she was tangling the fishing net and let the fish free. But when they heard the beautiful voice of the mermaid they left her alone and enjoyed her singing. One day a rich merchant saw the mermaid and imprisoned her. A few days later a young fisherman heard crying mermaid and let her free at night. The mermaid was so grateful for giving her freedom that she promised to defend the city and its residents.
So she does until today, armed with a sword and a shield.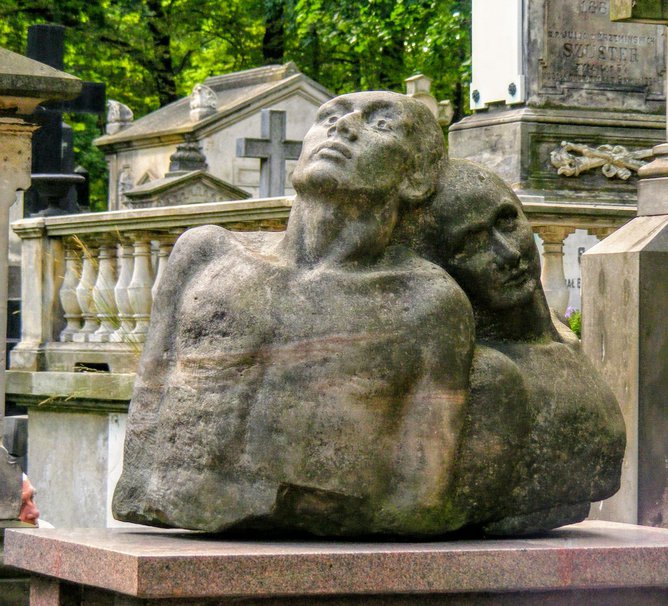 One of the unusual things to do in Warsaw. Antique necropolis in Wola district has currently 43 hectares (almost as much as the Vatican).
Powązki Cemetery is known for the amazing sculptures - many graves and tombstones look like a piece of art. There are also the oldest graves in Poland. In Powązki Cemetery there are buried many Polish writers, artists, honoured community workers, politicians, doctors and layers.
here's also Army Powązki Cemetery located nearby the main cemetery. There are buried people who were killed in first and second World War - soldiers, lieutenants, scouts, insurgents.
A view of thousands of crosses, often nameless, is an emotional experience.  
If you're looking for a peaceful getaway, then Powązki Cemetery is one of the must see places in Warsaw.


10. The National Museum in Warsaw
Capital of Poland is especially famous for its numerous museums - there are several dozen museums in Warsaw!
Visit in the National Museum is one of the best things to do in Warsaw, especially for art lovers.
Located in Warsaw city centre, it's one of the oldest museums in Poland - it was open in 1862.
I'd recommend reserving at least 3 hours for visiting the Museum as there are three floors which offer around 830 thousand of artworks ranging from ancient times to the present including sculptures, drawings, paintings, photographs, prints, coins - you name it.
Permanent exhibitions are divided into several sections:
Faras (Ancient Egypt)
Middle Ages
Ancient Art
19th Century Art
Contemporary Art
Polish Design Gallery
If you visit Warsaw with kids it's worth to have a look at temporary exhibitions - there are often special events prepared for the youngest.
I'd also advise getting to the National Museum in Warsaw as early in the morning as possible because it's very popular (around the noon the queue to ticket window is very long, especially at weekends).

Opening hours:
Monday: closed
Tuesday - Thursday: 10 AM - 6 PM
Friday: 10 AM - 9 PM
Weekend: 10 AM - 6 PM
Guided tours are available for English, German, Italian, French, Russian and Spanish speaking visitors. Cost: 180 PLN.

Ticket prices (for permanent exhibitions):
adult: 20 PLN
kids and students: 12 PLN
group: 10 zł per person (min. 10 persons)
kids up to 7 years old: free of charge
audioguide: adult 10 PLN, kids 7 PLN
On Tuesdays admission to the National Museum in Warsaw is free of charge.


11. Warsaw Uprising Museum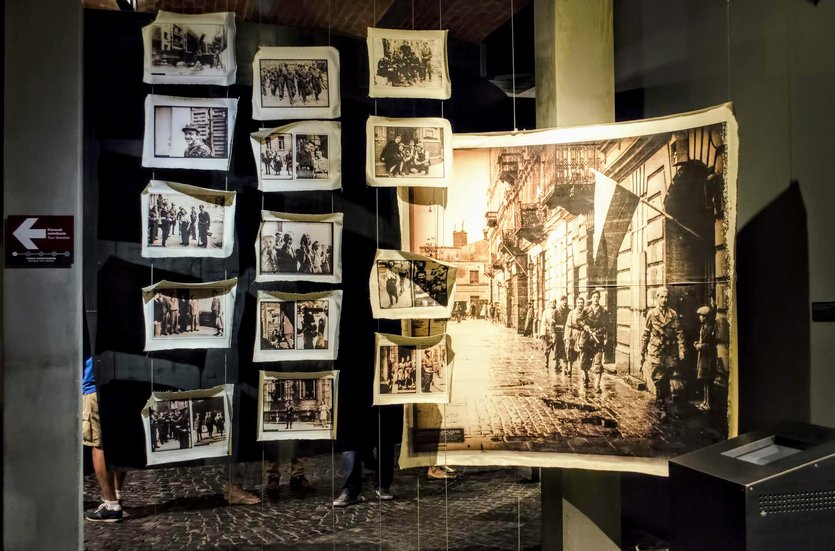 Warsaw Uprising started on August 1, 1944, and lasted 63 days.
During those violent 63 days died about 200 thousands of soldiers, insurgents and civils. The majority of Warsaw was demolished, including Royal Castle and historical buildings of Warsaw Old Town. Capital of Poland was swept from the Earth's surface.
It's difficult to describe Warsaw Uprising in just a few paragraphs. It's also hard to imagine what Warsaw residents felt like when their families were murdered and their city was destroyed. That's why a visit to Warsaw Uprising Museum is one of top things to do in Warsaw, necessary for anyone who wishes to understand Poles and our culture and behaviour.
The museum is of great educational value, much better than all my history lessons put together.
The exhibitions are complex and elaborate, they engage all sense and induce many different emotions.
The main element of Warsaw Uprising Museum is a huge monument on which walls there's the Uprising calendar. This monument releases heartbeats which symbolize the life in Warsaw. When we put our ears close to the monument's walls we can hear shots, screams, singing... we are back in 1944.
Exhibitions on the ground floor present the beginning of Warsaw Uprising, everyday life of Poles and occupants terror over Poles. There's also a replica of Liberator B-24J plane from which the supplies were thrown.
On the first floor, there's the armament - insurgents had to manufacture their own weapons.
The central part of Warsaw Uprising Museum consists of insurgents graves where we can also see their letters and learn about the Uprising fall and its consequences.
Opening hours:
Tuesday: closed
Monday, Wednesday, Friday: 8 AM - 6 PM
Thursday: 8 AM - 8 PM
Weekend: 10 AM - 6 PM
Ticket prices:
adult: 25 PLN
kids and students: 20 PLN
audioguide: 10 PLN
On Sunday admission to Warsaw Uprising Museum is free of charge.

Warsaw Uprising Museum is located about a 45-minute walk from Warsaw Old Town. If you would like to stay close to the Museum, you can find available accommodation in the are here: 



12. POLIN Museum of the History of Polish Jews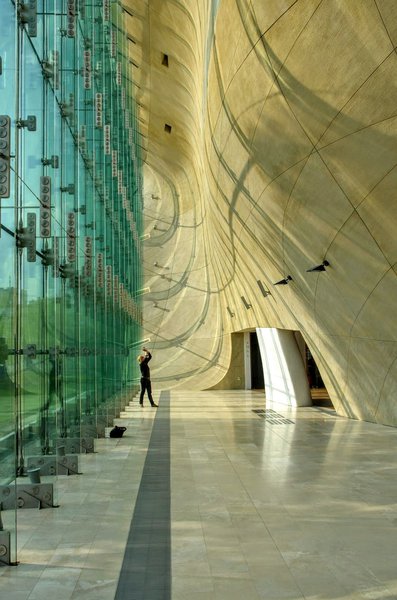 One of the most interesting things to see in Warsaw. An unusual museum in a specific location - POLIN Jewish Museum is situated in former Warsaw ghetto. 
Warsaw ghetto is a symbol of Nazi occupation in Poland. In this area, Germans created secluded camp-like district mainly for Jewish residents. Many Jews died there from hunger, disease and maltreatment.
Before you start exploring POLIN Museum take a look at the building which has many symbols, e.x. main hall "cuts" the museum from the basement up to the roof which symbolizes crack in the history of Polish Jews caused by Nazi extermination.

On the glass museum walls, there is word Polin means "Poland" or "here you shall rest".

On the front of the building, there's a Monument to the Ghetto Heroes. In 1970 German Chancellor Willi Brandt knelt before the statue which is considered a symbolic apology for Holocaust crimes.

The permanent exhibition consists of eight galleries which present 1000 years of history of Polish Jews. We get to know the historical phases of Jewish life in Poland: legends about arriving of Jews to Poland, a Jewish settlement, development of their culture and social diversity, turbulent events from previous centuries, the extermination of Jews in the 20th century and finally the life of modern Jews.

Lots of eye-catching exhibits, paintings, interactive elements, reconstructions and video projections. POLIN Jewish Museum is definitely a modern venue and visit there is one of the best things to do in Warsaw.
Opening hours:
Tuesday: closed
Monday, Thursday, Friday: 10 AM - 6 PM
Wednesday and weekend: 10 AM - 8 PM
Ticket prices:
adult: 25 PLN
reduced: 15 PLN
family: 55 PLN
audio guide: 10 PLN
On Thursday the admission is free of charge.

PRO TIP: Polin Museum is very popular and lines tend to get long. Book a tour with an audio guide in advance to avoid standing in line. Hotel pickup and drop-off are included.


13. Copernicus Science Centre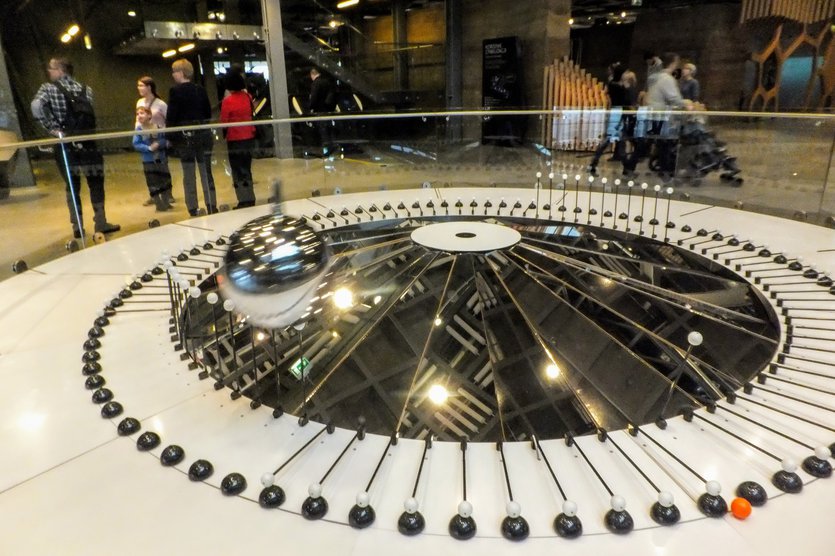 If you're going to visit Warsaw with kids, then Copernicus Science Centre would be one of your must see places in Warsaw.
It's not a typical museum with a few interactive devices. In Copernicus Science Centre there are two storeys filled with touchable exhibits. Every exhibit has a description instructing how to use it.
Copernicus Science Centre is divided into theme zones: light, electricity, water and air. In each of those zones, we can conduct experiments learning about the essential processes in our world. It's not only fun but also useful - exhibitions teach us that physics and chemistry can be interesting and helpful in everyday life.

Besides the exhibitions, there are also labs for DIY enthusiasts and chemists. Many of the exhibits use the power of muscle thanks to which our youngest ones can use their inexhaustible energy.
For me, the most impressive display was in the electricity zone - each hour there's a show in High Voltage Theatre with an electrical beam "dancing" to the music. Awesome experience!
For those interested in outer space there's Heaven of Copernicus Planetarium.
Even the building of Copernicus Science Centre is eye-catching - unusual design won't allow you to pass it unnoticed.
One more place which is worth to visit is the rooftop garden - beautiful places, perfect to take a breath after exciting visit in the centre.
Opening hours vary according to season so it's best to check them on Copernicus Science Centre website.
Ticket prices:
Adult: 31 PLN on weekdays, 33 PLN on weekends
Kids and students: 21 PLN on weekdays, 22 PLN on weekends
PRO TIP: to avoid wasting time in queues buy tickets online. Copernicus Science Centre is one of the top Warsaw sightseeing places.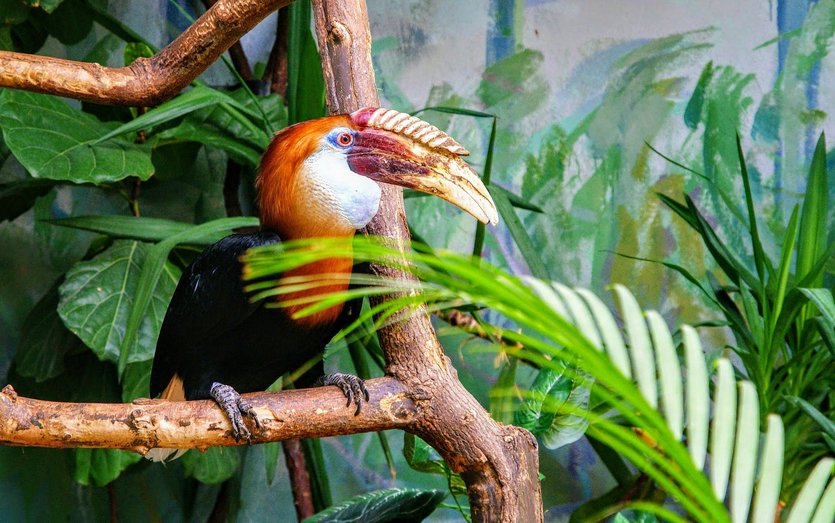 Warsaw with kids? Great idea! It's one of the best Warsaw attractions for families with children.
A walk in Warsaw Zoo is an excellent biology lesson - there are about 12,000 animals of 500 different species. Besides getting to know the animals and their habits, our children become aware of how much we can all lose if we don't start taking care of the natural environment.

We especially liked the place where birds are kept - visitors can enter into the hall and watch some species from close vicinity.
Another great thing about Warsaw Zoo is the behaviour of the animals. We could see that the management cares about the animals, they are relaxed and happy.
There is also a huge playground in the Zoo centre, small-gauge train and special trolleys for the youngest children.

Warsaw Zoo history

The Zoo was officially opened in 1928. It was developing quickly and the management was upgrading Warsaw Zoo amenities. The Zoo was becoming more and more popular but the outbreak of WW2 disrupted the development.
Many animals died of bombing, those considered the most dangerous were killed. Some of the animals which the Nazi soldier considered uninteresting were killed for the meat. The most exotic species were taken to Germany.
It may have seemed like an end of Warsaw Zoo but actually, it became even more important that days. The director Jan Żabiński was an underground activist and stored explosives in the Zoo for the Polish army. He also hid in his own house Jews who managed to escape from Warsaw ghetto. In 1965 Jan Żabiński and his wife were given Righteous among the Nations title for their effort and risk they took while saving Warsaw ghetto escapees.
These dramatic events were described in the novel The Zookeeper's Wife by Diane Ackerman.
Their villa where they hid the Jews is in Warsaw Zoo and is open for visitors.

Warsaw Zoo tickets

Each year about one million people visit Warsaw Zoo. This makes it one of the busiest Zoos in Europe. Therefore, the best idea is to buy tickets online. If that's not possible, try to arrive in the morning to avoid wasting time in queue.
In high season family ticket price starts at 70 PLN. You can check the current price list here.

Warsaw Zoo hours

The Zoo is open every day from 9 AM. The closing time depends on the month so it's best to check it on Zoo website here.
Accommodation the capital of Poland isn't very cheap but it always depends on what we compare it with.
Warsaw hotels are expensive compared with other places in Poland but they are actually quite cheap when we take into consideration Western Europe capitals.
Let's have a look at some of the best hotels in Warsaw:
→ HOTEL BRISTOL WARSAW

A five-star hotel located just 10-minute walk from Warsaw Old Town on the historic Royal Route. It's actually one of the most famous landmarks in Warsaw. Founded by Ignacy Jan Paderewski, famous Polish pianist and politician, it combines history and contemporary luxury.
Interesting interior, spacious and comfortable rooms, attentive staff and great food at the hotel restaurant. SPA and wellness centre.
You can check Hotel Bristol Warsaw here:
→ WARSAW MARRIOTT HOTEL
One of the best hotels in Warsaw city centre. Elegant and spacious rooms with a minibar, satellite TV and air conditioning. The majority of rooms offer a panoramic view of Warsaw city. Friendly and helpful personnel. Fitness centre, wellness zone and swimming pool. Warsaw Marriott Hotel has several bars and restaurants.
You can check this hotel here:
→ RAFFLES WARSAW
Luxurious hotel situated just a few-minute walk from Warsaw Old Town. Elegant and air-conditioned rooms, the majority of them have their own library. The décor should be especially interesting for art lovers - there are beautiful oak floors and contemporary art pieces. Service is flawless. If you like quality hotels, then Raffles Warsaw is just for you!
You can check it here:


Best restaurants in Warsaw
There are lots of places to eat in Warsaw, so let's focus here on the best Warsaw Old Town restaurants.

→ BAZYLISZEK RESTAURANT

Traditional Polish food at a reasonable price. Located in the heart of the Old Town Market (location here). Daily special lunch with different foods every day. Very friendly and attentive staff, fast service with a smile. Nice surprise at the end - a shot of fruit vodka with your bill.


→ PORTRETOWA RESTAURANT

Small and authentic Polish restaurant serving traditional dishes. Location is here. The interior design is interesting - it reminds both a Soviet restaurant and something from an older royal time. Food is freshly cooked and well prepared.

→ VEGAN NA MOLIERA

For me, the best vegan restaurant in Warsaw. Situated just 5-minute walk from Warsaw Old Town (location here). Food is great and even meat lovers will like it! Delicious falafel sandwiches and spicy salty pickled veggies. Wonderfully balanced flavours. Friendly and attentive staff.
It can be but not necessarily. 😉There are actually quite a lot of free things to do in Warsaw.
Here are a few ways to decrease your spending while you visit Warsaw:
Get Warsaw City Card - it gives free admission to some of the top Warsaw attractions, discounts to shops and restaurants, free hop-on-hop-off bus our. There are a few types of Warsaw City Card. The card may also include public transportation. Warsaw City Card can be purchased at Tourist Information Centres or online here.
Stay at Warsaw hostel - there are a lot of hostels in Warsaw city centre. The best ones are:
- AB Hostel Warsaw - one of the best hostels in Warsaw. Clean, cosy and comfortable. Decorated in a movie theme. Towels are included in the price.
- Dream Hostel Warsaw - great and cheap stay in Warsaw. Located a few minutes walk from Old Town. Freshly refurbished, it's a modern and comfortable place to stay. Rooms are clean and welcoming.
Eat out in milk bars - Polish: bar mleczny. Those are specific types of restaurants, partially funded by the Polish government which helps to keep the prices low. Milk bars in Warsaw serve traditional Polish food. Here is a map with milk bars close to Warsaw Old Town.
Free entries to museums - each Warsaw museum offers free admission one day per week. Those particular days are mentioned earlier in my article.


How to get from Warsaw airport to city?
There are two main international airports in Warsaw:
Warsaw Chopin Airport (the biggest airport in Poland) - code: WAW
Warsaw Modlin Airport - code: WMI

WARSAW CHOPIN AIRPORT
Getting from Warsaw airport to city centre is quite easy and we have several options to choose from:
bus - there are five bus lines connecting Warsaw Chopin Airport with the city centre: 175, 188, 148, 331, N32 (night bus). You can check the timetable here.
train - there are two shuttles: SKM S2 and SKM S3. You can check the timetable here.
taxi - there are many taxi drivers waiting just outside the airport entrance. Not the cheapest option but certainly convenient.
car rental Warsaw Chopin airport - fast and convenient, a good option if you plan to explore Warsaw and its surroundings. You can check deals on car hire here:

WARSAW MODLIN AIRPORT
There are also a few transportation options however in Modlin airport there aren't so many public transportation shuttles:
Modlin bus - it's the only bus which goes from Modlin Airport to Warsaw. The final stop is in Warsaw city centre near Palace of Culture and Science. The transit takes about 40 minutes. You can check the timetable here.
Koleje Mazowieckie train - to get to the train station you firstly need to take a bus. The bus shuttles are every 20-30 minutes and the buses are of the same colours as Koleje Mazowieckie trains. You can check the timetable here.
taxi - there are two taxi companies available at Modlin Airport: Sawa Taxi and Taxi Modlin.
car rental Modlin Airport - fast and convenient. You can check deals on car hire here: