We're so happy that we live in southern Poland – we're close to the mountains and we've got one of the most beautiful cities for the asking – Cracow.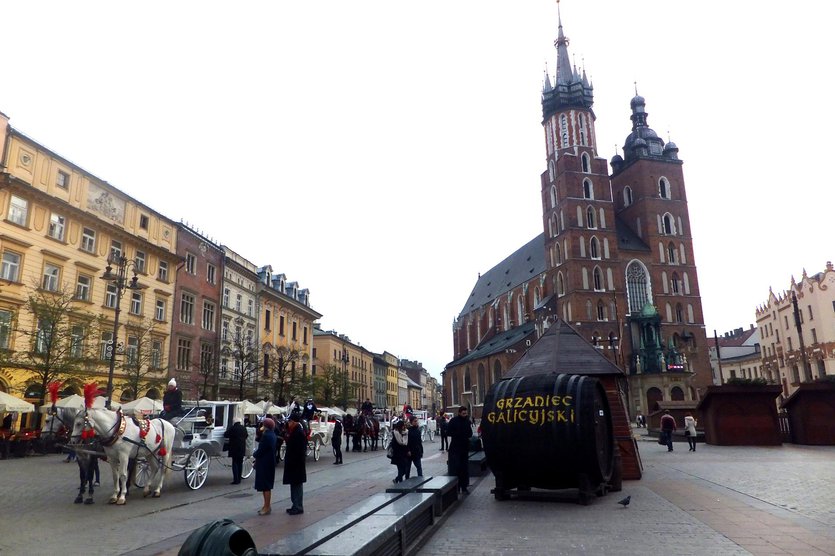 There are many ways to get to Cracow – the city is accessible via:
international airport Balice,
A4 motorway that runs through southern Poland connecting the East with the West – it starts at the German border and ends in Ukraine. The motorway is a part of the European route E40,
efficient rail transport.
That day we decided to go by train – it takes only 2 hours to get from Katowice to Cracow. We have been many times in Cracow but there's still quite a lot of places we haven't visited there yet. One of them was Rynek Underground Museum .
It was open in September 2010 and since then is a must-go .
The museum is located 4 metres under the surface of the market square in Old Town and is 3300 square metres big. The museum is fully accessible to disabled people. In contrast to other museums, Rynek Underground is closed on every first Tuesday of the month . The opening hours vary according to seasons so it's best to check it on the website here .
There are many foreign visitors in the museum so the guide is available for English, German, French, Japanese, Russian and Italian speaking groups. It's good to reserve about 2 hours for visiting Rynek Underground.
Because of the museum's popularity and the fact that the visiting's limited to only 30 people every 15 minutes, I'd strongly recommend to book the tickets in advance to avoid standing in long queue - you can do this here .
We were carefree enough not to book the tickets and in result we had to wait to get in for almost an hour. This might be OK during summertime but at the beginning of December the weather doesn't encourage to stand still outside.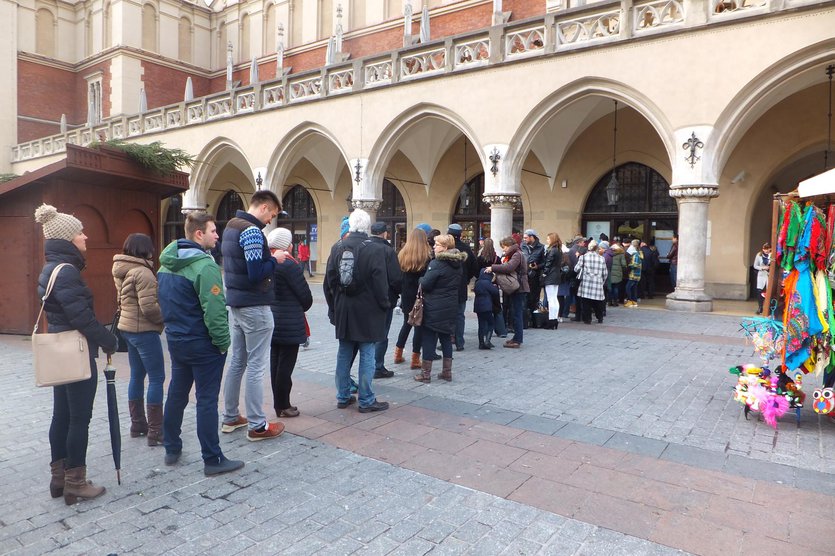 Rynek Underground Museum presents historical and archeological findings. It is definitely a must-see especially for everyone fond of medieval times .
It offers a walk among excavated medieval merchant stalls and presents the history of Cracow starting from its very first settlement in nomadic times. There's lots of relics of medieval construction including fragments of buildings, cemeteries, parts of settlements, paving stones and an aqueduct.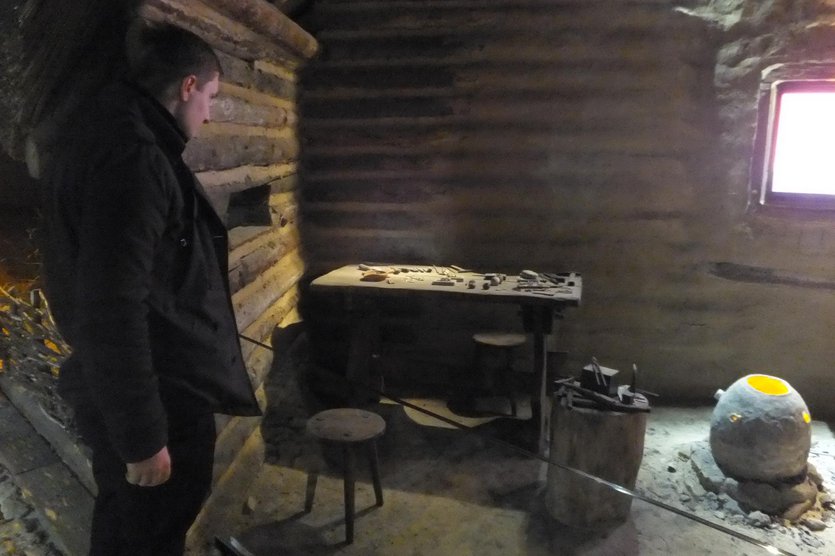 I'm not that much into history so I didin't feel ecstatic there but Bartosz, who's a history geek, liked the museum a lot. For me there was a bit too much of information to digest but better that way, right? 😉
What I definitely liked about the place is that it's very innovative and modern. There's lots of interactive screens in various languages, holograms, videos and displays. The visiting begins with a short film projected on a wall of smoke!
All in all, Rynek Underground Museum is worth visiting for people of all age as it provides interesting look on medieval life and the entrance tickets are really cheap. What else could we ask for?
After visiting the museum we headed to " Georgian Chaczapuri " restaurant close to Town Square. We had there some really delicious traditional Georgian food. For the starters we chose sulguni cheese (served cold) and onion soup. Both were great! Then, Bartosz had pork Chaczapuri (kind of stuffed pie) and I got myself vegetarian Chaczapuri with adjapsandali (stewed veggies). Oh dear, it was so good I could eat it every day

After the Georgian feast we went for a stroll on the Old City . Then we headed to Wawel .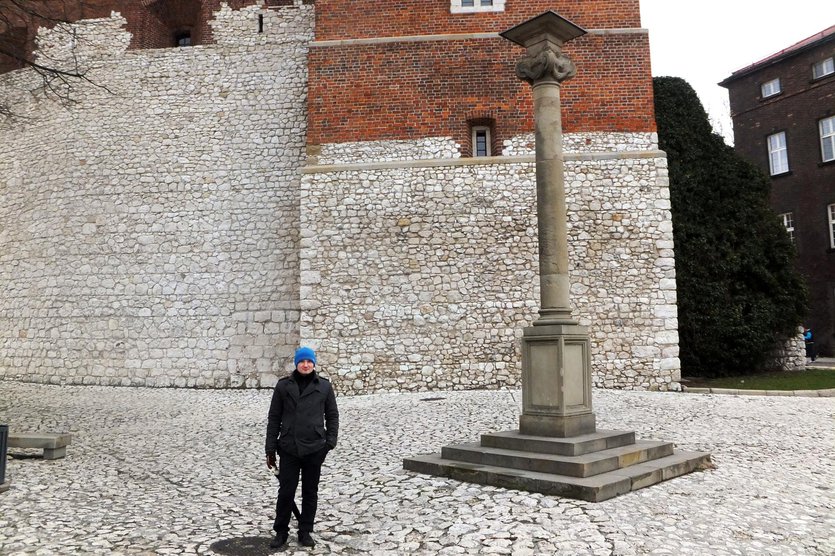 Wawel is a fortified complex located on a hill right on the bank of the Vistula river. It consists of Royal Castle, Cathedral, Crown Treasury and Armory, Cathedral Museum and Dragon's Den. The beginnings of the complex date back to 9th century!
Wawel is one of the most famous Polish monuments and absolute must-see for all tourists. The Royal Castle is quintessence of Polish history and culture - we haven't seen a place which would have more historical treasures than Wawel. I think we don't even know a Pole who hasn't visited Wawel Castle at least once in a lifetime 😉
The place is so important because of the fact that, starting from the 11th century, Polish monarchs lived in the Castle and were crowned and buried in the Wawel Cathedral. Also, since the 19th century Polish national heroes have also been laid to rest there.
The place is loaded with art treasures , interesting architecture and priceless exhibits. It might not be breathtaking for people not interested in history but nevertheless should be on a bucket list of everyone who visits Cracow for the first time.
On our way back to train station we called at St. Mary's Basilica on the Market Square.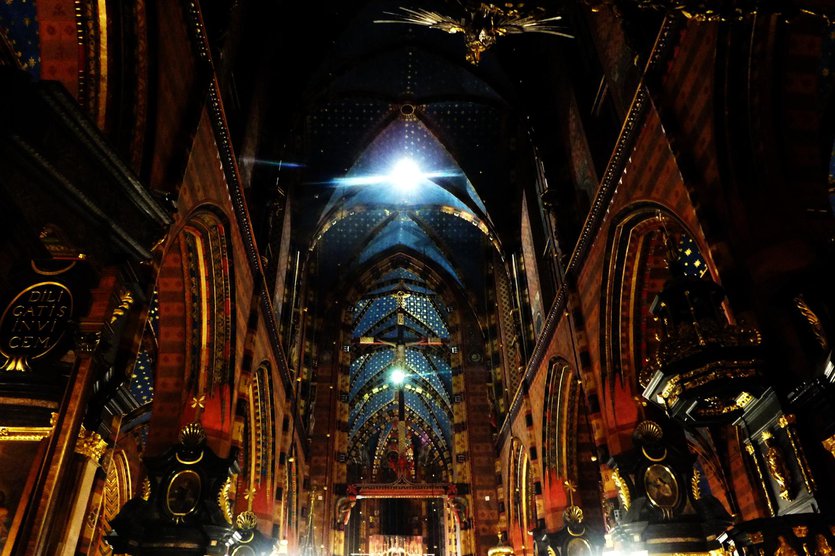 It's one of the biggest and most prominent cathedrals in Poland. This gothic church was built in 13th century. I might not be a great fan of church sightseeing but I think it's worth visiting - its rich and colorful interior is on a par with other famous European cathedrals. Beware - it's not available for visiting at all time so it's best to check the sightseeing timetable here .
And you, have you ever been to an "extremely historical" city?