In the south of Poland, there are beautiful mountains. There are many different ranges: smaller and more prominent, stony and covered in forests, hill-like and alpine-like.
Because of such variety of mountains ranges, there are also numerous hiking trails in the Polish mountains. They vary in length and difficulty - from nice and easy ones, to difficult via ferrata-like trails.
There is quite a lot of benefits in hiking in Poland:
Breathtaking landscapes.
Safety - there are no vast secluded areas with no shelters.
Variety of trails suitable for all levels of hiking experience.
Nature is diversified and often unique to particular mountain range.
It's almost impossible to get lost - trails are well-marked.
In comparison with Western Europe prices in Poland are low.
Mountain infrastructure is well-developed.
There are 3 main mountain groups in Poland, each of them is divided into many ranges:
1. Swietokrzyskie mountains
2. Carpathian mountains
3. Sudety mountains
Let's have a closer look at each of these mountains.

1. Swietokrzyskie mountains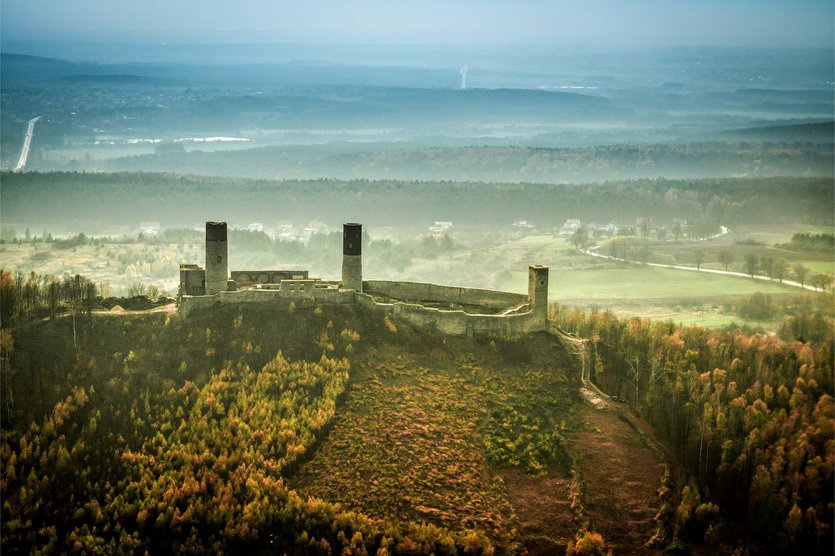 Visit in Swietokrzyskie mountains may be interesting for every type of tourist - hiker, nature lover, history aficionado, and also a family with children looking for a picturesque getaway.
Swietokrzyskie mountains are also a nice idea for a Krakow day trip - it takes only 2 hours to get there by car from Krakow.
These mountains are geologically the oldest in Poland. Because of their natural value, Swietokrzyskie mountains are protected as Swietokrzyski National Park.
Tourists like these mountains not only because of their charming nature but also traces of ancient history, unique monuments commemorating people who lived there a long time ago.
Specific landform causes climatic differentiation - there are three climatic levels in Swietokrzyskie mountains.
The lowest one - valleys - has the biggest temperature difference and the lowest precipitation. The middle slope level has the lowest temperature difference and a medium level of rain. The highest level has the lowest temperatures, the biggest precipitation, and the shortest vegetation period for plants.
In Swietokrzyski National Park there live about 4000 of animal species. The most interesting ones (from biological point of view) are some types of snails, insects and amphibians which are postglacial relics.
Hiking in Swietokrzyskie mountains is a great experience. Trails are wide and safe. You definitely don't have to be experienced hiker to explore Swietokrzyskie mountains.
The highest mountain is Lysica reaching 612m. Below map presents the best hiking route leading to this mount:
The trail isn't very demanding, there's little height difference to hike, so it's perfect option for families with children, and hikers who wouldn't want to strain themselves.
Another popular mount in Swietokrzyskie is Lysa Gora (595m), on which there's located Holy Cross abbacy. It's a real treat for architecture lovers. The abbacy is the oldest sanctuary in Poland - it was built in 15th century. It's also one of the most popular tourist attractions in the area.
The best hiking route to Lysa Gora:
On this route there are also unique natural monuments like Bartek oak (the biggest and the oldest known tree in Poland) and Raj cave (it's about 350 million years old!).
The cave is number one must-see in Swietokrzyskie mountains. Because of its popularity, queues to Raj cave are rather long, so it's advisable to buy the tickets in advance, which you can do here.
For history geeks there's also one more place worth visiting - Krzyztopor Castle in Ujazd village. Built in 17th century, it was the biggest palace in Europe (before Wersal was built).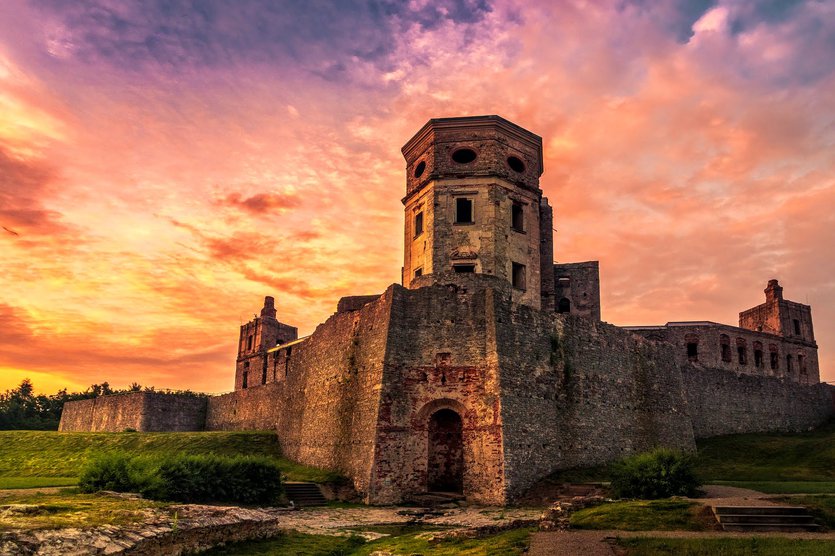 Interestingly, Krzysztof Ossolinski who built this castle was fascinated with symbolism and astrology:
Castle was built on a pentagon plan.
It had 365 windows.
It had 52 rooms (number of weeks in a year).
It had 12 big halls.
It had 4 towers (year's seasons).
If you want to explore Swietokrzyskie mountains, the best place to stay is Sandomierz. Charming little town with newly renovated Main Square. Famous for its medieval castle (bulit in 14th century!) and beautiful city hall.
You can check available hotels here:
If you're not that into history, but appreciate SPA resorts, then Busko Zdroj might be good option for you. It's well-know for thermal waters rich in minerals, and also specific microclimate which is good for the lungs.
You can find available hotels here:
If you're planning on staying in Krakow, you may check hotels and their prices here: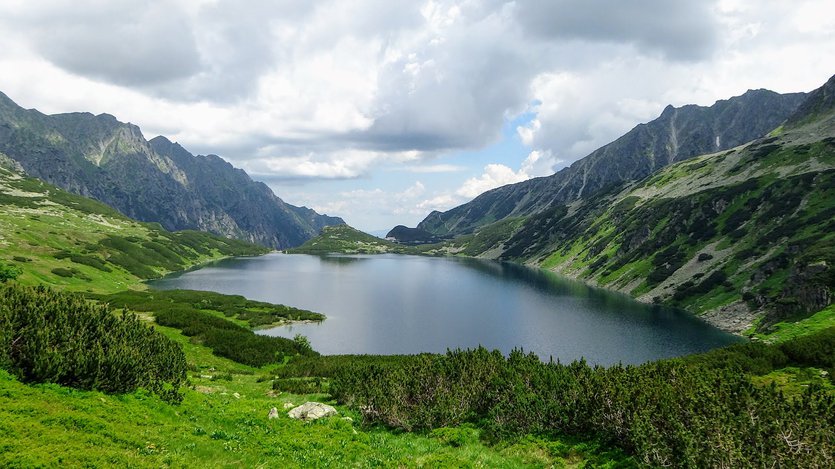 The biggest and most beautiful Polish mountain range. Carpathian mountains are divided into many ranges, but the highest one is Tatra mountains.
Tatras are the only alpine-like mountains in this region of Europe. Because of their outstanding beauty and endangered species which live there, these mountains are protected as Tatra National Park.
Tatra mountains are divided between Poland and Slovakia. The highest mountain in Poland is Rysy - it reaches 2499m.
There are lots of trails in Tatra mountains. The most popular peaks are:
Kasprowy - 1987 metres. There's a cableway going from Zakopane Kuznice to the peak, however I strongly encourage you to hike on foot. The cableway is very crowded, and, unless you come early in the morning, you will wait in a long queue.
Giewont - 1895 metres. The most popular mount with big cross at the top. The massif of Giewont resembles a lying person, so this mount is also referred to as Sleeping Knight. Safety note: there are chains near the top and the path gets very narrow in the final ascend. There's also little space at the peak, so it's best to start hiking early in the morning to avoid crowds.
Czerwone Wierchy - red trail leading along Czerwone Wierchy peaks is considered to be the most picturesque route in Tatra National Park.
Czerwone Wierchy is actually a mountain massif in Western Tatra mountains and consists of 4 peaks:
→ Ciemniak – 2096m
→ Krzesanica – 2122m
→ Malolaczniak – 2096m
→ Kopa Kondracka – 2005m
For those who just start their hiking adventure, I'd recommend Tatra valleys - beautiful and easy to hike.
The best valleys in Tatra National Park:
Chocholowska - the longest one (about 8 kilometres). Perfectly safe to hike with children, also in strollers. Beautiful views, fresh air. There's mountain hut at the end of the valley.
Koscieliska - considered one of the most beautiful valleys in Tatras. What makes this valley even more interesting are cave. The most popular one is Mrozna cave. It's open from May until the end of October (it gets completely frozen in the winter).
Dolina Pieciu Stawow (Five Lake Valley) - this one is located a bit higher up in the mountains, which gives the opportunity to admire High Tatra landscape.
For me it's the most outstanding valley in the area - there's the longest and deepest lake Wielki Staw Polski (about 80m) and the highest waterfall Siklawa (70m). In the summer the trail isn't difficult to hike, but in the winter crampons are needed to get to Five Lake Valley.
For experienced hikers and climbers I'd recommend High Tatras, where we can explore trails with artificial support (chains, iron steps, etc.).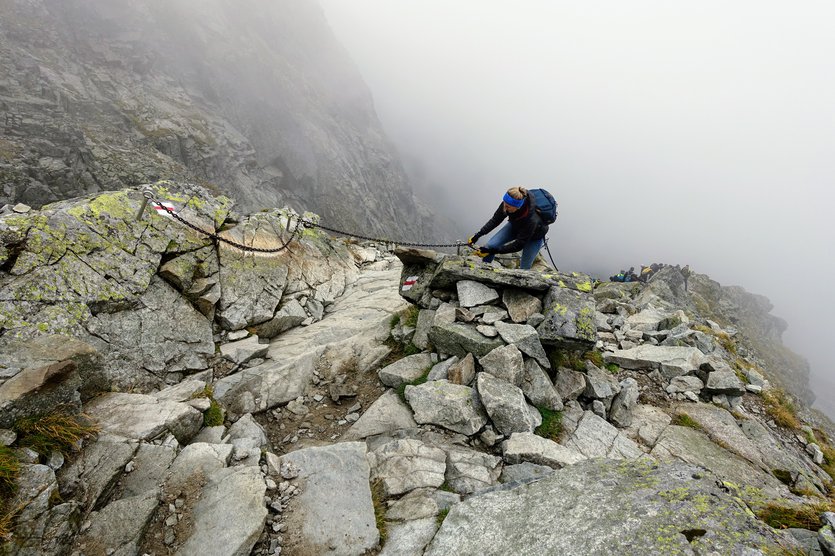 However, trails in High Tatras are located above 2000m, so there is a lot of exposure points and good physical condition is necessary. Therefore, hikes in High Tatra mountains aren't suitable for beginners.
There are also climbing routes - the most popular climbing trails in Tatra mountains are Mieguszowiecki Szczyt Wielki, Zamarła Turnia and Koscielec.
The most popular peaks in this part of Tatra National Park are:
Rysy - 2499m. It's the highest mountain in Poland, but Slovaks have even higher peaks. Rysy is a mountain massif which consists of a few peaks. The higher part of Rysy belongs to Slovakia (2503m). Tricky ascend, not suitable for those with fear of heights.
Koscielec - 2155m. There are amazing views from the top, but it's better not to hike there when it's raining. The trail consists of rocks which are smooth and steep at some points and get very slippery during rainy weather.
Swinica - 2301m. Secured with chains, many exposure points close to the peak. Very satisfying ascend, but only for those with mountain experience.
There are 8 mountain hostels in Tatras. They are very popular among hikers and tend to get crowded. Booking a room several months in advance is a must.
The main tourist resort in Tatra mountains is Zakopane. Besides hiking trails it offers loads of other tourist attractions. Not surprisingly, Zakopane is very popular, so it's best to book accommodation as early as possible before your trip.
Don't miss other valuable Tatra Mountains articles
Make sure you read all helpful articles. You find them grouped them into three categories, Basic, Routes & Maps and Advanced.
And you can find available hotels here:
If you are looking for affordable accommodation close to Zakopane center, then the best option would be Top Hostel. Located on Krupowki street it is perfect place to stay for travelers who want to enjoy Zakopane attractions. Breakfast is included.
You may check the prices here: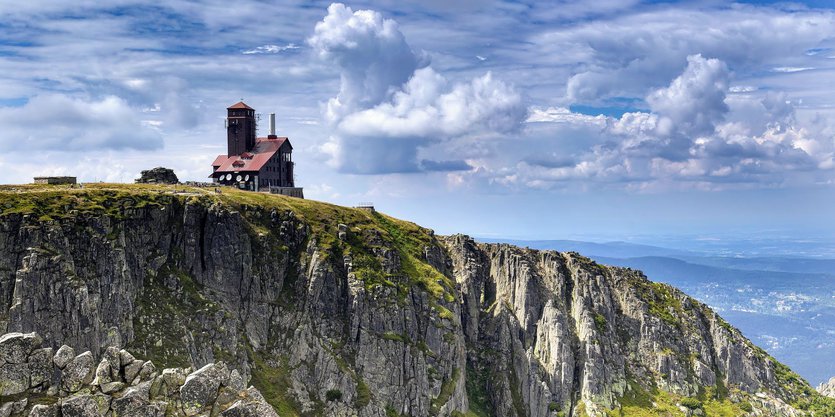 Located in southwest Poland. The highest and most popular range in Sudety is Karkonosze mountains.
Karkonosze might not be the highest mountains, but they are certainly the most interesting Polish mountain range. They are protected as Karkonoski National Park, because of unique postglacial rock formations which are called kotły.
Because of the fact that Karkonosze are protected and people cannot interfere in the nature, the area is a peculiar laboratory of nature. Scientists can observe there natural processes in ecosystem and distinctive changes which are happening in the mountains.
The highest mount in Karkonosze is Sniezka, which reaches 1602m. Below map presents the best route to Sniezka:
This trails doesn't require any special hiking skills, it's suitable also for beginners. The hike is very rewarding - the views are getting better and better with every step.
On the top of Sniezka there is meteorological observatory. Its characteristic saucer-like shape is well-recognized by tourists. Besides the observatory, on Sniezka peak there is mountain hut, restaurant and baroque chapel from 17th century.
Other interesting trails in Karkonosze:
Szrenica mountain hut - 1362m. Lovely place to let your hair down. This hike takes about 4 hours and gives you chance to contemplate outstanding nature of Karkonosze mountains.
Labski Szczyt alp - 1260m. Picturesque mountain meadow located close to Łabski Szczyt peak (1471m). Another mountain getaway with interesting postglacial landforms.
Rownia pod Sniezka - 1416m. This is my favorite hiking route in Karkonosze mountains! We don't "conquer" any peak here, but we hike along the rim of deep morena cauldron. Amazing trail!
The main tourist resort in Karkonosze mountains is Karpacz. It's conveniently located close to hiking trails and offers many tourist attractions.
You can check available hotels here:
However, in the summer Karpacz tends to get crowded, so you might want to consider staying in Szklarska Poreba town. It's also good starting point for hiking trips, but a bit less crowded than Karpacz.
You can check accommodation options here:



Hiking in Poland - rules
Hike only on marked tourist trails. There are so many of them that you will get to see every corner of the mountains.
There are numerous mountain huts in which you can buy food and drinks. Many of them accept card payments.
If you would like to spend a night in a mountain hut it's highly recommended to book a room well in advance. Mountains are very popular in Poland these days.
Camping and sleeping under the sky in National Park is forbidden and most probably will result in fine.
Don't damage the trail elements. Signposts are very important for other hiker's safety.
Flowers, fruits and pebbles belong to the mountains. Let's not pick them up.
Don't set up a campfire.
Try not to make noise. We're all guests in the mountains and their true residents - wild animals - shouldn't be disturbed.
When you meet a wild animal try to retreat calmly. Don't get close to it, as it may be dangerous.
Don't feed the animals in National Parks - it won't help them. Quite the opposite - they will get used to easy food and lose their self-sufficiency. They may become aggressive and demand food from people.
There are no rubbish bins in the mountains. Take all your litter with you and dispose of it in your hotel.
Try not to take your dog with you. Wild animals can easily smell it, which is especially dangerous in the period when young animals are born.
It's not allowed to swim, bath, or rinse dirty utensils in mountain rivers and lakes. It's a source of drinking water for mountain huts and place of living for rare species.


Practical info
Weather in the mountains is very unpredictable. The higher the mountains, the quicker the weather may change.
Remember about buying a paper map before you go hiking in the mountains. Online maps are great, but you never know when your smartphone's battery will go dead. Good old paper map is simply indispensable.
Take with you lots of water and nutritious snacks. Mountain huts in Poland offer delicious food, but anyway it's better to carry some quality energy boosters. Better safe than sorry. You can check some good hiking food here.
When you've just started your adventure with the mountains, you may want to come prepared and avoid most common mistakes made by hikers.
Good hiking gear is essential: windproof jacket, waterproof cape, hiking boots and backpack are basic stuff needed for a safe hike. Check if you have all necessary mountain gear.
Colours of trails are just for identification, not for marking the difficulty. For example, a red trail may be much easier than a yellow one.
There's a mobile app for getting help in mountains - check it out.
Important phone numbers:
→ Emergency: 112
→ Ambulance: 999
→ Police: 997
→ Fire brigade: 998
The most efficient way to travel in Poland is simply renting a car, especially that some of the trails are not easily accessible by public transportation. You may not save a lot of money, but you will surely save a lot of time.
You can have a look at the available rental options here:
Currency in Poland is Zloty (PLN), and not Euro. One Zloty is worth about 0.26 U.S. dollars and 0.23 Euros.
If you're visiting big cities like Warsaw and Gdansk then paying with a credit card will be easy as the majority of shops and restaurants accept card payments. Also exchanging or withdrawing money is easy. There are lots of ATM machines and currency exchanges.
If you're planning to take a road trip through less touristy areas, it might not be so easy to exchange or withdraw your money. You could use your credit card, but it shouldn't be your only method of payment - it is better to have cash with you.
For that reason, I advise travelling to Poland with some cash that you've already exchanged in your own country.