I was in need of a healthy, quick and filling breakfast. I'm one of these people who need rather solid meal at the beginning of the day - I quickly feel weak and tired if I don't have breakfast.
I also have to increase my daily intake of vitamins and minerals. I really need to. That's my number 1 priority at the moment. So I came up with simple breakfast loaded with nutrients.
The below is serving for 2 persons:
about 80 grams of millet
2 ripe bananas
pinch of cinnamon
20 grams of sesame seeds
50 grams of almond flakes
half of a vanilla stick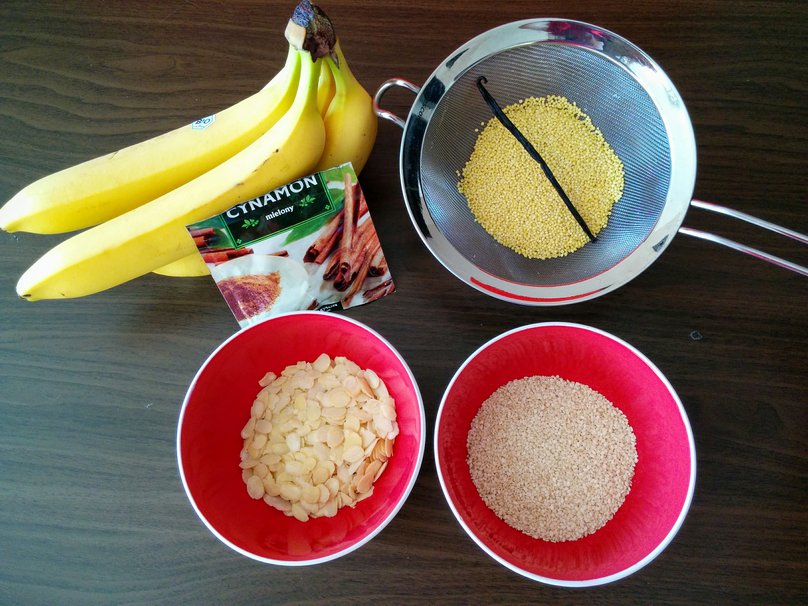 The truth is you can use as much of these ingredients as you like. There's no strict rules when it comes to amounts. If you want more sweetness, add 3 bananas (the more ripe, the better). If you want it to be even more nutritious, add more sesame seeds. There's absolutely no need to add any sugar whatsoever but, if you have a really big sweet tooth, you can add some organic honey 😉
Before cooking the millet I rinse it with cold water to get rid of bitterness. Then, I add half of a vanilla stick and pour in some water (about 50 ml - it needs just a bit of water, roughly twice the size of grains). I cook it slowly until the water is gone. There's no need to stir the grits.
When the millet is cooked, I add bananas, cinnamon, almond flakes and sesame seeds and blend it all together. I can't be bothered with blending it perfectly to smooth mash - there are clods and lumps in my breakfast. Time is money , especially in the morning.
Now, a few interesting facts about the ingredients:
millet is considered to be the most healthy grits of them all - it's the only one which restores alkalnity in our bodies (these days we're all prone to acidification).
Sesame seeds are great source of good, unsaturated fatty acids which we all should eat a lot.
Bananas are loaded with minerals - one banana's got whopping 700 mg of potassium and 60 mg of magnesium.
Cinnamon is one of the most healthy spices ever - it's got antibacterial and anti-inflammatory properties and has lots of chromium which decreases our craving for sweets. Yay!
Almonds are another superhealthy food - they're rich in unsaturated fatty acids, vitamins E and B2, manganese, fibre, protein and amino acids.
To sum up, this meal is super healthy - I included here some of the most nutritious foods ever. It's deliciuos and filling - keeps me going for a looong time. It also makes me digest like an infant . Banana & millet combo is very easy and quick to make so it's perfect idea for a good start of the day.
Enjoy!