We divided our summer 2015 holidays in Austria into 2 phases:
Saalfelden - one week with our friends, mainly hiking.
Saalbach - 5 days, only two of us, biking.
In the summer, Saalfelden 's a great starting point for hiking. There are many interesting trails - shorther and longer, easier and more difficult. What's more, there are many via ferrata's nearby Saalfelden.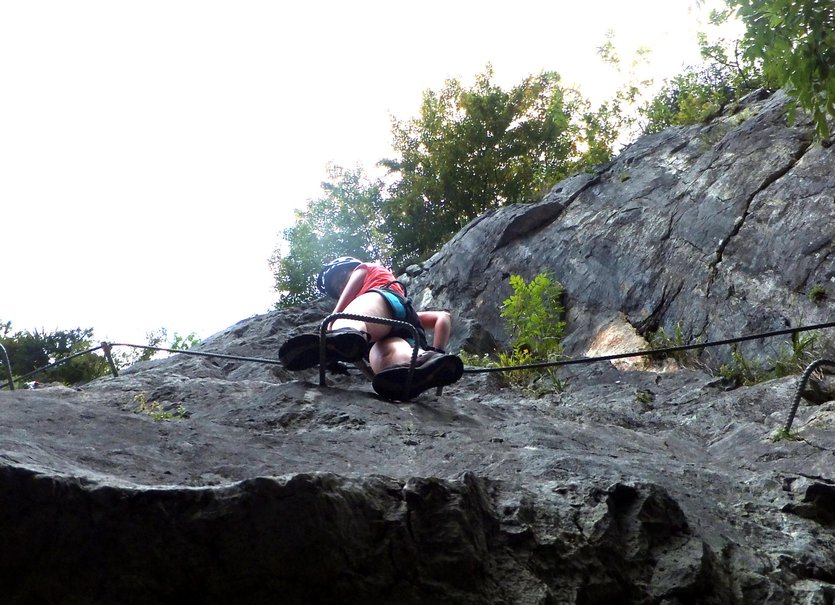 We stayed at Wiesingbauer - organic farm which offers its own produce. Rooms were nice and very spacious, kitchen was perfectly equipped, views form the windows - unforgettable. The only minor drawback is that it was located close to main road.
Saalbach , on the other hand, is biker's paradise. The fact that you can get to very high peaks (up to 3000 metres) riding along wide gravel road is amazing and, unfortunately, not available in Poland.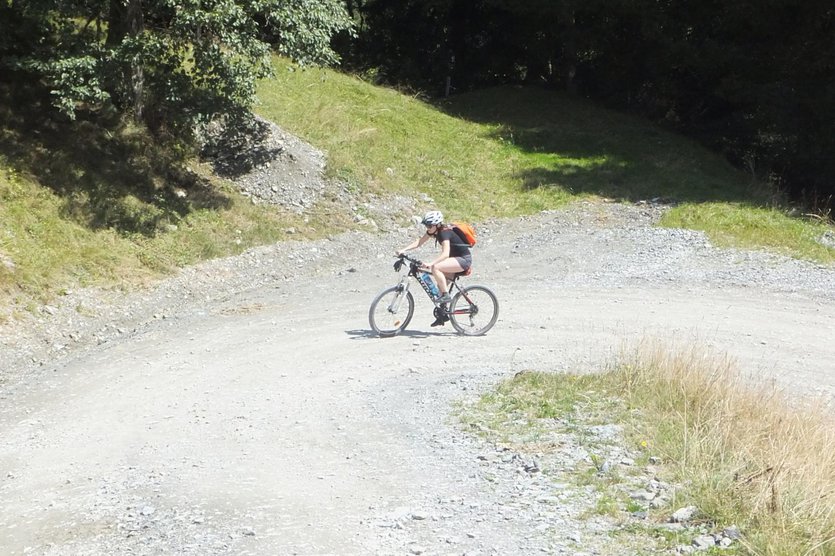 We stayed in Haus Nadine . The apartment we rented was lovely - very comfortable with all facilities one can possibly need. All nice and clean. And Wi-Fi was super rapid.
Day 1 - getting to know Saalfelden, Kaprun and Zell am See
We arrived at Saalfelden in the afternoon. We decided to go to Obsmarkt - outdoor swimming pool in Saalfelden. We were granted free entrance thanks to special tourist cards given to us by the owner of Wiesingbauer.
After swimming in a pool surrounded by majestic Alps we decided to see Traditional Village Festival in Kaprun . There were many food stands, music bands, people were dancing traditional dances. Very vibrant event. Later on, we decided to see Zell am See lake at night. It was very pretty, perfect for contemplating nature and its beauty but we were all too tired to stay there longer.
Day 2 - hike to Peter Wiechenthaler Hütte
We went to Peter Wiechenthaler Hütte - mountain hut on 1752 metres situated on Kienalkopf mount.
We followed red trail which leads to via ferrata Wildental (B/C) and Südwand (D/E). These two klettersteig's lead to Mitterhorn - 2491 metres. Unfortunately, we didn't take our climbing stuff that day - going from Saalfelden to Mitterhorn requires whole day and we didn't have so much time (by whole day I mean getting up around 4-5 AM). We just went to see how these iron trails look like and climbed down.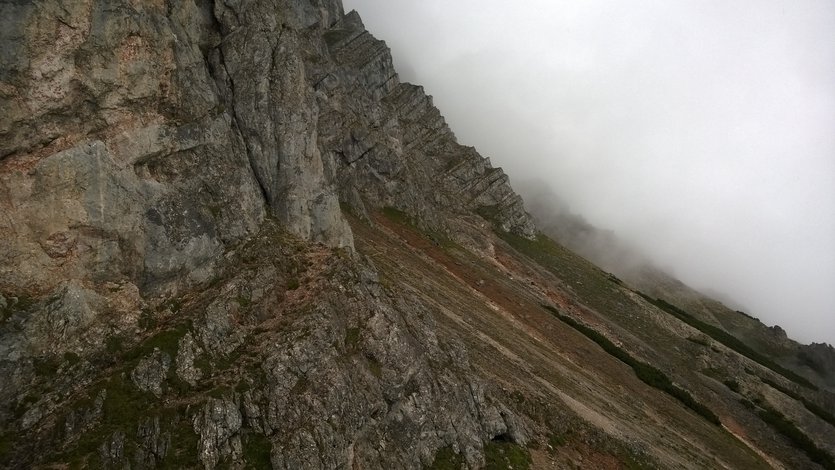 To our content, there was a few ladders and rungs on our way back. They didn't require any climbing stuff and were great warm up before bigger challenges.
On our way back we passed Einsiedelei St. Georg (990 metres) - Hermitage of Saint George (patron saint of animals). Supposedly, it's one of the last inhabited hermitages in Europe. The effigy was built in 17th century in a rock cave above Lichtenberg Castle. In 1677 it was granted a license to celebrate mass.
Day 3 - surprise on the way to Buchweißbach
That day we hiked to Buchweißbach waterfall. It was a pleasant few hours walk on gravel road in beautiful valley. The mountain spring accompanied us on the whole way. On the final phase, close to waterfall, there were ladders and cables .­ We were all quite surprised as it wasn't marked on the map and was supposed to be nice and easy, lemon squeezy. I wished I had taken my gloves! The last part of the hike required wadding across the stream which was quite interesting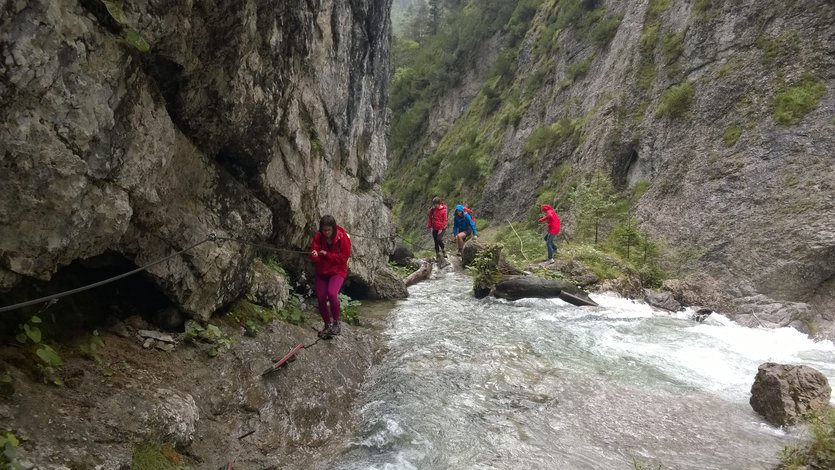 Day 4 - via ferrata in Weißbach
Finally, we decided to give via ferrata's a try. We went to Weißbach - the best place in Zell am See district for climbers and via ferrata's aficionados .
There are many climbing paths and iron trails which vary in difficulty so that everyone can find suitable route. Another great thing about Weißbach is that you don't have to hike for several hours to get to via ferrata - they are all in the valley!
At the very beginning we tried Weiße Gams (D). Unfortunately, it turned out to be too difficult for me and I had to retreat. Then, we tried Zahme Gams (B/C). This one was nice and we did it in about half an hour. There was one more via ferrata - Wilde Gams - but even our experienced friends regarded it as too difficult (E/F).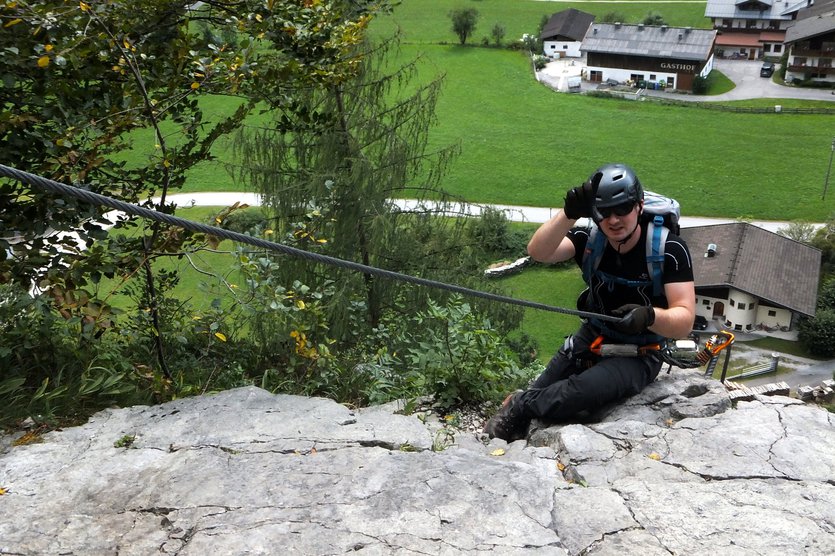 Day 5 - canyoning and visiting Salzburg
As none of us has ever tried canyoning we decided to try it in beautiful Salzburg area.
This activity included swimming, hiking and jumping from rocks into water. The height varied from 2 to 9 metres. This was quite challenging adventure for me as I've never before jumped from high rock into the water - when I was a child I was constantly told that jumping into water is dangerous, I could break my neck, etc.
All in all, it was very thrilling experience but next time I try it I'll definitely have my eyesight fixed.
We used Adventure Services - their office is in Zell am See.
That day we were so close to Salzburg that it'd be mortal sin not to visit Mozart's birthplace .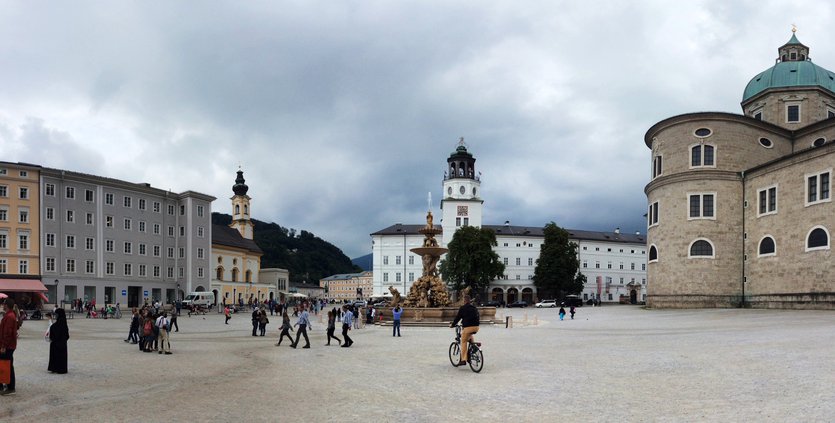 It's very beautiful city, vibrant and full of tourist attractions. One of the main city centre monuments's Hohensalzburg Castle . The entrance ticket's quite cheap - 8 EUR per adult but the price soars if you want to get there by cable car (the castle in located on a hill) - you'll pay 19 EUR in total (2015 data).
Day 6 - via ferrata on Hochkranz
That day the weather wasn't very good - it was rather cold, cloudy and rainy. Not paying much attention to atmospheric conditions we went to Hochkranz (1953 metres) to check iron trail there.
We started walking from Pürzlbach parking (1060 metres) which really helped us a lot. Leaving the car on such high altitude's great when via ferrata's several-hour walk away. Of course, I enjoy hiking very much but via ferrata's stuff isn't that light to carry.
Hochkranz Klettersteig (B) is nice and easy . I'm not experienced climber but I admit this iron trail, even in bad weather, isn't very challenging.
The views on Hochraknz were... How to put it... There was no views. Only clouds. But I bet it is brilliant on sunny days!
On our way back we wanted to go the other way, marked on map by 'white ladder' sign but it turned out that is was impossible to go there without special climbing equipment. So we returned the same way we used to get to the summit.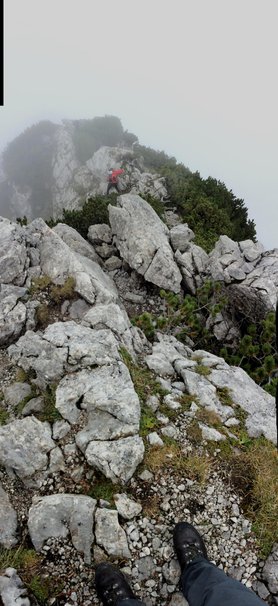 Day 7 - hike to Passauer Hütte
We decided to pay a visit to Passauer Hütte (2051 metres). It's located near Birnhorn (2634 metres) in Leogang range (German: Leoganger Steinberge). Leogang mountains are very beautiful and offer two via ferratas: Leoganger Süd (D/E) and Nord (B/C).
We started hiking from Weißbach. It took us about 3 hours to get to Passauer Hütte. This mountain hut was entirely built thanks to helicopter which transported all the necessary building material and equipment.
We had there traditional Austrian soup with knödel's - savoury dumplings. These dumplings may be meat or vegetarian - both options are delicious and very filling. If you're not hungry as a horse this is a sufficient meal to keep you going for long hours.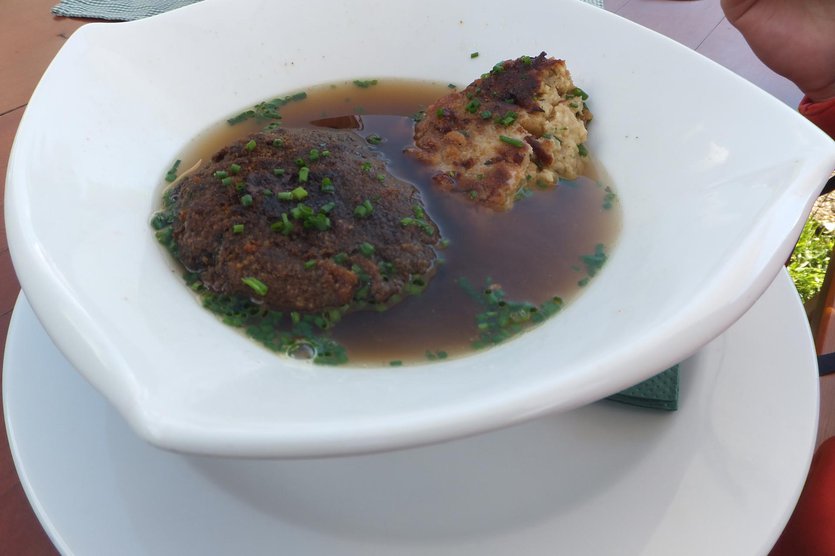 Day 8 - riding to Ostgipfel 2018 metres
That day we said goodbye to our friends and moved to Saalbach. Without bothering to unpack our luggage we set off on bikes to Ostgipfel in Schattberg range. We started riding from Jausern. It was quite challenging ride as the day was hot and we started from 928 metres so we had to do over 1000 metres of altitude difference.
On our way we stopped at lovely Limbergalm - mountain restaurant located on 1715 metres which offered delicious beer and great views. It also hosted 5 guinea hens which were so loud that an echo was bouncing off the surrounding mountains!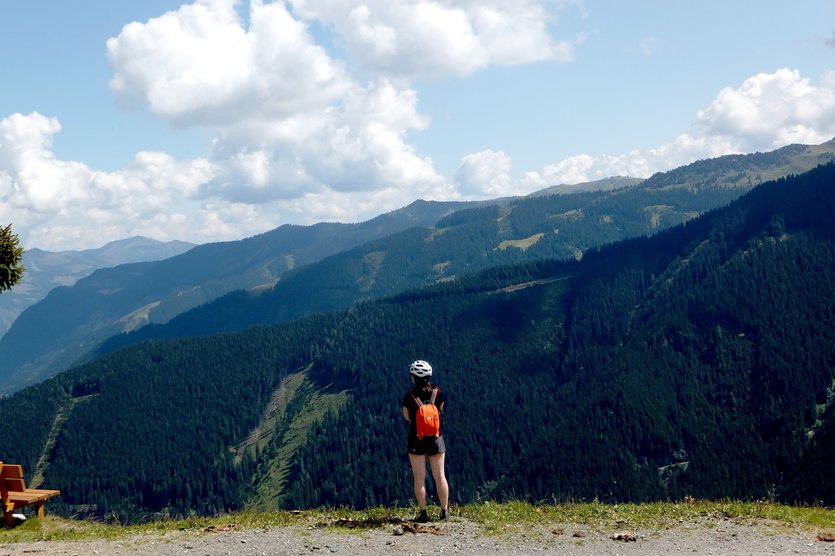 When we got to the summit Ostgipfel was rather crowded (due to cable car, obviously). It's great place for downhill bikers as there's special trail going along the hiking path, right on the steep slope.
When riding down we passed by group of cows and bulls. One of them apparently thought that I'm going to attack it (I wore red jacket which didn't help the situation) and made a move towards us but, fortunately, the bull was too slow and heavy to get 2 scared bikers riding for their lives 😉
Day 9 - trip to Zell am See
As we hadn't seen Zell am See lake by daylight we decided to go there on bikes. There's nice cycling path going along main road from Saalbach to Zell am See via Viehhofen and Maishofen.
Initially, we planned to cycle around the lake but the path there was crowded and we decided to go to quieter place - Enzianhütte (1260 metres). There's alphalt road leading to the restaurant (at the end phase the road was gravel). There was quite a lot of cars passing us by. It seems to me that in Austria people go to high altitudes only to have afternoon tea 😉
We expected to admire nice views from the outside part of this restaurant but it was surrounded by forest and all we saw from out table was trees and a cage with bunnies. But the food served there was delicious - we had salad with goat cheese (superb) and traditional soup with vegetarian dumplings.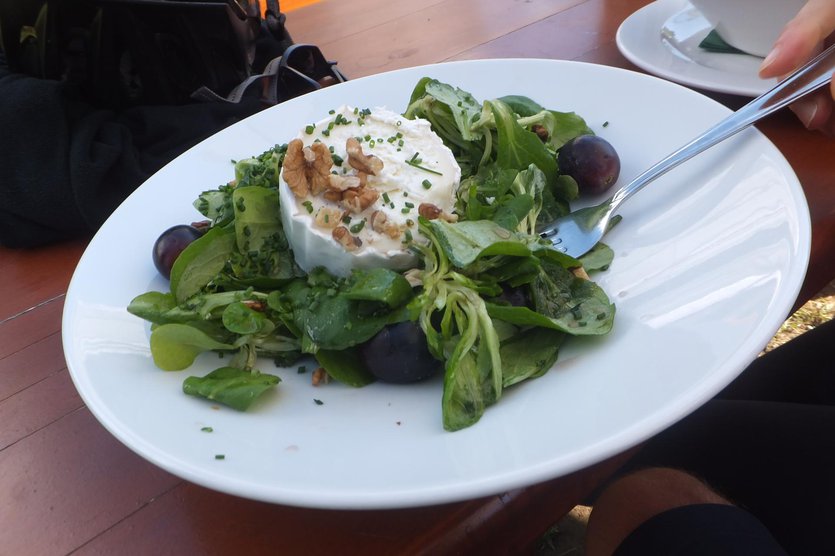 Day 10 - Großglockner Hochalpenstraße
At this stage of our holidays we were in desperate need of rest so we decided to go to Großglocknerstraße . This is famous alpine road which leads into Hohe Tauern National Park . It's 48 kilometres long and allows you to get to very high altitude (up to 2504 metres!) without going out of your car. As the name of this road suggests, it lies close to Großglockner mount (3798 metres).
Needless to mention, there are brilliant views along the way - the glacier's very impressive. However, it's best to go there in a bigger group to share the cost - the entrance fee's currently 34.5 EUR.
We wanted to hike to Hocharn to achieve our 'magical 3000 metres' but, unfortunately, we had an issue with our car and decided to drive down to the valley. Later in Poland it turned out it was a minor defect that took 1.5 minute to fix but at 2500 metres we weren't inclined to risk. All in all, we were glad that we made it to the highest point of the road.
Day 11 - riding to Ederalm
It was the last day of our holidays so we wanted to use it as best as we could. The weather was bad that day - it was cold and raining but we didn't care that much.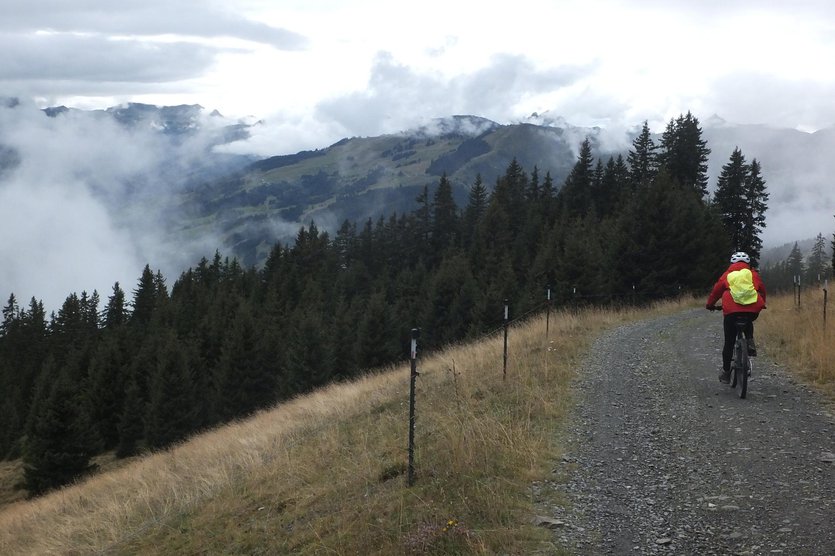 We started our ride near Hochwart cable car and were planing to ride north uphill. We rode to Rachkuchl but this mountain restaurant was closed at summertime. Then we rode to Berger Hochalm but it was also closed. Finally, we had a delicious weiße chocolate at Ederalm (1425 metres). I highly recommend hot chocolate at Alpine restaurants - you can tell it's made with good milk coming from naturally bred cows.
Day 12 - going back to Poland
Special thanks to Gerald Dosch from Germany for sharing his private recordings on canyoning adventure

And you, have you ever been in Austria? What did you do there?