In the past I used to hate waterparks. I didn't feel comfortable in swimwear and I had to wear my glasses all the time – it did suck!
But now, after fixing my eyesight and getting to know Slovak thermal pools, I've actually started enjoying visits in aquparks. A lot! But only the ones which use hot mountains springs – it's so pleasant and enjoyable! And my skin gets nicely nourished afterwards due to the minerals in such waters.
So, our recent weekend in Oravice , Slovakia gave me inspiration to write about all the Slovak thermal pools we've visited so far.
To be honest, there are not many differences between them - we liked them all. Here are a few things which all these waterparks have in common:
they're fun
the best places in the world to go to after a day spent on hiking or skiing
each one of them has got hot thermal pools, jacuzzis, water massages and artificial waves
all of them offer amazing view of Tatra mountains
they're all rather crowded
and expensive – pleasure costs!
Let's have a look at the best waterparks in Slovak Tatra mountains.

1. Meander Aquapark in Oravice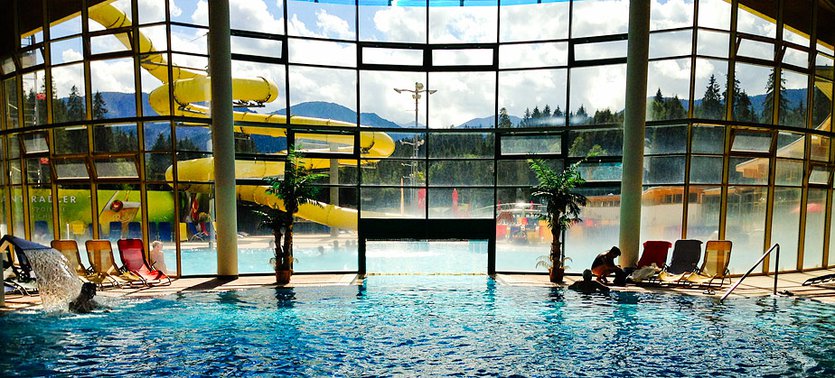 Definitely the smallest one . There's only one waterslide which is closed at winter time. I'd definitely recommend to reserve only a few hours for a visit. Seriously – you will get bored after a while, because how long could one sit in a hot water?
Also, beware – there's no proper swimming pool. There's only available jacuzzis and indoor and outdoor thermal pools so if you're swimming aficionado, go to other aquapark .
The big advantage of Meander Park is that there's a ski resort right next to the pools and you can combine both these pleasures getting one ticket which costs amazing 29.5 EUR. For a whole day. Now that's a bargain ! Besides, I sort of like this place more than other, bigger water parks – it's less crowded, more peaceful and enough to relax and get rid of muscle sores.
Like every other water park in this world, Meander Park can get crowded, especially on weekends. The best idea is to buy online tickets, which you can do here.
Oravice is small mountain village, located close to hiking trails. If you would like to stay in the area, you can check available hotels here:

2. Gino Paradise in Bešeňová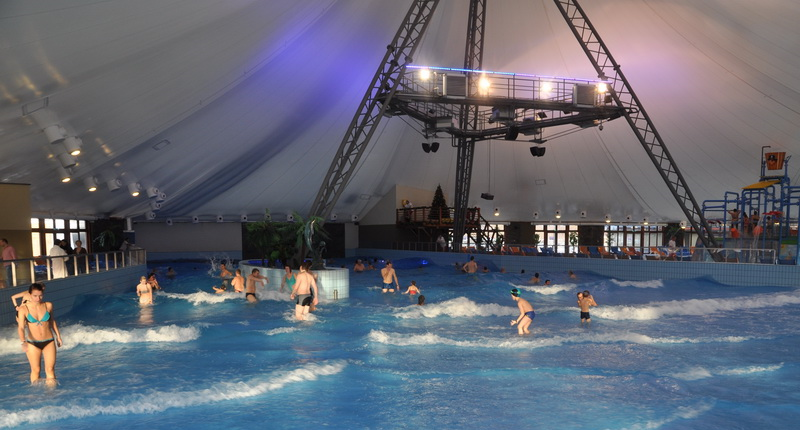 This one is definitely big. There are 6 water slides, indoor and outdoor pools with hot mineral water, jacuzzis, artificial waves, swimming pool, restaurants, etc. However, the most interesting (and original) area is adrenaline zone - there's climbing wall from which you can jump into pool with high waves. Now that's what I call fun!
There's another thing which singles out this aquapark – there's an outdoor pool with brown, turbid water which smells . Great! Of course, you need to pay properly for such pleasures – all-day adult entrance costs 23 EUR.
You can buy tickets online on their website here.
Bešeňová is a popular tourist resort offering amazing view on Tatra mountains. If you feel it'd be nice place to stay, you can book a hotel here:

This one's my favorite probably because it was romantic, "only-2-of-us" visit. I also like the building which looks more like a Google headquarters than a waterpark! 😉
Aquacity offers loads of water attractions (swimming pool included). I'd recommend it especially to families with children, as there's the biggest children fun zone I've ever seen. All day of this pleasure costs 22 EUR for an adult visitor.
Online tickets can be purchased here.
Poprad is the biggest city in Tatra mountains region. If you want a hotel close to tourist attractions, you may find it here:

4. Tatralandia in Liptovský Mikuláš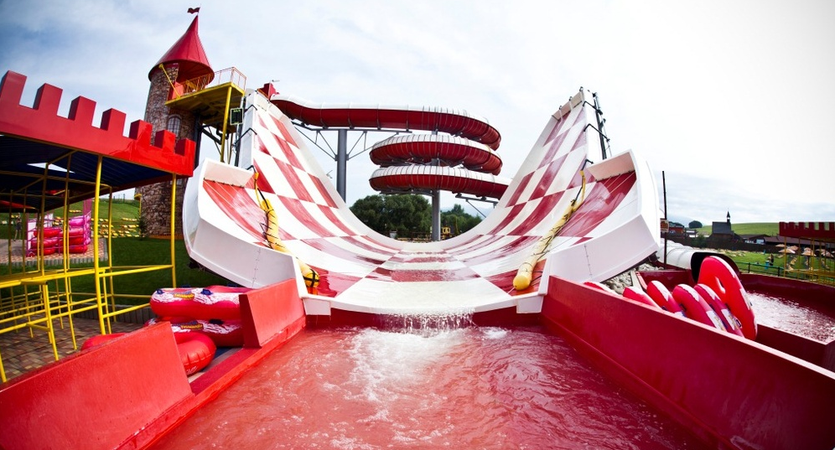 The biggest and the most popular of them all. Of course, it's also the most crowded. It offers loads of attractions but it's my least favourite. I don't like crowds.
However, I've got to add that if you like waterslides, you need to go there – Tatralandia has the biggest slides and toboggans I've ever seen. One day for an adult costs there 23 EUR but you can combine it with GOPASS card which gives you "whopping" discount – you pay 1 EUR less.
You can get tickets online on their webiste here.
Liptovský Mikuláš is a small town situated close to Low Tatra mountains - beautiful range with the highest peak Ďumbier reaching 2043 metres. If it seems a nice option, you can book your hotel here:
---
Have you ever been to water park? Did ou like it?