You will like Jasna Ski Resort if:
📌 you're looking for cheap places for skiing in Europe.
📌 would like to visit the amazing Low Tatras.

📌 wish to enjoy thermal pools after a day spent on the slope.

📌 heard that skiing in Slovakia is fantastic and want to give it a try.
Let's go then!
Advantages of skiing in Slovakia


When we think about skiing in Europe first countries which come to our minds are France and Italy. True, ski resorts in Western Europe are fantastic but they cost a fortune.

Would you like to try skiing in Slovakia? Fantastic idea!
Here's why:

Good value for money - Slovaks have the cheapest ski resorts in Europe. Not only ski passes are less expensive than in the majority of Alpine resorts but also eating out costs about one-third compared to restaurants in the West.
Convenient transportation - there are many convenient flights to Slovakia and direct transfers from the airport to the ski resorts (e.x. getting to Jasna ski resort from Poprad airport takes only 40 minutes).
Accessibility - when we were travelling to Livigno ski resort there were heavy snowfalls in Italy. We got stuck in a traffic jam in the mountains because everyone was installing snow chains right on the road. Driving on the road full of cars and snow was very difficult. Then, we were waiting and waiting to enter a one-way narrow tunnel leading to Livigno. It was a long and very tiring travel and now I know that a ski resort should be easily accessible.
Well-developed infrastructure - ski resorts in Slovakia underwent huge transformations in recent years and offer modern and efficient infrastructure comparable with Western Europe. Perhaps in the coming years, Slovakia will offer the best ski resorts in Europe!
Water parks - Slovakia hot springs are rich in minerals and are renowned for their healing properties. The great thing is that they are all located close to each other - they are all in Tatra mountains.
Many other attractions within arm's reach - Slovakia is a small country and yet it offers so many attractions!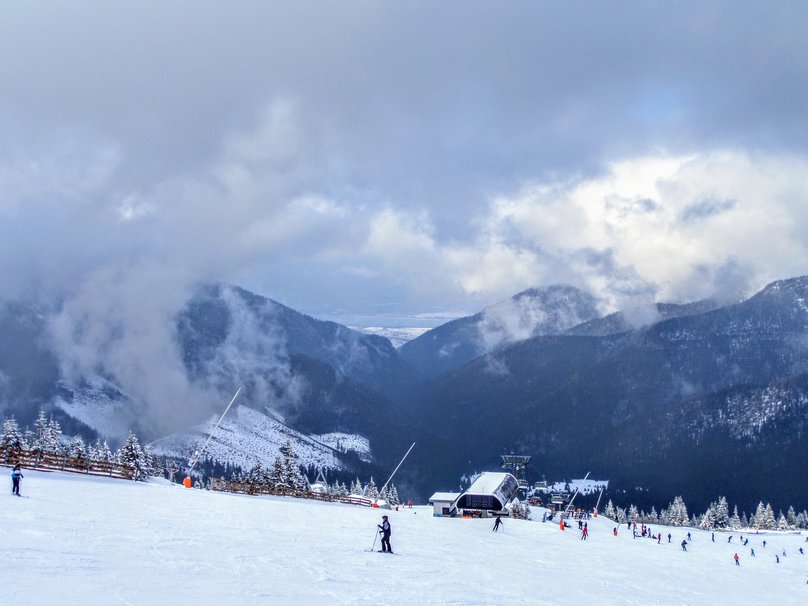 It's a modern ski resort located in Low Tatras National Park, on the slopes of Chopok mountain in Demanovska Dolina Valley. Chopok is the third highest peak of Low Tatras - it reaches 2024 metres.
So, why choose Jasna Ski Resort?
→ It's the best ski resort in Slovakia. And it's one of the cheapest ski resorts in Europe taking into consideration the fantastic infrastructure it offers.
→ Slovaks invested over 200 million EUR in this mountain resort. There are new hotels, ski lifts, wide slopes, restaurants and ski services which provide a quality experience. Jasna Ski Resort put a lot of money into snowmaking equipment to ensure good skiing conditions even when natural snowfall is limited. Some say that Chopok ski resort is becoming one of the best places to ski in Europe!
→ Jasna Ski Resort offers over 50 kilometres (31 miles) of well-groomed piste, a back bowl, a 6-kilometre (4 miles) home run, a terrain park, a lot of off-piste slopes and tree runs.
→ There's a variety of ski runs which make Jasná Nízke Tatry one of the best ski resorts in Europe for families. Some pistes are very steep, some are easy and some can even get you in the middle of the forest - there are as many as 12 freeride zones.
→ It is also famous for its many off-piste ski runs - it's the biggest freeride resort in Slovakia! There's also a snow park and fun zone prepared for advanced skiers to keep them entertained.
→ Jasna ski resort offers the chance of night skiing (from 6 PM to 9 PM).

→ 5-month snow guarantee every year thanks to the modern snow-making system.

→ Apres ski - at the foot of Chopok mountain there's Happy End Restaurant & Club. Besides great food, there are often concerts and apres ski every day in the winter season.

→ Jasna Chopok was given five prestigious quality awards by the International Ski Area Test. It was also shortlisted as Best Upcoming Resort in the World Snow Awards.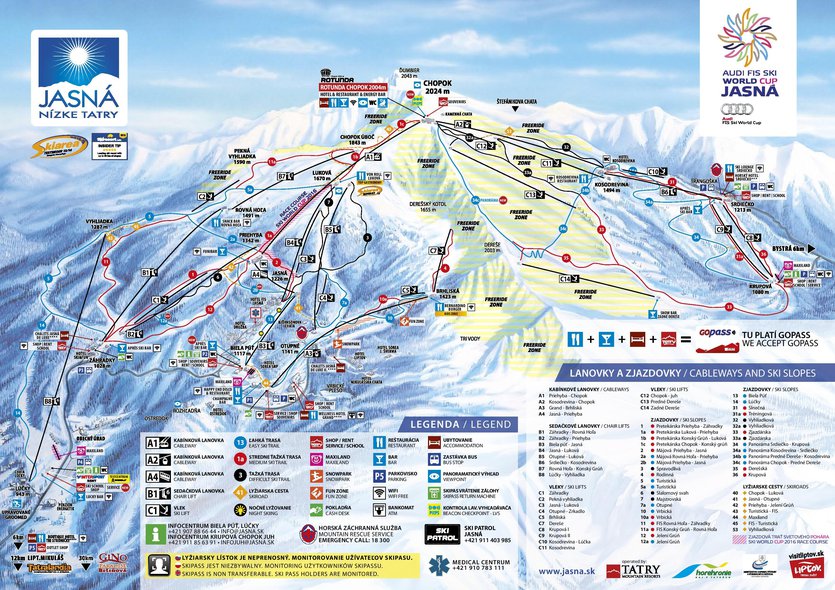 Chopok Ski Resort is divided into two parts:

North (Chopok Sever) - the main part with an artificial snow system.
South (Chopok Juh) - there's only natural snow, lots of freeride zones and definitely much fewer people.
To sum up, the infrastructure is well-developed, ski lifts are fast and efficient and truly, skiing in Europe has never been cheaper!
We also liked the fact that there are many restaurants in Jasna ski resort. Got cold or hungry? No problem, there's a nice eating place just a few minutes of skiing away (it's another fact which makes Chopok one of the best ski resorts in Europe for families).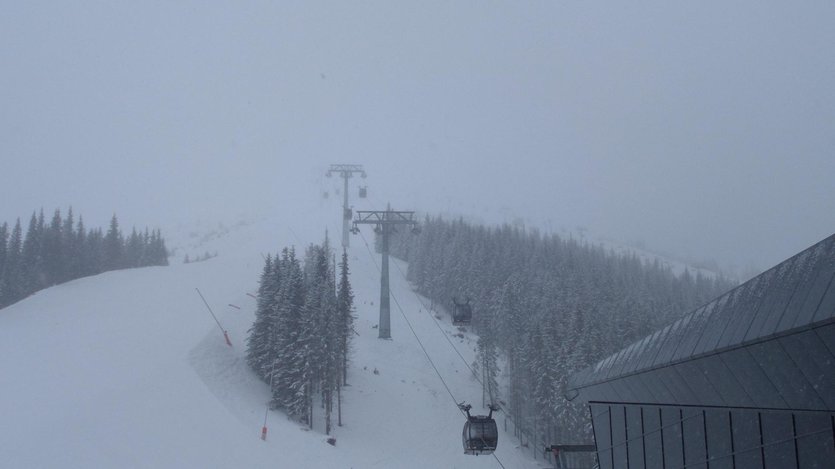 The highest point that skiers can get is 2004 metres. Of course, we decided to give it a try, not paying attention to the poor weather. And we got what we expected - what dreadful atmospheric conditions there were!

I'll never ever forget the extremely strong wind smacking me in the face. And the fog was so dense that I wasn't able to see a thing. I got scared that I'd lose sight of my friends, and most importantly, of the ski run! To make matters worse, the piste was ice-covered.
I have to admit that the Chopok mountain made my heart beat much faster... Finally, I got to the lower part and the weather improved.
I have to admit that the weather in Chopok mountain isn't as sunny as in Italian Alps and the visibility at the top is often poor. Chances are low that you'll be able to sunbathe on the slope like in the Dolomites.
Fortunately, not all days are cloudy and windy. When the weather is sunny, the views from Jasna Ski Resort will take your breath away! Low Tatras National Park is a scenic mountain region and the landscape rewards every effort.
Here you can check Chopok Jasna weather forecast.
Btw, Chopok mountain isn't only known for the ski resort. It's also a popular summer destination and one of the best hikes in Slovakia.




Jasna Chopok resort belongs to Tatry Mountain Resorts AS which has several other ski resorts and water parks (including Szczyrk mountain resort and Tatralandia aquapark).
Thanks to this fact there's only one ski card which you can use in all the facilities belonging to the company - it's called GOPASS.
There are a few ways to purchase a GOPASS ski card:
GOPASS E-shop - the most convenient method. You can check the prices here.
Ticket offices - there may be lines so it's best to arrive early. Opening hours: 8:30 AM - 4:00 PM.
GOPASS POINT in ski resorts - self-service ticket machines located at each boarding point in the ski resorts.
GOPASS mobile app - for topping up your GOPASS. It works immediately. The app also counts the kilometres and shows a diagram of your skiing performance. Available on Google Play Store and App Store.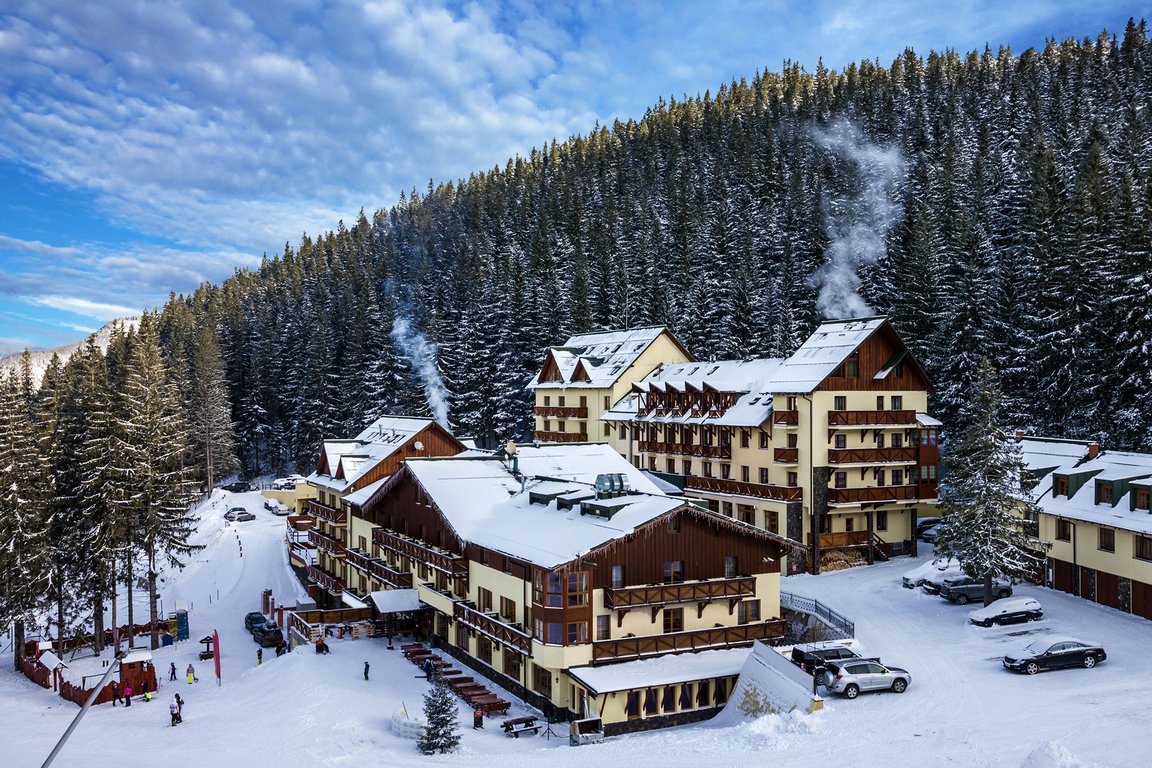 To enjoy the closeness of Jasna Ski Resort and not waste time commuting, it's best to stay in Demanovska Dolina (Demanovska Valley) in Low Tatras.
I've chosen the below hotels according to our own experience and ratings on Booking.com.

→ Hotel Björnson Jasná & Björnson TREE HOUSES - if you would like to stay close to the Jasna Ski Resort, then this hotel will be one of the best options. It's one of the highest-rated hotels in Demanovska Dolina. Guests appreciate the location, beautiful mountain decor and comfortable rooms.
→ Penzion Veronika - comfortable guesthouse located very close to the ski lifts (ski-in ski-out place). We stayed there and were very happy about it. Great value for money. Nice and clean rooms, spacious parking and cozy interior.
→ ZORE JASNÁ Apartments - a great option if you'd like to stay in an apartment. Ski-in ski-out type of place. Guests are delighted with spacious apartments, views from the windows and helpful hosts.


Other attractions near Low Tatra National Park

Big water park in Liptovský Mikuláš. Many consider it one of the best places to visit in Slovakia.
It's fun - there are lots of water slides, jacuzzis, pools with hot mineral water, etc. The water's pumped from deep grounds and is rich in nutrients - my skin got really smooth afterwards!
The only drawback of this place is that it is rather crowded. Fortunately, the enormous size of Tatralandia allows people to disperse (at least to some extent). It's best to arrive early in the morning or in the evening. Tatralandia opening hours vary according to season so it's best to check them on their website.
Tatralandia GOPASS is available for online purchase here.

→ STANISOVSKA JASKYNA CAVE
The only cave open all year round. It's not super big but definitely worth a visit (it's amazing what water can do with rock over a long period of time!).
The visit lasts about one hour. Stanisovska Cave is open every day from 10:00 AM to 4:00 PM. Admissions every hour. Located half an hour drive from Jasna Chopok (location is here). An adult ticket costs 6 EUR.

→ CHOCHOLOW THERMAL BATHS
The biggest and most modern water park near Zakopane in Poland. Located just 1.5-hour drive from Low Tatra National Park, it's definitely one of the best places to visit in Tatra mountains.
Opened in 2016 it offers numerous indoor and outdoor thermal pools, steam baths, salt grottos, SPA facilities, dry and infrared saunas and watermill saunas. There's a big kids zone, restaurants and pool bar.
If you decide to visit Chocholow Thermal Baths, you can avoid standing in line and get a full access ticket for a day in advance:

→ SLOVAK CASTLES
Slovakia is famous for its wonderful medieval castles. You can get a tour to see the most beautiful Slovak fortress - Bojnice Castle together with its gardens and zoo. It was built in the 12th century and it's a Romantic castle with some original Gothic and Renaissance elements. Later on, the guide will take you to the ruins of Beckov Castle located in picturesque Slovak village.
You can check the tour here:
Other great Tatra Mountains resorts



Closest airport to Jasna Chopok


The nearest airport is in Poprad city.
Getting to Jasna Ski Resort from Poprad airport by public transportation is a bit tricky and time-consuming. You have two options:
bus - you first need to take a taxi to Poprad, then bus line 505419 to Liptovsky Mikulas and then take bus number 505419 going to Demanovska Dolina. The whole transfer will take about three hours. You can check the itinerary here.
train - getting from Poprad city to Liptovsky Mikulas takes about one hour. You can check the train timetable here.
The fastest and most convenient way to travel in Slovakia is to rent a car. Travelling from Poprad airport to Jasna Chopok takes about 45 minutes.
You can check deals on car hire in Poprad airport here:
When we were skiing in Meander Park Oravice my husband Bartosz dislocated his shoulder. Slopes in Meander Park are mild - this ski resort is perfect for beginners and families with children. However, we were tired as it was already afternoon and we started skiing in the morning.
Bartosz decided to give one last go at the small 10-centimetre-high ski jump. He fell down and got his shoulder dislocated. He was transported to a hospital in Zakopane. The recovery was long and painful but he was stubborn about getting better and never dislocating his shoulder again.
Have a look at the below articles to enjoy a great and injury-free ski vacation.
📌 Shoulder dislocation - everything you need to know to get better (personal story included).
---

I wish you a happy skiing in Slovakia! 💙