Tatranská Lomnica is a picturesque mountain resort located in High Tatras in Slovakia. High Tatras region is one of the top places to visit in Slovakia, especially if you appreciate the great landscape and like mountain hiking.
Actually, Slovakia is getting famous for its mountain infrastructure - many travellers think that in Slovakia there are the best mountain resorts in Europe!
In the summertime, Tatranská Lomnica is a lively mountain resort offering many hiking trails and outdoor adventures and in winter it attracts skiers and snowboarders from all over Europe - it's one of the best ski resorts in Slovakia.
Tatranská Lomnica has it all - there are lots of great restaurants and pubs, nice hotels and shops.
But the biggest attraction in this mountain resort is the cable car which leads to Lomnický štít. This impressive mountain reaches 2,634 metres and it's the second highest peak in Slovak Tatra mountains. The highest mountain in Tatras is Gerlachovský štít which reaches 2,654 metres.
Tatranská Lomnica cable car operates every day all year round which makes this mountain town an all year resort.

Lomnický štít is not accessible via hiking trails. The only option to get to the mountain top is to take a ride in a cable car.

Tatranska Lomnica ski resort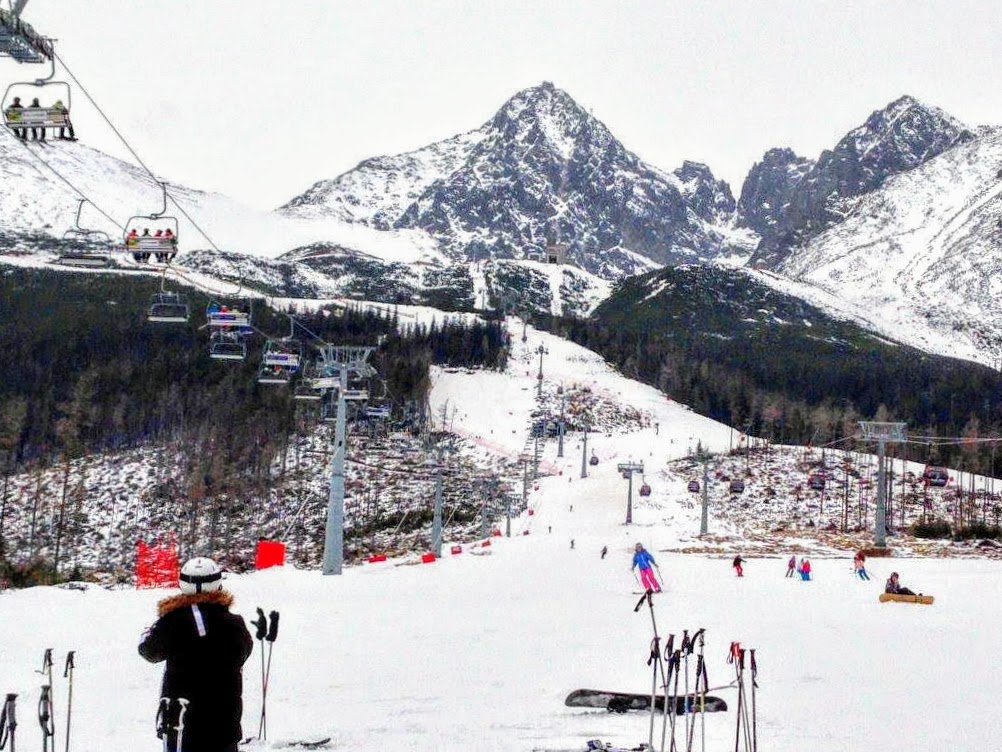 If you would like to try skiing in Tatra mountains, then Tatranská Lomnica will be perfect - it's the best ski resort in High Tatras.
It's also the highest located mountain resort in Slovakia - it's situated on 850 metres above sea level! The altitude affects the length of ski season - it starts in November and lasts until the middle of May.
Tatranská Lomnica ski resort is as modern as Jasna Chopok - Slovaks did a really good job in Tatra mountains.
Tatranská Lomnica ski resort is divided into two parts:
Jamy - smaller one with two chair lifts
Skalnaté Pleso - main ski slope which reaches Lomnické Sedlo Pass (2,174 metres)
Chair lifts in Tatranská Lomnica are newly refurbished, very comfortable, quick and efficient. Ski pistes are wide and prepared well for skiers.

The highest point you can get to is 2625 metres.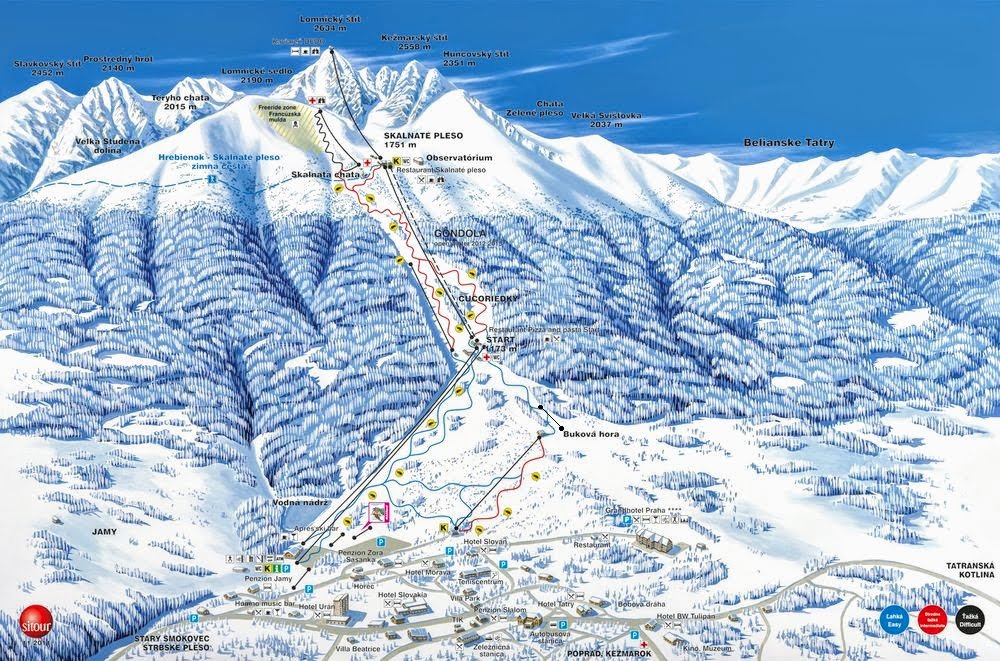 There are 12 ski runs (including cross-country ones) which vary in difficulty so that all kinds of skiers and snowboarders can test their skills:
four blue ski runs for beginners. Total length: 5 kilometres
four red ski pistes for intermediate skiers
one black ski piste on the upper station in Lomnické sedlo Pass. It's the steepest ski run in Tatra mountains
freeride: slopes on Lomnický štít are good for free-riders. he most challenging trails are near the upper station
cross-country skiing: there's one trail 8 kilometres long but in nearby Tatranské Matliare village there are a few trails which total length reaches 12 kilometres.
One of the most popular parts of this resort is the Francúzska Mulda (French Mulda) which is considered the steepest slope in Slovakia. You can ski down from 2196 metres directly to Tatranská Lomnica through Lomnické sedlo. Only for advanced skiers - I didn't dare to try it.

In Tatranská Lomnica there are a few ski service shops and gear rental shops. There's also ski jump, bobsleigh track and ice rink.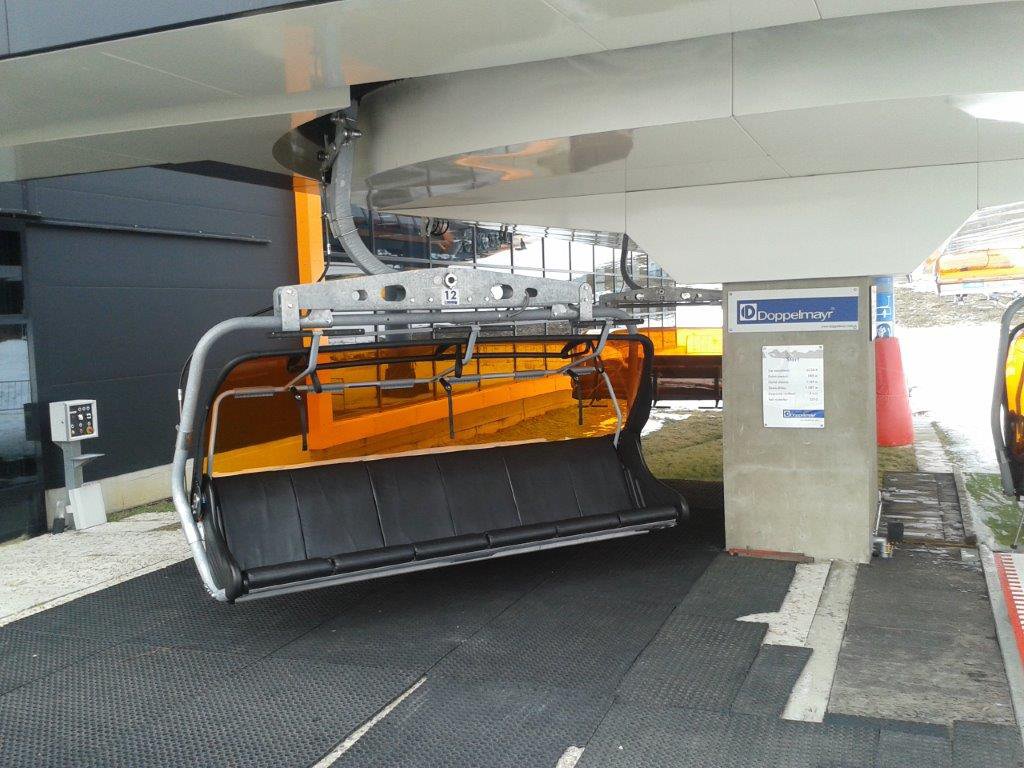 PRO TIP: arrive at the ski slopes as early in the morning as possible. Tatranská Lomnica ski resort is quite popular and the line to the cable car gets rather long after 11 AM.


Tatranska Lomnica ski pass
Tatranská Lomnica is one of the cheapest ski resorts in Europe - one day of unlimited skiing costs 31 EUR (if the ski pass is bought online).

This ski resort belongs to Tatry Mountain Resorts AS company which owns a few other mountain resorts and water parks (including Jasna Chopok, Szczyrk mountain resort and Tatralandia aquapark).
Thanks to this company skiing in Slovakia is one of the most exciting outdoor adventures - they modernized each of those places so that they offer European standards.
There's only one card which can be used in all the facilities belonging to the company. The card is called GOPASS and it can be purchased online or in the mountain resorts:
GOPASS online shop - the most convenient method. It's also cheaper than buying GOPASS in ticket offices. You can purchase the card here.
GOPASS POINT - self-service ticket machines located in the ski resorts at the boarding points.
Ticket offices - it's best to arrive as early as possible because queues get long after 10 AM. Opening hours: 8:30 AM - 4:00 PM.
GOPASS mobile app - you can use it for topping up your GOPASS card. It works immediately, there's no need to top it up the day before. The app also sums the kilometres you skied and shows a diagram of your performance. Available on Google Play Store and App Store.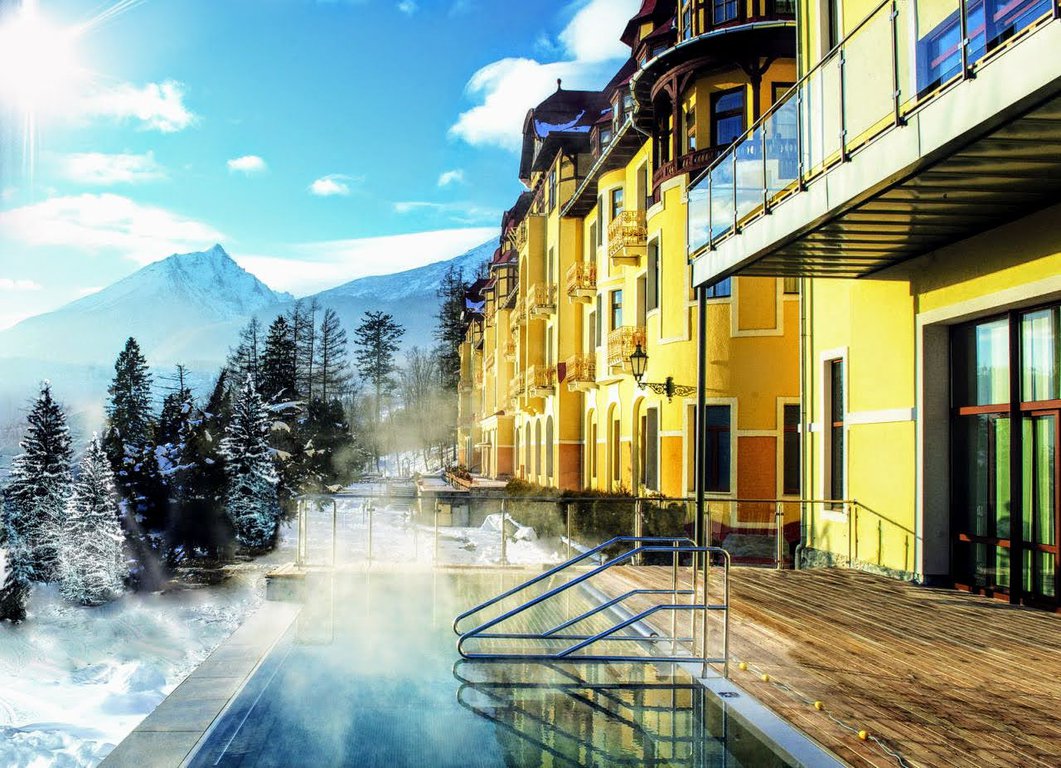 The biggest attraction in Tatranská Lomnica in the summer are hiking trails and the already mentioned cable car.
This is a great adventure and the landscape from Lomnický štít is breathtaking. However, we need to pay quite a lot of money for this experience - return ticket for an adult costs 46 EUR. The ticket is slightly less expensive if we buy it online here.
There's also one more reason why it's best to buy the ticket in advance - there's only one cable car going to the mountain top and the capacity isn't great.
Return ticket to Lomnický štít includes six rides in total as it's divided into three stations:
Štart clearing - it's not only a station on the way to the mountain top. For thrill seekers, there's an option to rent mountainboard and Stanley Rider go-karts.
Skalnaté Pleso - picturesque postglacial Tatra lake. There are restaurants, hiking trails, mini playground for the kids and cable car station
Lomnický štít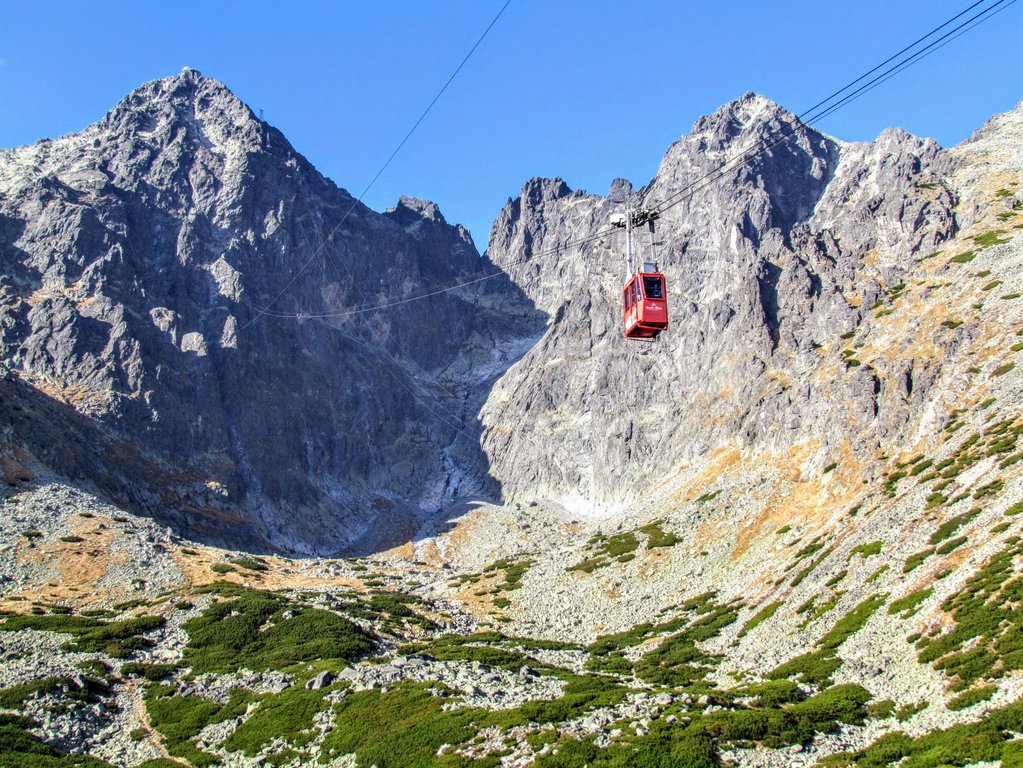 From Skalnaté Pleso lake, the cable car diverges in two directions:

Lomnický štít
Lomnické Sedlo Pass (2,174 metres) from which we can hike on the green trail to Lomnická veža mountain (2,215 metres). It's a very short walk - getting to the mountain top from the cable car station takes merely 15 minutes. The panorama from Lomnická veža is breathtaking!
The maximum time we can spend on Lomnický štít is 50 minutes.
I think the experience is worth the price. The natural beauty of High Tatras rewards all the expenses. It's also the only chance to stand so high in Tatra mountains not being an expert climber.
When the weather is favourable we even get to admire the Austrian Alps from Lomnický štít!
There's also a restaurant at the mountain top with a terrace from which we can enjoy a panorama of High Tatras.
PRO TIPS:
If we decide to go to Lomnický štít mountain top it's best to check the weather first. The landscape from the top is astounding but when the weather isn't favourable it may turn out that we've spent quite a lot of money to stare at... the clouds.
The best weather forecast for Tatra mountains is here.
The ride isn't suitable for people with the fear of heights - the cable car hangs about 300 metres above the ground.
Skalnaté Pleso lake
Did you know that this amazing Tatra lake is glowing beautifully at night? It's also a great place for stargazing - the sky is amazingly black and the stars are so distinct! There's also astronomical observatory near the lake. For me, Skalnaté Pleso lake is one of the best places to visit in Tatra mountains.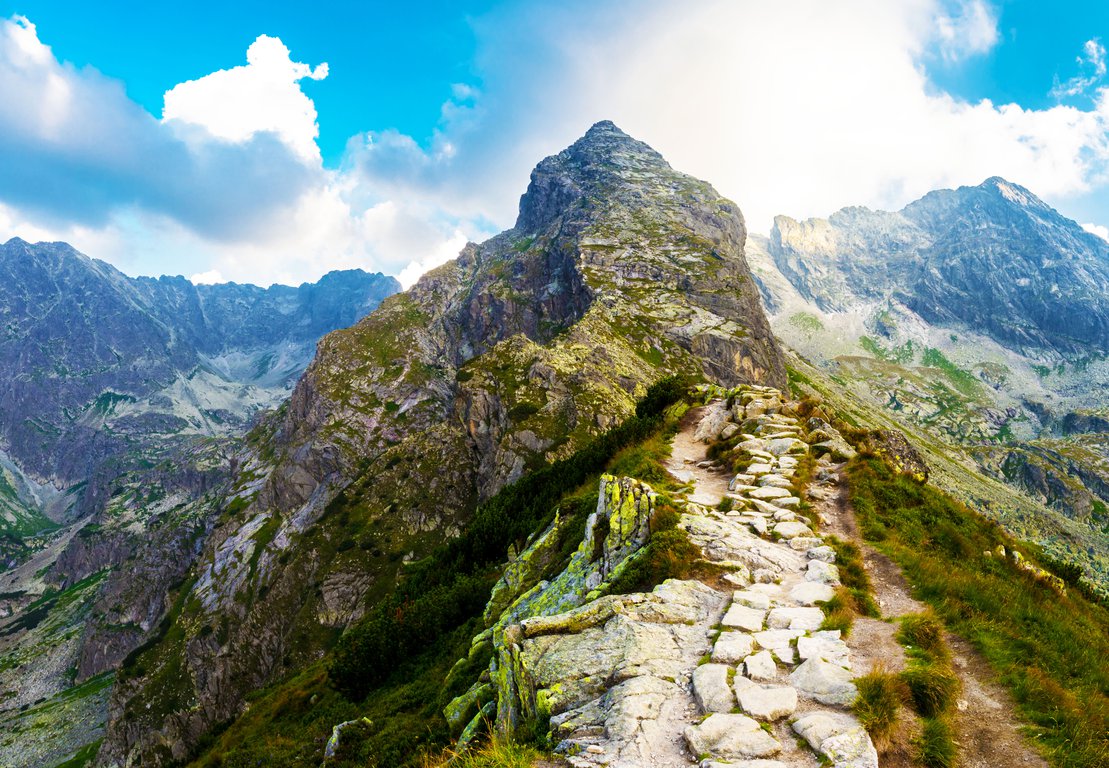 High Tatras offer some of the best hikes in Slovakia - it's the most beautiful region in the country offering lots of hiking trails.
The best hiking route near Tatranská Lomnica leads to Skalnaté Pleso - spectacular postglacial lake located on 1751 metres. There's also a mountain shelter serving delicious food.

There are two great trails which start in Tatranská Lomnica and lead to the lake:
1. Easier and shorter hike - green trail. Return the same way.
2. A bit longer trail loop - more interesting option (for me it's one of the best hikes in High Tatras).
Let's have a look at those two hiking trails in High Tatras:
1. Green trail
Route: Tatranská Lomnica → Štart → Pri Skalnatej chate → Skalnatá chata mountain hut → Skalnaté pleso lake → Skalnatá chata mountain hut → Pri Skalnatej chate → Štart → Tatranská Lomnica
Length: 12.5km
Time (breaks included): 6 hours
Difficulty: low
Height difference: 930m
Trail color: green, red

This hike is the fastest route to get to Skalnaté pleso lake. For the first hour, we hike in the forest but when we get to Štart trail fork on 1,145 metres the views start to unveil themselves. The landscape gets more beautiful with every step.
Hiking from Tatranská Lomnica to Skalnaté pleso lake takes about 3-4 hours. On our way we pass Skalnatá chata mountain hut - perfect places to take a break.
2. Loop trail
Route: Tatranská Lomnica → Štart → Skalnatá chata shelter → Skalnaté pleso lake → Skalnatá chata shelter → Zamkovského chata shelter → Nad Rainerovou chatou → Vodopády Studeného potoka → Tatranská Lomnica
Length: 18km
Time (breaks included): 7-8 hours
Difficulty: medium
Height difference: 1080m
Trail color: green, red, blue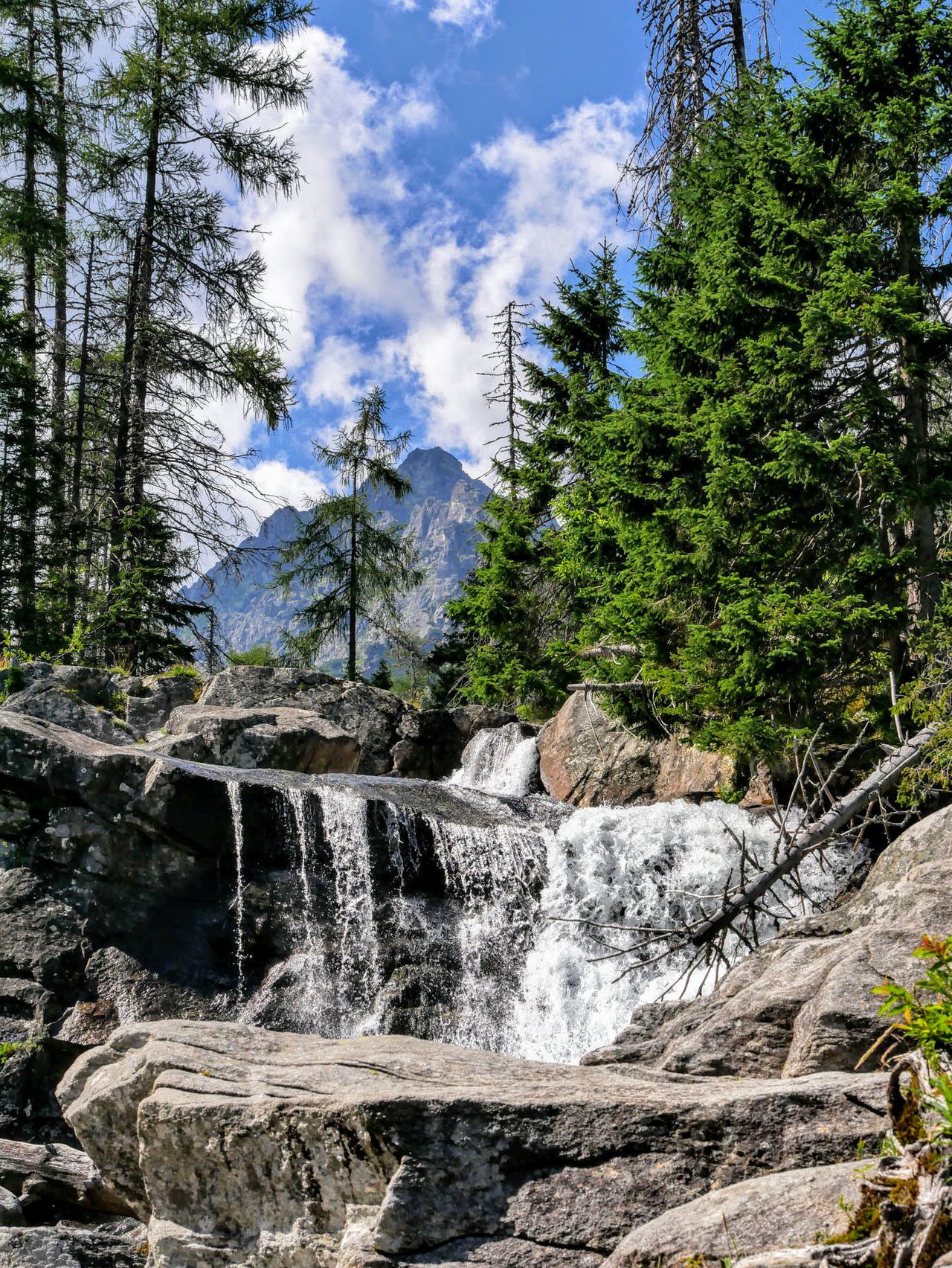 This exciting day hike includes the lake and two mountain huts: Skalnatá Chata and Zamkovského Chata. Both offer food and accommodation.
There's an added bonus in this hiking route: Cold Creek Waterfalls (Slovak: Vodopády Studeného potoka or Studenovodské vodopády).
It's a picturesque place, perfect to contemplate the amazing mountain nature. Cold Creek Waterfalls are the best places to visit in Tatra mountains, especially if you visit Slovakia with kids.
This hiking trails is technically easy but requires quite a good physical condition - the height difference is significant. But the views on the way reward every effort. For me, this is one of the best High Tatras hiking routes.
If you would like to explore Slovak Tatra mountains, here are some other great trails in Tatra National Park:

→ GRAND HOTEL TATRANSKA LOMNICA

This hotel is actually also a tourist attraction in Tatranská Lomnica. It is built in Art Nouveau style and was opened in 1905 as the Palace Hotel (it was renamed Grandhotel Praha in 1919). At the beginning of the 20th century, Tatranská Lomnica was known as a health resort which attracted European aristocracy. The hotel was opened to meet their needs.
I stayed there on a business trip and liked it a lot. Rooms are comfortable and spacious, food is delicious and the wellness centre prevented me from getting muscle sores after skiing. Staff is friendly and attentive. Added bonus is the location - the hotel is situated close to the ski slope, shops and restaurants (the closest ski lift is 900 metres away).
If it seems like a good option for you, you can check Grand Hotel Tatranská Lomnica here: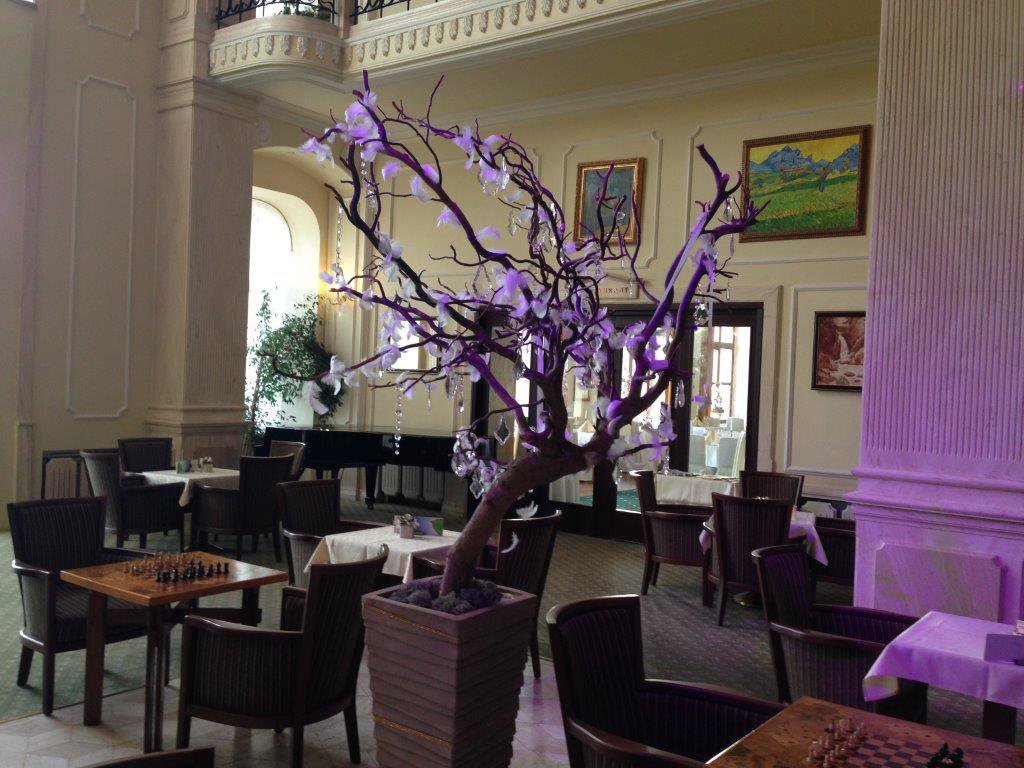 → WELLNESS COTTAGE CEDER TATRANSKA LOMNICA
It's a charming wooden chalet, a type of Canadian log house. It's located right next to the ski slopes - it offers ski-to-door access.
Free and fast WiFi, great breakfast and lovely interior. What I liked the most about this place is that the rooms are very quiet -  this chalet was built with specific sound-insulating materials. There are private wellness facilities for an additional cost (sauna and a hot tub). Parking included.
If you would like to stay at Wellness Cottage Ceder Tatranska Lomnica, you can book it here:

Tatranska Lomnica restaurants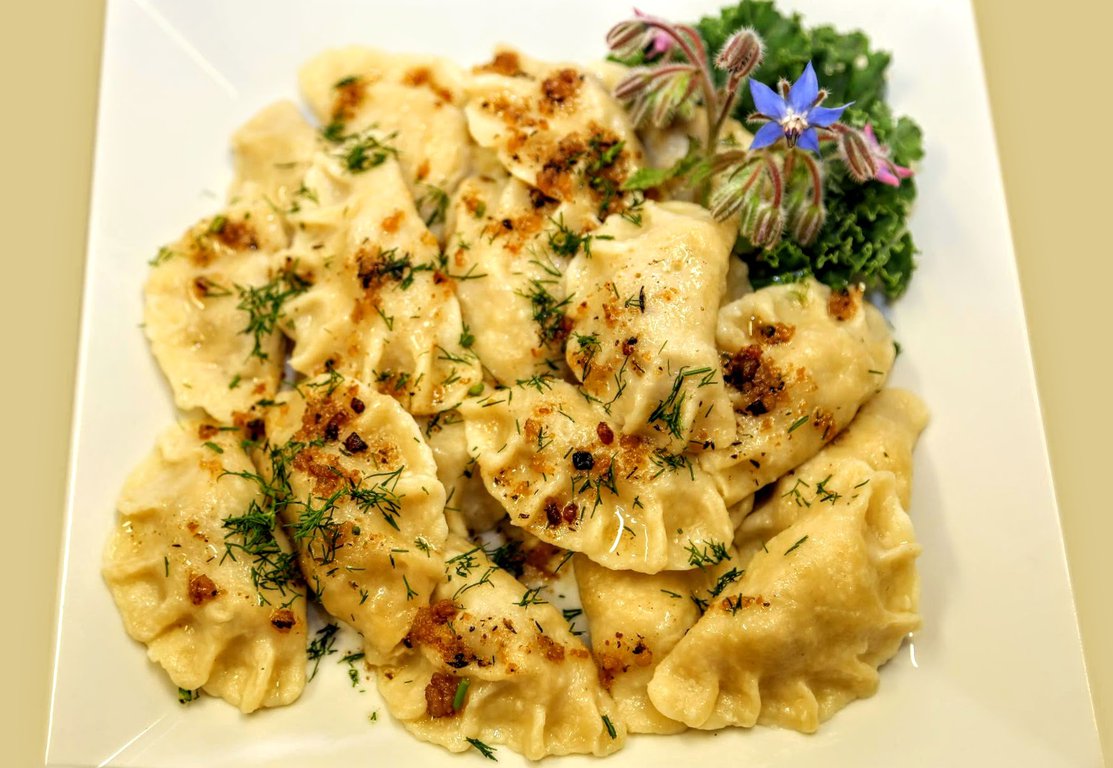 There are numerous restaurants and pubs in Tatranská Lomnica but vegans will have a taught time there. Slovaks eat a lot of meat and dairy and it doesn't look like it's going to change soon.
→ RESTAURACIA STARA MAMA

Anyway, the best (and most beautiful) restaurant in this mountain resort is Reštaurácia Stará Mama. I liked the wooden mountain style interior, I think it perfectly matches the atmosphere of Tatranská Lomnica.
Food is delicious and home-made. Dishes taste as if they were prepared by my own mother - no artificial spices. I especially liked bryndzové halušky - traditional Slovak food. It's a kind of dumplings in a salty cheese sauce. I also truly recommend garlic sup - the best one I've ever had!
It's also a good value for money - food portions are quite big for reasonable prices.
Oh, and don't forget to order Kofola. It's a carbonated soft drink produced in Czechia. It tastes much better than Coca-Cola!

Reštaurácia Stará Mama is very easy to get to - it's located near the train station.

→ GRILL PUB RESTAURANT
Another folksy restaurant in Tatranská Lomnica. The place is famous for its grill where cooks prepare food so that every guest can see what they ordered.
Food is tasty and well spiced. Portions are big so there's no chance you'll leave the restaurant hungry.
The best dishes I sampled there was goulash soup, potato stuffed with feta and bryndzové pirohy - dumplings stuffed with mountain cheese (another example of traditional Slovak food). I loved them all! There are also lots of craft beers from local breweries to choose from (try Šariš and Zlatý Bažant - those two are the best beers in Slovakia!).

Other things to do in Tatra mountains
If the weather doesn't want to cooperate or you would like to take a break from mountain hiking, there are several options you can choose from.
→ SLOVAK WATER PARKS

The closest waterparks to Tatranská Lomnica are Aquacity Poprad and Tatralandia. Both are fun and enjoyable to visit but they tend to get rather crowded, especially in the summertime.
Poprad is located only 17 kilometres from Tatranská Lomnica.
Aquacity Poprad is the biggest waterpark in the area. It offers 13 outdoor and indoor pools, all with hot thermal water with a 28°C – 38°C temperature range. This water is pumped from underground hot springs (about 1300 metres deep!). It contains lots of minerals beneficial for our health.
Aquacity Poprad is a fun place to go to - there are water slides and more than 350 water attractions. But this water park is famous mostly for relaxation zone. There are several saunas, inhalation grottos, ice cave
It's the biggest water park in Slovakia. Located in Liptovský Mikuláš, 70 kilometres from Tatranská Lomnica.
There are 14 indoor and outdoor thermal pools (10 of them are available all year round, the remaining 4 pools are open in the summer). There's also option to enjoy Thalasso therapy - besides pools with hot springs water, there are seawater pools at Tropical Paradise zone. 
I think Tatralandia is a better option if you travel Slovakia with kids - there are definitely many more attractions for children. Water Slides, Tropical Paradise, Surf Waves, Boomerang Raft Ramp, Tornado toboggan - kids go crazy on those things!
This water park has it all - pools, shops, restaurants, wellness facilities but it's a bit too crowded for me.
There are two nice options to choose from: Chocholow Thermal Baths or Bialka Tatrzanska Thermal Baths.
The biggest and most modern waterpark in Polish Tatra mountains (it was opened in 2016). Located in Chocholow village, 70 kilometres from Tatranská Lomnica resort.
Chocholow Thermal Baths offer as many as 30 indoor and outdoor pools with water pumped from 3600 metres below the ground. Lots of those hot springs pools come with additional attractions: artificial wave, rapid river, water nozzles, climbing net, pool bar, etc. There's also a large swimming pool, two kids zones, and internal playground.
This water park offers also a wide range of SPA treatment: several dry saunas, BIO sauna with juniper, steam baths, aromatic bath, infrared sauna, inhalation grotto, massages, treatment baths, etc.
If you would like to visit Chocholow Thermal Baths, you can buy a full day access ticket here:
Bialka Tatrzanska Thermal Baths
Located in Białka Tatrzańska village, 40 kilometres from Tatranská Lomnica.
It's the smallest waterpark from all the above-mentioned places but there are also fewer tourists. There are 8 thermal pools and 5 saunas. There are a kids zone and some other water attractions: all-year-round water slides, artificial waves, waterfalls etc. In the wellness zone (besides saunas) we can enjoy salt caves, icy barrel, massages and healing body compresses.
If you would like to visit Bialka Tatrzanska Thermal Baths, you can book a skip-the-line ticket with transport included: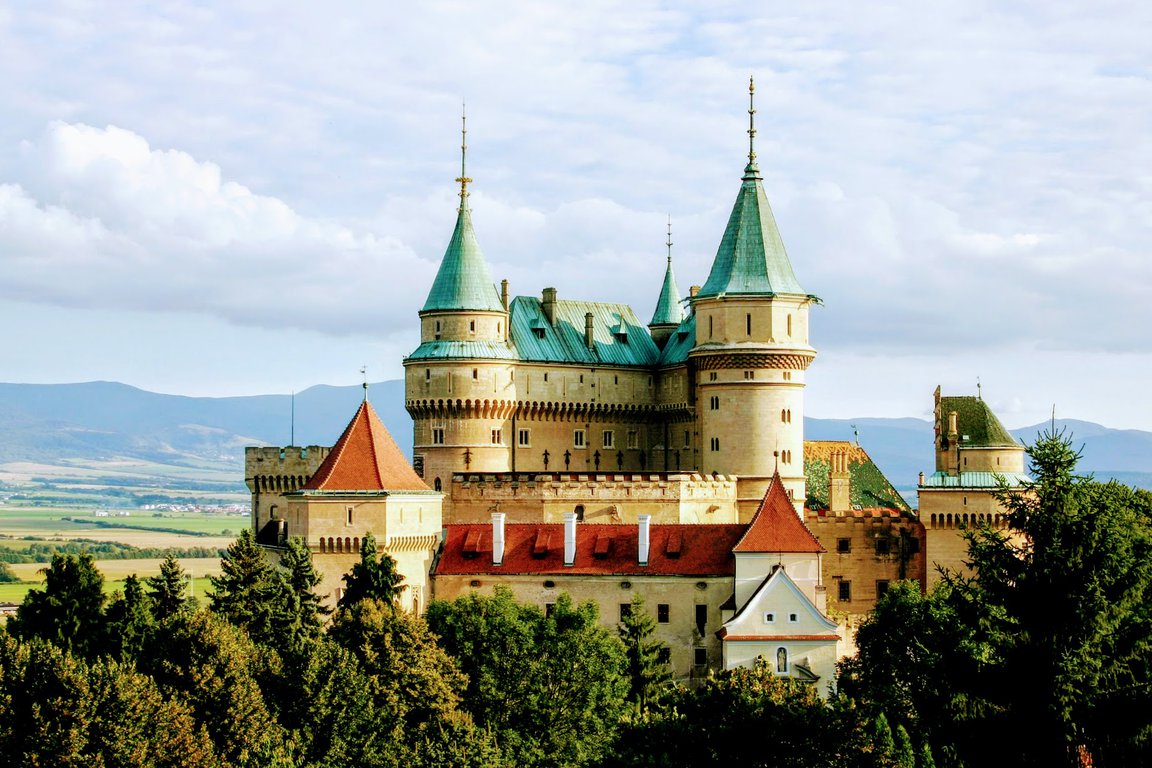 Slovakia is famous for its impressive medieval castles. If you're interested in history and/or architecture, you might want to explore some of the Slovak castles. The most well-known fortress is Bojnice Castle. It was built in the 12th century and amazes visitors with its beauty - it looks like it's taken straight from a fairy tale!
If you would like to visit Bojnice Castle along with Beckov Castle, you can book a day trip here:
The nearest airport in Slovakia is Poprad airport - it's located only 18 kilometres from Tatranská Lomnica (it's only 20 minutes by car!).
How to get from Poprad to Tatranská Lomnica?
→ Car rental
The fastest and most convenient way of transport, especially if you plan to visit many places in Slovakia.
Renting a car in Slovakia is quite easy and very little formality is needed. There's right-hand traffic in Slovakia.
The permissible blood alcohol content in Slovakia is 0.
You can check deals on car hire below:
→ Train - trains in Slovakia are fast and modern. If you would like to travel by train in High Tatras region, then Tatranská elektrická železnica (Tatra Electric Railway) would be the best way.
This is actually kind of an electric narrow gauge train which runs between towns in High Tatras: Poprad, Starý Smokovec, Štrbské Pleso and Tatranská Lomnica.
You can check the timetable and buy a ticket online here. Poprad airport station is called on this website Poprad-Tatry.
If you choose to travel with Tatra Electric Railway, you will need to change trains in Starý Smokovec.