Meander Park in Oravice is for you if:
📌 you'd like to try skiing in Slovakia
📌 prefer off-the-beaten-path destinations

📌 you're looking for a ski resort and thermal pools in one place

📌 wish to visit Western Tatras

📌 opt for more budget-friendly ski destinations.

We visited Meander Park with friends for a few-day ski trip and loved this scenic mountain resort!
Advantages of skiing in Slovakia


The Tatra Mountains in Slovakia are an attractive destination for winter sports enthusiasts. Here are some of the advantages of skiing in Slovakia:
⛷️ Scenic beauty - Slovakia boasts stunning mountain landscapes. Many travelers consider the Tatra Mountains as one of the most beautiful mountains in Europe.
⛷️ Affordable - skiing in Slovakia is generally more affordable compared to many other European ski destinations. Lift tickets, accommodation, and dining tend to be reasonably priced, especially in Meander Park.

⛷️ Shorter lift lines - compared to more popular European ski resorts, Slovakia tends to have shorter lift lines, allowing for more time on the slopes and less waiting.
⛷️ Slovakia hot springs - many Tatra ski resorts have access to geothermal water. The warm bubbly water is rich in minerals and provides much-needed relaxation after a day of skiing or other outdoor activities. The majority of these facilities offer additional amenities like saunas and wellness services.

⛷️ Accessibility - ski resorts in Slovakia are easily accessible, with good transportation options, including airports and road connections. This is very important for me - when we were travelling to Livigno ski resort we were greeted by heavy snowfall in Italy. We got stuck for very long hours and were waiting and waiting to enter a one-way narrow tunnel leading to Livigno. It was a long and very tiring journey and now I know that a ski resort should be easily accessible.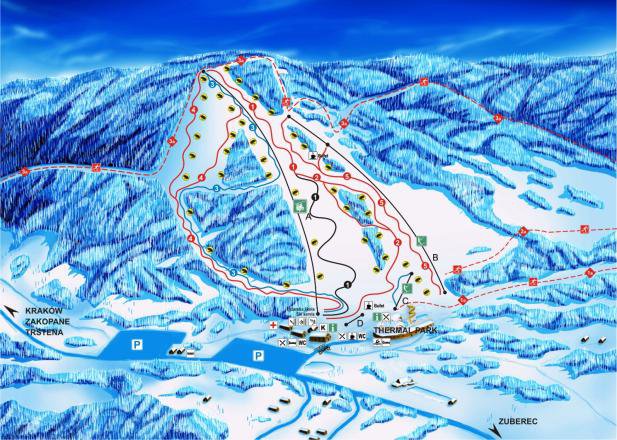 This low-key ski resort is located in Western Tatras in the Orava region, close to the Polish border. It's a fantastic place for combining winter sports with thermal pools.
Meander Ski Park is located between 785 and 1055 metres. There are about 9 km of ski runs in total. The ski infrastructure is modern and efficient.
It's a fantastic family ski resort - there's a mild ski run prepared for children and beginners who want to learn how to ski.
Generally, ski runs aren't very demanding, there's only one red piste and it's rather short.
I'd recommend Meander Ski Park for skiers who have recently started their skiing adventure or those who are looking for slopes which don't require a lot of effort
Meander Park Oravice is a laid-back resort, perfect for relaxed skiing, admiring beautiful mountains from a restaurant's terrace and sunbathing.
The ski resort is open from 9 AM to 4 PM. I do like the fact it's not open from 8 AM - you can come in the noon and there are still good skiing conditions on the slopes.

What I love about this ski destination are the beautiful views of Western Tatras. This mountain range is special for me because here I hiked for the first time in the Tatra Mountains.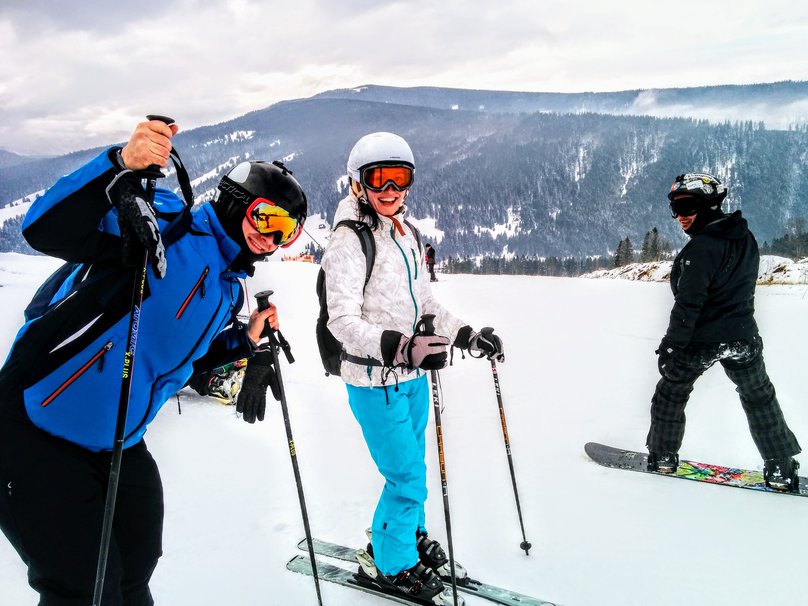 Meander Park Oravice is part of Taty Super SKI - the biggest ski project in Poland.
With Tatry Super SKI skipass you may enjoy 18 ski resorts which offer 95 ski lifts and over 60 km of piste length in total.
Here are ski resorts where you may use Tatry Super SKI skipass:
Ski Centrum Strachan (Zdiar, Slovakia)

Meander Ski & Thermal Park (Oravice, Slovakia)
Bachledka Ski and Sun (Ždiar, Slovakia)
Harenda (Zakopane)
Polana Szymoszkowa (Zakopane)
Rusiń-Ski (Bukowina Tatrzańska)
Czorsztyn Ski (Kluszkowce)
GrapaSki (Czarna Góra)
Koziniec (Czarna Góra)
Jurgów Ski (Jurgów)
Stacja Narciarska Suche (Suche)
Witów-Ski (Witów)
PKL Palenica (Szczawnica)
Długa Polana (Nowy Targ)
You can purchase Białka Tatrzańska skipass in several places:
ticket offices in the ski resorts
ticket machines near the ski lifts
online store - you can buy it here. Note that the skipass online sale will start on the first day of opening the ski resort and this depends on the atmospheric conditions.
You may check the skipass prices here.
I think it'd be a great idea to combine skiing in Slovakia with skiing in Poland 🙂 especially since Meander Park is located very close to the Polish border and it takes just about one hour to travel to e.x. Białka Tatrzańska ski resort.
Meander Thermal Park Oravice


Another thing I like about this place is that it combines 2 great things: ski resort and thermal pools. I mean, what could be better after an active skiing day than a bath in hot, mineral water with bubbles massaging your tired muscles so that the next day you feel like a newborn?
If you haven't tried this pleasure yet, don't hesitate to give it a try! It's immensely pleasant and there's a bonus to your skin - the water's packed with minerals because it's pumped deep from the underground. After a few hours of bathing in such water, your skin becomes smoother than ever!
The water park is literally at the foot of the ski piste and you can admire puffs of smoke evaporating from the pools right from the ski lift. I actually wore my swimwear while skiing on the first day - I call this good time management 😉
In Meander Thermal Park Oravice there are indoor and outdoor pools, water whips, geysers, Finnish sauna and massage services. For younger ones, there is a 100-metre-long water slide with a separate landing pool. The water park features a restaurant. I liked the food there, they have decent vegetarian options.
Meander Thermal Park Oravice is not a big water park, definitely smaller than Tatralandia or AquaCity Poprad but it's enough for a few hours of pleasant relaxation.
Added bonus: you may purchase skipass together with discounted thermal pools ticket.
Best places to stay close to Meander Park Oravice


When choosing your accommodation, consider your budget, the size of your group, and your preferences. Be sure to check the availability and book your stay in advance, especially during the peak ski and tourist season to secure the best options.
I've chosen the best places according to our own experience and also ratings on Booking.com.

Meander Park Oravice Hotel - ski-in ski-out hotel in the water park. Free parking is included. Besides location, guests appreciate the kind and friendly staff, tasty breakfast and the cleanliness of the property.
Koliba Hubertka - we chose this guesthouse and were happy about it. It's located very close to Meander Ski Park. The room was comfortable and clean. Wide choice of food at the breakfast and a spacious parking lot. 
Apartmány Goral Oravice - perfect option if you prefer to stay in an apartment. Located close to Meander Park. Guests are delighted with spacious and well-equipped apartments, friendly hosts and outdoor facilities - sunbeds, grill, fireplace and gazebo.
Other great ski resorts in Tatra Mountains


If you're interested in skiing in Tatra Mountains and would like to get to know other mountain resorts, have a look at the below posts.
I think that exploring other Tatra ski resorts would add a lot of value to your winter vacation - they're all modern and beautiful ski destinations.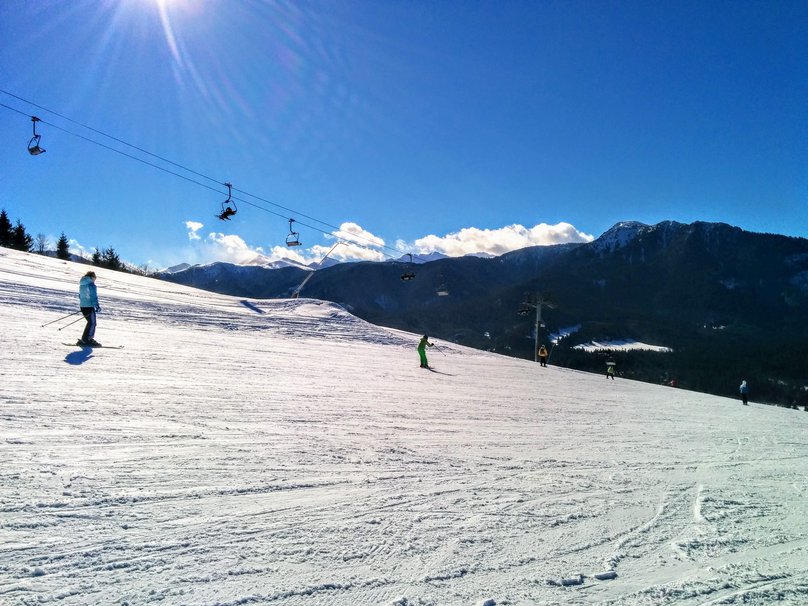 Having written that Meander Park Oravice is good for beginners, I need to admit that my husband Bartosz got his shoulder dislocated while skiing there.
It was afternoon, we started skiing in the morning and were already rather tired. He decided to go down the slope one last time and wanted to do a small jump from a 10-centimetre-high snow jump. He fell down on his shoulder, couldn't move and was transported to a hospital in Zakopane.
He was recovering for a long time but was stubborn about getting better and not dislocating his shoulder ever again. He returned to his full health and, so far, hasn't dislocated his shoulder again.
Here's the story along with all the things he did to get better:
📌 Shoulder dislocation - everything you need to know to get better.
How to get to Meander Park Oravice?


If you will be travelling by plane, the closest airports are:
✈️ Kraków John Paul II International Airport - located 125 km from the ski resort, it takes about 2 hours to travel.
✈️ Poprad–Tatry Airport - located 98 km away, it takes about 1.5 hours to get to Meander Park.

✈️ Katowice Wojciech Korfanty Airport - located 200 km from Oravice, it takes 3 hours to travel.
Booking.com offers cheap flight booking services - you ma compare flights from 500+ airlines to destinations around the world.
You can check deals on flights here:
Since Oravice is a small mountain village, the most convenient way to get there would be to rent a car. When we travel abroad use RentalCars.com and are content with them, haven't had any issues so far.

You may check deals on car rentals here:
There is no train station in Oravice. The closest train station is in Trstená town, 16 km from Meander Park.
If you would like to travel by train in Slovakia, you can check the timetable here.
You can take a bus from Trstená town to Oravice village - the final bus stop is right at the Meander Ski Park. Here is a link to Google Maps with a bus stop from where you will catch a direct bus to Oravice.
---
I wish you a happy skiing in Slovakia! 💙