---
Tenerife is famous for its great sandy beaches, sunny weather, stunning blue sky and all-inclusive, fancy sea resorts.
You love sunbathing and clubbing? Go to Canary Islands!
Hmmm, but what about non-beach people who want to enjoy nice weather, even though the temperature dropped well below zero in their own country? What about people who yearn for warmth, sun and fresh air in the mountains? What about outdoorsy people who feel bored on the beach but want to explore islands?
Well, if laying out on the beach and sipping drinks for a whole day isn't your idea of a good time, but you're fascinated by Canary Islands and in need of warm and beautiful getaway, go to Tenerife! It's true heaven on earth - it offers everything which all mountain aficionados, nature lovers, outdoor addicted and sightseeing enthusiasts need.
What I especially love about Tenerife is that traveling by car is so convenient there - you can get everywhere, even to the most remote sites, within maximum 2 hours. And during these 2 hours of drive you'll get to see various landscapes, which will make you feel like you're traveling great distances covering different climate zones.
The south of Tenerife is dramatic and dry, with scare vegetation, covered in dried dust, very Sparta-like. But it guarantees sunny weather.
The north of the island is completely different - with green, abundant vegetation it's definitely more preferred by local inhabitants. But the climate there's more windy and rainy.
So let's go!
1. Hike in Teide National Park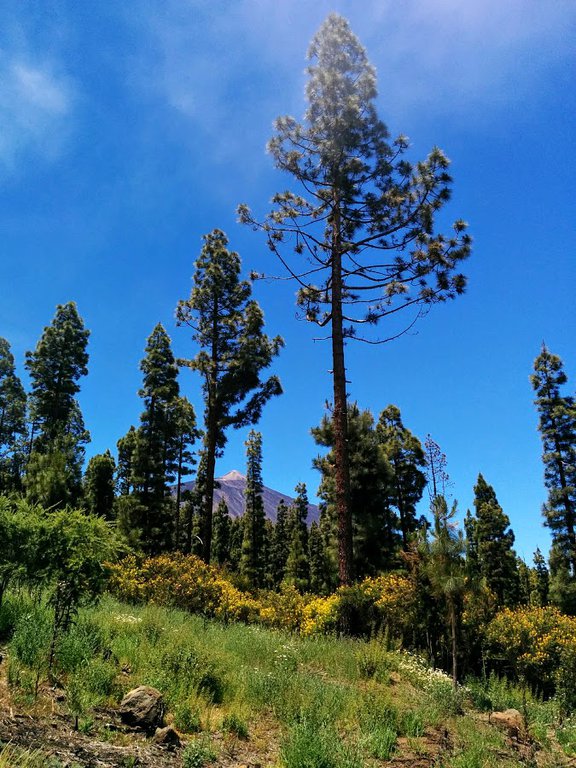 This National Park is the biggest (literally!) attraction in Tenerife as it encircles the highest mount in Spain - volcano Teide. This lava monster reaches whopping 3718 metres above sea level! As you can guess, the landscapes of Teide National Park provide unforgettable experience!
There's a cable car conveniently located on one of the volcano's slopes - it takes you from 2356 metres up to 3555 metres. At the foot of Teide there's lots of parking space (free of charge), so it's very convenient for tourists traveling by car.
What I need to mention here is that the best you can do to visit the highest volcano in Europe is to book the cable car's ride at least few days in advance. It's more than probable that when you arrive at the ticket office without booking, there will be no places left.
We booked tickets online on Sunday and the nearest ride available was on Thursday. That was the end of May - it wasn't even the high season. I can only guess how many days in advance one needs to buy tickets in August...
To climb the volcano's peak you need a special permission issued (for free) by Spanish government. I highly recommend to apply for this licence as soon as possible, especially in high season. We tried to book the pass at the end of April and it turned out it was too late for our trip.
Teide volcano is immensely popular.
What I really appreciate about this National Park is that you can comfortably travel there by car - national roads TF38 and TF21 will take you to the most interesting spots of Teide region.
And you don't need to take photos in a hurry, leaning out of the car window - there are many view points with lots of parking space along the road which allow you to contemplate all those astounding landscapes as long as you wish. Take your time there because good moments tend to fly. 😉
Last but not least, Teide National Park isn't only about the volcano - there are loads of other great hiking trails which will take your breath away. Short, long, steep, flat, in the forest, out on the plain - there's really a lot of hiking options to choose from. Also, diverse vegetation and out of this world landforms vary greatly, so you may want to reserve at least a few days for Teide National Park.
Just get yourself a map, sunscreen and sunglasses (it's always sunny there) and start exploring this natural gem of Tenerife!
If Teide National Park seems a great option for you, you can find available hotels in the area here:
This village is hidden deep in Teno mountains in western part of the island - check the location here.
It's very picturesque place - located on 650 metres above sea level, Masca will make your jaw drop with wonder. 😉 It's not big - there's only about 90 inhabitants in this village but it'll keep you busy for a whole day.
You can take a walk the lovely, narrow streets, relax in restaurant enjoying some papas arrugadas (Canarian wrinkly potatoes), or, if you're up for hike, climb down to the beach to admire famous cliffs - Los Gigantes.
Beware - getting to Masca is rather tricky. When someone says that the road leading to Masca is dangerous, believe it, it's no exaggeration. We held our breaths when we passed other cars coming from opposite direction. Road TF436 is narrow, devious and there are many deep chasms along this road.
Lots of caution is needed when driving to Masca, that's for sure. But when you get there, you'll quickly forget the road.
If you would like to stay in Masca for a few days, you can find available hotels here:
3. Walk in Anaga mountains
Anaga Rural Park is another natural wonder of Tenerife. It's located in the north of the island - check the location here.
Definitely less famous than Teide National Park, but equally worth visiting. It's easily accessible by car - road TF123 is definitely easier to drive on than Masca road. Also, there are breathtaking view points along the road, so remember to take your camera!
The most remote place to which you can get by car is Chamorga village. This quiet little village is starting point of several hiking trails. The atmosphere of this place is kind of peculiar - I felt as if I'd been deep in some exotic jungle, far away from civilization (which was actually true).
What's worth to mention is that Anaga mountains are located in the northern part of the island, so the weather is rather chilly there. As strong winds are very common there, I highly recommend taking some windproof clothes.
Fresh brisk air, few tourists, unspoiled unique nature and amazing view on Atlantic Ocean - is there more to ask for? So, if you're in need of peace and quiet, go to Anaga mountains. Chances are that the only companions you'll have there will be goats. 😉
If you want to stay close to Anaga Rural Park, then getting a room in Tenerife's capital is a great idea.
You can check available hotels here: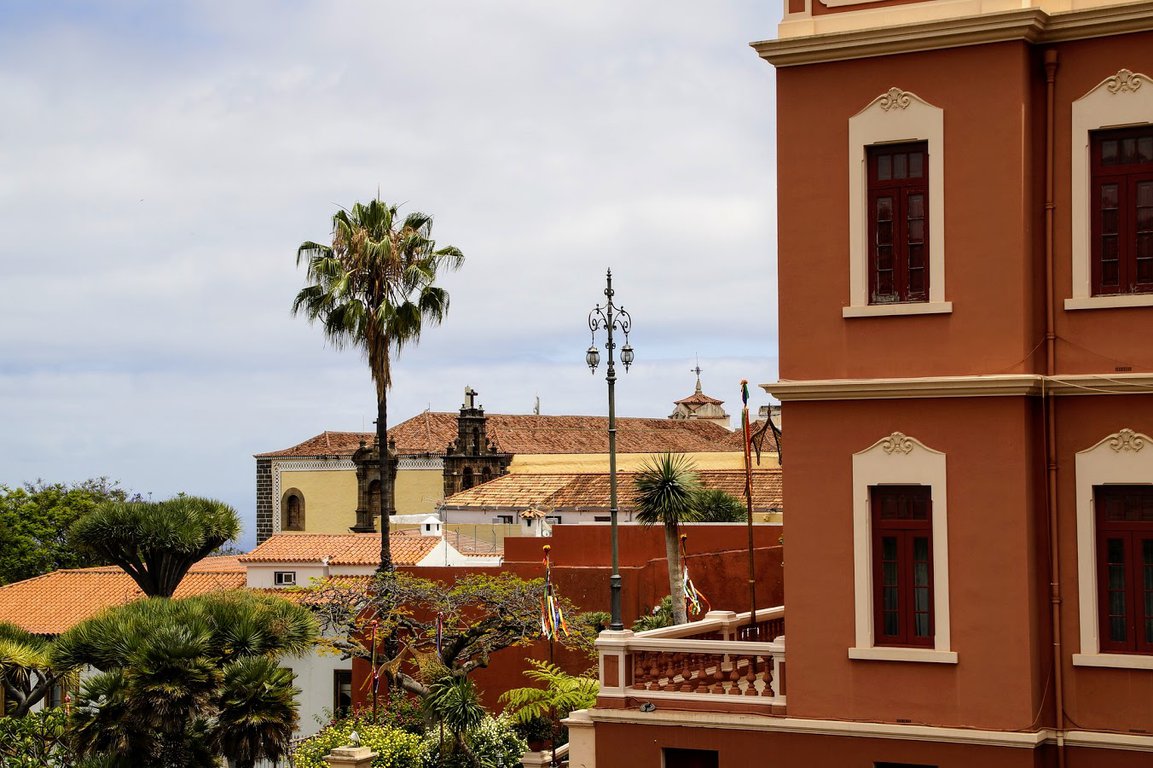 This town is famous for its charming little streets, narrow and hilly, perfect for walks! If you're fond of architecture, you'll feel like home there - beautiful buildings and red roofs reflect Tenerife's colonial history.
This part of the island has always been the most densely populated and the richest. After Spanish conquistadores took over this town, many wealthy families from Europe started to settle in La Orotava (totally not surprising - who wouldn't like to live in such paradise?).
Besides Orotava's central point - Plaza de la Constitución, take a walk on Calle de San Francisco - it looks like American steep street. It's especially famous for its old tenement houses, the biggest of which is Casa de los Balcones (location here). You can buy local wines and handicraft souvenirs there.
If you like exploring churches, take a look at Iglesia de la Concepción (location here) and Iglesia de San Juan Bautista (location here). Both are very interesting examples of XVII century sacred architecture.
Between 1 PM and 5 PM everything's closed and quiet, town seems to be depopulated, so it's time to take some outdoor photos.
By the way, La Orotava is part of Teide National Park - its highest point is Teide volcano which makes La Orotava the most elevated and steep town in Spain. ​​
Maybe La Orotava isn't classic sightseeing tourist attraction. It's not like Rome or Paris - in Orotava there's less sightseeing but more walking. There may not be any spectacular monuments but it's the details - the windows, doors, small ornaments which make this place worth visiting.
So, if you look for everlasting siesta and lazy atmosphere, go to Orotava!
If you would like to stay there, you can find available hotels here:
---
To sum up, in Tenerife there's so many non-beach things to do, that you'll wonder how many times you need to visit this island to get to see every attraction. Even though you may not be a beach lover, if you travel to Tenerife, you'll have the most amazing holidays ever!
By the way, we stayed in Los Cristianos - lively tourist resort located in southwest coast of Tenerife. The majority of hotels there are located close to the beach. Lots of tourist attractions.
You may check available hotels here:
The best way to explore the island is to rent a car. Car rental companies in Tenerife are customer-oriented and, because of huge competition, the rental prices are low.
You can check available options here: