When a mountain aficionado thinks "Tenerife hiking trails", the first thought which comes to his mind is Teide National Park.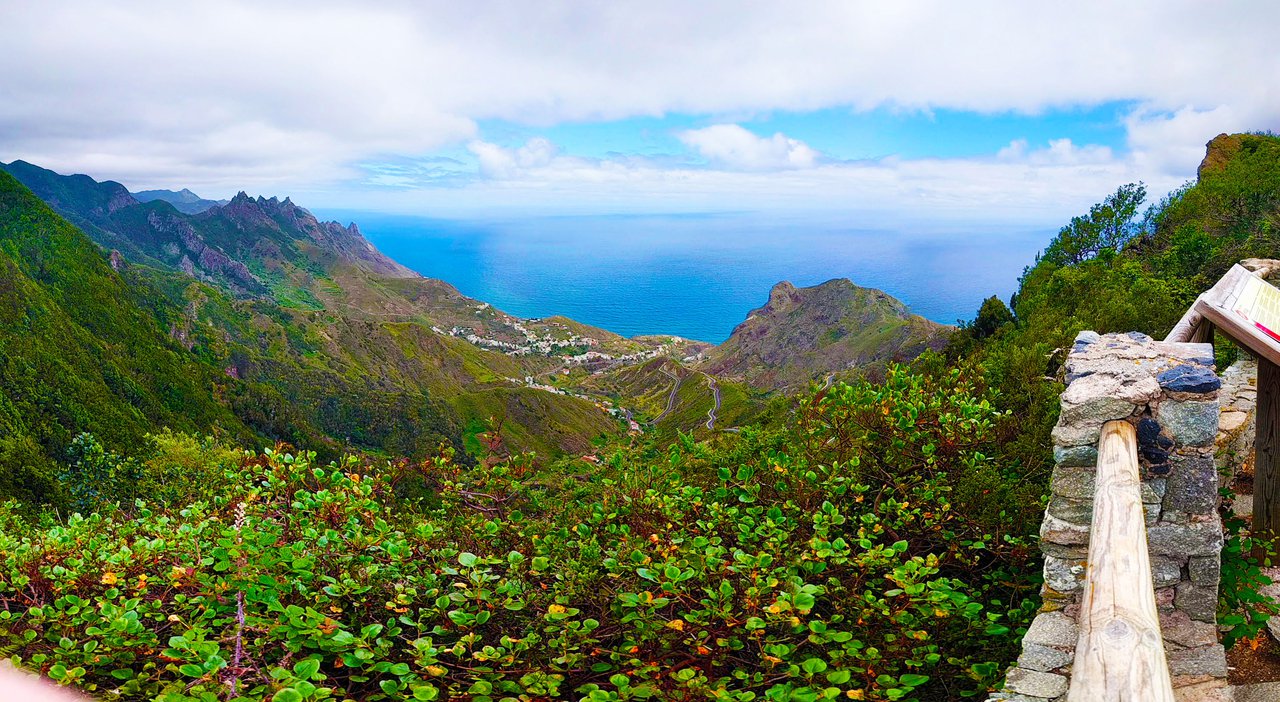 View from El Bailadero, Tenerife, Spain
If you like hiking, enjoy a picturesque landscape and looking for a natural getaway, then visit in the Anaga mountains will be one of the best things to do in Tenerife!

Anaga Rural Park is located in northern Tenerife and is a natural treasure of the island.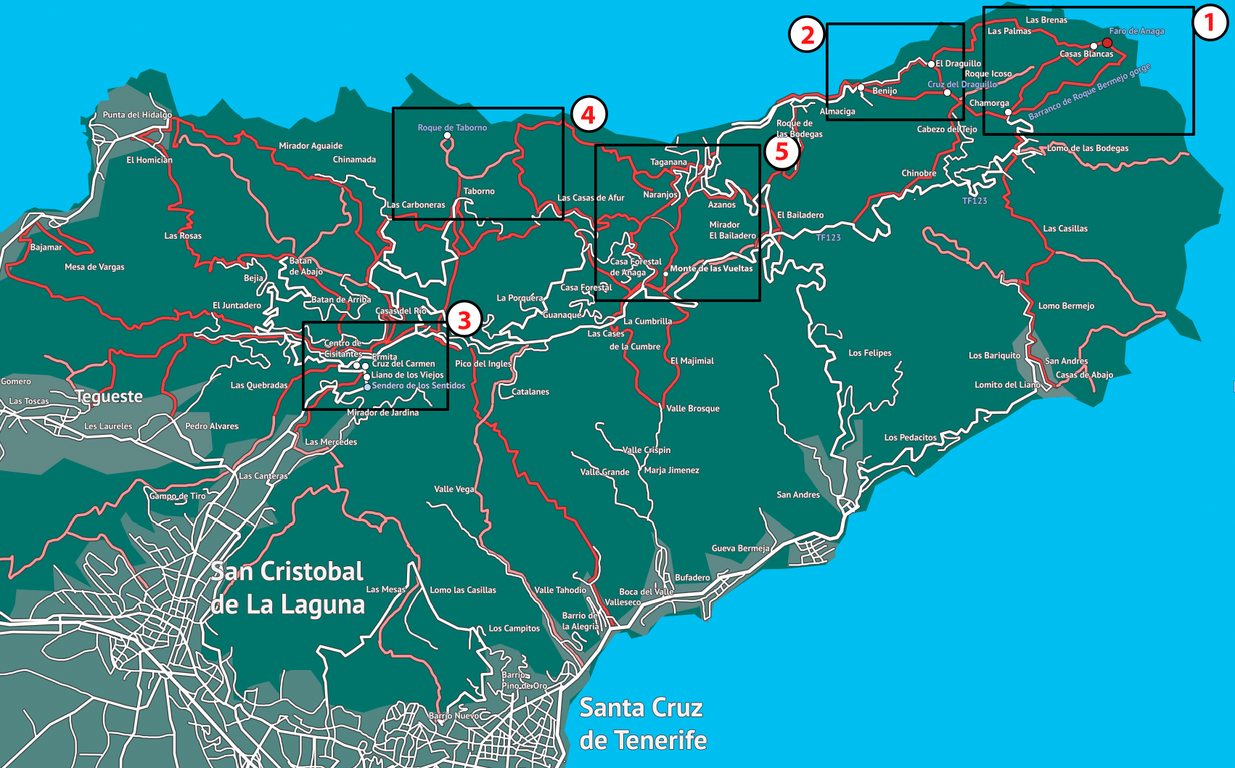 Anaga mountains are volcanic and were formed by an eruption about 7 million years ago. This mind-blowing fact makes this area the oldest part of Tenerife - you'll see their plants which are very rare in Europe by now as it's hard to come by such old vegetation in the 21st century.

Anaga Rural Park is completely different than the crowded, hot and sun-scorched southern part of the island. It's quieter in northern Tenerife, fewer tourists and greenery is more abundant.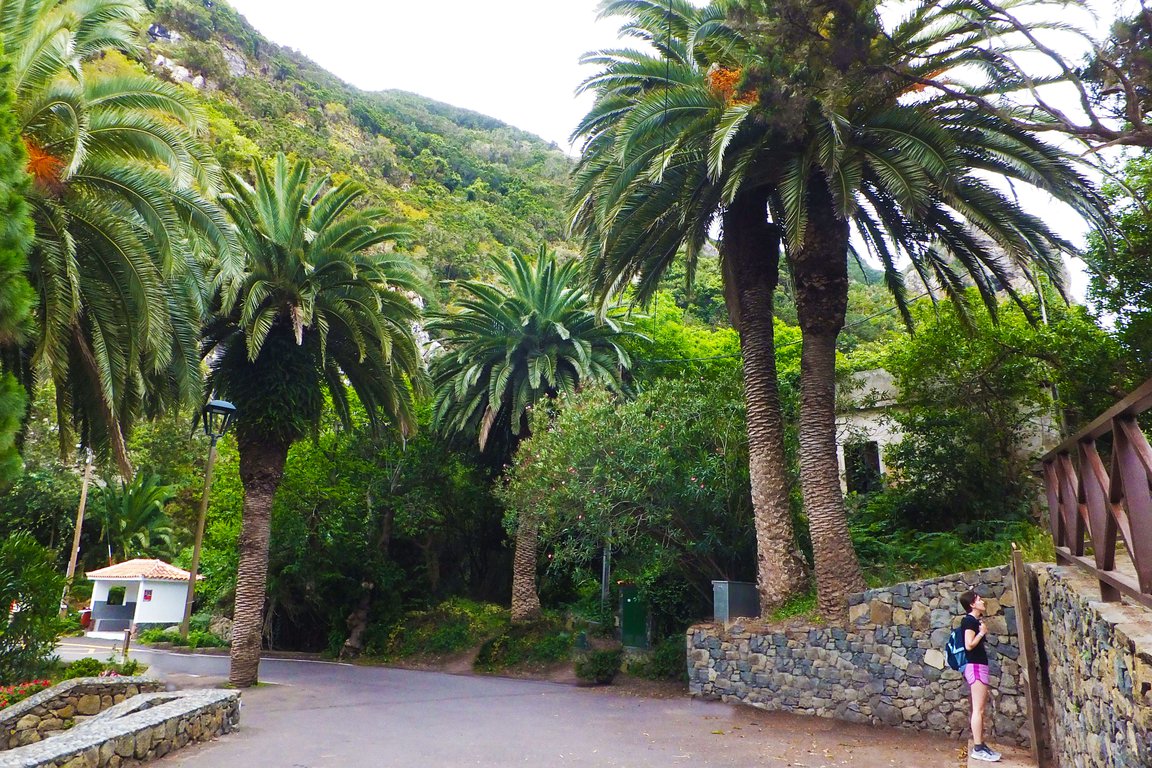 Chamorga - Joanna reading the information board

Getting from southern Tenerife to Chamorga (the most remote village in Anaga mountains) by car took us about 2 hours. Knowing our "luck" with public transportation, getting there by bus would take us 2 days. 😉
Travelling by car in Tenerife is the best way to explore the island. There are public buses but the fastest way to get around is by car, especially if we travel to such a remote place like Anaga Rural Park.
The roads in Canarian mountains are narrow and very devious. The same is road TF123 leading to Anaga mountains.

It's a bit dangerous at some points, so I strongly recommend to drive as slowly and cautiously as possible, especially in the second part, after passing Chinobre mirador (brilliant views by the way, definitely worth stopping by).
The views and the nature of Anaga mountains are truly breathtaking, but let the admiring be the privilege of passenger - the driver has to keep his breath and pay full attention to the road.
Quite a lot of driving skill is needed on TF123. Truth is, we REALLY didn't like seeing other cars coming from the opposite direction, though we consider ourselves to be somewhat experienced in driving on sinuous mountain roads.

The El Bosque Encantado © Stephan Strange / Adobe Stock
On our way, we passed El Bosque Encantado
 (The Enchanted Forest). It looked like a wild forest taken straight from some dinosaur film, a real treat for every nature admirer - humid laurel forest with lots of ferns and twisted trees covered in moss. Hiking in such forest is one of the most unusual things to do in Tenerife.
OK, now let's have a look at the most beautiful Anaga mountains hiking trails:


1. Faro de Anaga lighthouse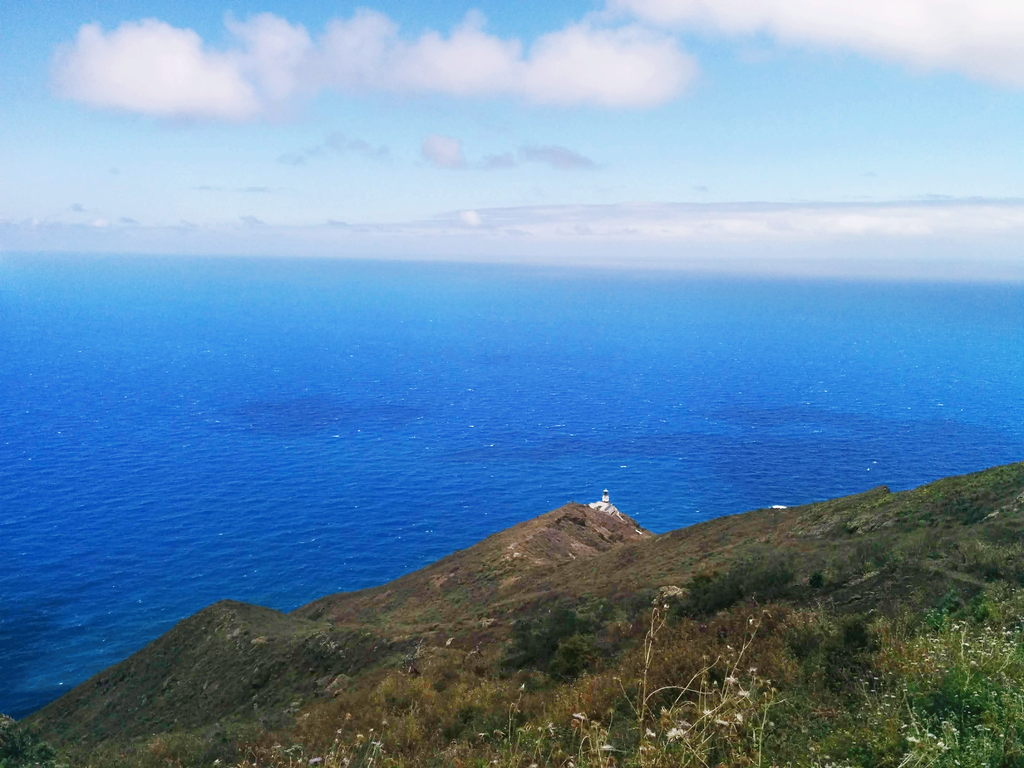 Route: Chamorga village → Barranco de Roque Bermejo gorge → Casas Blancas → Faro de Anaga lighthouse → Chamorga village
Length: 9km
Time: 4 hours
Difficulty: low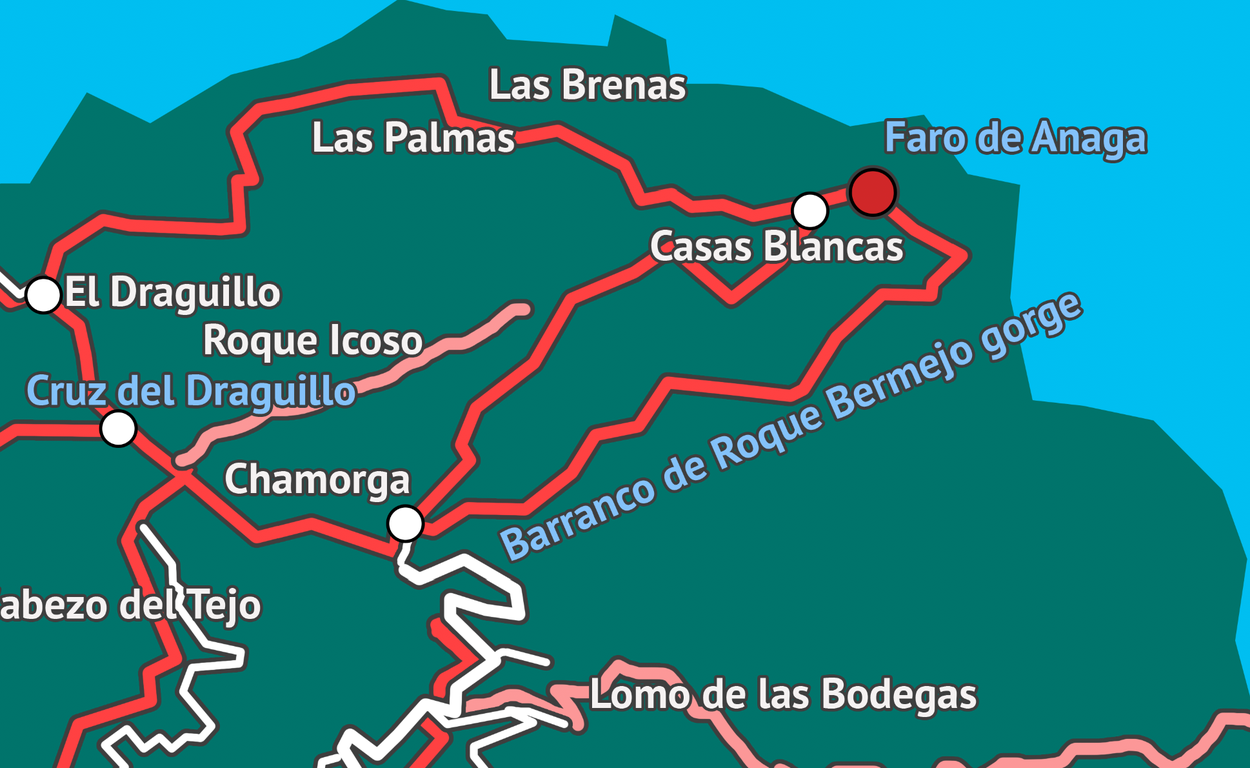 We consider this route as one of the most beautiful Tenerife hiking trails.
As our hiking destination, we chose an interesting circular route - PR TF 6 and PR TF 6.1 trails leading along Barranco de Roque Bermejo and Casas Blancas.
It took us about 4 hours to hike them and we think it's the most scenic option in Anaga mountains.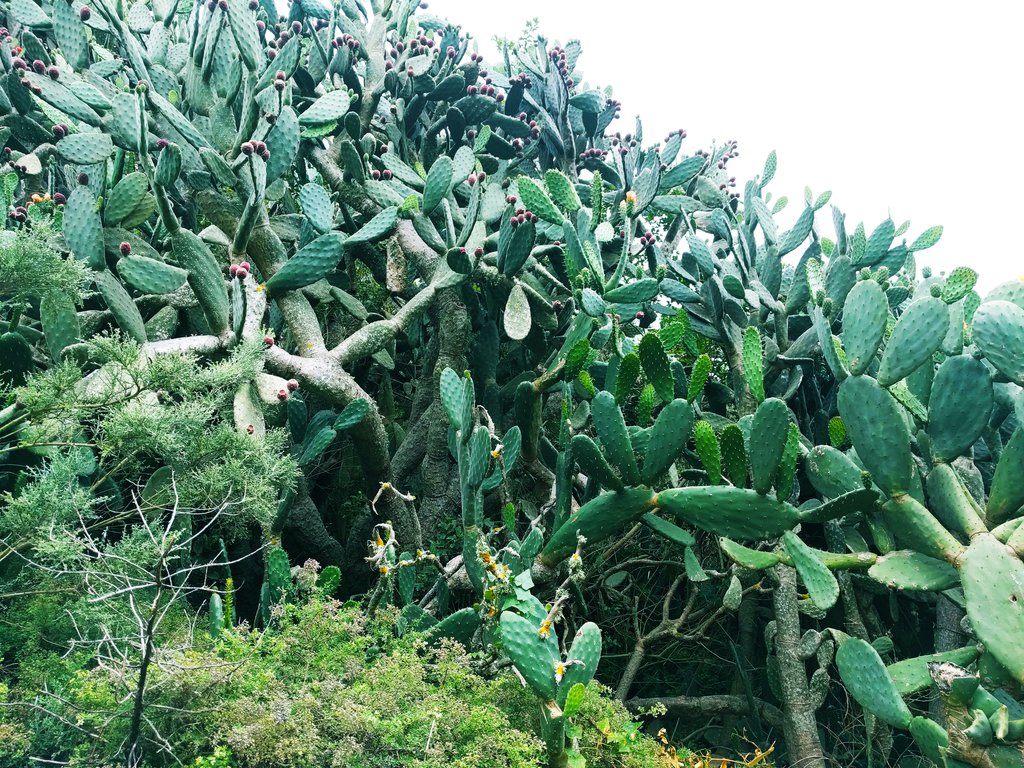 Those trails are fascinating - firstly PR TF 6 goes through a big gorge with many caves and exuberant vegetation, then it changes into a seaside walk, and then PR TF 6.1 turns out to be a rocky and narrow path leading back to Chamorga village.
Plus wild goats blocking the trail. 😉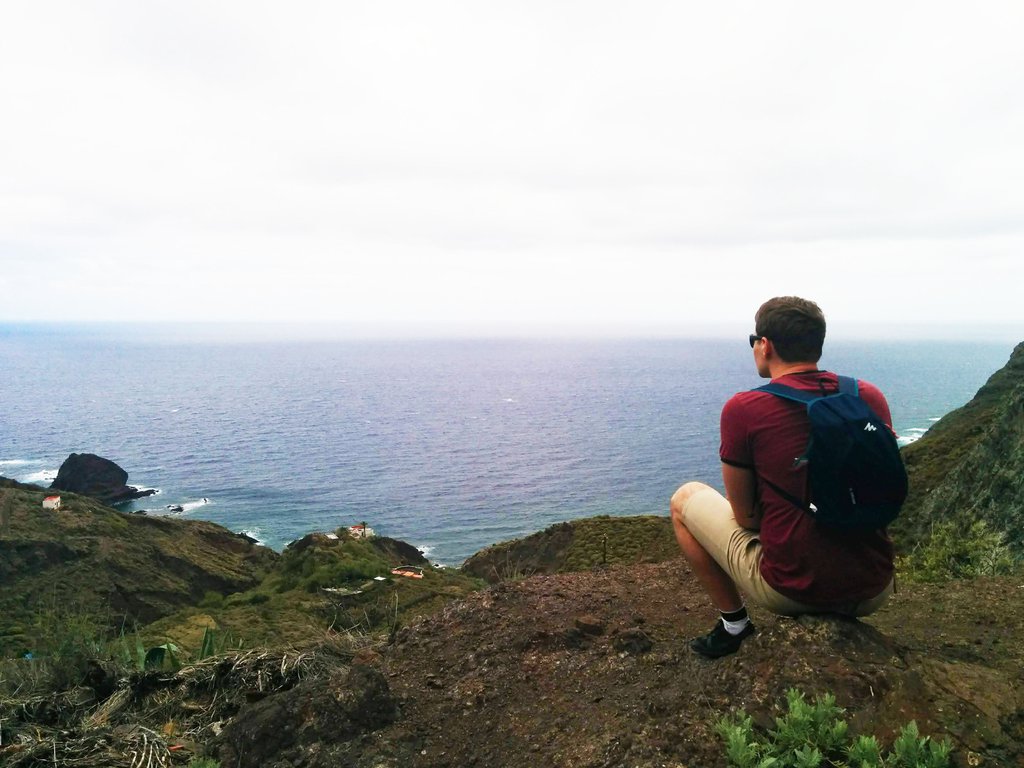 The best possible views are from Faro de Anaga - a picturesque lighthouse. I highly recommend hiking to Faro de Anaga lighthouse - it's the best trail in Anaga mountains.
The old majestic cliffs merge with the deep blue ocean - those views will stay in your memory forever!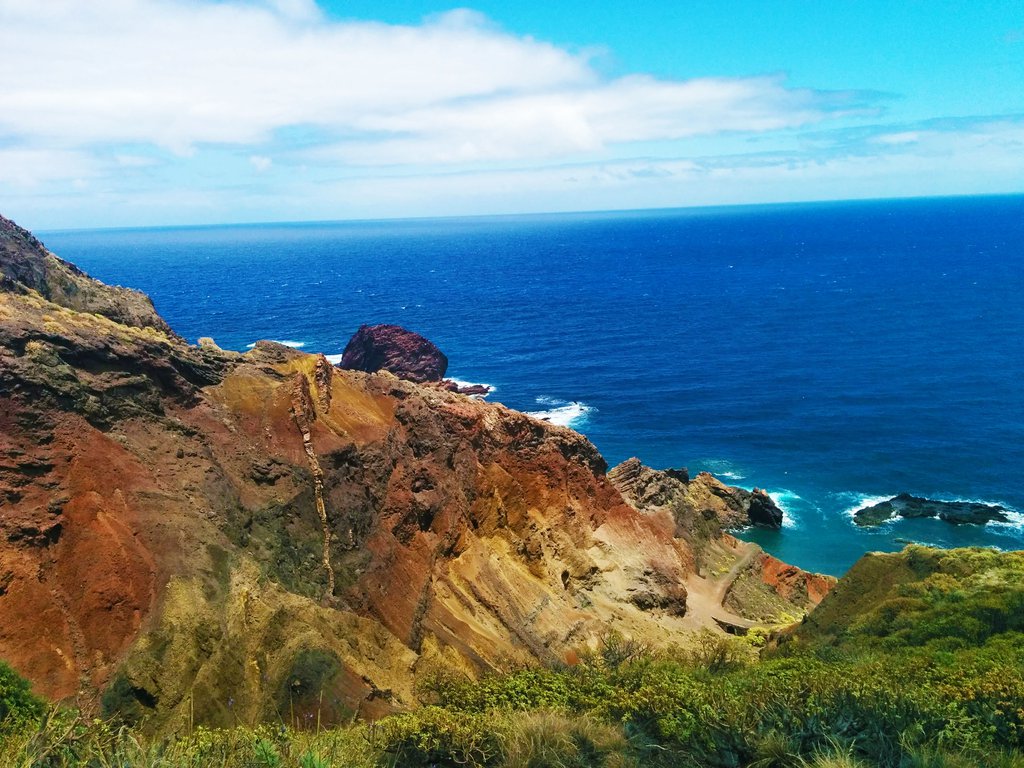 Views from nearby Faro de Anaga

Also, I don't think I've ever had a chance to breathe a better air - the wind coming from the ocean and mixing with fresh air cleaned by abundant vegetation of Anaga mountains is nutritious, it makes you feel good both physically and mentally.
It's actually hard to describe the awe you feel there - you need to experience it for yourself. Maybe it's the good energy of nature and no Wi-Fi which make this seaside so outstanding?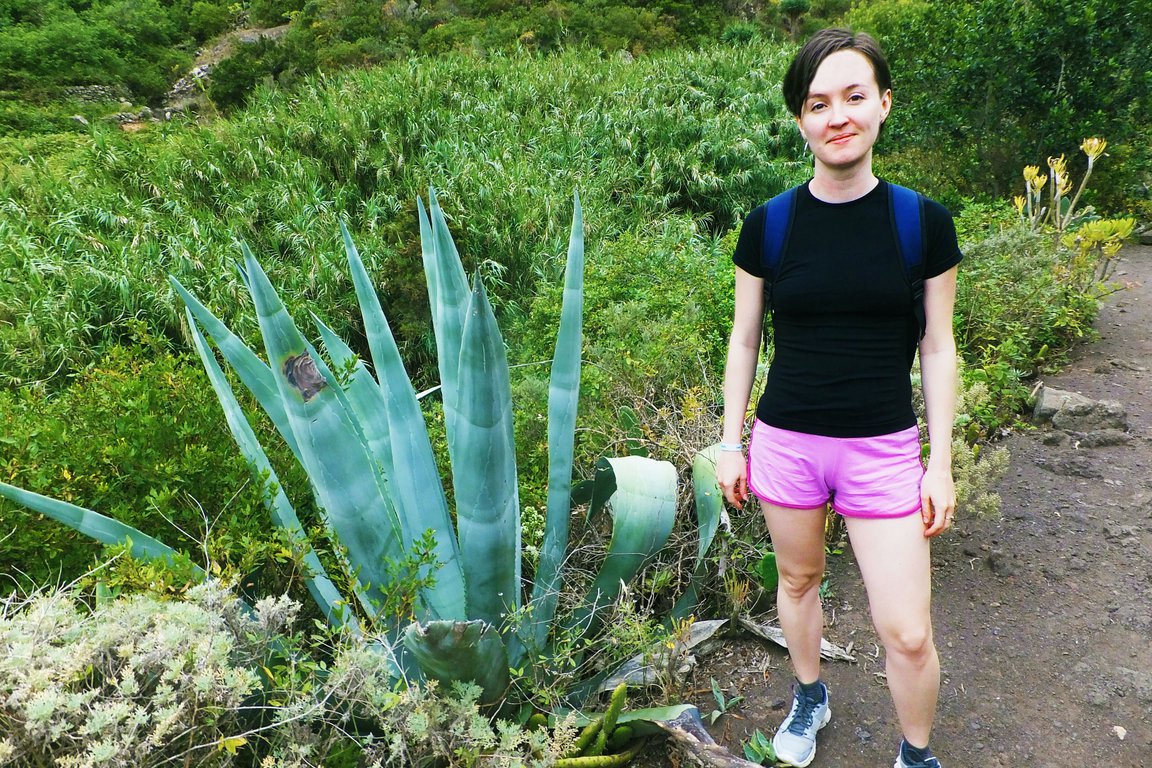 I truly think that Anaga mountains are one of the most beautiful places in Tenerife.
What I cannot say about this trail is that it's good for families with small children. We didn't see there any youth below 15 years old and that's good - this trail's not adequate for brisk youngsters.
The first part of the hike (trail PR TF 6) is perfectly fine for a family with small children, but the climb down (trail PR TF 6.1) is risky at some points. There are many chasms and steep gorges.
Also, the trail gets very narrow at some points and quite a lot of caution is needed, as one reckless steep on loose treacherous stone can get you into real trouble.
Our selection of utilities for your journey: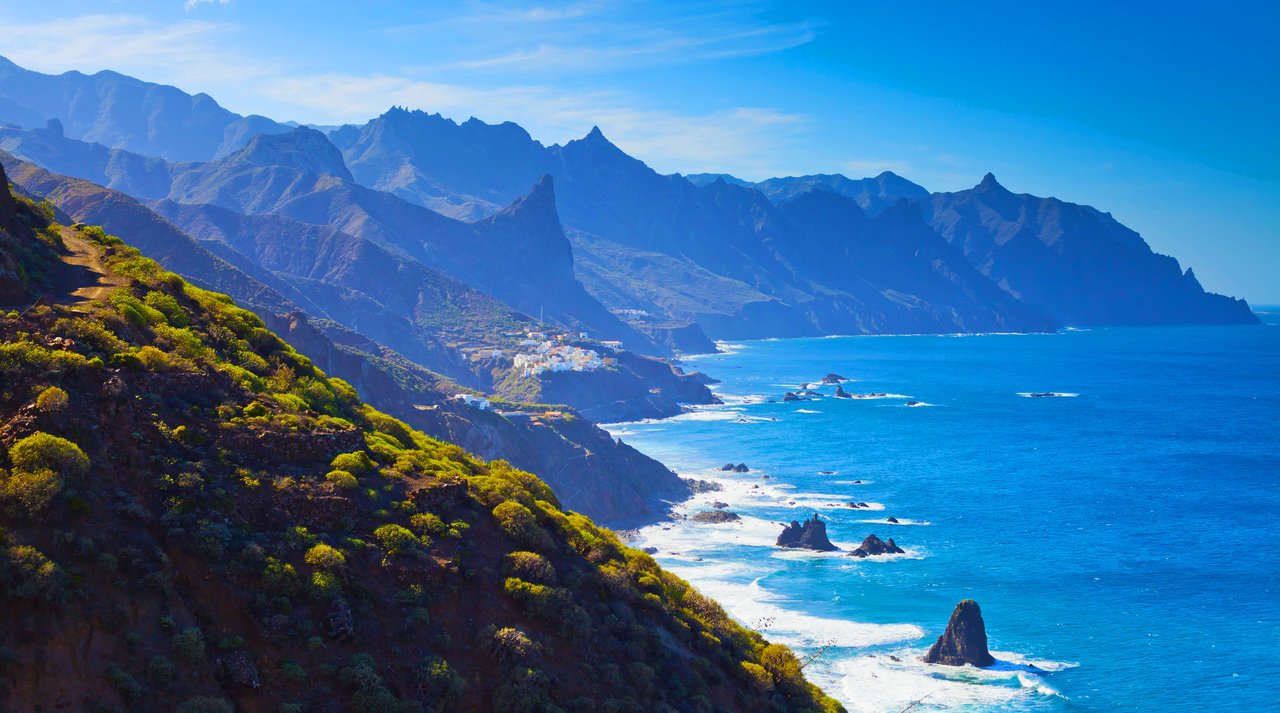 © JoannaTkaczuk / Adobe Stock

Route: Benijo village → El Draguillo village → Cruz del Draquillo → Camino del Hediondo → Benijo village
Length: 5km
Time: 4 hours
Difficulty: medium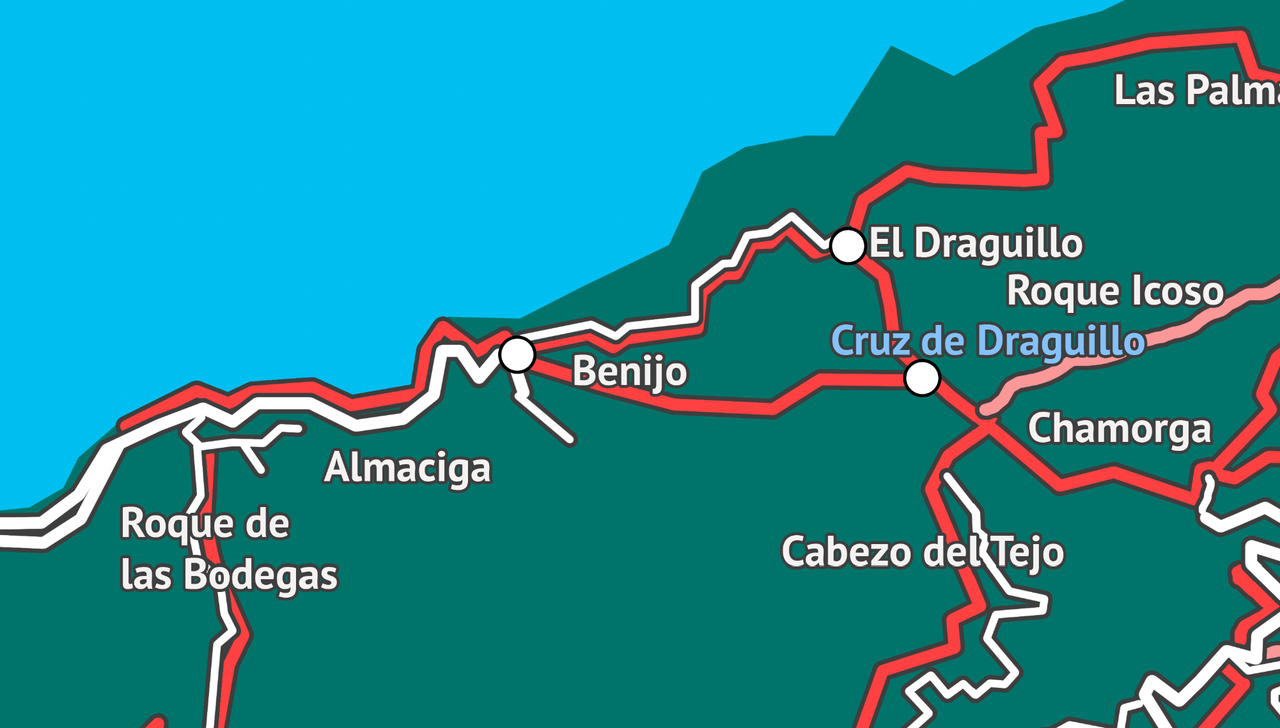 This beautiful trail is a must if you want to explore Anaga mountains properly.
We start our hike in picturesque Benijo village. There's only one road leading to this remote place - road TF134. It's a narrow winding mountain road, so it's advisable to drive carefully.
There are a few restaurants in Benjo village but generally, it's a quite and far-flung place, completely different than noisy tourist resorts in southern Tenerife.
The next place on our hiking route is El Draguillo village. We can hike there along the hiking route along the road (PR TF 6.2) or walk on the beach.
Most hikers decide to walk along the coast - it's a picturesque place from which we get to admire two big sea rocks: Roque Benijo and Roque de la Rapadura. 

In El Draguillo village we start our ascent on the trail no PR TF 6. It's quite steep but the effort is rewarded soon - with each step the landscape gets more beautiful.


After a while, the path enters a thick, green and picturesque forest.

When we get to the trail fork we can already head down towards Benijo (2.5km) or hike a bit up towards Cruz del Draguillo.
True, it's not a viewpoint from which we get to admire beautiful panorama but the path in the forest makes for a very pleasant walk and hiking to Cruz del Draguillo from the trail fork takes only about 15 minutes.
When we climb down to the trail fork we enter our circular route and start to descend on trail PR TF 6.2.
Climbing down to Benijo takes about 1.5 hours.
We honestly think that this area is one of the most beautiful places in Tenerife.
Our selection of utilities for your journey: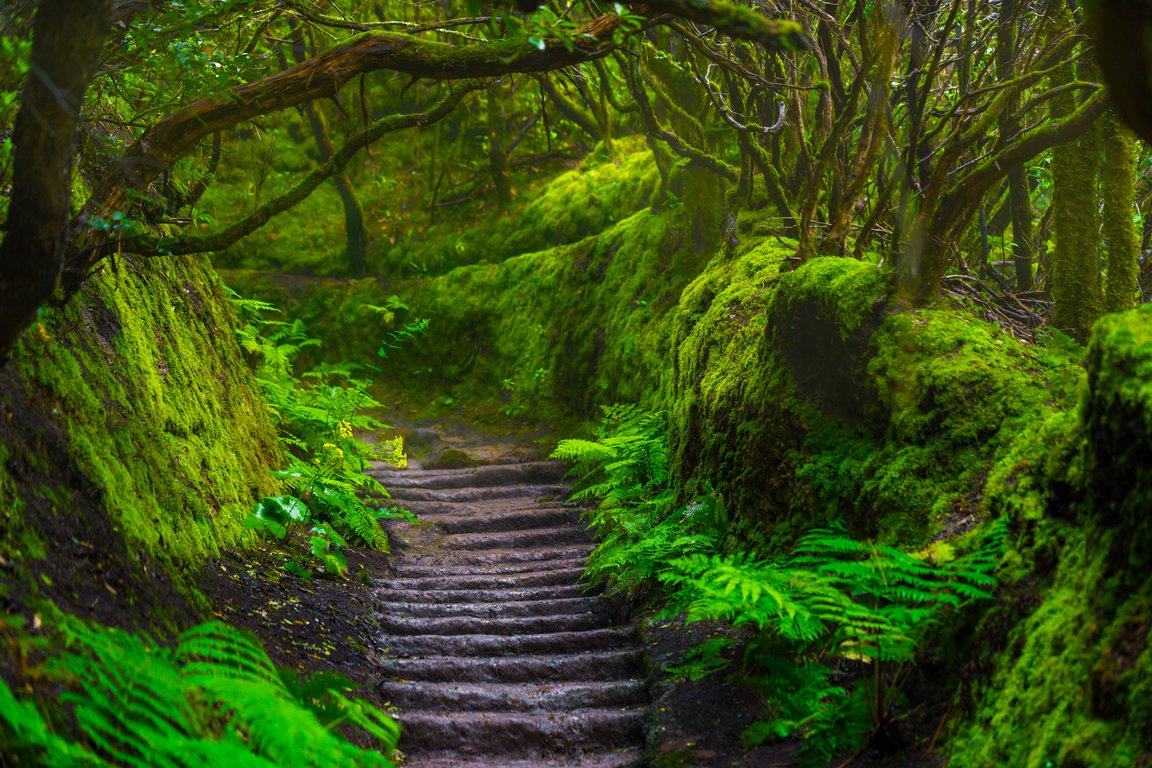 Hiking Tenerife doesn't only mean long routes usually not suitable for kids and disabled people.

If you're into nature and looking for things to do in Tenerife with kids, then Trail of the Senses is just for you!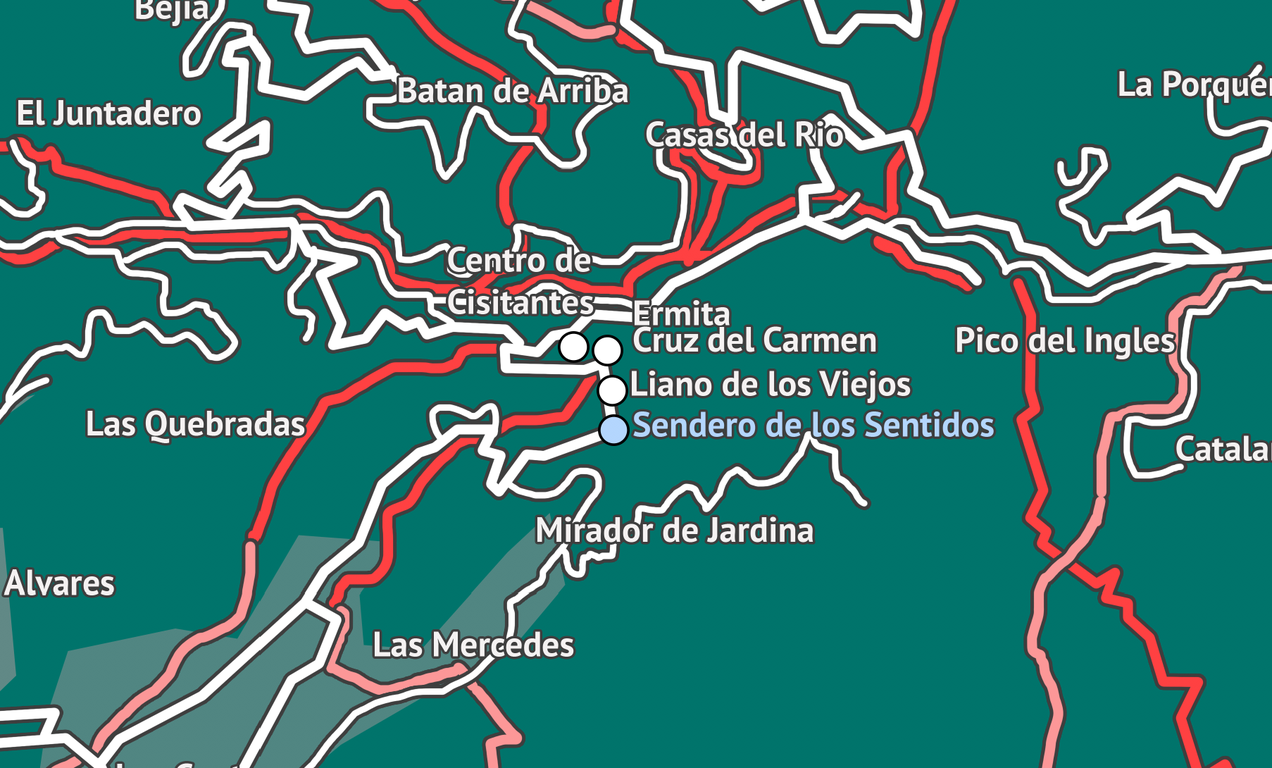 Designed to be accessible for everyone, Path of the Senses is a circular trail that starts at Mirador Cruz del Carmen, where you can take a perfect picture of El Teide. Path of Senses was created to allow you to feel nature with all your senses.

Path of the Senses actually includes three trails. They all start in Cruz del Carmen. Each of the trails offers different experiences to engage your sense of sight, smell and touch.

Path of the Senses 1 - a very short trail, perfect for strollers, wheelchairs and people who don't like to hike. It's actually a short walk in the forest - just 300-metre long route which can be walked in 10 minutes. It ends on a small terraced area. Along the path, sensory signs show you what sense you should use to really enjoy nature: touch the moss on trees, see the little details on a plant, smell the fresh, moist air.suitable for people with reduced mobility or sensory impairments.


Path of the Senses 2 - also an easy trail which is just 500-metre long and hiking it takes about 15 minutes. There are also boards marked with a sensory symbol (hand, nose or eye) which encourage hikers to smell, touch or look at specific things on the path. It's also perfectly suitable for families with kids.


Path of the Senses 3 - those that prefer a little adventure can try Path of the Senses 3. It covers the first 2 trails and goes further reaching the Llano de Los Loros Lookout Point, where you can admire a great view of Santa Cruz de Tenerife. It's a bit more demanding than the first two trails - it's 1.3-kilometre long and hiking it takes about 30 minutes. Still, it's technically easy and fine to walk with children.
Trails of the Senses are the easiest routes in Anaga mountains and definitely worth a try!
An added bonus is the restaurant at the trailhead which serves traditional Canarian food (Restaurante Cruz del Carmen). There's also Anaga information centre and a beautiful small chapel.
Our selection of utilities for your journey: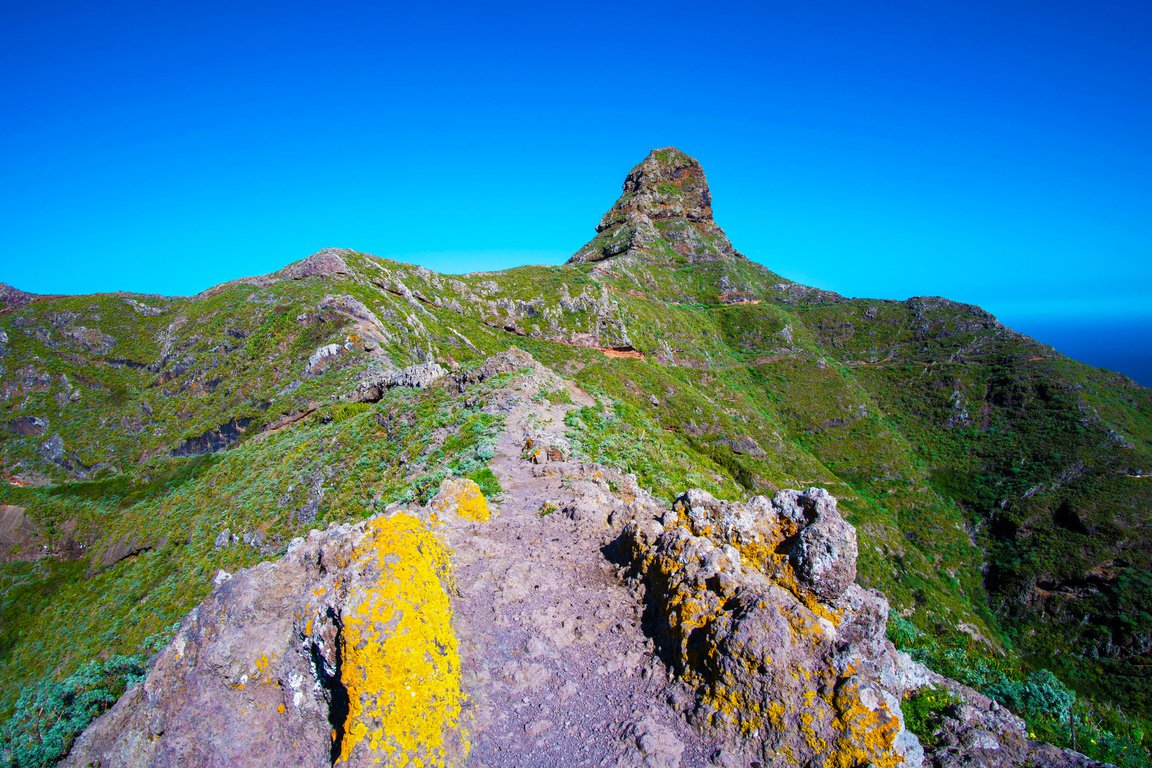 Peak of Roque de Taborno © Martin / Adobe Stock

Route: Taborno village → Roque de Taborno → Taborno village
Length: 2km
Time: 1 - 2 hours
Difficulty: low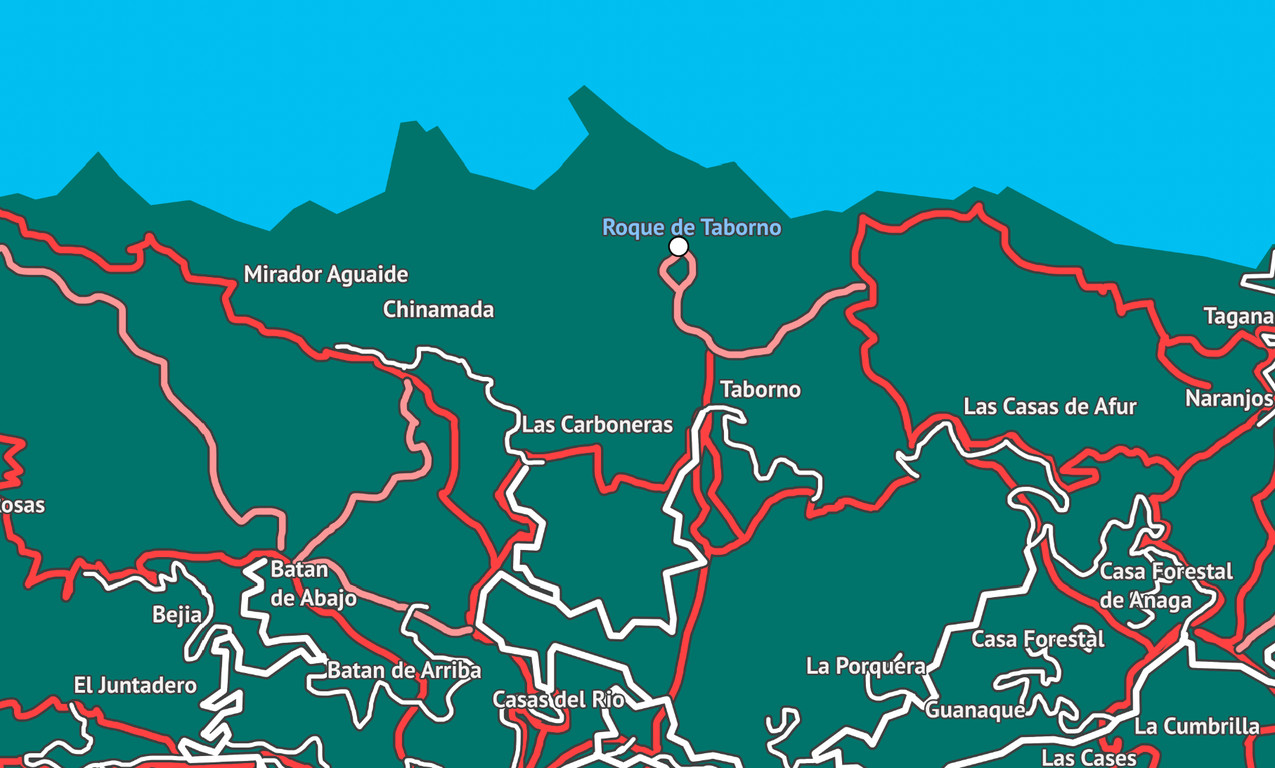 This short circular hike is perfect for a quick trip. It's one of the shortest and yet the most picturesque Tenerife hiking trails.
It leads around one of the most significant landmarks of Anaga mountains - Roque de Taborno.
The rock is also called Tenerife's Matterhorn - it resembles in shape the famous Swiss mountains although it can't compare with the Alpine summit.🙂
Roque de Taborno reaches 708m and rises majestically above a small plateau. It might not be very high but it's located very close to the ocean which makes its elevation more significant.
The hiking trail starts in Taborno village and at the beginning is an asphalt path. Soon it changes into a dirt trail.
Beware - the path gets a bit narrow at some points so it's necessary to be cautious.
There are hikers who climb the top of Roque de Taborno but it requires some climbing skills and there's a significant exposure. The descent is more difficult than climbing up! Some climbers even consider Roque de Taborno mountain top as UIAA grade III which means it's not difficult but also not for beginners.
Our selection of utilities for your journey:


5. Camino de las Vueltas - Taganana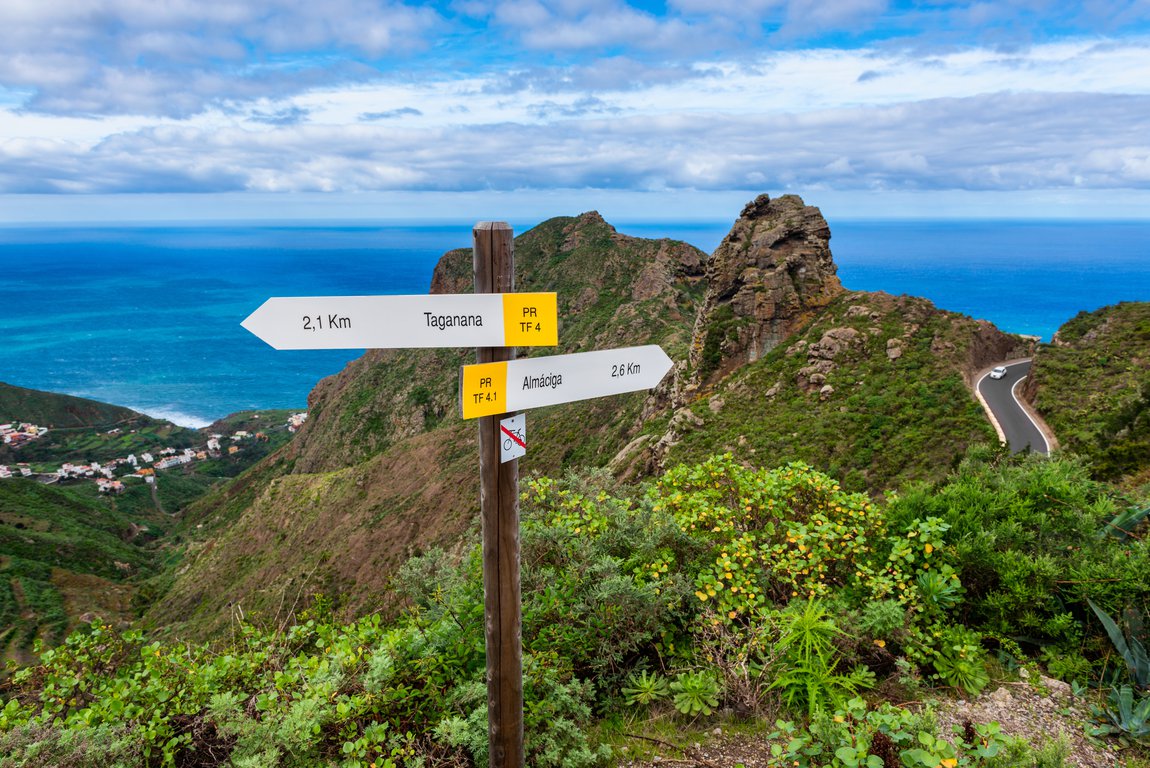 Route: Taganana village → Montes de las Vueltas → Casa Forestal de Anaga (near Casas de La Cumbre) → Taganana village
Length: 11km
Time: 6 hours
Difficulty: medium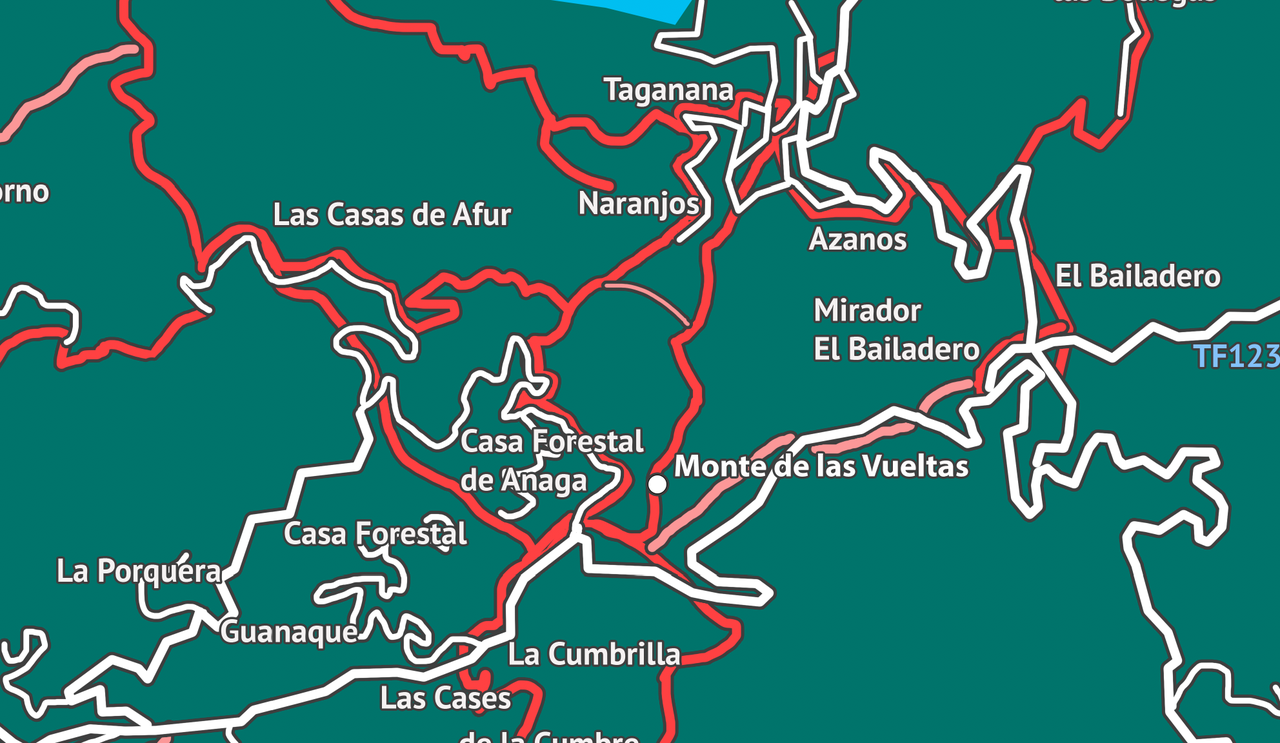 It's a circular hiking route leading through picturesque slopes with ocean view and dense laurel forest. A great advantage of this hike is its diversity - we get to visit the remote typical Canarian village, admire the breathtaking ocean view and explore old exotic laurisilva Anaga forest.
Many travellers consider Taganana village as one of the most beautiful places in Tenerife - it was declared a World Heritage Site by UNESCO.
We start and end our hike in a remote village of Taganana but there's also a shorter version of this Camino de las Vueltas (mentioned below).
It's suitable for hikers with a certain level of fitness, as there is quite a significant ascend from Taganana to Las Vueltas trailhead (about 840m!).
The hike is technically easy, there aren't exposure points and the path is nice and safe, but still it requires some effort.

SHORTER OPTION
Route: Casa Forestal de Anaga (near Casas de La Cumbre) → Montes de las Vueltas → Casa Forestal de Anaga
Length: 6km
Time: 3 hours
Difficulty: low
We can also make the hike a bit shorter - we start hiking the circular trail from Casa Forestal de Anaga. This takes about 3 hours.

We don't get to visit Taganana village but explore forest hiking route.
At Las Vueltas trailhead there is space only for about 4 cars so I recommend arriving quite early in the morning.
Oh, and I must also warn you about the wild goats.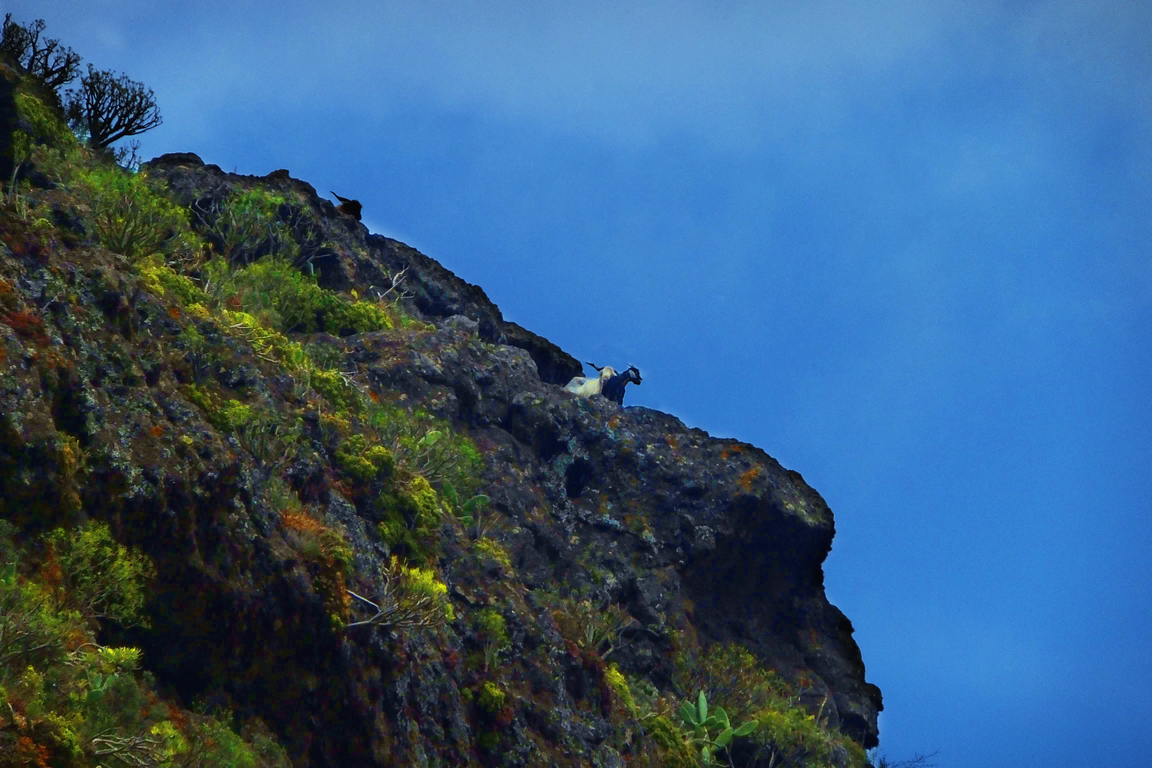 The goats and their noises.
They let out some strange sounds (my parents had goats in the past and they sounded completely different). Their scream echos in the mountains, which makes it even more bizarre. I swear I didn't have a clue what issued such weird sounds until I finally saw a big goat on the verge of a cliff.
Truth is, you'll meet more goats than hikers in this part of Anaga mountains. And we liked it.
To sum up, Anaga Rural Park offers outstanding views, diversified trails, fantastic air, exotic vegetation and goats as your hiking companions.
If you're planning on hiking Tenerife, Anaga mountains just have to be on your bucket list 💙
Our selection of utilities for your journey:


Where to stay in Tenerife?
So, you're looking for the best area to stay in Tenerife. There are a few great places, depending on your preferences.

→ SANTA CRUZ DE TENERIFE

Perfect if you want to stay close to Anaga mountains and also explore the capital of Tenerife.
Habitacion Auriga - located in Santa Cruz de Tenerife city centre. Cosy and stylishly furnished apartment, with a large terrace. WiFi, air conditioning, fully equipped kitchen, parking lot free of charge.
You can book your stay here:
Hotel Principe Paz - located only 500m from Santa Cruz de Tenerife city centre. Nice, clean and comfortable rooms. Higher rooms have a view of the ocean. There's a hotel restaurant offering delicious food in a buffet form. Hotel staff is attentive and friendly. Good value for money.
You can this hotel here:
→ PUERTO DE SANTIAGO
Puerto de Santiago is one of the best quiet resorts in Tenerife. The little seaside town is one of the most charming Tenerife getaways. Located in southern Tenerife it guarantees sunny weather. Good choice if you wish to visit La Gomera island - there are direct boats cruising to this island on a daily basis.
Costa Isora - spacious and comfortable apartment situated 700 metres from Playa de la Arena. For up to three people. Costa Isora offers an outdoor swimming pool and a terrace. Amazing view from the balcony. WiFi, parking, fully equipped kitchen.
You can find a good deal on this apartment here:
Sea View Studio in Playa la Arena - one of the best cheap apartments in Tenerife. Great value for money. Located just 300m from the beach. View on the ocean. Nice and modern interior, fully equipped kitchen.
You can check this apartment here:
The fastest and most efficient way to explore Tenerife is to rent a car.
Public transportation in the Canary Islands is generally OK and there are quite a few buses to choose from but if you only have one week of holidays, it's better not to waste time waiting at the bus stops.

Especially if you're planning on exploring remote places in northern Tenerife renting a car will be the easiest option.
Besides, car hire in Tenerife is inexpensive, it's even cheaper than car rental in Poland!
You can check good offers on a car hire here:
Is there something like bad weather in Tenerife?
Sure there is!
Weather in northern Tenerife is different than in the south of the island:
it's colder
it's much windier
there are less sunny days
the sky is often clouded
the temperature is lower
yearly precipitation is higher in northern Tenerife
If you prefer warmth and sunshine, you might want to stay in southern Tenerife.
If you're looking for green getaways, then northern Tenerife is just for you.