What do you do when you're in Tenerife, have a free afternoon and a car available? You look at the map and decide "let's go to Masca village!".
It's a perfect getaway, one of Tenerife's best unspoilt locations.
This fascinating place is located deep in Teno mountains, in nortwestern part of the island. You can check the location here.
Actually, Masca is so fascinating that it's marked with exclamation mark on our map. 😉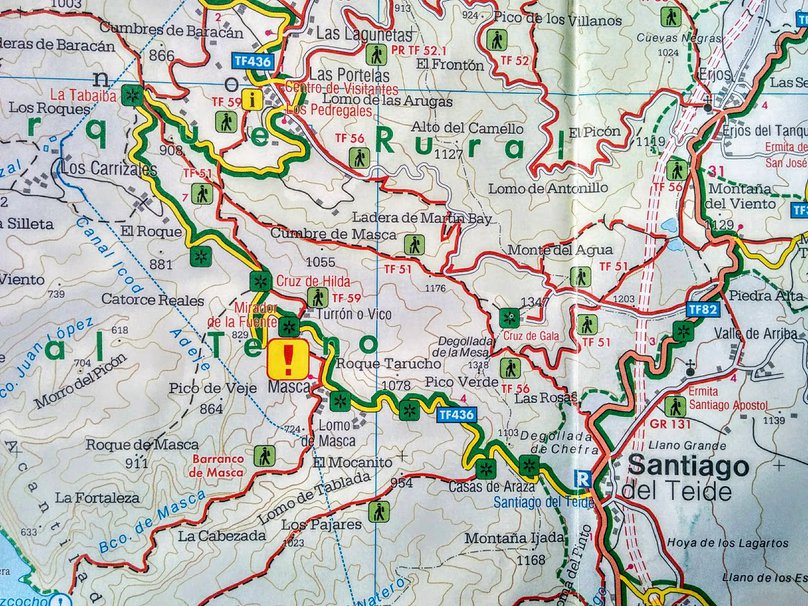 When a place on the map is marked with exclamation mark you know it's serious business and not going there will make you sleep uneasy until your next visit to Canary Islands.
Since we appreciate good night's sleep, we decided to go there. 😉
Did we like Masca?
Well, we did enjoy the epic views . It's totally different than Teide National Park. The vegetation is green and abundant, there's more palm trees than you'd expect and the sight of majestic mountains going steep down into the ocean is something which remains in your memory for a long time (there's one more thing which sticks in you mind too, but let's get back to it a bit later).
After seeing the views, I'm convinced that hiking in Teno mountains is another must-do in Tenerife . This mountain range is truly beautiful! Unfortunately, we didn't have enough time for hiking, as we'd alredy did Chinyero trail that day, so it was just a quick afternoon trip to the famous pirate village of Tenerife. But I do hope we'll have a chance to hike in Teno mountains next time we visit Tenerife!
Also, Masca itself is a very picturesque village and, although we're not very interested in architecture, we appreciated its charming buildings and old narrow streets.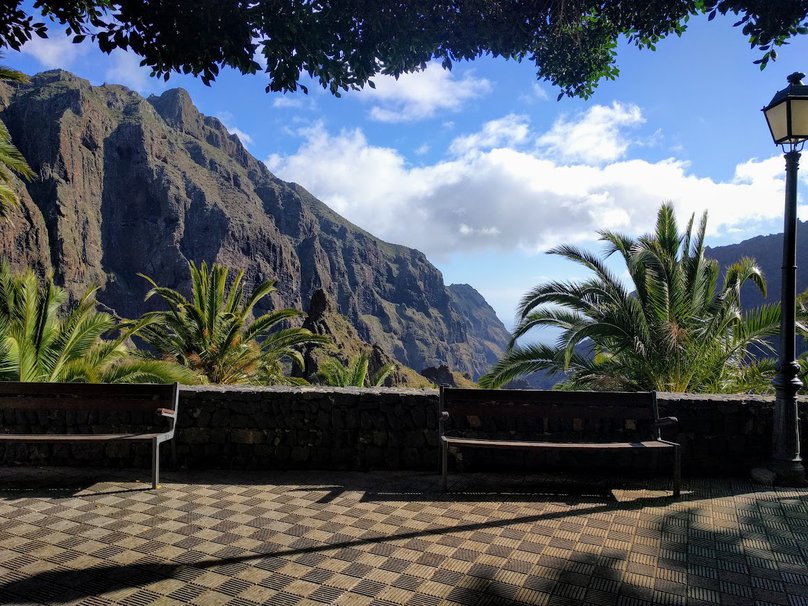 What we didn't like was road TF436. On the map it looks rather innocent, but it's not.
This one will stick in your mind for sure.
When someone says that Masca village is a Tenerife's hidden gem, we need to pay special attention to word "hidden". If they say Masca is remote mountain village, let's underline "remote".
Road TF436 is truly difficult to drive on . It's darn narrow, extremely devious and the chasms you see now and then make you sweat like a turkey on Christmas Eve. And the traffic there is heavy (as probably other people also have exclamation marks for Masca on their maps).
The most menacing vehicles there are buses. Once we saw a wide tourist bus coming from the opposite direction and, to be able to pass each other, Bartosz decided to back up to the wider part of the road which we just saw. I wonder how we would have maneuvered if there were other cars behind us.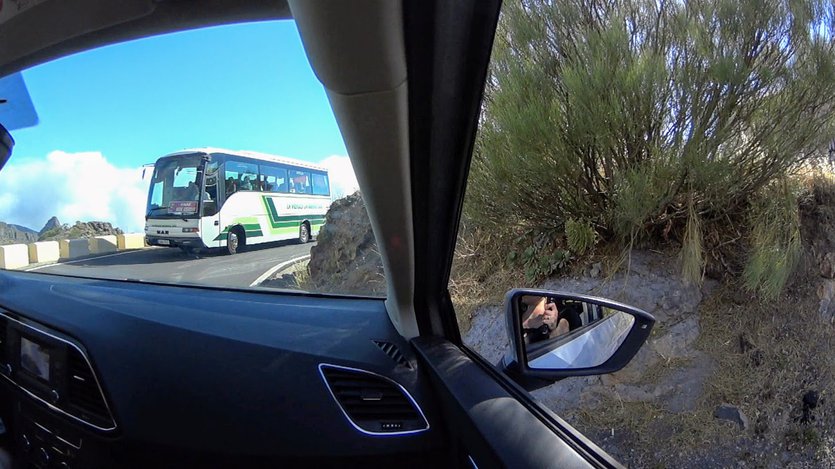 To be honest, we were both so stressed out by driving on road TF436, that it somewhat spoiled our visit to Masca . When we got to the village, we were rather tired of all the emotions and deep concentration on the road, and after having dinner we already started worrying about returning to that road.
By the way, when we were half way to Masca we saw a woman going on foot on the "wayside" (if only there was any wayside!). We didn't offer her a lift as we knew well why she was walking such a distance, despite wearing flip flops.
No wonder they say Masca village used to be a pirate hideout. It's perfect place for ocean people as the only reasonable way to get to Masca is by ship. And it's so deep in the mountains that no police would be bothered to look for you there.
So, think twice before going to Masca. And if you decide to go there, and for some reasons don't choose ship, just take a bus and close your eyes, as we should have done.
---
By the way, we stayed in Los Cristianos - lively tourist resort in southwest coast of Tenerife. It's very good place not only for beach lovers - thanks to its location it's easy to travel all over the island.
You can check available hotels here:
If you would like to stay in Masca, which is great option to explore Teno mountains, you can find a place here: