---
In comparison with average trail in Slovak Tatra mountains, Bystrá lávka trail is rather short. It gives opportunity to discover two amazing valleys and one of the most eye-catching waterfalls in Tatra mountains.
This trail is a great option for people who want to go higher than the valleys, develop their hiking skills and try themselves on more demanding trails. Bystrá lávka trail is located in High Tatras, which makes it more difficult to hike than trails in lower ranges.
Before we go for a hike in Tatra mountains, we need to prepare well and remember about safety. Tatras can be dangerous, not only in wintertime.
OK, now let's have a look at this amazing trail in Slovak High Tatras.
This loop isn't exhausting, but is a good training in rocky terrain with chains.
Route: Štrbské Pleso → Mlynická valley → Skok waterfall → Bystrá lávka → Furkotská valley → Štrbské Pleso
Average hiking time: 7:30 h (including breaks)
Difficulties: When the weather is favorable, it's medium difficult. In tricky parts there are chains installed to support the hiker. Such artificial facilitations are also at the beginning of Mlynická Valley, next to the waterfall.
It's recommended to start the hike from Mlynická valley (east side of the trail). There are more difficult parts in this valley, so it's always better to do it ascending.
Height difference: 960 m

We start our trip at Štrbské Pleso (1346 m) – it's a tourist resort in which the biggest attraction is a lake which has the same name.
The beginning of the trail runs through the center of the village, and then enters into the forest.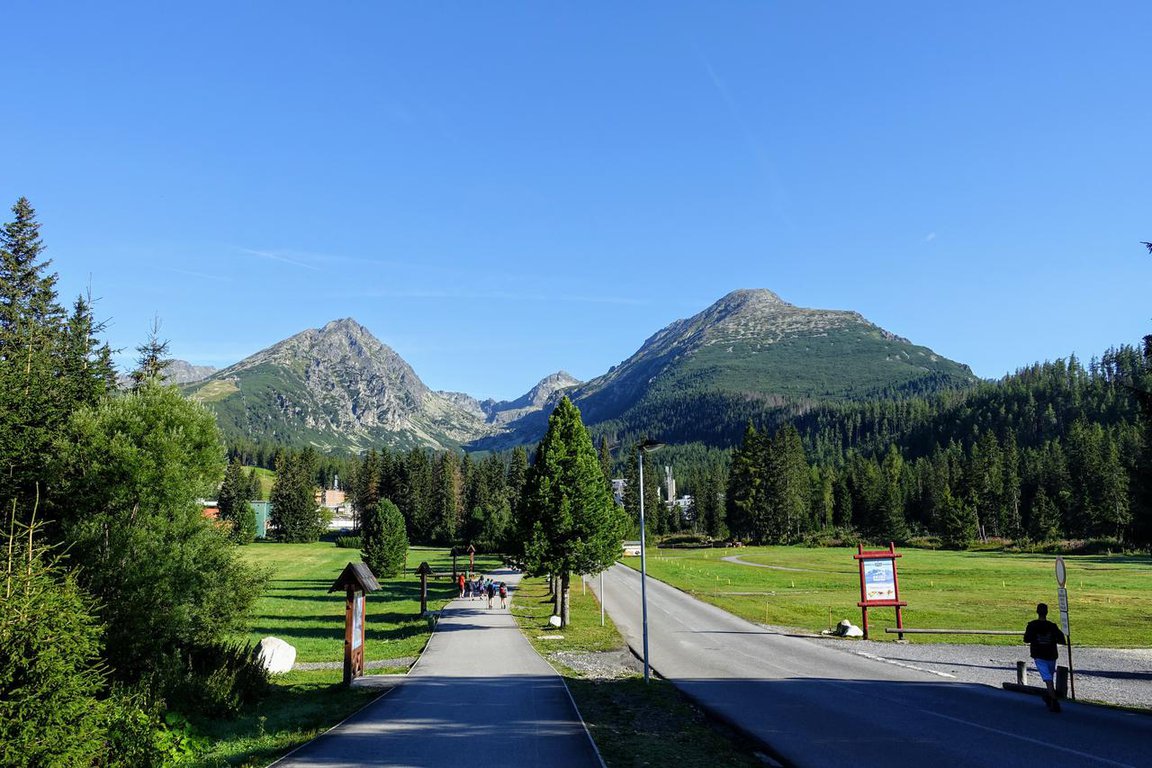 The trail is nice and easy, at this stage it's prefect for families with children.
After a while we get to low shrubby pine field which shows amazing view of Mlynická valley. What catches our eyes is an impressive threshold from which falls the Skok waterfall. It's about 25 metres high.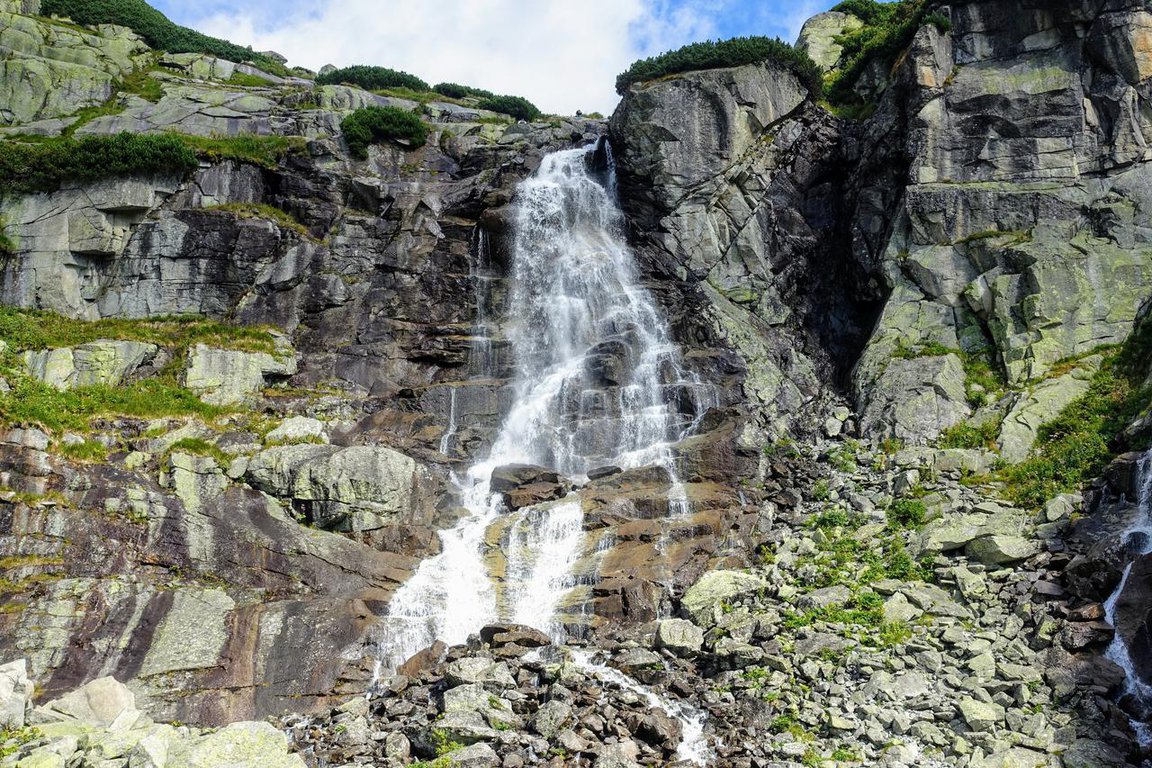 This waterfall is the hiking destination for a lot of tourists, so during the day this place gets rather crowded.
As usual, the earlier you start hiking, the less people you will meet. We managed to set off at 8 AM, which isn't very impressive, but that Sunday we just weren't able to force ourselves to get up sooner than 6 AM.
We hike the valley threshold from the left side of the waterfall. It's exposure spot, rather dangerous on a rainy day – under our feet we have smooth rock on which the water flows. On a sunny day it's OK to pass, but I definitely wouldn't like to hike there when it's raining.
Then we see a plateau with a small pond - Pleso nad Skokom (1801 m). It's great spot for a break – the landscape gets more and more interesting with every step.
In the middle part of Mlynická valley there is Zadná pol'ana (Zadná clearing). This part of the trail is very pleasant to hike – nice stony path goes up mildly, so there's time to admire astounding views of High Tatra mountains.
At some point there's a boulder which memorializes the worst tragedy in Tatra mountains. In 1979, June 25th in this exact place crashed helicopter with 9 people on board - 6 mountain life-guards and 3 crew members. 7 people died, only 2 survived.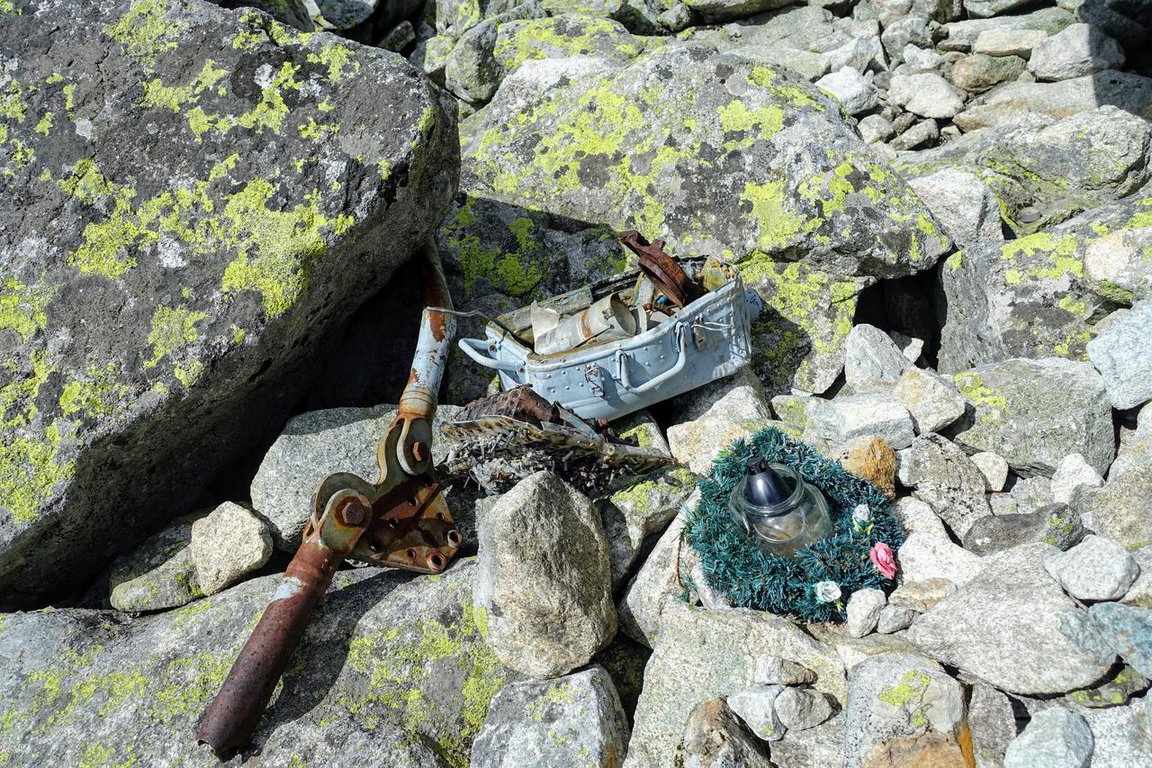 How did it happen?
The unfortunate helicopter was flying to help a German tourist who injured her leg nearby Capie pleso pond (2072 m).
When the helicopter arrived, the tourist had already left – she managed to hike down to Štrbské Pleso.
But the mountain rescue team hadn't known about that and they decided to check the surroundings. Then the tragedy happened.
Here's the story told by Ladislav Janiga, one of the two survivors:
After we arrived it turned out that there's no tourist waiting for us. Still, our pilot decided he would drop us off on Štrbské peak's rib so that we could have inspected the area. Actually, I don't know what happened then. We were getting ready to disembark the helicopter. Each of us was checking his own gear, minding his own business. Probably our machine touched a rock projection. We fell 100 meters down. Everyone fell out from the torn helicopter, except one guy who had his seat belts tightly fastened. Only two of us survived this crash. What do I remember? Lots of jumps, collisions, tank explosion, screams…
OK, let's get back to the trail.
After passing a rocky threshold we find Capie pleso pond (2075 m) – the biggest and most eye-catching lake in Mlynická valley. It's surrounded by high peaks of Furkotský štít, Hruby Vrch and Štrbský štít.
From that pond we can see the steep path which goes to Bystrá lávka pass.
The trail turns left and here the fun begins. I honestly need to say that we had to take a break every five minutes of ascend – the trail is steep as %#[email protected]!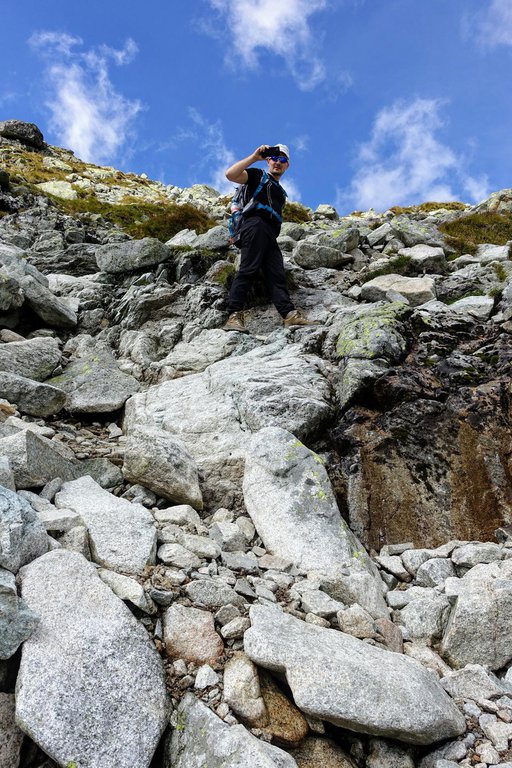 To Bystrá lávka pass introduces us a chimney secured with chains. Again, when the weather is dry this spot is OK to pass (we saw children doing it). But rainy day – that's definitely another story.
Bystrá lávka (2300 m) is a very narrow gap, so it may get crowded in summer. First few metres down the gap are also secured with chains.
It's not a great idea to take a break near this pass – not much space, sharp rocks, nowhere to sit. It's much better to climb down where the terrain becomes less demanding.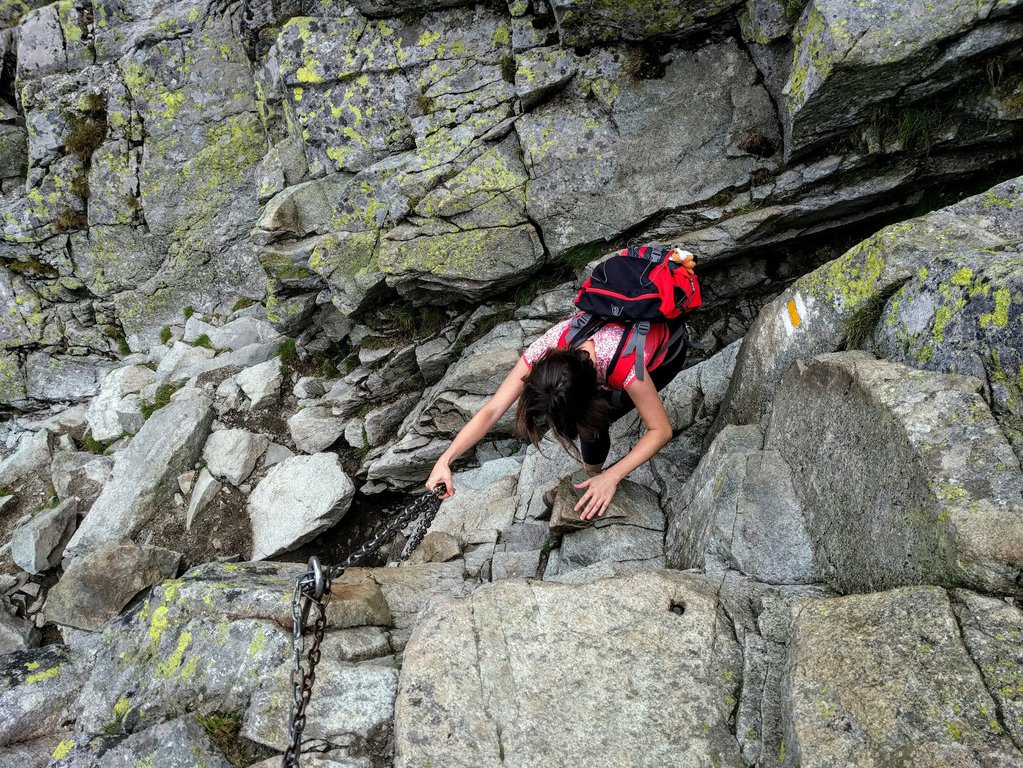 Descent here is rather tiresome – the trail zigzags on steep, brittle slope.
As a comfort we see beautiful lake - Vyšné Wahlenbergove pleso (2157 m), and majestic Kriváň peak (2495 m).
The lower we get, the more agreeable the trail gets. Soon it turns into classic Tatra path made with large rocks.
So we start our hike in Furkotská valley. Soon we pass another pond, last one on our way - Nižné Wahlenbergove pleso (2053 m). Fantastic place for taking a break!
It's worth to mention that Furkotská valley is definitely more peaceful than Mlynická valley. The majority of tourists walk to Skok waterfall, not really bothering with Furkotská lakes.
Maybe it's the distance, maybe it's the harsh character of Furkotská valley which makes it less popular?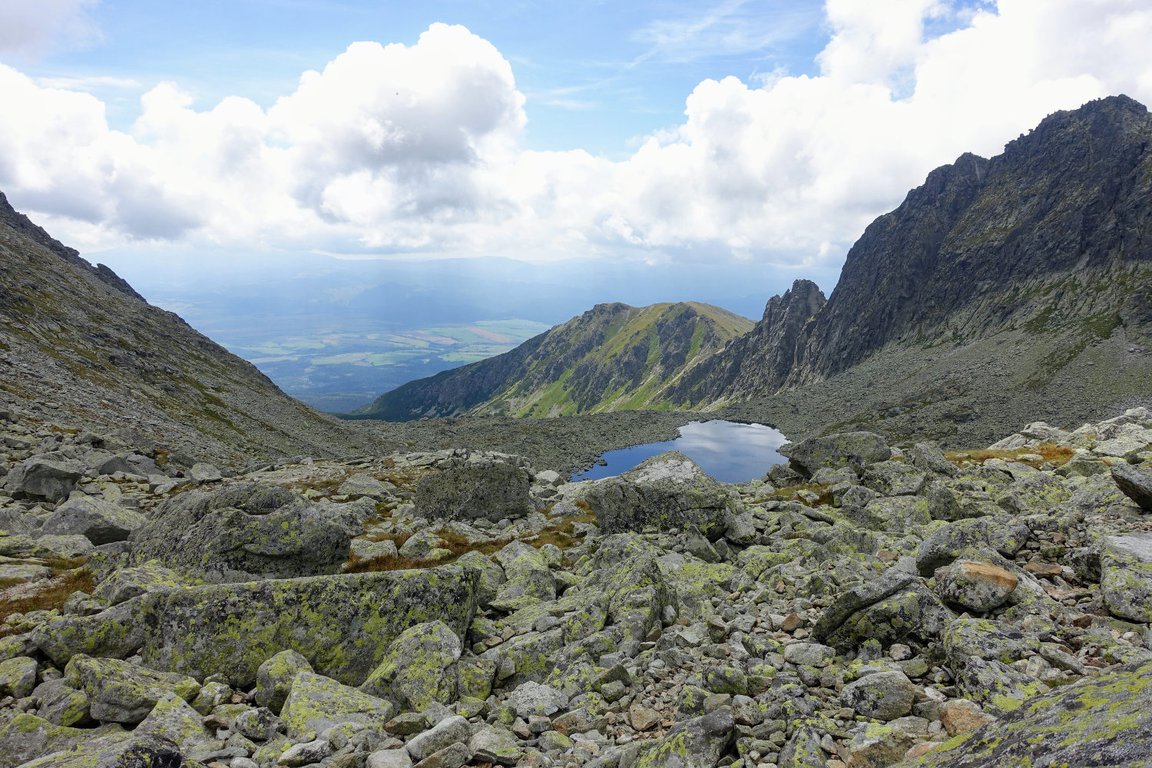 Before we enter the forest we pass trail fork. There are two options to get to Štrbské Pleso. We can climb down on blue trail, but there's Solisko mountain hut and chair lift, which guarantees more traffic.
So, we chose red trail and were happy with it – close to our destination we had one more chance to admire great landscapes.
How to get there?
By car – on Wolności Road from Łysa Polana. So called "cesta slobody" runs in the Southern side of Tatra mountains. It has number 67 at the beginning, and then changes into road no 537.
It's best to leave the car at the big parking lot close to električka tram station. Whole day costs 5.5 EUR (there's ticket vending machine nearby).
There are also other parking options a bit closer to the trail, but the higher you drive, the more expensive parking gets. Parking lot next to ski resort costs 10 EUR for one day.
By bus – from Zakopane to Poprad there is bus shuttle called Strama. Ticket costs 20 PLN or 5 EUR (paid at the driver). You get off in Starý Smokovec and take električka tram to Štrbské Pleso (2-hour ticket costs 1.5 EUR).
You can check elektrická tram timetable here.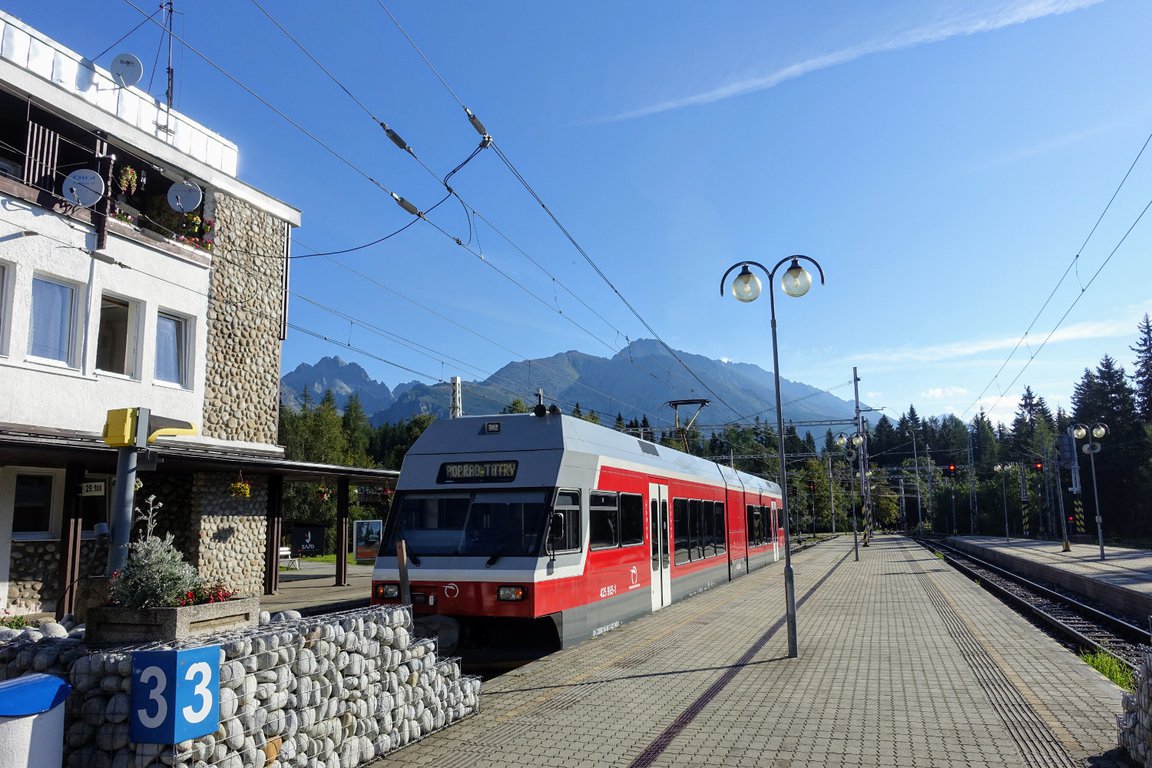 Practical info
This trail is located in National Park – TANAP. Entry is free of charge.
Rescue actions in Slovakia are paid, so it's good to buy insurance beforehand.
Emergency number to HZS (Horská záchranná služba): 18 300.
It's recommended to hike in this order: Mlynická valley → Bystrá lávka → Furkotská valley
Price list and all the info about Solisko mountain hut is here. Info about nearby chairlift is available here.
The majority of trails in Slovakia are closed from November 1 st until June 15 th . In winter we can only hike from Štrbské Pleso to Skok waterfall and from Štrbské Pleso to the beginning of Furkotská valley (spot where yellow trail crosses with red one - Pod Furkotskou doliou).
Where to stay?
If you prefer to stay really close to the trails, so that there's no need to get up at 5 AM, it's best to stay in Štrbské Pleso. There's plenty of nice hotels, however they're all rather costly.
You can check the options here:
We've already checked a few hotels in the area of Slovak High Tatra mountains. Below are two places which we liked the best.
Panoramic Mountain Residence
Located in Horný Smokovec, part of Vysoké Tatry town. This option is great if you want some comfortable luxury and can spend quite a lot of money on accommodation. It's a lovely place offering spacious apartments with mountain view. Situated close to hiking trails. Beware - there's no restaurant in this place.
If it seems like a good option for you, you can book your stay here:
Hotel Gul'a
Located in Batizovce village. This place is a budget option, but we liked it.
Our room was nice and clean, with bathroom sink. Toilets and bathrooms are shared, but they were (surprisingly) clean. Actually, it looked like the rooms and bathrooms were newly refurbished.
Big advantage of this place is restaurant on the ground floor - breakfast costs only 5 EUR, but it's ample and tasty.
You can book you stay here: