There are a lot of amazing off-the-beaten-track places in Italy and Misurina lake is one of them. This natural gem is located high in the Dolomites, but easily accessible by car.
You might want to consider going to Misurina if:
You're adventure addict, outdoor enthusiast, travel aficionado, and/or mountain lover.
You adore Dolomites.
You want to hike via ferrata trails.
You prefer cities, but appreciate nice views and could do with some fresh air.
You're not beach person and want active honeymoon in breathtaking location. We spent our honeymoon in Misurina and think it's very romantic place to celebrate first moments after the wedding.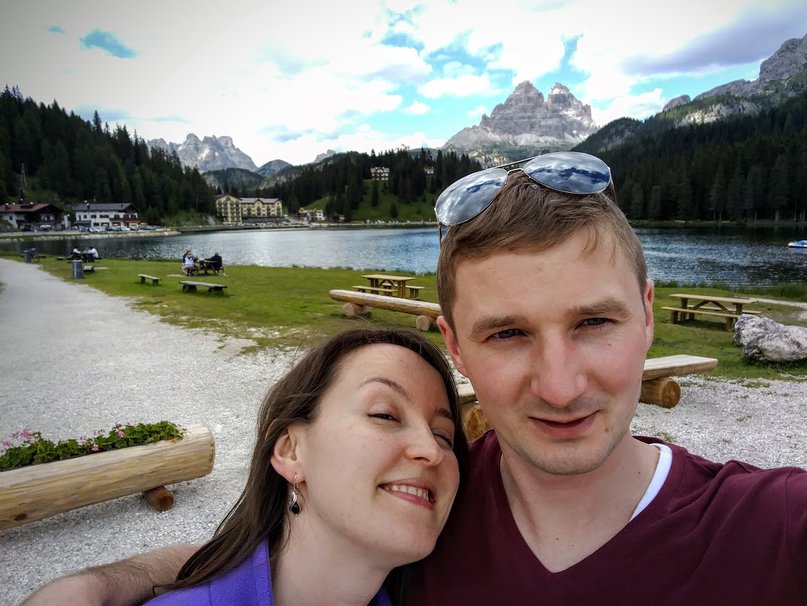 No matter if it's only one-weekend outing or 2-weeks holidays - you won't feel bored in Misurina. There's only one type of people who won't be in their element there - fashion-oriented people.
In Misurina, the atmosphere is definitely laid-back.
There won't be a single person holding Dolce & Gabbana bag and looking if someone else has got the same. No peering at Prada sunglasses. Everyone wears comfortable sports clothes. Even if someone just dropped by traveling somewhere else, there will be no fancy clothes and rating the others according to the brand they wear.
There will be many people with sports gear, but I've never met a mountain type person who asseses other people on the trail by brands: "Oh, she's got Mammut trekking boots, great colours, I could go hiking with her".😉
Besides relaxed fashion attitude, Misurina offers you the greatest views ever - village is located by lake and surrounded by Sexten Dolomites peaks.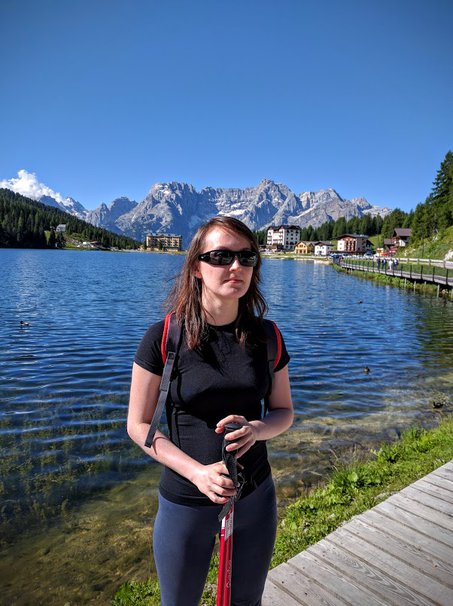 I've never slept so high - Misurina lies on 1755 metres. I loved the fact that we were located so high! Despite the altitude, there's comfortable hotels, restaurants and camping available. And a chair lift and nice asphalt road. 🙂 It can be reached traveling on road SP49.
Where to eat in Misurina
The most popular restaurants in Misurina are: Edelweiss and Quinz.
The first one is basically a pizzeria offering just a few other dishes besides pizza. Quinz has got more ample menu - everyone will find something to their own liking there - but is a bit more pricey than Edelweiss. Both restaurants serve delicious food.
Hiking trails near Misurina
Thanks to it's altitude, Misurina is great choice for those interested in hiking and climbing via ferrata trails - located next to Tre Cime Natural Park, it offers variety of hiking trails near at hand: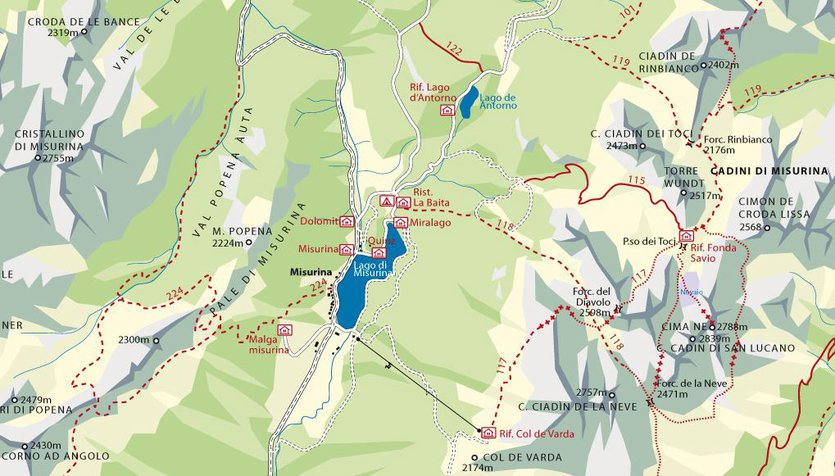 By the way, when searching for via ferrata trails I often use klettersteig.de. What I like about this website is that it offers complete list of climbing trails. All mapped. It's available only in German language but you can easily deduce and/or translate the necessary info.
There are 5 mountain huts which can be easily reached on foot starting from Misurina:
Auronzo (2333 metres) - accessible also by car and bus. I highly recommend getting to Auronzo by bus - ticket from Misurina (bus stop next to Camping Alla Baita) costs only 4 EUR per adult person. Car access charge is high - it costs 25 EUR and only makes sense if you travel in bigger group.
Col de Varda (2106 metres).
Citta' Di Carpi - CAI (2110 metres).
Fonda Savio (2367 metres).
Bosi (2205 metres) - accessible also by jeep shuttle (start next to Camping Alla Baita).
Here are via ferrata trails near Misurina lake:
Weather in Misurina
One thing which one needs to be aware of is chilly weather. It won't be scorching hot in Misurina, not even in the summer. Nights are cold and windy. One day we woke up to see the mountains covered in snow! There was snowfall in the middle of July!
The unpredictable weather in Misurina is caused by it's high altitude and the proximity of mountains. It's highly advisable to take additional pieces of clothing: fleece jumper, windproof jacket, comfortable shoes.
If you're planning on hiking in Dolomites, you need to come prepared: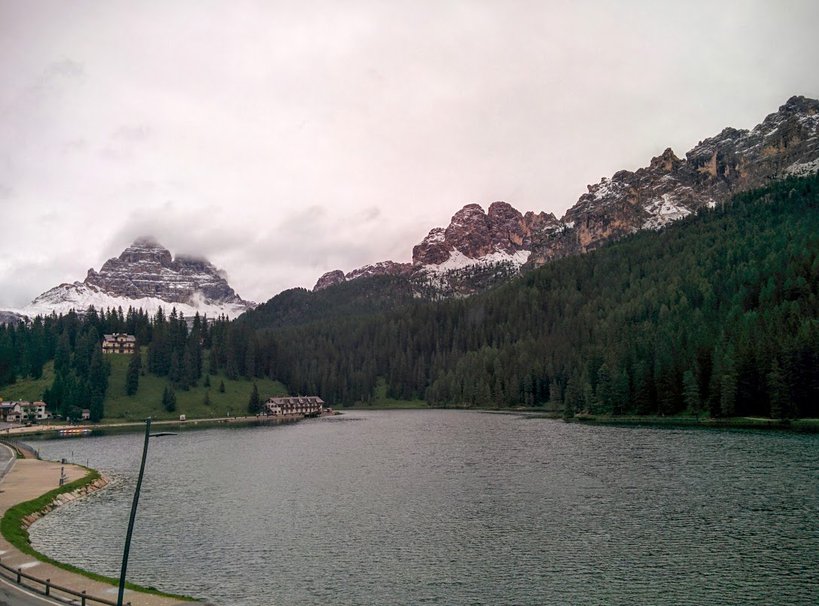 If you would like to say in Misurina, you may check available hotels here:
If you're planning on staying in Cortina d'Ampezzo, you can check the hotels and prices here:
---
What is your idea of perfect honeymoon destination?