There is very good rail connection between London and Paris – getting from one capital to the other takes only 2.5 hour. We decided to take advantage of it and go to France for our summer holidays 2013. We chose Annecy as our destination – good rail connection with Paris, beautiful mountains, stunning lake – what more could we ask for?
The beginning of our trip wasn't very fortunate – someone tried to stole our suitcase when he was getting off from the train somewhere close to Paris. Fortunately we spotted him soon enough to save our baggage.
When we got to Annecy it was raining heavily so we decided to take a taxi. Since it was Sunday, the taxi driver charged us twice the usual amount – we paid 40 EUR for 10 kilometres. But that was the end of our misfortunes. The rest of our stay was very enjoyable.
We stayed in nice and quiet village near Annecy – Talloires . Our place, Residence Florimontane , was very good value for money – we got apartment with kitchenette for the price of double room! All nice and clean, and most importantly, quiet. The accommodation was also available with breakfast (10 EUR per person) which was worth its price – only fresh and local produce was served. And the owner, Mrs Nadine, was very friendly and helpful, she even let us rent bikes for free
As a warm up at the beginning of our French adventure we decided to hike to Roc de Chère .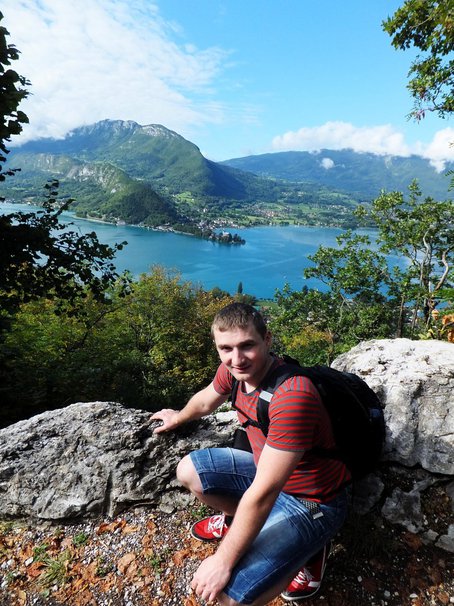 It's a beautiful nature reserve located near the lake. We really liked this forest and the view of the lake it provided. Fortunately, the entrance's free of charge and no opening hours restriction. I highly recommend going there!
For bigger challenge we decided to hike to La Tournette (2351 metres) - the highest mountain surrounding Annecy lake. We started hiking from the Chalet de l'Aulp , in the village of Montmin near Col de la Forclaz . And we didn't make it to the peak.
The weather conditions at high altitude got significantly worse and we did not have proper equipment – no good hiking boots, no hiking poles, we did not even have proper "mountain" clothes.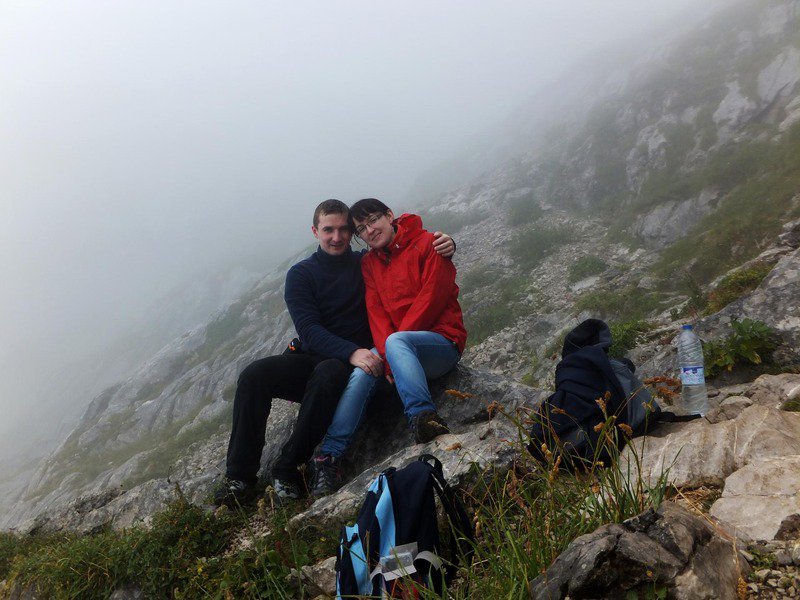 So we decided to retreat. But all in all the hike was very interesting and the view at the lower altitudes was magnificent.
Next day, to compensate our failure in reaching La Tournette mount, we decided to visit ropes course in forest near Talloires. It was the best ropes course we have ever done – the trail was long, diversified and fixed high in the treetops. And we did a lot of jumping Our adventure lasted about 1.5 hour which is quite long for a ropes course trail.
Nearby on the clearing there is also starting point for paragliders. In general, Annecy is very popular among paragliders and the sky was full of them every day 😉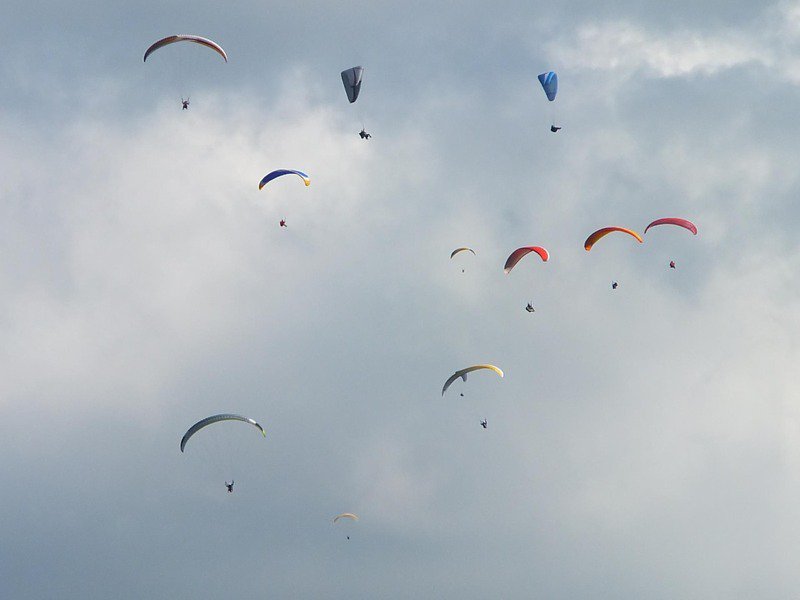 Since we did not have proper sports equipment we chose as our next hiking destination Mont Veyrier - 1291 metres. This time the weather was favourable and we got to the peak without any bigger issues. The view was brilliant – we could see Mont Blanc !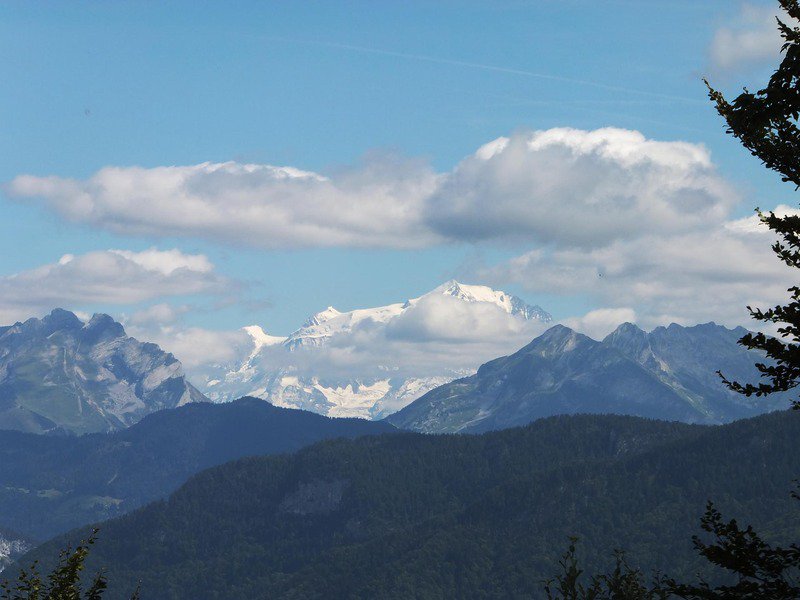 Mont Blanc is the highest mountain in Europe (4809 metres) and it is always covered in snow. So beautiful!
What I need to add here is that mountain hiking trails aren't very well indicated in Annecy area. I'm not sure why's it so, maybe hiking trails are badly signed everywhere in French Alps? Or maybe it's because Annecy is known mainly for water sports and paragliding?
Next day, we took advantage of warm weather and spent the whole day at Annecy lake coast.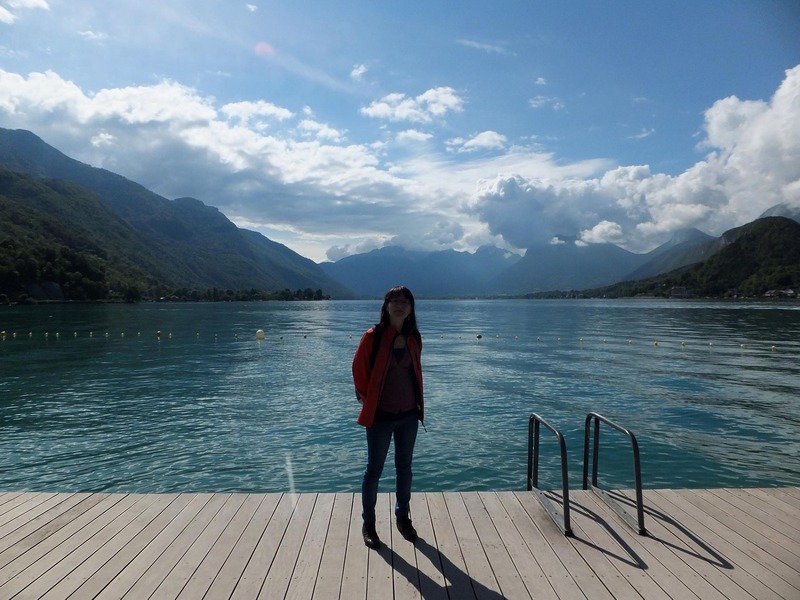 I love the turquoise colour of mountain lakes ! We even managed to take a bath and swim but this joy lasted only for about half an hour because the water wasn't warm enough for me (it was middle September).
On our last day we rented bikes from Mrs Nadine and went for a ride around the lake, to Annecy town's centre and Menthon-Saint-Bernard . The latter one is a very picturesque village with lots of small shops and cafes.
And you, have you ever been in French Alps? What did you do there?