There's a fantastic mountain in Sexten Dolomites, close to Cortina d'Ampezzo, right next to Misurina. Its name is Monte Piana (Cima Sud). You can check its location here . And right next to it there's Monte Piano (Cima Nord).
These two are perfect if:
you don't like hiking that much but appreciate great views - there's jeep shuttle going from Misurina which will take you to Rifugio Bosi mountain hut located on 2225 metres in about 7 minutes (location here )
you need nice and easy trail because you hike with family
you want a long hike which will make you tired but happy
you're into an exciting via ferrata trails
you're interested in history and would like to take some brilliant photos of war memorials.
There's lots of great trails leading to Monte Piana: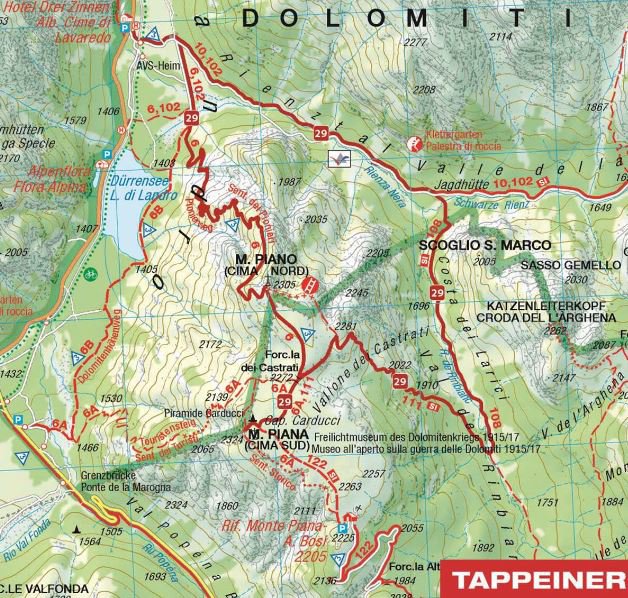 We chose an asphalt trail 122 which starts close to camping Alla Baita in Misurina (location here ).
It's the easiest trail of them all so it's perfect for families with children. However, there's quite a big drawback - the better the weather, the more jeeps will pass by you, in which case you may forget about fresh air and blessed mountain silence.
Actually, I regret we didn't go to Carbonin Schluderbach village (location here ) and set off on trail 6A Sentiero dei Turisti or via ferrata Sentiero dei Pionieri . Trail 122 just isn't very exciting. To be honest - if you want a good hike, don't set off on trail 122, it's dull.
There are other secured paths with exposed parts but Sentiero dei Pionieri is the number one via ferrata on Monte Piano.
Anyway, I decided to check a trail which starts by the cross on Monte Piano, thinking it would be klettersteig trail but it was just... a secured path.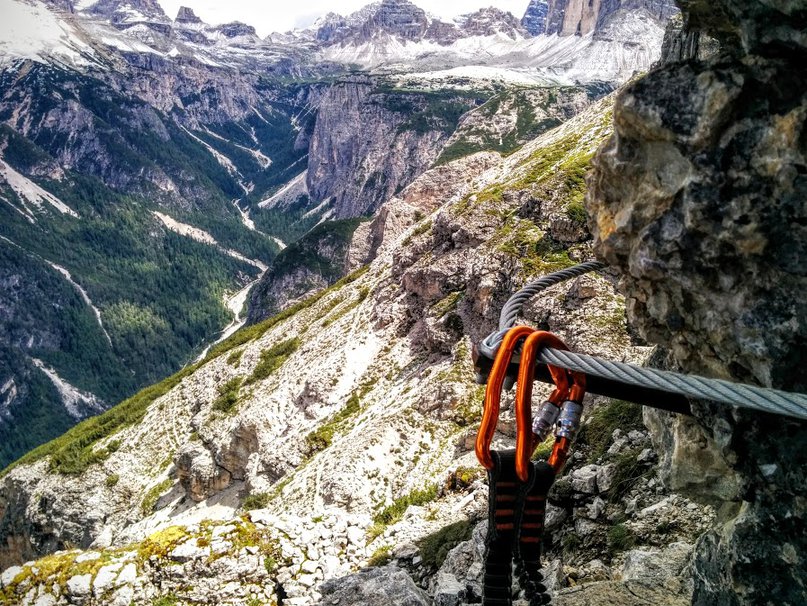 The views are great there, but it won't make adrenaline junkies and thrill seekers happy. There's a bit of exposure, but it's still just a path. There's security cable but in majority of cases it's not really needed.
What I liked immensely about Monta Piana is the vast plateau at the top - there are million of nice hiking paths which lead by monuments, trenches and other war memorials. It's great place for family hikes - you can combine fresh air, active lifestyle, great views and historical context.
Monte Piano peak (where the big cross stands) is very peculiar. There are deep and wide crevices in the rocks - this shows perfectly well that a long time ago the mountain peaks were actually... an ocean. I wouldn't be surprised if I found there ammonites printed on the stones.
So, even if you're not into hiking very much, please go further past Rifugio Bosi along trail 111 . It's nice and easy and it'll reward your effort with fantastic views and unusual outdoor museum.
If you would like to stay close to this place, you might want to consider Misurina - peaceful village located over Misurina lake. Check the location here .
We stayed in Sorapiss hotel and liked it a lot - room was nice and clean, staff was very helpful and breakfasts were ample.
You can book your stay here:
If you prefer lively tourist resorts, you will like Cortina d'Ampezzo - one of the most popular places in Dolomites. Location here .
You can check available accommodations here:
---
What about you, have you ever hiked any historical trail?