This via ferrata trail's the best one I did during our honeymoon in Dolomites . It's the most interesting klettersteig, offering scenic views on Sexten Dolomites and war memorials along the trail.
You can check where it's exactly located here .
It goes up to 3008 metres and, surprisingly, it's not that difficult. I simply loved it!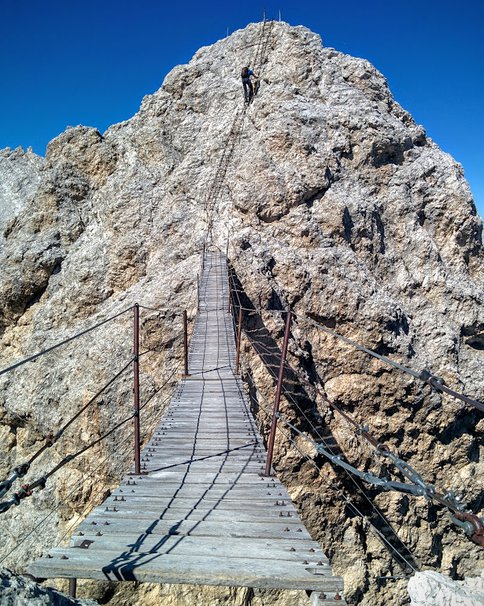 The simplest and quickest way to get to Ivano Dibona klettersteig is to use cable cars. Such mountain lifts are, unfortunately, pricey in Italy - return ticket for an adult costs 23 EUR.
The first cable car starts from Cortina d'Ampezzo , near Passo Tre Croci (check on the map here ). It quickly gets you to Rifugio Son Forca (2215 metres).
Then, you need to take the cable car leading to Forcella de Staunies, located next to Rifugio Lorenzi on whopping 2918 metres.
This lift is the most peculiar one I've ever used - looks like a line of small colourful torches .

What's worth to mention is that to get inside the little cabin you need to run.
In general, I felt a bit uncomfortable there - the cable car was built in 1956 for Olympic Games. I could tell it was old. Very old .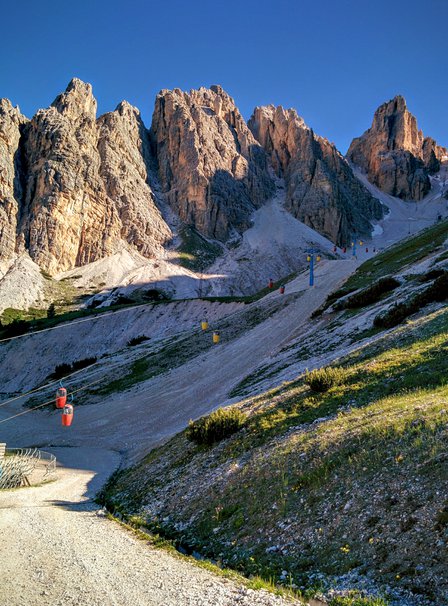 When you get to the top you've got 2 choices - via ferrata Marino Bianchi, which is shorter but more difficult (C/D - 4), and via ferrata Ivano Dibona - quite long but fairly easy ( B/C - 3 ).
So let's put the helmet on and have some fun!
Ivano Dibona trail is very interesting as it's got all the desired elements: ladders, pegs, steps and a breathtaking bridge. It also leads along war reminiscents which makes it even more scenic .
The surrounding views of Dolomites' peaks is added bonus - during sunny weather you'll take there the most beautiful photos ever!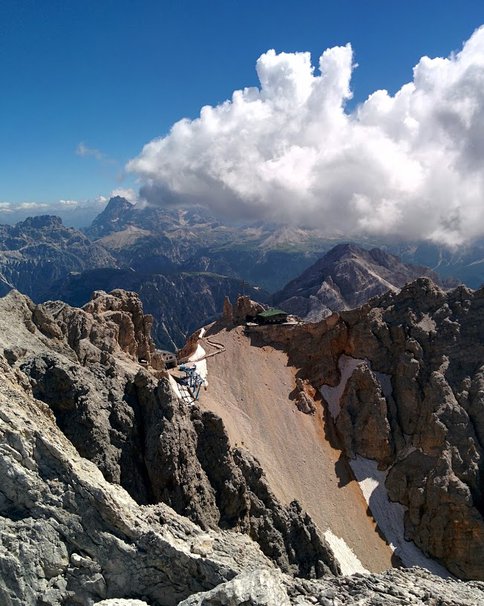 Ivano Dibona klettersteig is long but it's not very difficult - I met there families with children. A lot of people hiked to Cristallino d'Ampezzo peak (3008 metres) and then returned following the same way. After getting to Cristallino peak, I decided to check the via ferrata bit further and went to Forcella Padeon . Then, already rather tired, I started retreating.
You can hike along the whole Ivano Dibona ferrata leading to the valley but this option is long, tiring and there's a lot of small stones on the steep path which makes it difficult.
You can also take the trail number 203 towards Rifugio Son Forca but the path didn't look very appealing to me either. As the majority of people, I decided to return hiking the same trail.
The only thing which I didn't like about Ivano Dibona via ferrata is the fact it was crowded and sometimes it was tricky to pass by other climbers on the narrow path.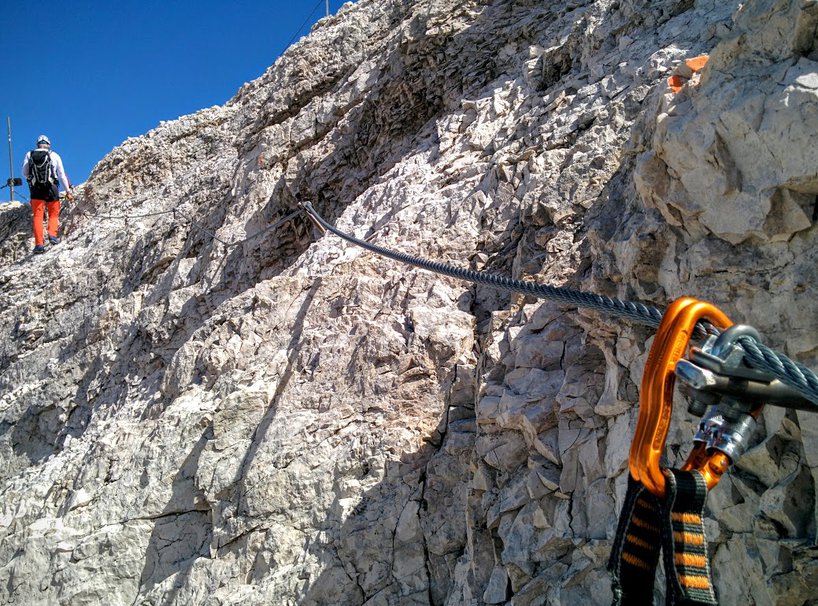 But the popularity of this klettersteig is absolutely not surprising - Ivano Dibona is, so far, the best via ferrata I've ever hiked!
By the way, we stayed in Hotel Sorapiss in Misurina. The location of the hotel is great - it overlooks the Misurina lake. Room was OK, host was very friendly and breakfasts were tasty. I can recommend it as a nice and peaceful getaway close to hiking trails.
You can book your stay here:
If you prefer more lively tourist resorts, you will like Cortina d'Ampezzo - one of the most popular places in Dolomites. Location here .
You can check available accommodations here:
---
Have you ever hiked via ferrata trail in Dolomites? Did you like it?