The mountain which I'm praising so much here is Skrzyczne. It's the highest mountain in Silesian Beskid range – it reaches 1257 metres. It's situated in southern Poland, only about 1-hour drive from Katowice.
What I like about this mount is that it's truly multifunctional – every sport aficionado will find something to his/her liking there.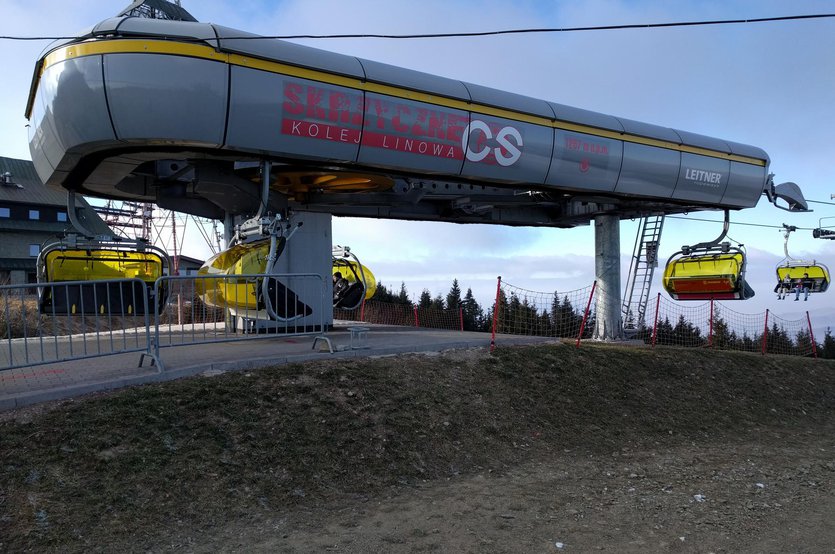 Let's start with running and hiking trails. There are several options to choose from:
Blue and green trail starting in Szczyrk mountain resort.
Red one starting in Buczkowice village.
Another blue trail starting in Ostre village.
Green trail which connects Skrzyczne with other mountains in Silesian Beskid range.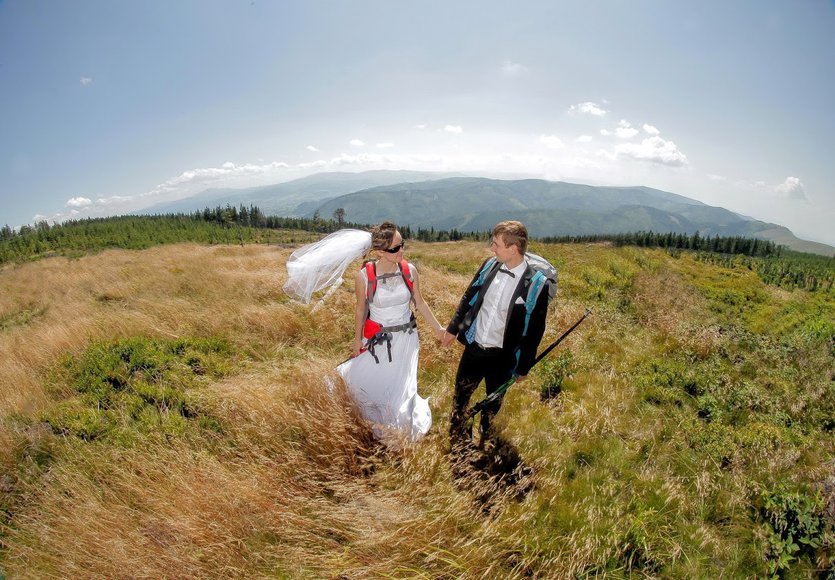 If you're into ski touring you can try green trail leading from Skrzyczne to Malinowska Skała (1152 metres) and Małe Skrzyczne (1211 metres). There's also a a cross-country trail with a FIS certificate in Szczyrk village (Sosnowa street).
There are quite a few trails in the area also for biking aficionados. Below I mention only official routes:
Blue trail around Skalite (Szczyrk centre – Zapalenica – Siodło – Skalite – Borowina – Szczyrk centre) – easy 8-kilometres long trail.
Blue trail leading to Bieniatka (Szczyrk centre – Górka – Podmagura – Wiezikówka – Bieniatka – Lower Szczyrk – Szczyrk centre) – relatively easy 9-kilometres trail with long and steep descend.
Red/green/yellow trail leading from Ostre village (Ostre – Skrzyczne – Malinowska Skała – Ostre) – rather demanding 16-kilometres route with steep ascend.
Red trail starting from Salmopolska Pass (Malinów – Malinowska Skała – Skrzyczne – Szczyrk Centre) – relatively demanding 15-kilometres long route.
Skrzyczne mount is also very popular among paragliders because the peak's location provides great flying conditions. There are loads of paragliders in the summer but, in fact, there was a few of freeze-resistant daredevils taking off while we were climbing down.
I tried tandem paragliding several years ago on Żar mountain but Skrzyczne looks far more tempting – it's higher and steeper.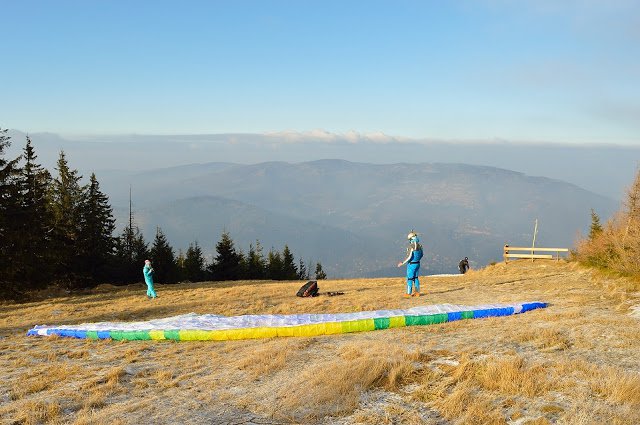 Last but not least, there are many ski pistes which are currently being renovated by our entrepreneurial Slovak friends from Tatry Mountain Resorts. Those are the very same folks who rebuilt Jasna Chopok and Tatranska Lomnica ski resorts and, I must admit, they did a brilliant job.
We are frantically looking forward to Slovaks finishing Szczyrk ski resort! We could already spot some positive changes – there was a brand new chair lift with leather seats taking non-hikers to the peak.
That day, together with our friend from Born Globals, we chose the easiest sport available – we hiked from Szczyrk village to Skrzyczne following the green trail.
Climbing up took us about 2 hours. It was freezing cold that day but it wasn't a nuisance for us. In fact, it even made hiking a bit easier than in warm weather.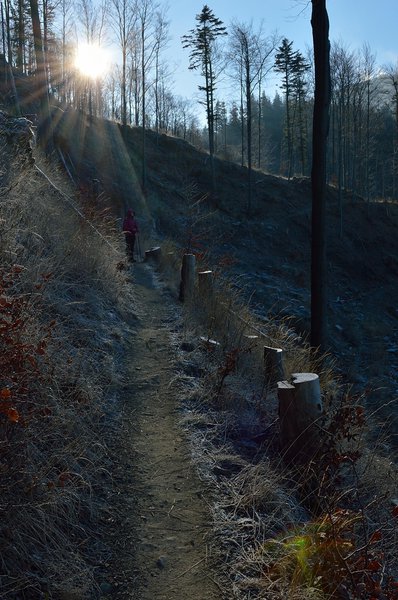 I guess we were fortunate not to hike in deep snow – so far there was snow falling in the mountains only in October and November which resulted in clear and snowless trails at the beginning of January 2016. Just to compare the difference between winter seasons, you can check here photos from Skrzyczne taken at the beginning of 2015.
But, for skier's joy, the temperature has finally dropped significantly and highlanders have started preparing ski pistes using loads of artificial snow. I guess Skrzyczne will be our number 1 skiing place in Poland this year!
On the peak of Skrzyczne there is viewing platform which provides good point to take stunning photos of Silesian Beskid range. There's also newly refurbished mountain hut which serves delicious tomato soup and offers spacious terrace where you can contemplate mountain nature.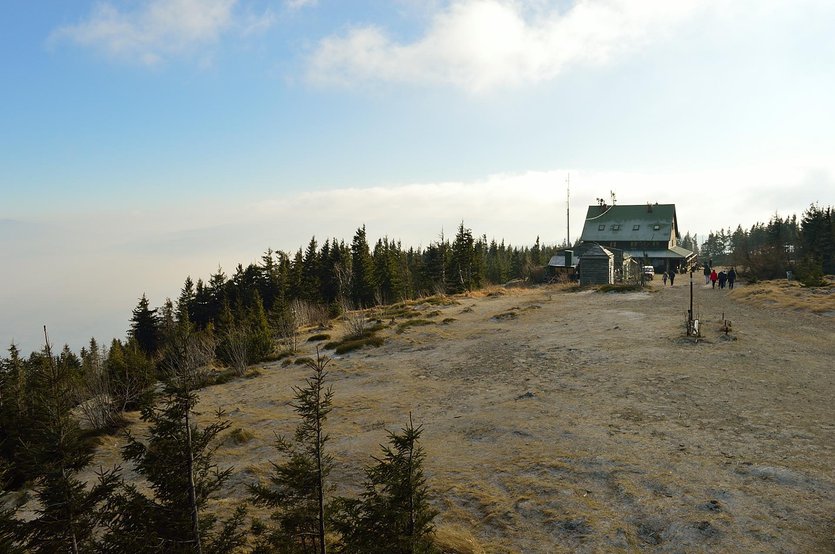 On our way back we hiked along red trail leading to Buczkowice village. Climbing down took us about 2 hours and, I must admit, it was very pleasant and easy walk in the forest.
In overall, we hiked 16 kilometres that day but we didn't feel very tired. I'd strongly recommend this route to families with children, as it's safe and not very demanding.
To sum up, during several-hour hike we met trail runners, paragliders, lots of hikers and some non-hikers who preferred using comfortable chair lift. Should the weather had been more favourable, we would have definitely met  skiers and snowboarders too.
By the way, if you feel there's still something missing in the area, there is also a ski-jump, horse stud and Beskid Art gallery in Szczyrk mountain resort. 
If you would like to stay close to Skrzyczne peak in Silesian Beskidy mountains, you may look for available hotels in Szczyrk:
---
Do you know any mountain which is suitable for practising so many sports?