Silesian Beskids 's one of the closest mountain range to our home. It's so close that we can get there in about 2 hours drive. Yes, the weather was finally getting good for cycling. The spring was a bit delayed in 2015.
We stayed in Pokoje na Końcu (Rooms at the End). The name's very accurate as it's really at the very end of Poland. It took 2-minute bike ride to reach the border crossing with Czech Republic.
I did a quick review of local riding paths and found that most of them are on asphalt roads through villages with traffic. Me and Joanna both prefer dirty-tracks on fields or forests. The Polish side's much more crowded with hikers and tourists, therefore bicycles have been pushed down to asphalt roads. But luckily our neighbours from Czech and Slovakia have more MTB tracks to offer.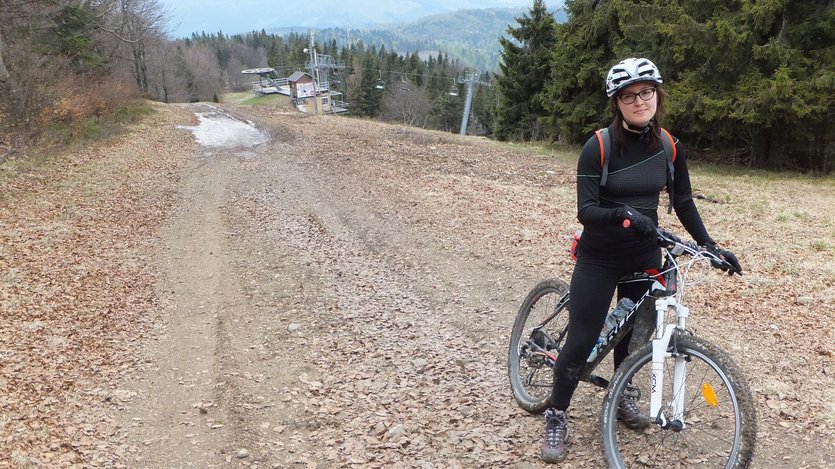 The accommodation we got was a family house with additional 2 floors for tourists. This kind of family-run tourist business is commonly known in Poland. The low-cost rooms have one more advantage: you can find the place far away from noisy roads and without street lights, really at the end of nowhere.
On first day we went to Czech Republic . There was a track along Polish border in the north direction separated by mountains. For about 1 hour of riding up hill on the good asphalt road through the forest we met no one. Finally, we reached the village with 5 houses and a hotel. We were quite amazed how nice the place was.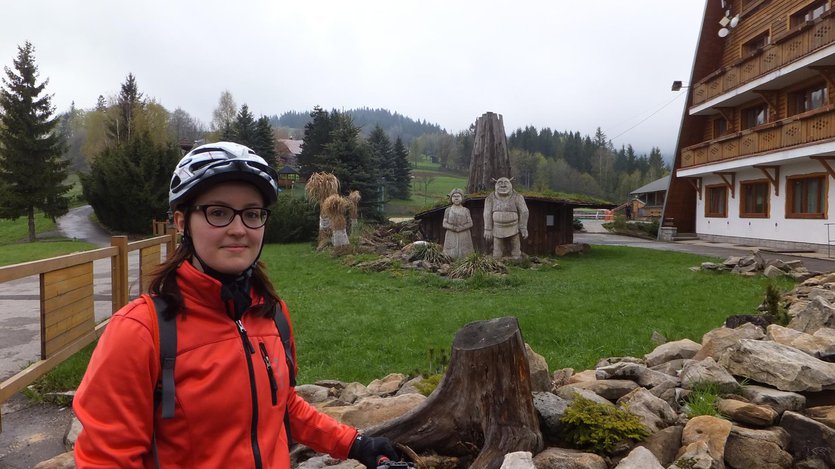 It was located high with beautiful view on the valley and surrounded by dense forest from each side. The key feature was we could easily get there with car. We decided we have to come to this hotel once. Its name is Wellness Hotel Bahenec . What's more, the hotel has pool, large playground and restaurant. I could imagine the view of stars at night from that location and sitting on the field nearby and having fire with sausages as there really was fireplace there.
Along the further distance we made it to Stożek (Cone) mountain hut. Mountain hut is the kind of hostel and restaurant for hikers. The shelter was on the polish border and once we passed it, the crowds of people flooded us. Children were screaming, dogs were barking. We had a quick dinner and got back to Czech side.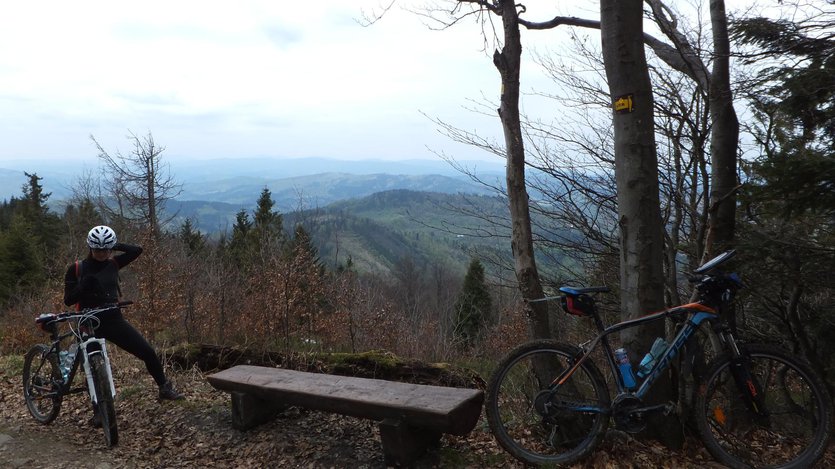 That day we come back late after sunset. Remember. never go for a long ride without electric lights. Lights at night aren't mandatory in Poland (for the time being - 2015) but I recommend to use them. Only reflections are mandatory. And remember, don't point your led diodes too hight so that you don't blind others.
We spent 2 following days in Slovakia .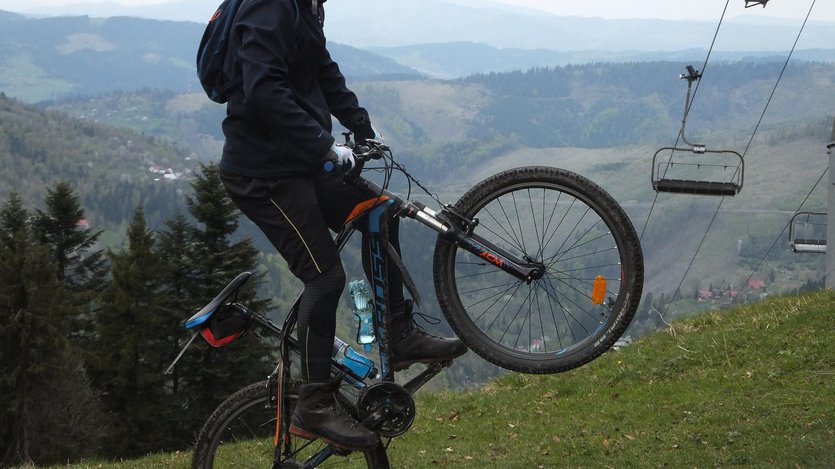 I forgot to take my GPS and we got lost several times. In addition, the real bicycle paths didn't match map's bicycle paths. It seemed that they have changed over the time.
In Slovakia we covered long distance with many ascents.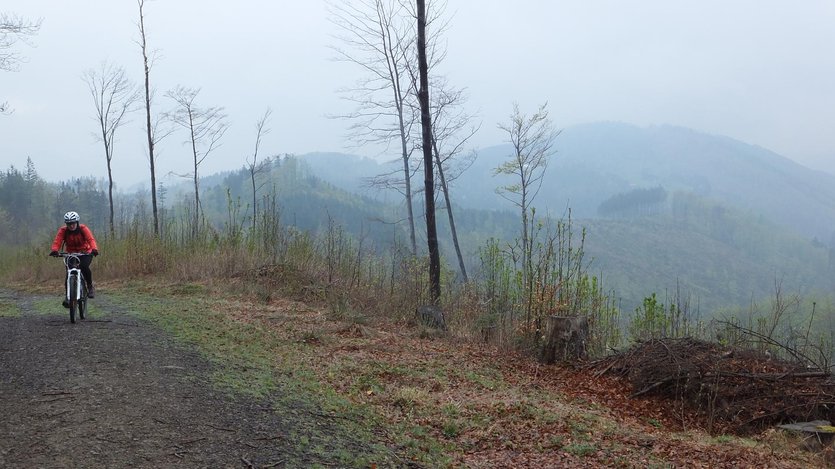 We saw lovely views of mountains including Tatra Mountains - the highest range of whole Carpathian Mountains .
On our way back home, in the evening, we joined our friends in Żywiec who invited us for pedalo ride on Żywiec lake. It was fun but it didn't last long as we were all very tired.
This trip was actually the first trip on our new bicycles, the test drive. I bought 2 KROSS bicycles this spring. The both are model Level A2 and they are the low budget option. The lowest model for MTB XC. I deducted that we can got solid foundation from XC but cheaper components that can be easily replaced and I wasn't wrong. Bicycles manufactured in Poland (except frame production) perform very well in hard conditions. And please don't do what I did at the end of the video, if you don't want to buy new tire.
And you, have you ever tried mountain biking?