You might not like relay race and all the stressful competition it brings about. I get it - I don't like it either! As a matter of fact, I'm not into any kind of rivalry , no matter if it's sport, or job, or whatever. I've always preferred team work which gets the task done.
That's why I chose to run in Poland Business Run.
It's a charity relay race which happens yearly in several Polish cities: Katowice, Cracow, Poznan, Lodz, Warsaw, Wroclaw and Gdansk. Poland Business Run brings together corporate couch potatoes like me to raise funds for the disabled 🙂 The beneficiary is Jan Mela Foundation "Poza Horyzonty" .
What I especially like about this run is that it combines noble cause with fun . I took part in Katowice Business Run twice so far and it always turned out to be a nice and pleasant social gathering where you can meet with your office colleagues on a laid-back terms. It's great thing to see your office companions relaxed, smiling and wearing sportswear 😉 You get to laugh, you get to joke and you can also get a beer or two afterwards - there's no better team building event than charity relay race on a sunny day .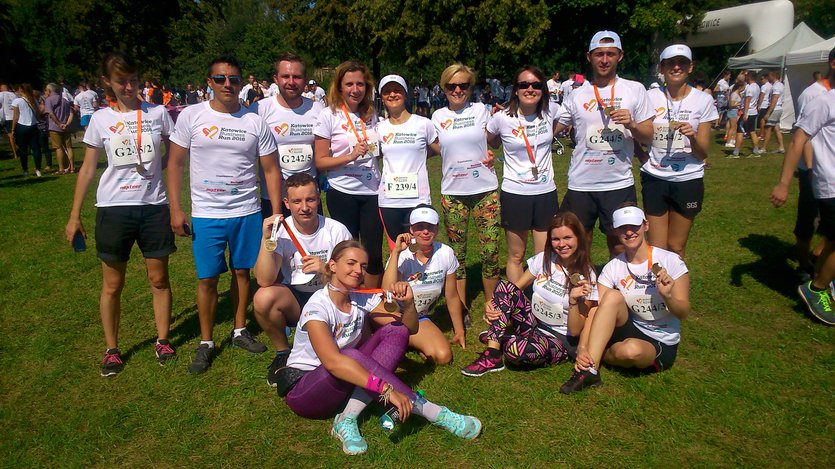 There's no unhealthy competition, no pressure, no time counting. Just fun. OK, at the start line where you wait for your turn it may get a bit tense but it all depends on your attitude. And the attitude of majority of participants was relaxed. What's more, I noticed that everyone was happier after the run - improved mood is natural result of intense physical exercise .
The other thing I like about Katowice Business Run is that I get to spend lots of time outdoors - this is much needed for us, office people glued to chairs for 8 hours a day. Everyone arrives soon to get a warm-up - it's always provided before each turn of runners. Getting physical exercise outdoors is just another big advantage of charity runs.
Last but not least, Katowice Business Run motivated me to run regularly . Running has never been my favourite pastime activity but this charity relay race actually made me practise jogging on regular basis. That's a big, big bonus! If you want to make running part of your lifestyle but can't find motivation, then charity run might just do the trick for you.
OK, now a few numbers of Katowice Business Run 2016:
3.7 kilometres (2.5 miles) to run
2005 runners
401 teams
116 850 PLN (about 30 440 USD) collected for the disabled.
Participating in charity run is immensely rewarding experience , no matter if it's marathon or just a short relay race. It's always a good idea because there will be a lot of beneficiaries of your effort. You'll simply help the others, and yourself too. That's granted.