Yep, that's the famous Lysá hora .
The peak belongs to Moravian-Silesian Beskid range in Czech Republic. In fact, it's the highest mount in this area - it reaches 1323 metres (4340 ft). Probably that's why it's called " The Queen of Beskydy Mountains ".
Queen or no queen, Lysá hora is immensely popular among hikers, mountain bikers and trail runners. Seems to me the latter group like Lysá hora the most - the majority of people we met were trail runners.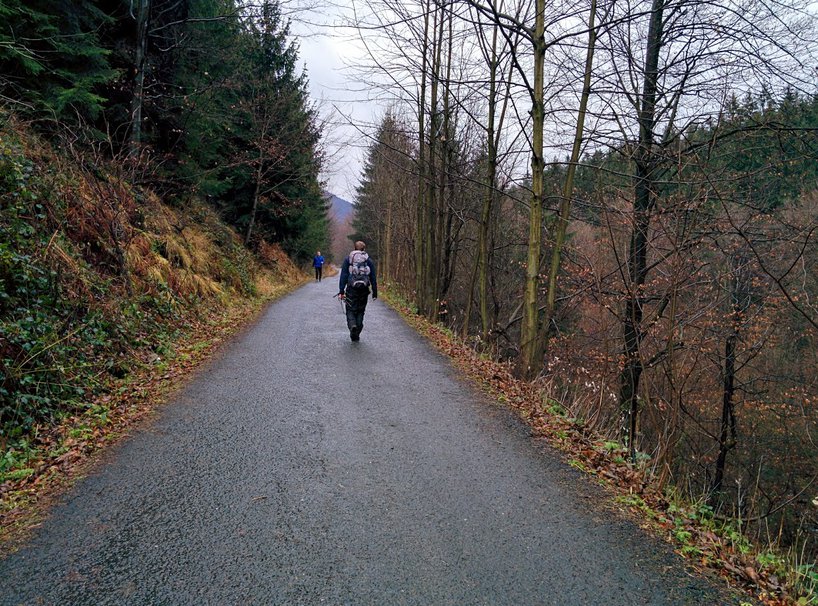 And I'm not sure why - the weather that day was highly unfavourable. I'd think not many people are willing to get out into the mountains when it's rainy, foggy, cloudy and generally cold.
But not the Czechs.
Is trail running that popular in Czech Republic ? Or does Lysá hora serves specifically as a training challenge for Czech trail runners?
Oh, and one of them was half-naked . In the middle of November, few Celsius degrees above zero.
Anyway, there were lots of people on the trail and I guess Lysá hora is the most popular peak in this part of the country.
I do have a feeling that there's definitely less mountain aficionados in Polish Beskidy, especially when there's such a bad weather. Maybe it's because the majority of Poles prefer to go to Tatra mountains in November to admire winter landscapes rather than look at bare grey trees in Beskidy? Or maybe in Poland mountain sports aren't that popular in winter?
Or perhaps it's just Lysá hora being the queen. Period.
OK, let's leave my thoughts about popularity of this mountain.
Now, the weather.
As I've already mentioned, it was all cloudy and chilly when we hiked to Lysá hora.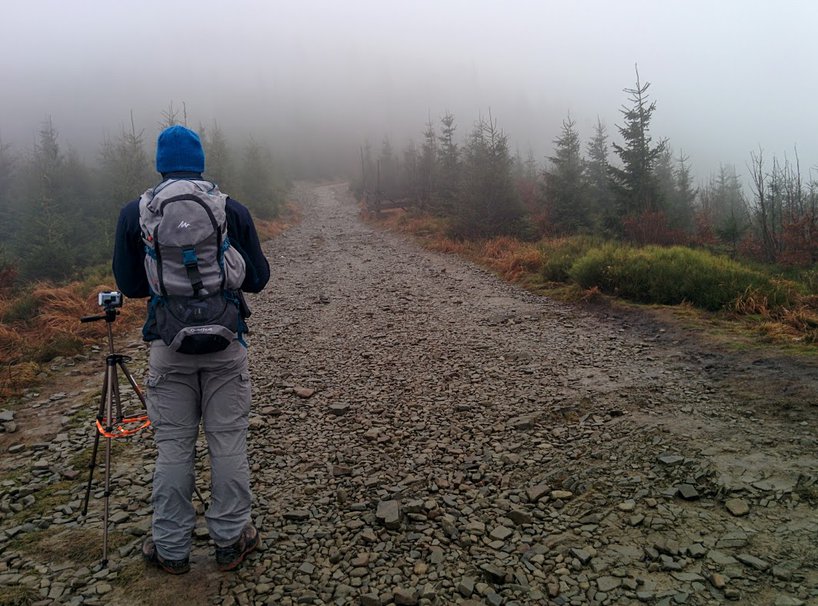 Actually, I dig out that this peak is one of the wettest places in Czech Republic - the annual rainfall exceeds 1500 millimetres (60 in). It's more than half the yearly precipitation of Amazon jungle ! It does amaze me and makes me keep in mind to ALWAYS take waterproof clothes when going to Lysá hora 😉
We started hiking from Ostravice village following red trail . The first part was an asphalt road but, fortunately, it changed into dirt trail after about half an hour. Getting to the peak took us around two and a half hours of pleasant hiking.
It was windy and cold at the mountain top so we entered the hut with relief. It was nice, clean and warm. Very modern in my opinion.
But what we liked the most about this place was food - garlic soup ( česneková polévka ) was absolutely delicious! As an incurable carnivore, Bartosz ordered some meat. Well, to be honest we hadn't really known what he ordered - the name of the dish sounded very mysterious to us.
So, it turned out to be beef with some kind of knedliki . It was very tasty too but what surprised us was that the meat was served with whipped cream. Now that's the imagination!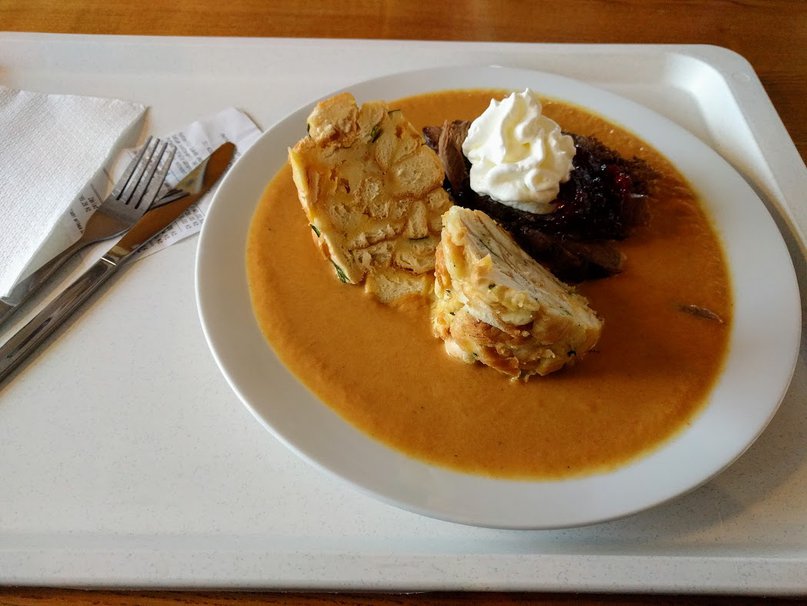 Being in a country which is so famous for its brewery traditions and not trying any of its beers seemed a bit inappropriate to Bartosz, so he ordered one. Czech Republic produces a really good beers: Budweiser, Pilsner Urquell, Staropramen, Kozel - all these are known internationally. But this time Bartosz decided to go for less popular brand - Radegast .
I'm not fan of alcohol but I must admit I really liked it. It was light, not that strong. Fortunately, Bartosz didn't mind me sipping almost half his beer 😉 I guess there's just one more reason to go to Czech Republic again!
I'm sure I'll revisit Lysá hora more than once. I liked it. The trail was pleasant, the altitude was perfect for one-day hike. I actually felt really good at the end of the day - positively tired but not half-dead from physical effort.
I think Lysá hora is perfect for families with children .
And, when the clouds got thinner, we got to admire a brilliant view of Moravian-Silesian Beskids. Such views make your hiking even more worthwhile. I just wished the clouds had gone away for a little longer!