That was another November 2014 hiking trip. For the reasons I cannot remember we only had one day available for hiking that weekend. The weather wasn't great so we decided to choose fairly short trail - Szyndzielnia (1028 metres) and Klimczok (1117 metres), starting from Bystra . There are loads of trails leading to Szyndzielnia but we decided to take on the yellow one.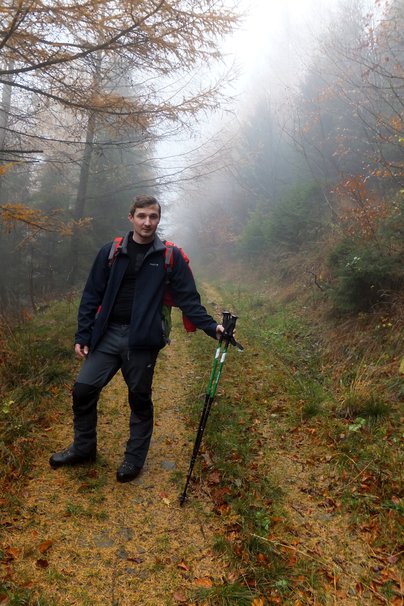 It was nice and very pleasant walk. It wasn't raining, only the fog was getting denser while we were ascending. The yellow trail was very easy and I'd recommend it especially to families with children or people who just want to warm up before next day bigger hiking challenge.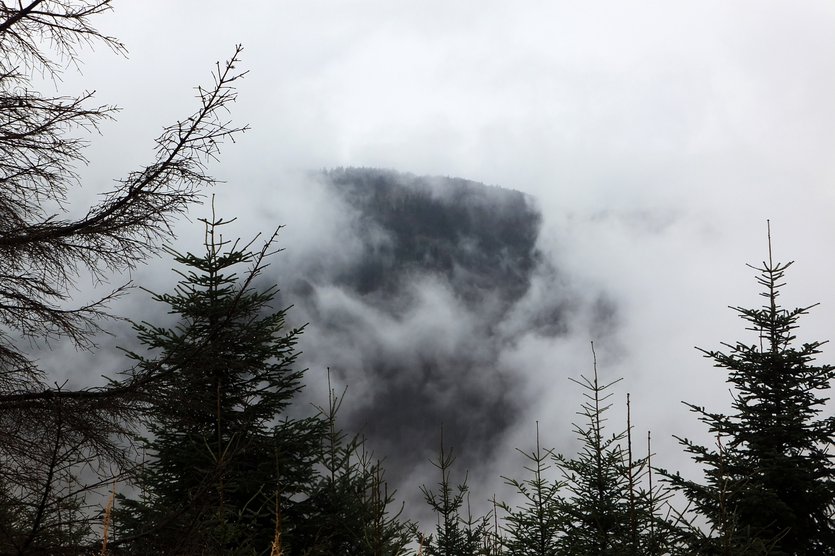 We had a meal in Szyndzielnia mountain hut (tomato soup rocks!) and then headed to the summit. The hut is situated on 1026 metres and Szyndzielnia summit is 2 metres higher, on the green trail leading to Klimczok. The walk between the hostel and the summit took us a few minutes.
There's very nice trail leading from Szyndzielnia to Klimczok. I mean, the photo below may not present the trail in the best way but during a sunny day it's perfect!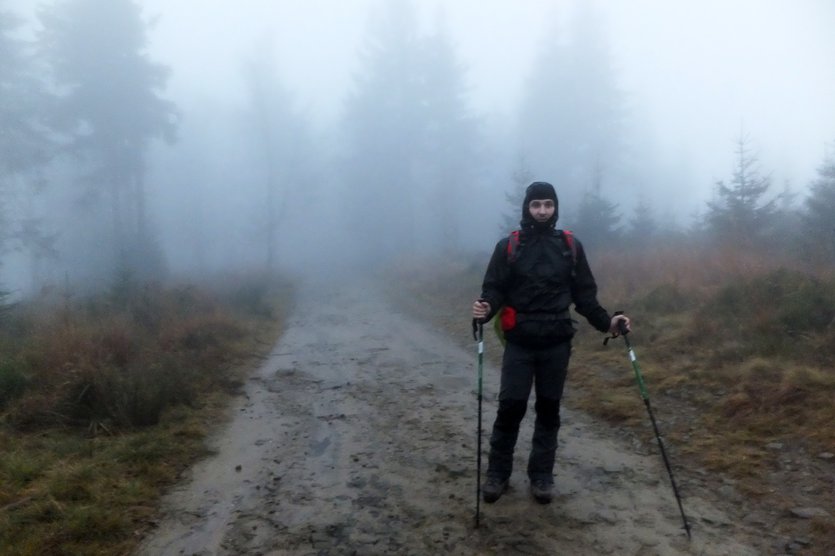 It's 3-kilometres long and takes about 40 minutes (half an hour if you're very fit or in a hurry). It's another perfect trail for families with children. The hike's pleasant and not very demanding so every parent with a baby sling should do just fine (provided he/she didn't spend last months in front of TV).
Usually, Klimczok provides a beautiful view on Beskid Śląski mountains (including famous Babia Góra - 1725 metres in Żywiecki Beskid). Unfortunately, that day the visibility was very low.
On Klimczok there's relay mast so, even when in dense fog, you can tell where you are. There's also a mountain shelter but we didn't go in. To be 100% correct this mountain shelter's located on Magura (1109 metres) slope. Magura's another mountain in Silesian Beskid range.