Outdoor wedding photoshoot is fantastic idea. It even gets better if you choose to have it in the mountains - beautiful wedding clothes presented on the amazing mountain scenery will grant you unforgettable experience and priceless photos.
And who wouldn't want to have brilliant photos as wedding keepsake ?
So, did you know that natural light will make your photos even better? It's much more forgiving than artificial light so you don't need to bother with impeccable make-up for outdoor photoshoot. Don't you worry about your wrinkles, spots or bags under your eyes. Outdoors provides natural light which is best for photography - no artificial light will give you such effects as daylight .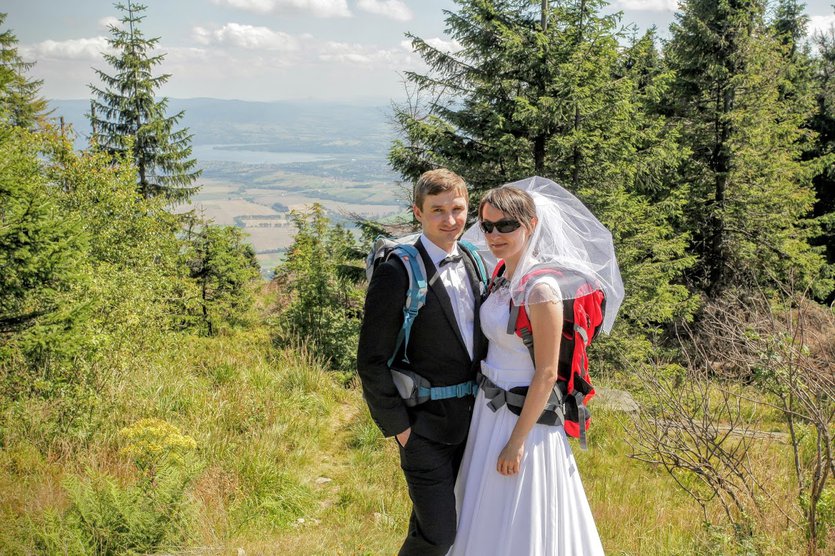 When we started planning our wedding we didn't really consider other options - it had to be in the mountains. We knew that such important event in our life needs to be celebrated in the mountains. So we chose one of our favourite mounts - Skrzyczne (1257 metres) - the highest peak in Silesian Beskids.
I guess that the biggest and most pleasant surprise was the positive vibe we got from fellow hikers . The reaction of other people on the trail was invaluable - I've never ever got so many smiles, congratulations and friendly chats in the mountains. People we met during our photoshoot in Beskidy mountains were kind and friendly, lots of them wanted to take photo with us and I could feel loads of positive energy as they wished us all the best. Other thing is that I probably heard more compliments about my wedding dress in the mountains than on my wedding day. I can't say I didn't like that 😉
What's more, when we got to the mountain hut on Skrzyczne the violinist who was entertaining hikers started singing wedding songs for us and all the people around joined him in. Sitting in the mountain hut and having all the people sing for you is simply unforgettable experience which makes me smile whenever I think about it. Like a positive wave which takes you forward into life.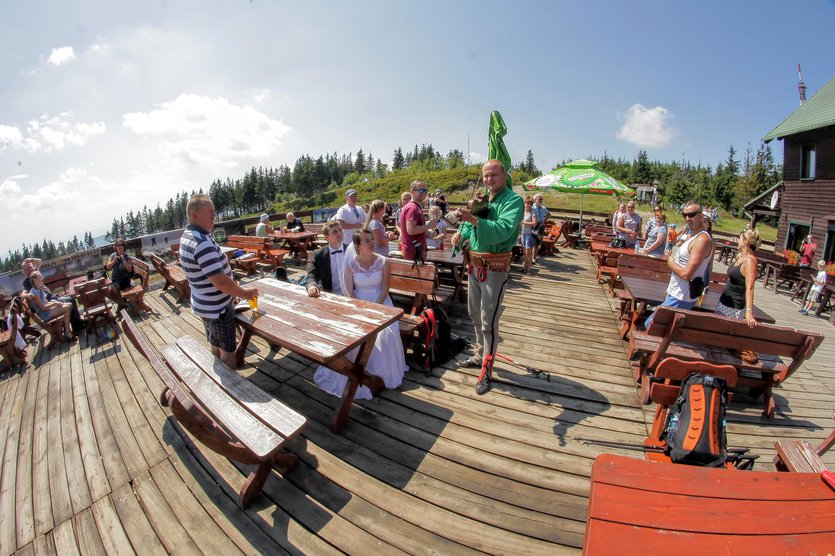 Besides all the rainbows and smiles, there are also some difficulties of mountain photoshoot.
First one, the weather. You want bright and sunny day so that the photos would be great. But sunny weather usually means high temperature which isn't very favourable when wearing heavy wedding dress or elegant suit. But there's little you can do about that. Photoshoot often lasts only a few hours so the sacrifice is small compared to the benefits.
Also, wedding clothes aren't best ones to hike in (I know, I've just made a ground-shaking breakthrough here 😉 ). My wedding dress made want to scream and shout and undress as quickly as possible, no matter how many people were around. But I didn't. The discomfort was just another thing which I got along with - when you just want amazing photos, nothing will get in your way .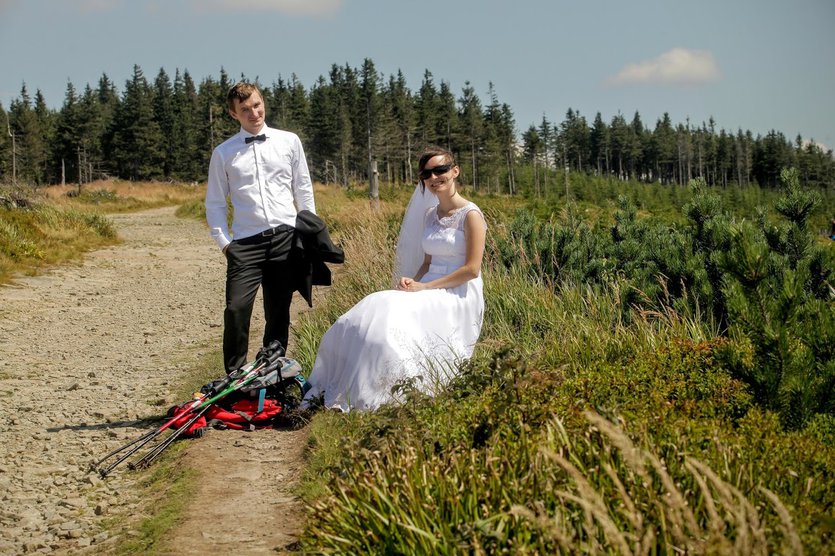 Oh, and I forgot to take my hiking socks (seriously?) so I had to wear my trekking boots on bare foot. Well, whatever, my feet survived (big thank you to whoever invented GORE-TEX membrane).
OK, here are a few tricks which helped us a lot.
Choose your mountains and organize transport, accommodation (if needed), hairdresser and makeup artist (I skipped those as I prefer natural look in natural scenery).
Check the weather beforehand - you do want nice sunny weather. If you have to book your photographer in great advance then it's a good idea to have plan B.
Reserve a whole day - the photoshoot usually lasts a few hours but you need to come prepared. Besides, you'll be tired afterward so just take a day off. Such special day needs your time.
Don't procrastinate - do your photoshoot soon after the wedding, while you're still in the mood. Our photographer told us a few stories about couples who waited so long that they lost interest and hadn't had their photos taken. Such a loss.
Prepare your stuff . Hiking poles, trekking boots, backpack, vacuum flask, map, windproof jacket - they will all make your photos even more interesting (and your hike more bearable).
Get a good night rest before the big day - outdoor photoshoot requires quite a lot of energy (I'd never thought that posing in wedding dress would be so tiring).
Special thanks to our photographer Andrzej Kołodziej who made our photoshoot even more amazing!